High steaks and big rewards at this Lowertown spot, which successfully competes with more expensive steakhouses
Get scrappy and jazz up your leftovers by turning them into a hearty soup with stuffing dumplings, Leftover Pumpkin Pie and Turkey Curry, and Mashed Potato Apple Cider Donuts
Jason DeRusha's list of local restaurants and national chain "buy this/get that" deals
Food editor discusses his Top 10 picks on WCCO-TV segment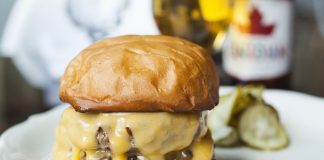 Hewing Hotel also announces new executive chef
Folly Coffee's new set up allows guests to learn how its brews are made and taste the finished products, all in 30 minutes
High steaks and big rewards at this Lowertown spot, which successfully competes with more expensive steakhouses
The coolest-looking spot in St. Paul. So, how's the food?
How good is the Eat Street favorite's comeback?
Chef Pedro Wolcott brings a vibrant tapas place to his own North Loop neighborhood
Looking for boba tea stores in the area? Here are seven shops with intriguing flavor combinations and the classic tastes of Taiwan.
Move over, beer and wine—RTDs are showing up on shelves and at parties
June 11 is National Rosé Day, so here are some Twin Cities spots to help you celebrate
From a Pimm's Cup to a non-alcoholic Bellini, here are some cocktails for summer
Incorporate bacon's savory crunch into every meal of the day
A top-notch Minnesota side for your barbecue this summer
For National Piña Colada Day, here's a classic recipe and some history
Each book explores different cuisines, including hearty soups, East African flatbread, and a fresh take on hotdish