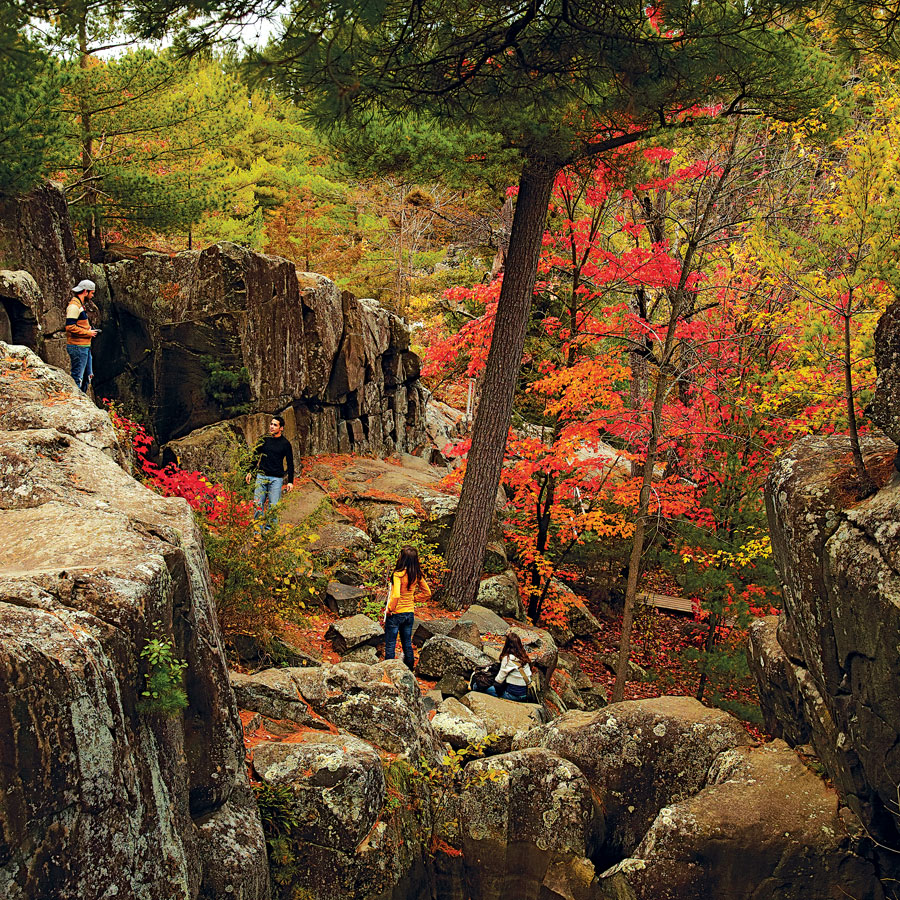 Interstate State Park
Photo by Todd Buchanan
---
Treating the 20-some miles of Highway 8 between Forest Lake and Taylors Falls as a getaway unto its own first occurred to me when I traveled it on the way to Wisconsin. The trip had barely begun, and already my brake foot twitched as we zipped past Eichten's Cheese & Bison, Franconia Sculpture Park, Taylors Falls, and more—so many blips on my road-trip radar, and close enough for a day-long adventure.
Flash forward a few months, and I've loaded up my two young kids and set out to explore that same stretch. A half-hour north on I-35, we exit onto Hwy 8 headed east, where crop fields, subdivisions, woods, and "boat for sale" signs pointing down gravel drives signal this is transitional land. We barely have time for the inaugural "are-we-there yet" before I initiate our first stop, just outside Chisago City: Sven Factory Outlet Store (svensclogs.com), in a nondescript brown building.

Winehaven
Photo Courtesy of Winehaven
---
Artisan clog-shopping isn't exactly a kid's dream come true, but I figure it makes sense to sneak this one in early on, with spirits high and patience
untested. The kids beeline for the coloring table while I browse the colorful jumble of hipster, hippie, and sensible styles. An employee tells me the clogs are all made in the attached workshop, where 12 types of wood bases are hand-sanded, -stained, and -stapled to house-designed tops made in a hundred colors of leather, most of which come from a tannery in Red Wing. Custom orders are welcome, but I don't want to wait, so I leave with a back-strapped forest green-suede pair at 25 percent off retail—plus $7 leather-scrap bracelets for each of us. 
It's still a little early to sample some of the 21 grape, fruit, and honey wines waiting right across the gravel road at Winehaven, so we press on a few more miles down 8 to the shop-lined main drag in little Lindström, a Swedish sister city squeezed between two lakes with a giant rosemaled coffee pot for a water tower. After lefse and lingonberry jam, French toast, and a delicious, beautifully fried Minnesota-walleye sandwich at Swedish Inn (651-257-2571), we identify Deutschland Meats by its giant rooftop wiener and duck in for an inordinate amount of its German-born sausage maker's product. (I brought a cooler for just this purpose.) Of course I snap a shot of the kids in the giant blue Adirondack chair emblazoned with "Life Is Great on Hwy 8"—our trip now has its own motto—before getting back in the car.

Fawn-Doe-Rosa Wildlife Educational Park
Photo by Berit Thorkelson
---
The kids are dying to run around Fawn-Doe-Rosa Wildlife Educational Park, just across the Wisconsin border, so we drive those 12 miles straight through. Armed with purchased bags of feed (and a warning that the big goats will try to take them), we wander along a crushed-gravel loop past rustling oak trees and a pond. Deer, ducks, rabbits, and more walk wild. Sheep and donkeys are among those vying for hand-feeding from behind fences, and more exotic animals here for rehab and conservation, including Lexi the lynx and Roxie the arctic fox, live in cages. We scrub our hands, then motor the couple miles back to Minnesota, quick-stopping for a souvenir six-pack of New Glarus, the 23-year-old microbrew sold only in Wisconsin, at a roadside liquor store.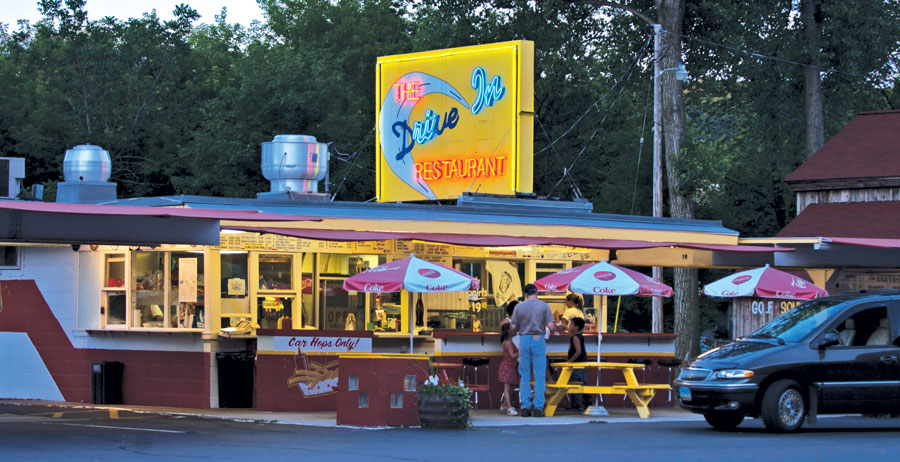 The Drive-In Restaurant
Photo courtesy of explore minnesota
---
I've explored the St. Croix River valley at Interstate State Park and the single spoke of shops and restaurants of downtown Taylors Falls before. (Note to foodies: Add Tangled Up in Blue to your list.) But this marks my first stop at The Drive-In, a downtown staple since 1956, with burger-slinging servers in circle skirts, an 18-hole mini-golf course, and massive rotating mug of root beer out front, advertising its fizzy home-brewed attraction. We dine, golf, then struggle to finish our World's Smallest Sundaes, which have to be ironically named.
The sun lowers as we unload at Franconia Sculpture Park, where the kids immediately conquer the giant playground/sculpture Playstation. There's a 14-foot tower of boom boxes; a whitewashed outhouse tipped on its side, leaking red and blue. The place is like the Minneapolis Sculpture Garden doubled, loosened up, then plunked onto the prairie. It alone is worth the trip from the Cities—though who can resist a few clog-and-brat pit stops along the way?

Little Women at Franconia Sculpture Park
Photo by Ellie Murphy
---
A Local's Favorite Place: 
Eichten's
"You can see the handsome bison in the fields as you drive up to Eichten's Market & Grill. I love their bison burger—topped with homemade gouda and a side of sweet potato fries—and try one of their microbrews, too! If you're looking for delicious souvenirs, I suggest the bison brats, cheese curds, and chipotle-gouda" -Ellie Murphy, Sculptor who created Little Women at Franconia Sculpture Park

Eichten's Market & Grill
Photo courtesy of Explore Minnesota
---
Map by Mandy Finders
Facebook Comments