The Twin Cities has had a thriving indie craft scene for nearly a decade, and it's enjoyed exponential growth over the past couple of years with the advent of events such as the NE Night Market and Loring Alley Rally this past summer, and modern craft–oriented retailers including Wilson & Willy's and Forage Modern Workshop. These aren't your grandma's crafts—instead of knit doilies and art-glass jewelry, this modern wave of crafters are creating minimalist jewelry, modern home design furnishings, and sleekly packaged, natural beauty products.
So it was only a matter of time before Minneapolis would get a weekly craft market. Launching Sunday, October 4, the Minneapolis Craft Market is like a farmer's market for handmade goods, serving as a community social hub and an incubator for the arts, spotlighting both emerging and established makers selling ceramics, clothing, fiber arts, jewelry, leather work, metalwork, photography, prints, stationery, woodwork, and beyond. Founded by British expat Hayley Matthews-Jones, the market is based on London's street market concept—an outdoor market held rain or shine, throughout all four seasons.
I spoke with Matthews-Jones about how the market came about, her perspective as a transplant, and some vendors to look forward to at this weekend's kickoff event.
What is your background?
I've been in Minneapolis since 2008. I'm an event planner professionally so I have a full-time day job working for a nonprofit doing their events, since 2006. I went to art school in London, and we had to do a lot of fundraisers and exhibitions, and a lot of self-starting on low budgets. I realized that I enjoyed the organizing aspect more than making the work to go into the exhibition, so I got a job as an event assistant for a nonprofit. In 2007, my grandma died unexpectedly and left me a little money, so I decided to travel around the world. Then I met my husband, who is American, and decided to pick a place to live and thought Minneapolis sounded like a cool town.
How did the Minneapolis Craft Market come about?
It astounded me we didn't have something like the markets in London here. There, they're a staple of life—the Greenwich market (in London), which I grew up going to on the weekends, has been around since the 1800s. It was really odd to me that there wasn't a weekly fixture here. From what I understand, it's not something the city had a license option for until very recently—I think it's a flea market license—so we're starting to see more of them. But I thought we needed something that was a weekly go-to, and affordable.
Rings by Nick Lundeen (available Oct. 4)
Caitlin Cooreman
What does your perspective as a transplant bring to the market?
For me, It's always been a part of my life, so it was just something that seemed so obvious. And the reaction of other people has been, yeah, we totally do need this. I think being from a country where that is commonplace, it's such a cool social thing to do. It really is a whole community thing in Europe, that's what you do on a Sunday—eat food, drink coffee, and walk around the market. The craft brewing thing is obviously huge (in the Twin Cities), so I think it's a natural fit. That's why the venues were interested—it's something different to add to their rosters. That was the hurdle, I thought—I just need someone to bite on the idea.
What will the layout of the market be like?
We'll have a rotating selection of makers each week. It's a very casual sign up process; they can sign up anytime up to the week before, so there's no seasonal commitment. I expect some weeks will be bigger than others. Right now I'm trying to recruit some entertainment things to happen during the market. This Sunday, we will have a DJ set from Minneapolis Soundsmith and resident DJs at the Third Bird, plus a food truck there and Insight Brewing will have an outdoor beer tent. We want to get more entertainment things so people want to hang out. I expect it will pick up steam and momentum as word gets out.
The market donates 5% of proceeds each month to a Minnesota-based nonprofit arts organization as well as a "scholarship stall" that is available to an art student free of charge each week. Why was this important to you?
That was a no-brainer to me. (The market) should be for the community—it should be something that gives back. I had a lot of opportunities through scholarships and grants as a kid, and I don't think I would have chosen it as a career if I hadn't had those opportunities. I just think if you don't offer those opportunities, you automatically exclude some people.
Who are some of the confirmed vendors you're most excited about?
Honestly, I did not expect there to be so many male crafters. I have three male vendors this weekend, and that was just a surprise to me. Nick Lundeen, who's a really great jewelry designer, and Parlour Von Kopp, which does beard oils and essential oils. American Craftsman—he is one of the coolest stories; he finds hardwood from dumpsters and burn piles and he makes handcrafted canoes and he grinds down the remaining pieces for fishing lures, so he doesn't let anything go to waste. I always pictured the handmade market as more female dominated, so I'm excited for that. Also, Foat Design, they do some really cutting-edge clothing. That's been a key piece of the market—I want to tap into the market that's pushing those boundaries. And then we have a lot of cool artists who are residents at the Northrup King and California buildings.
Below is a sampling of products and makers featured in upcoming Minneapolis Craft Markets:
Amanda Dobbratz Ceramics (Nov. 8, Nov. 29, and Dec. 20)
Courtesy amanda dobbratz ceramics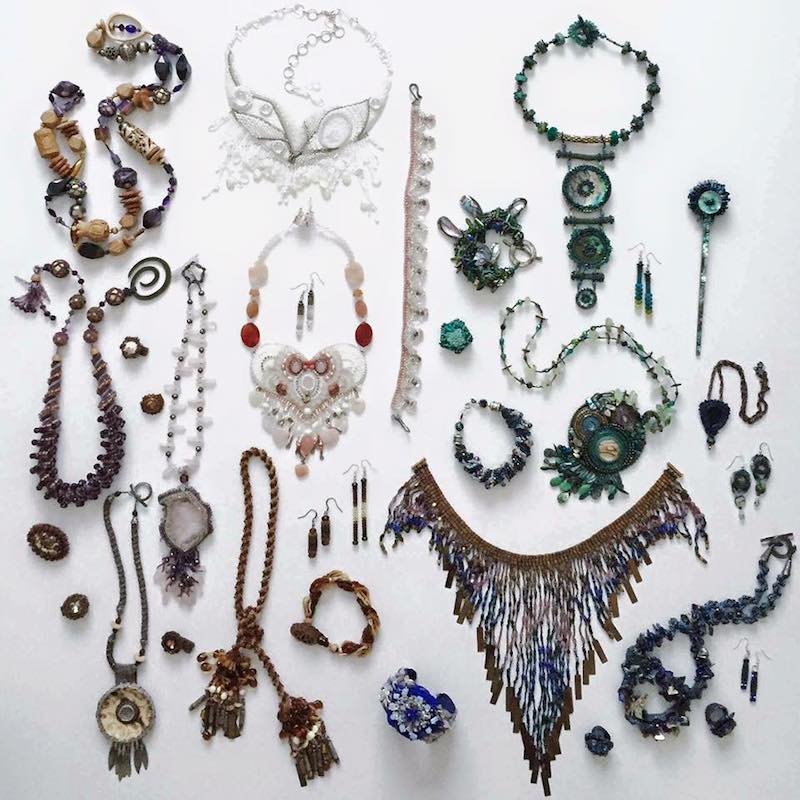 backstagecrafts jewelry (Oct. 11)
Courtesy backstagecrafts
Wool & Whiskey knits (Oct. 4)
Courtesy wool & whiskey
August Fischer Makers (Oct. 4)
Courtesy august fischer makers
August Fischer Makers (Oct. 4)
Courtesy august fischer makers
LaurenEricka Designs vegan clutches (Oct. 4)
Courtesy LaurenEricka designs
Foat Design (Oct. 4)
Courtesy Foat design
Parlour Von Kopp (Oct. 11)
Courtesy parlour von kopp
The Bitter Buffalo (Oct. 4)
Courtesy the bitter buffalo
 3 Jäg design jewelry by Betty Jäger (Oct. 11 & Oct. 18)
Courtesy 3 jäg design
Everthine Jewelry (Oct. 11)
Courtesy Everthine Jewelry
TROO Products skincare (Oct. 4 & Oct. 11)
Courtesy troo products
The Minneapolis Craft Market debuts this Sunday, October 4, from noon to 6 p.m. at Insight Brewing (2821 E. Hennepin Ave., Mpls.) Visit the Minneapolis Craft Market's schedule page to see the list of upcoming market dates and venues, and follow its Facebook page for updates on vendor additions.
Facebook Comments