In 1963, the Guthrie Theater put on four plays in its opening season. By 2018-19, the world-renowned Minneapolis theater staged 17 plays, unknowingly marking its final season with no pandemic interruptions. In early May of 2020, artistic director Joseph Haj recalled 1963 in an email to staff, noting, "From those four shows we grew. We will grow again and we will thrive again. But, for a time, we will necessarily be a much smaller version of ourselves."
When life came to a screeching halt over a year ago, so did the performing arts. The Guthrie had announced its 2020-21 season, its costliest yet, in mid-March. It was just a few days before theaters around the U.S. closed to slow the spread of novel coronavirus. Mass layoffs and industry-wide instability followed. By June, the Guthrie laid off 79% of its staff, including 66 of the 68 full-time production department employees. Eight productions and more than 270 performances were erased from the calendar, and the theater reported an operating loss of $2.72 million in 2020.
As life inches back to a normal pace, the theaters that have survived still have depleted staffs as they pick back up. "There is a real desire to get back to [our previous] size and scope," says Rebecca Cribbin, the Guthrie's production director. "We're just cautiously making our way there, but certainly it's true to say that everybody hopes that will be sooner rather than later."
It hasn't totally been curtains. In August of 2020, the Guthrie decided to move forward with a virtual staging of its beloved annual production of A Christmas Carol—using only four actors. Abiding by strict Screen Actors Guild health guidelines to keep actors and production staff safe has proved as difficult as planning for audience safety.
In December, the theater formed a task force of staff and board members to plan for in-person performances. But Cribbin says the process will also require rehiring for essential roles. "Some of those people don't exist on staff at the moment," says Cribbin. Many laid-off employees have found work elsewhere, and others will be recalled due to union contracts. "We can't guarantee that people are going to want to come back and work at the theater," she notes. "A lot of my colleagues—certainly in the production area—have been without work going on for a year now."
Realistically, Cribbin says the Guthrie's first show back on stage will likely be A Christmas Carol. Spring brought a series of streaming performances featuring Black, woman, and LGBTQ+ performers and writers. If things move at a quicker pace than expected, she's hopeful they can pivot to produce an autumn show.
While theaters everywhere have navigated stringent union guidelines, the scale of those challenges differs. When closures began in March of 2020, Chanhassen Dinner Theatres had just opened their production of The Music Man two weeks prior. President and artistic director Michael Brindisi says it was largely a matter of hitting pause until they would be able to bring the show back to the stage. "I have a show already sitting there, with sets on the stage. The costumes are in the dressing room and the actors are in town," he says. "It'll just be a phone call and maybe a couple of days of a brush-up rehearsal and we can have that thing up and running."
A few smaller roles will have to be recast, he says, but most actors have answered the call to return. The theater announced that shows will resume this summer on July 2 to a limited capacity. The plan is to cap tickets at 200 seats per show for July and August, but should vaccinations rise and guidelines relax, he hopes to sell a full house.
One caveat: "I have this Broadway show that's hanging over my head," Brindisi says. Due to licensing rights, the Chanhassen's version of The Music Man must close by the time New York City's Broadway production of The Music Man begins. "When they open, we close," he says. It's a bit of cat-and-mouse, but Brindisi says he hopes to get a full run in before Broadway picks back up—even while he spreads out the showtimes because of limited capacity. "It's kind of a funny way to make the schedule," he says, "but I'm in a great position, that I have a show that's ready to go in, like, 48 hours."
Unlike other local theaters, the Chanhassen has found ways to maintain semi-regular operations. As a dinner theater, the company has served food on its outdoor patio and in its pub restaurant. Local bands have performed live on the main stage, too. "The union liked the space that we have, so, if need be, we can spread out the dinner part of our operation in other rooms," Brindisi says. "It doesn't all have to take place in the one room, and other theaters don't have that luxury."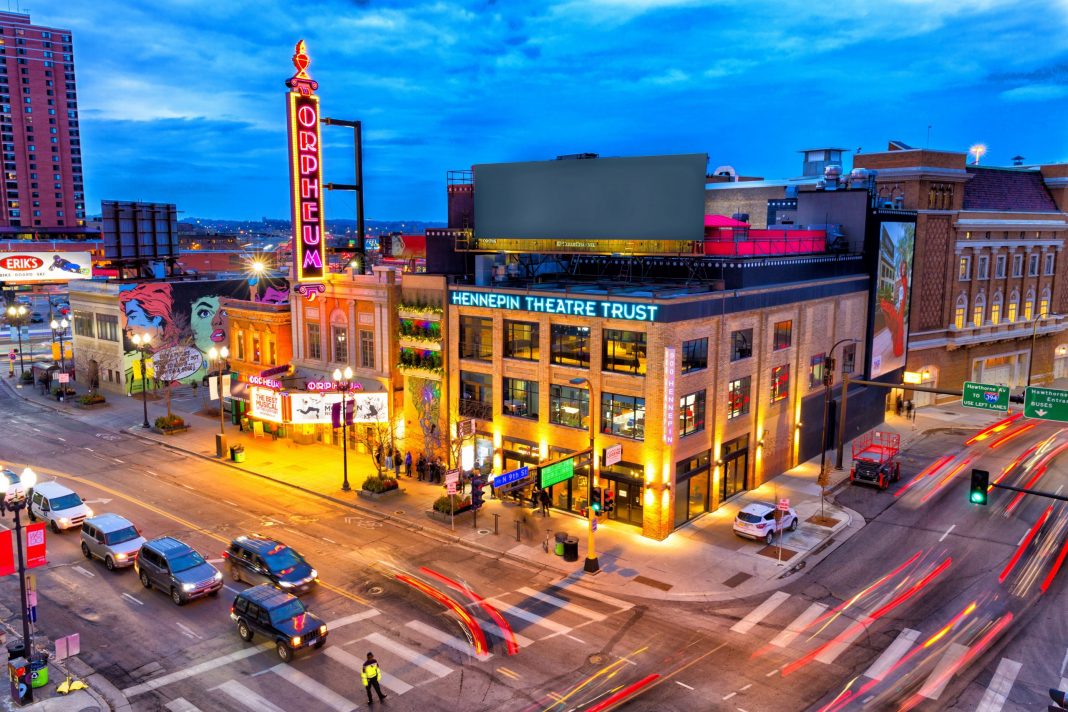 The downtown Minneapolis theaters under the umbrella of the Hennepin Theatre Trust, for instance, are among those that have stood empty for over a year. They include the Orpheum, the State Theatre, and the Pantages. CEO Mark Nerenhausen explains that getting back to in-person performances isn't anywhere near as simple as flipping a switch. As a company that works with touring productions, Hennepin Theatre Trust collaborates with about 40 other markets across the country to coordinate scheduling, logistics, and safety measures.
"A major show needs to be able to hopscotch across the country," he says. "For us, it's also the challenge of: 'When is Cleveland going to reopen? When is Milwaukee reopening? When is Kansas City or Omaha going to reopen?' We're on calls every couple of weeks trying to determine what their schedules look like. It becomes quite daunting because every state has slightly different requirements and demands."
Nerenhausen was hopeful that the Orpheum might safely stage a production of Hamilton to a full house this July—because for theaters such as theirs and the Guthrie, razor-thin margins leave no other choice. "It's pretty much all or nothing—limited capacity doesn't work, simply because of the economics of the shows," Nerenhausen says. "So the concern is, 'Are we going to be able to open up at virtually regular capacity?' Because the margin is so small, and the demand is so large."
But the Trust had to announce in early April that it was pushing Hamilton back a full two years. Hamilton is expected to finally show at the Orpheum from April 4 to May 7, 2023, according to a press release. The Trust instead plans to launch its Broadway lineup in September, with Come From Away, followed by Disney's Frozen in October and Oklahoma! in November. "The Trust continues to consult with local, state, and national health officials and advisors in all decisions related to reopening in the safest manner possible," Nerenhausen said in the release.
And thus, the fragile state of the performing arts has never been more clear. Though many received PPP loans, 516 Minnesota-based arts organizations have suffered nearly $30 million in losses since the pandemic began, according to Americans for the Arts. Cribbin thinks that, moving forward, the Guthrie has learned to stay more prepared. "Hindsight is a wonderful thing, isn't it?" she reflects. "I hope that we never ever have to cope with anything like this ever again, but will we be more resilient? Most definitely. Will we have certain practices in place? Most definitely. I think most organizations would probably say the same thing."
Though each theater has had its own singular set of challenges, the excitement to see these darkened stages light up once more is universal. "When you turn off the lights after a show and you put the ghost light on the stage … it's always with the anticipation that, 'Oh, in just another day or two, trucks will be pulling up and another show will be here,''" says Nerenhausen. "And little did we know that when we put that ghost light on the stage, in mid-March, that it would still be burning today."
Brindisi shares a similar sentiment. When asked what he's most excited to get back to, his response is quick and simple: "Seven o'clock. It's the one thing I've missed the most in this whole deal, is that time from seven to eight o'clock when I go backstage and I visit with the actors. … I really, really miss it."
Facebook Comments