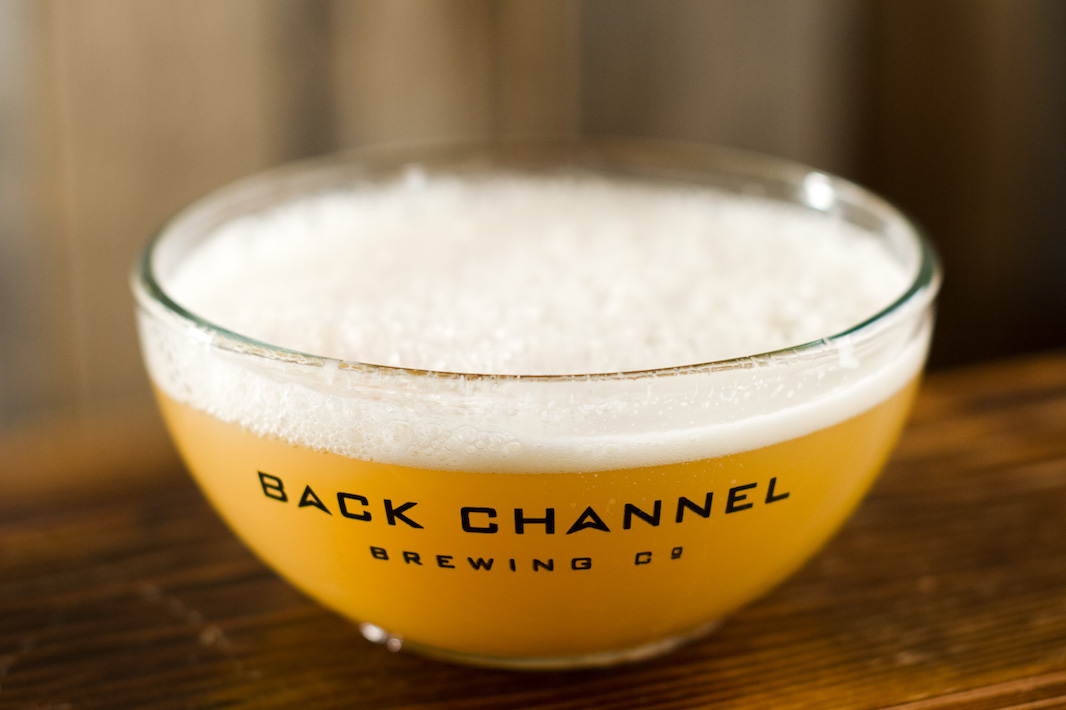 If last year's Instagrammable Minnesota moment was MN Nice Cream's delicious, glittery creations, this year's contender might be from Back Channel Brewing Co., on Lake Minnetonka in Spring Park, and its bowl-served IPAs.
In the competitive (but friendly!) brewery scene, it's up to Minnesota's estimated 170 breweries to find creative ways to stand out, whether it's a new take on community engagement or a flavor/style combination that's just strange. For Back Channel Brewing Co., part of the answer was the beer bowl, an accidental discovery made on a trip to North Carolina last summer.
Josh Leddy (owner of Back Channel Brewing Co., along with his wife, Melissa), Marc Makarem (head brewer), and Matt "Olie" Olson (owner and brewer) traveled to Asheville, North Carolina, last year to connect with brewer friends and gain inspiration for their own brewery, which was inching up onto its one-year anniversary. No one would have guessed inspiration would strike in the form of a broken dishwasher.
"On day one [of our trip], we were having barrel-aged sours and some imperial stouts [at our Airbnb]. The next day we were going to have some IPAs. That's when we realized the dishwasher wasn't working," says Leddy. "We looked in the cupboard, and there weren't any glasses. Nobody really wanted to do the dishes, and we didn't want to do an injustice to the beer, so [when we] found some perfectly sized bowls in there, we were like, 'This will work just fine.'
"Halfway through I said to Marc and Olie, 'Is this just massively aromatic and delicious to you guys, or is it just me?' And Mark was like, 'No, it's amazing.' And then we looked over at Olie, and he's face deep in this bowl, drinking it back. It was hilarious. … We started joking around saying wouldn't it be funny if we served some beer in bowls?"
After some researching, the team quickly realized that there's a lot of cultural history behind the idea. Many cultures have used bowls as drinking vessels, including the Nordic people. Vikings used ale bowls during celebrations, and on top of that, the word "skol"—besides being used as a cheers—literally translates to "bowl."
Beyond the fun Nordic ties, however, the beer bowl is a way to signal to customers that a fresh IPA is readily available since beer bowls are used for freshly tapped kegs of IPAs only. To add to an already unique experience, there is never one flagship brew meant for the bowl. Instead, Back Channel Brewing utilizes its flexibility as a small brewery to create an ever-rotating tap for customers.
"From a marketing standpoint, if we were to brew just three different IPAs, it would kind of be redundant for us to constantly post, 'Hey, this is available in a bowl,'" adds Leddy.
When it comes down to it, the beer bowl is really meant to elevate an already pleasant pastime. "Beer is fun. We're just trying to assist in that process by giving you another means to enjoy your beverage," says Leddy.
Before heading out to Minnetonka for your own beer bowl, make sure to check Back Channel's social media channels and website. The tap list on the website is updated daily, which includes any beers being served in a bowl and for how long. (Plus, you can check out the brewery's fermentation list to keep tabs on what's brewing.) To keep up to date with Back Channel's newest creations and bowl availability, make sure to follow them on Instagram and Facebook.