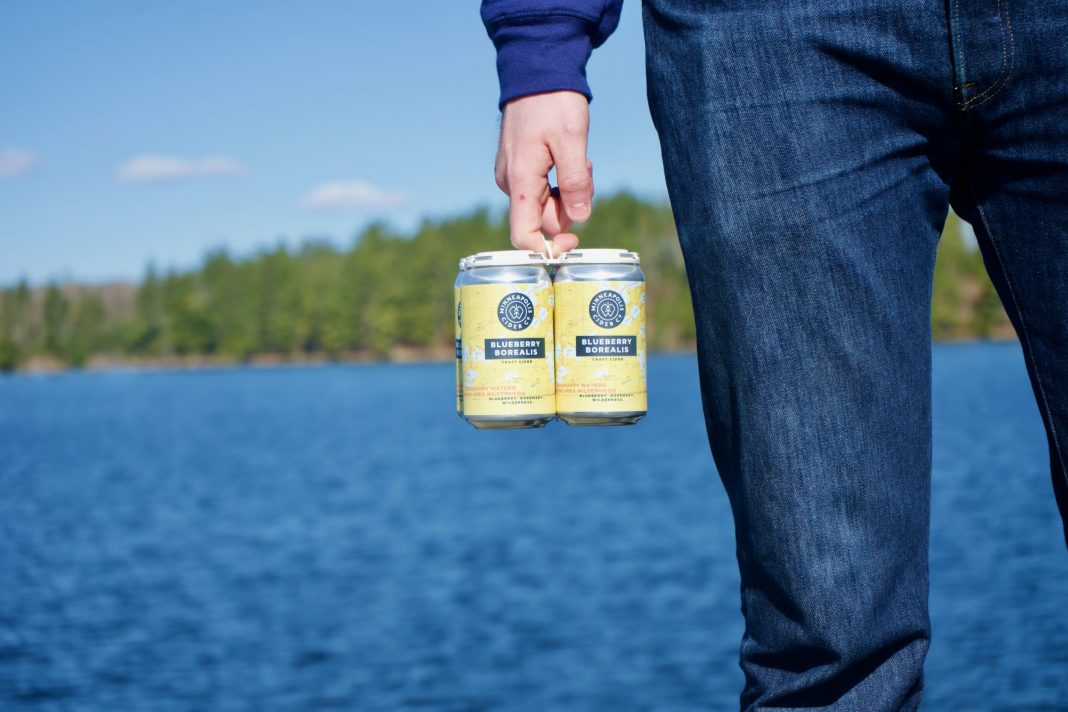 On a warm Friday night, I sit outside Minneapolis Cider Co. with a handful of friends. We've all got flights to start, and while tasting our own, we take occasional sips from each others' cups to decide which cider we want to order.
The conversation flows easily, with several drinks in each of us and indie pop playing in the background. The table next to us is enjoying Minneapolis Cider Co.'s signature crepes in between sips. It feels calm to sit down at a cidery and drink, away from White Claws and blaring bar music.
Hard cider is perfect if you're not a beer person. It's a refreshing drink usually pressed from apples that's sweeter than a typical beer, but not nearly as sweet as a cocktail. 
If you're trying to find a good cidery in Minnesota, here are a few great ones.
Minneapolis
701 SE Ninth St., Minneapolis
Located on the edge of the Marcey Holmes neighborhood, Minneapolis Cider Co. is one of my go-to spots. They have four core ciders that remain year-round but switch up the flavors every season. Their best seasonal flavors right now are the Dockside and Blueberry Borealis. Part of the proceeds from Blueberry Borealis goes to Friends of the Boundary Waters. Along with cider, they sell several cocktails, appropriately named with Minneapolis in mind. For the cocktails, they use their pomolgolies, which are homemade fruit and botanical liqueurs. Minneapolis Cider Co. also serves delicious crepes and galettes.
614 N. Fifth St., Minneapolis
With 16 flavors to choose from, Number 12 Cider will have you sipping all night. They have a variety of sweet, semi-sweet, semi-dry, and dry ciders. As someone who loves fruity cider, my favorites are the Flo-Rider and Union. If you can't decide on what cider you want to drink, they also offer flights. There's a sweet and dry flight, and each comes with four predetermined ciders. Sitting outside the cidery right next to the patio is a Little Tomato pizza truck. Choose from an array of wood-fired pizzas that are made to order. In the summer, there are lawn games to play outside.
1500 Fillmore St. NE, Minneapolis
Sociable Cider Werks finds its home in northeast Minneapolis. They have four flagship ciders that they keep on tap year round and have one new flavor every season. Along with cider, they offer mead, hard seltzer, and non-alcoholic pressed fruit juice. They make choosing a cider easy by rating their drinks on a scale of 1-10 in four categories: sweetness, tartness, bitterness, and body. I'm waiting for fall to come so I can try the Rusty Chain. It's cranberry flavored and both sweet and tart. Sammy's Avenue Eatery has a food truck set up at the cidery to make sure you're well fed. It offers soup and sandwiches throughout the afternoon and evening. The taproom isn't visible from the street, so make sure to check out their website before driving over (or informing your Uber driver).
Outside the Metro
78757 State Highway 16, Spring Valley
Nestled outside of Rochester in southeast Minnesota, Four Daughters Vineyard and Winery offers wine and cider. They have seven different kinds of ciders that you can order by the glass or by the six-pack. Explore the vineyard while sipping on a glass of their pear-flavored hard cider. If you're hungry while you're drinking, they offer wood-fired pizza, nachos, a charcuterie board, and cake. 
2307 W. Superior St., Duluth
When looking for cider up north, turn to Duluth Cider. The owners studied cider and wine making across Europe and put the skills to use in Duluth. They have a creative and wide selection of ciders. They offer traditional cider but also experiment with flavors like coffee, hops, and chai. If you really enjoy the cider there, make sure to pick up a T-shirt, flannel or Belgian glass to take home. 
4609 135th St. E., Dundas
Keepsake Cidery is a part of the cider-making process from seed to glass. They grow a variety of fruits, including apples, pears, and plums, most with the intention of cider creation. After harvesting apples, they press their own juice, age it for one to three years, and finally bottle the cider on site. They're open on weekend evenings and have a menu full of food from local farmers. Located about an hour south of Minneapolis, it's the perfect country getaway.
Facebook Comments