Pizza on the farm is fast becoming a popular summertime experience for city and country folk alike. In the most recent issue of Minnesota Monthly, Dara wrote about the "incredibly charming and memorable" Pizza Night at A to Z Produce, in Stockholm, Wisconsin.
But along the back roads of the Mississippi River there's another charming pizza farm, and it serves on the weekends (unlike A to Z's pizza night). If you're planning a weekend autumn trip through the Mississippi River Valley, the Stone Barn in Nelson, Wisconsin, is a destination offering pizza on the farm, ice cream, pristine woods, and an antique shop.
Stone Barn's pizza is constructed on extra thin crust baked in a wood-fired brick oven. They make fresh dough each day, and roll out a fresh crust for each pizza when you place your order. As for toppings, meat eaters can indulge in the Italian sausage, chorizo, or gyros, which they prepare on-site by combining local pork or lamb. The herbs that flavor the pizza are grown on-site, and if you're lucky, you can grab an outdoor table next to a raised bed overflowing with fragrant basil and rosemary.
The picturesque outdoor seating area is nestled among solid stone wall foundations left standing after a barn collapsed in the 1980s. If you can't grab an outdoor table, the grassy area allows picnickers to lounge, bird watchers to ponder, and butterfly chasers to rollick. If outdoor seating isn't available, indoor seating offers a view of the pizzas being made in their wood-fired brick oven. An antique shop offers a collection of antique jewelry and serve ware. Wait time can be up to two hours, so sipping a bottle of beer or a glass of wine (available on-site) and taking in the scenery and some antiques will help pass the time.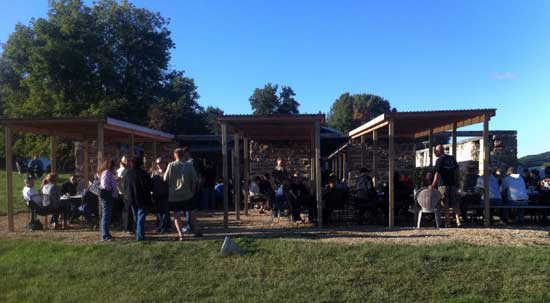 The Stone Barn will be closing a little earlier this year, so September 25th will be their last day for the 2011 season—they'll re-open in May of 2012. Until then, they're open every Friday, Saturday, and Sunday from 5 p.m. to 9 p.m.
Pack what you'll need, including bug spray, binoculars, books, etc. Be sure to take all that you brought; it's a private farm, not a public park.
The Stone Barn
S685 County Road KK
Nelson, WI 54756