The Twin Cities is in the midst of a designer outlet boom. Nearly a year since closing, Saks Off 5th—the outlet offshoot of the designer department store—has returned to downtown Minneapolis. It's the retailer's second location in the metro area following its storefront at Eagan's Twin Cities Premium Outlets. Locally owned designer discounter Opitz Outlet has expanded beyond its original St. Louis Park location to include second and third stores in Minnetonka and Minneapolis (on the West Bank). And Nordstrom Rack, a longtime tenant at the Mall of America, has recently added locations in St. Louis Park and Maple Grove. 
This wave of action on the retail outlet front makes one thing clear—deals on designer goods are more popular than ever among consumers. Here's my take on how they compare: 
The deals: Nordstrom Rack and Saks Off 5th promise savings of 30 to 70 percent off original prices. Opitz Outlet gets the edge when it comes to the best deals, with discounts of 70 to more than 90 percent off storewide. 
The merchandise: Nordstrom Rack and Saks Off 5th have a similar selection of clothing and accessories from brands such as Tory Burch, Kate Spade New York, MICHAEL Michael Kors, and Lauren Ralph Lauren. During a recent visit, the most noticeable differences were Nordstrom Rack's superior shoe selection, and Saks Off 5th's outstanding selection of designer sunglasses. Meanwhile, Opitz Outlet stocks a much broader selection of brands, from straight-from-the-runway pieces to budget-priced department store brands. 
The verdict: For those seeking high-end deals, Opitz Outlet and the even more discounted Opitz Annex get the edge. Because owner Lyn Opitz has been sourcing the stores' goods for nearly 30 years, he's accumulated countless vendors spanning major department stores to small boutiques—and by buying in bulk, he's able to pass on the savings to customers. 
Photo by 2nd Truth Photography
---
Designer Deals
With the opening of new Nordstrom Rack and Saks Off 5th stores, and the expansion of Opitz Outlet, it's becoming easier for Twin Cities shoppers to score deals on designer goods—perhaps a $7,000 Rodarte runway gown marked down nearly 90 percent, or $400 Dolce & Gabbana sunglasses for less than a hundred. While many outlets primarily carry lower-quality versions of main-line merchandise, these discount centers feature only high-end items from full-line stores.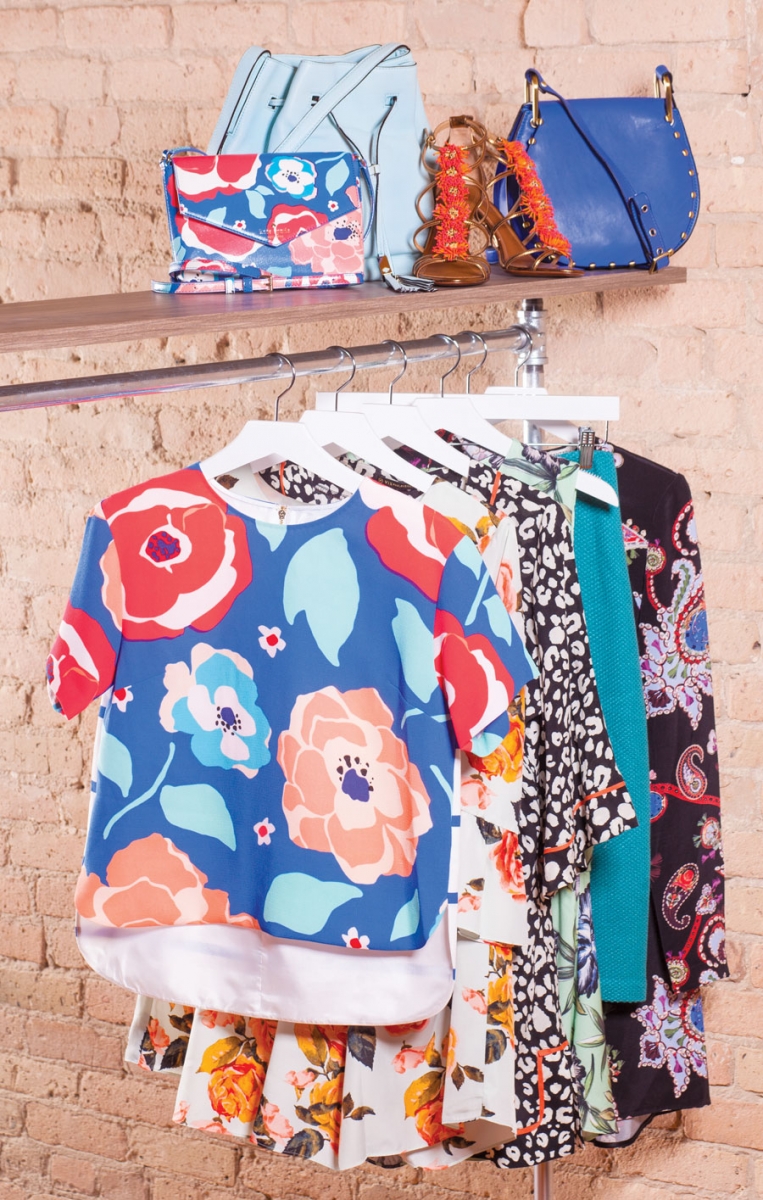 Photos by TJ Turner
Shelf, left to right: Kate Spade New York handbag, $99, Kate Spade New York handbag, $180, Tory Burch sandals, $170, all @ Nordstrom Rack; Cynthia Rowley handbag, $100 @ Saks Off 5th
Rack: Kate Spade New York top, $95 @ Nordstrom Rack
Top Row, Left to Right: CeCe dress, $70 @ Nordstrom Rack; necklace, $12, and Mary Katrantzou dress, $695, both @ Opitz Outlet; Alice + Olivia dress, $298 @ Saks Off 5th; necklace, $12, and Tracy Reese dress, $104, both @ Opitz Outlet; Miu Miu sunglasses, $80 @ Nordstrom Rack
Middle Row: Alice + Olivia shorts, $74 @ Opitz Outlet; Tory Burch sunglasses, $70, and 1.STATE top, $40, both @ Saks Off 5th; Alice + Olivia shorts, $149 @ Opitz Outlet
Bottom Row: Marc by Marc Jacobs handbag, $180, Ivanka Trump flats, $47, Tory Burch mules, $130, Michael Michael Kors sandals, $60, Ivanka Trump sandals, $70, all @ Nordstrom Rack
Read more about the new locations of Saks Off 5th, Nordstrom Rack, and Opitz Outlet.