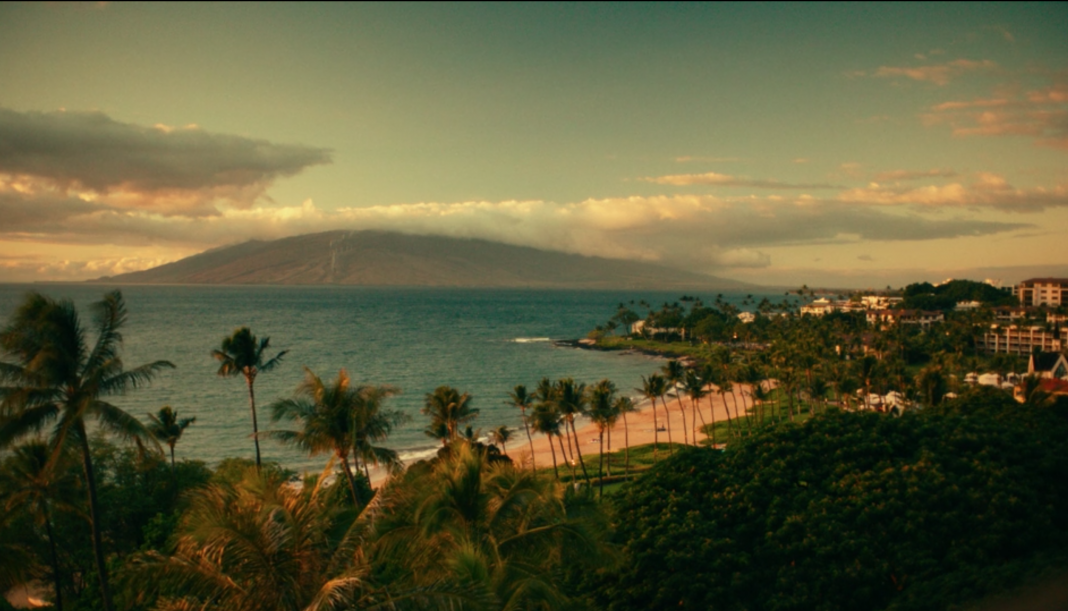 In January of 2021, Jordan Sramek, the artistic director of the Twin Cities-based Rose Ensemble vocalists, received a phone call from the music coordinator of HBO's The White Lotus inquiring about using the group's 2007 album Nā Mele Hawai'i in an upcoming project.
This wasn't entirely unprecedented, as the Rose Ensemble's work had been featured in shows like Hawaii Five-0. But Sramek says he was stunned by the amount of music that the HBO creative team was asking for. What was first a request for one song became a decision to use nine separate tracks, adding up to almost 15 minutes of airtime in what later became a hit TV show. 
The White Lotus, set in Hawaii, is about affluent hotel guests: a family, a newlywed couple, and a grieving heiress, all searching for connection and happiness but finding themselves falling short according to their personal shortcomings. The wealthy hotel guests stand in contrast to the staff of the White Lotus resort, who have their own set of struggles to attend to, in addition to their needy guests. The result is a show that invites conversation about the layers and intersections of privilege.
Prior to airing, the Rose Ensemble team had no knowledge of these details of the show, as is usual for licensing discussions, Sramek says.
"As such, without knowing specifically how our music would be used, I worked diligently to inform the series' creative team and to provide as much context as possible, such as translations, composers' biographies, and, most important, perspectives on the cultural, spiritual, political, and historical significance of the music they had chosen," Sramek told me in an email.
The album in question, Nā Mele Hawai'i, was the result of over two years of intensive research that originally hadn't been intended to inform an album at all.
The Rose Ensemble, under the direction of Sramek, strove to create music from cultures and languages not typically taught in global institutions of higher learning, such as French or Arabic. 
"We therefore rely upon native speakers for guidance and coaching," Sramek says. "In the case of Hawaiian, this was key, since the language is not only heavily nuanced and rich with vital cultural context, but it is also both an historical and contemporary tongue."  
To undertake this scholarly journey and bring it to the public, the Rose Ensemble collaborated with and took guidance from a number of people, including linguists, musicologists, ethnomusicologists, librarians, archivists, native Hawaiian cultural practitioners, elders and keepers of ancestral knowledge, experts and advisors on cultural protocol, and others. 
Sramek says the Rose Ensemble was aided by native Hawaiian Dr. Amy Ku'uleialoha Stillman, an associate professor of music and American culture and director of Asian/Pacific-American Studies at the University of Michigan. Dr. Ku'uleialoha Stillman made the necessary translations and edited the texts to help the music ensemble have an accurate (and historical) approach to pronunciation, according to Sramek.
In February of 2006, the Rose Ensemble gave a live performance with a wide array of historical Hawaiian vocal music, enhanced by narration and featuring highlights from the legends of the goddesses Pele and Hiʻiaka, accounts from Captain Cook's ship logbooks, Christian missionaries' letters home, Queen Liliʻuokalani's diary entries, biographical information on Kings Kalākaua and Kamehameha IV, and more.
Sramek was shocked by the outpouring of support for and interest in the project.
"People who had travelled to [Hawaii] year after year—some of whom had even lived there—expressed feelings of guilt, shame, and sadness for not knowing more about the painful history of the plight of the Hawaiian people, and how the Hawaiians' language, their spiritual practices, their ancient chants and hula were almost exterminated after the arrival of seafarers and Christian missionaries," says Sramek (in effect summarizing underlying themes in The White Lotus). "So not only did we as an organization vow to invest more in bringing this performance to the general public, we also began extensive fundraising activities in order to provide free educational outreach activities to schools, libraries, churches, senior homes, and community centers." 
Now the Rose Ensemble's work has reached an even larger audience. 
The show's finale in August drew 1.9 million viewers, and a strong interest in its soundtrack has emerged. Sound designer Cristobal Tapia de Veer's score has received praise from the Los Angeles Times, Vulture, and other outlets. 
The music, or lack of music, in a television show carries us through the emotions of a scene. It is an integral part of good storytelling because it fills the natural gaps of miscommunication and silence, bringing us deeper into the characters' heads and adding another sense to the setting.
In the case of The White Lotus, Tapia de Veer told NPR he wanted to do "some kind of Hawaiian Hitchcock," and he seems to have met his goal. Critics and viewers alike describe the sound as haunting, a cacophony of primal percussion in combination with unintelligible voices. 
This eerie soundtrack stands in extreme contrast to the Rose Enemble's contribution to the show. Instead, Nā Mele Hawai'i's nine tracks are a reprieve from the anxiety-inducing sounds created by Tapia de Veer. Their voices ring across the backdrop of the rare moments of serenity amid the havoc that the hotel's privileged guests slowly wreak upon the employees of the White Lotus and each other. 
After the series aired, fielding inquiries, managing social media commentary, and filling CD orders became a second full-time job for Sramek. 
"Of course, our organization is pleased with all the exposure, and I'm particularly glad that Hawaiian hymns and art songs are receiving some much-deserved, international attention," Sramek says. "The compositions of Queen Liliʻuokalani, for example, are exquisite and should be more widely appreciated." 
The Rose Ensemble's research and care for the integrity of musical storytelling add an undercurrent of sincerity to a show whose central conflicts revolve around ignorance and privilege.
What happened to the Rose Ensemble?
While The White Lotus has reminded us of the Rose Ensemble's success, it's also a sobering reminder of the organization's recent demise.
It was May of 2018 when the Rose Ensemble's board of directors announced its intention to dissolve the organization, Sramek says. This news sent shockwaves through the community, he recalls, noting a "remarkable response" from individuals and institutions who pledged to help give the Rose Ensemble a final performance season. 
That season, ending in June of 2019, was so successful that the board for a short time considered trying to resurrect the group, Sramek says, although the organization ultimately closed its doors. 
"The musicians and I still had national performance obligations to fulfill through March 2020, but of course COVID caused everything to be canceled," Sramek says. "Since then, we have been focused primarily on archiving my research and our almost 25 years of performance footage, which will soon be donated to the Minnesota Historical Society."
Facebook Comments