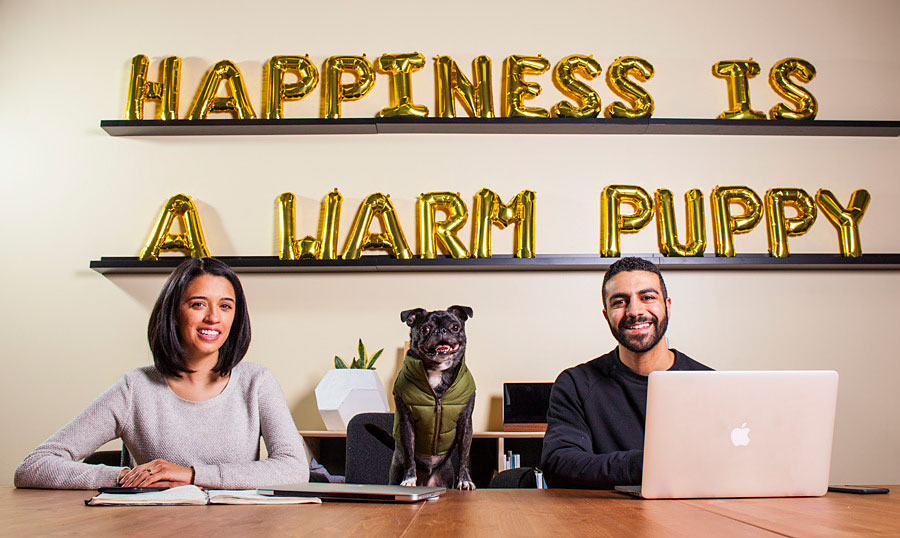 Ashley Paguyo, Lucy the bugg (Boston terrier + pug), and Ahmed El Shourbagy of Lucy & Co. Photos by TJ Turner.
Concept: An online shop for top quality dog apparel and accessories. "When our customers receive our products, we hope they feel the kind of excitement of bringing home a puppy," says El Shourbagy.
Genesis: Struggling to shop for Lucy online. "We were the millennials with a dog and disposable income," says El Shourbagy. "We didn't want a cheesy dog hoodie."
Target Demographic: As younger people are delaying traditional milestones like babies and marriage, Paguyo says the role of dogs in our lives is evolving. "Twenty years ago, my mom might not have considered buying a nice collar for our family dog," she explains. 
Why Now? The evolution of drag-and-drop technology made it possible to build a functional e-commerce site. "I couldn't have done this three years ago," says El Shourbagy. "The tools weren't good enough. I still don't know how to code."
OMG Moment: When they released their own line of dog hoodies in 2014, they couldn't keep them in stock. "Every five minutes, it was ding, ding, ding," says El Shourbagy. 
Startup Costs:
$500: Camera
$50/month: Shopify e-commerce subscription
$10-$20/month: Other monthly online services including shipping 
$5,000: Inventory
$2000-$3000: Photographer. "When you're selling stuff online, photos are everything," says El Shourbagy. "We went for the best $500/hour photographer."
Funding: Paguyo and El Shourbagy are also the duo behind the insanely popular Dogs of Instagram, which now has 2.9 million followers. When they launched Lucy & Co. in 2014, they funded their startup with savings as they steadily monetized Dogs with sponsored posts from the likes of Purina. The revenue gave them confidence to quit their day jobs. 
Competition + Risks: One of their Dogs partners, Bark & Co., now has its own online shop, and juggernauts such as Petco are now selling more premium and curated accessory lines. 
Competitive Advantage: El Shourbagy credits his wife's product development intuition: "She's the special sauce. You can't replicate Ashley. She knows what people are going to love next."
 
How do other Minnesota start-ups compare? Learn about businesses The Herbivorous Butcher and RetraceHealth.