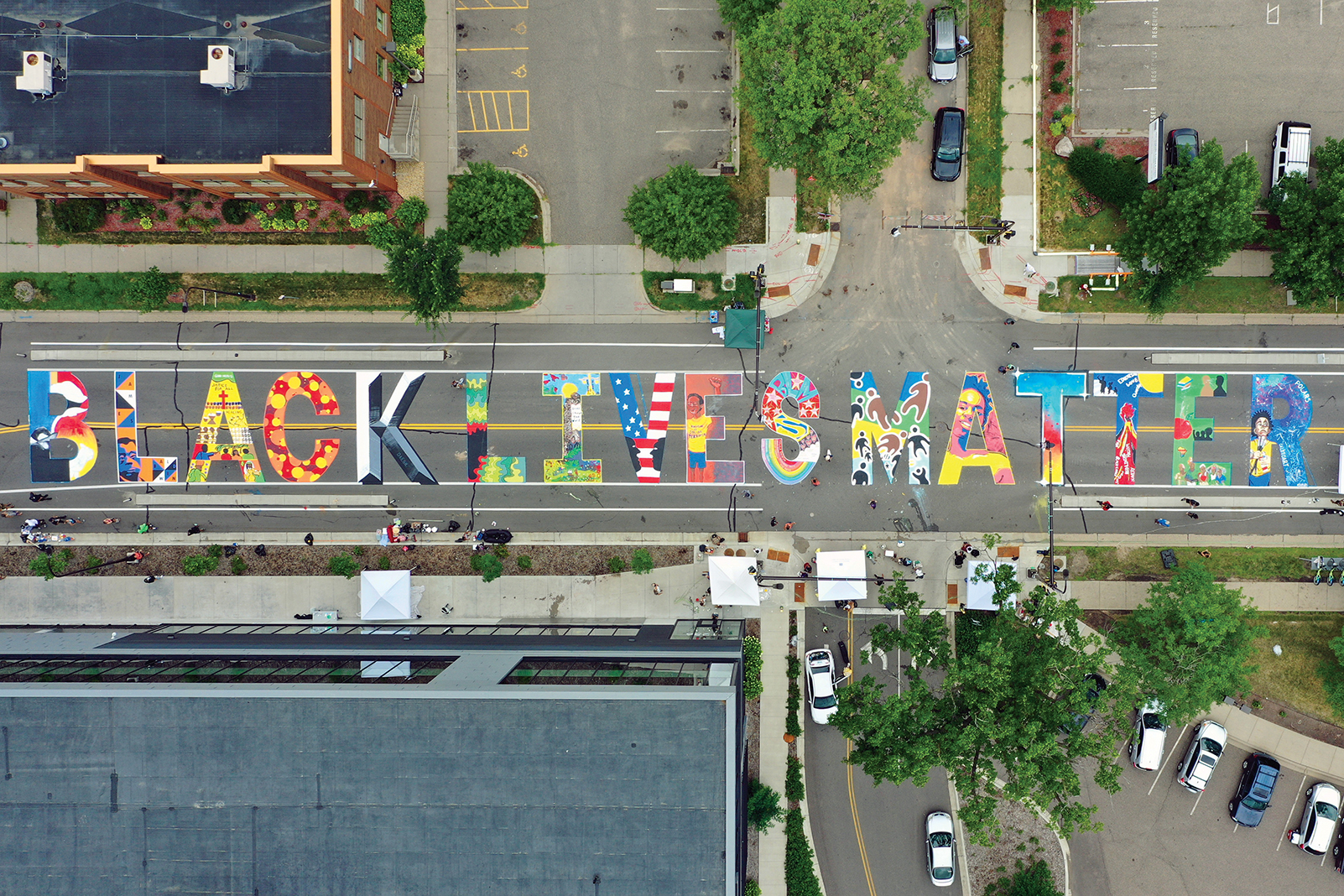 Sixteen local artists and dozens of volunteers came together July 18 to paint a "Black Lives Matter" mural on the surface of Plymouth Avenue North despite temperatures in the 90s and the ongoing pandemic.
The Minnesota African American Heritage Museum and Gallery hosted the street mural painting in front of its location between Penn and Newton avenues.
Tina Burnside, cofounder of the museum, said during the event that she saw the "Black Lives Matter" street murals in other U.S. cities and felt Minneapolis needed one as well.
"We need to put one here in Minneapolis, which was the epicenter of the movement for racial justice that was sparked by the killing of George Floyd," she said to spectators.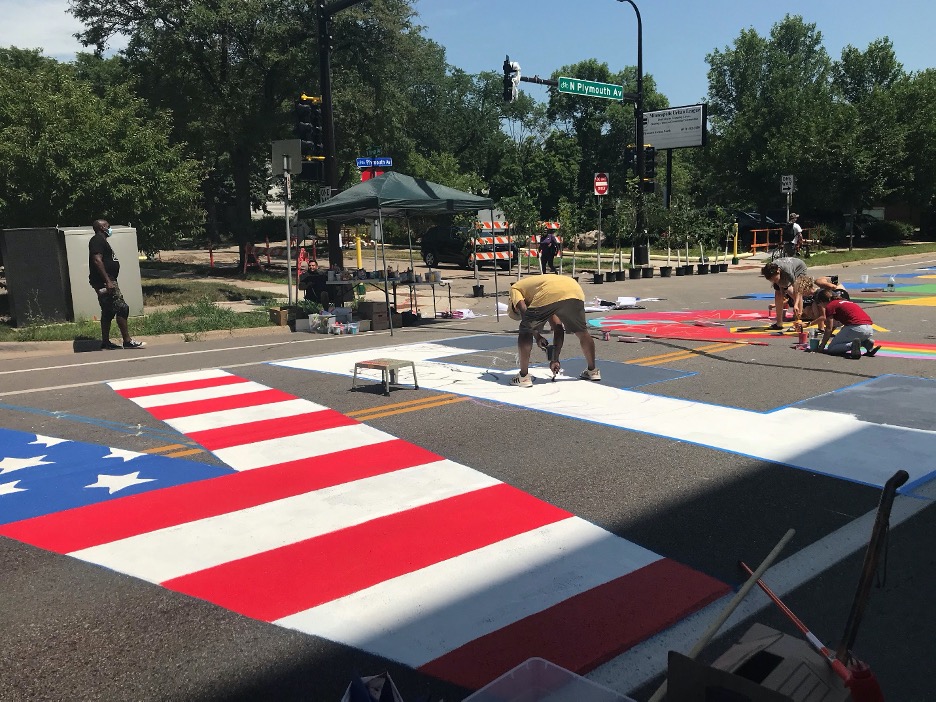 According to the museum's Facebook event page, the public was encouraged to attend between 9 a.m. and 5 p.m. and to wear face masks to protect against COVID-19.
By 10 a.m., about 50 people had joined the artists on the street to paint or to stand on the sidewalk to watch them work.
Burnside said to spectators that the mural needed to be in a historic Black community, and Plymouth Avenue was the center of Black economic activity and life for decades.
Mary Altman, city public arts administrator, said in a telephone interview the mural is significant because of how it will engage the community.
It is a topic the community cares about and will talk about long afterward, she said.
Altman said the city doesn't typically approve busy streets like Plymouth Avenue for pavement art, but the city made an exception "given these times."
It's likely that the mural will not last more than a few months.
Altman said most pavement art projects don't last past November because of the snowplows and road salt.
Melodee Strong, an artist hired by the museum to coordinate the mural, said in a telephone interview the chemistry of the latex paint on the hot surface may mean it fades before winter.
Strong said she's worked on over 50 public murals in the area, but this was the first time she's coordinated with 15 other artists. Each artist worked on an individual letter.
She said she chose the font and outline for the mural, but each Black and brown artist could design what they wanted.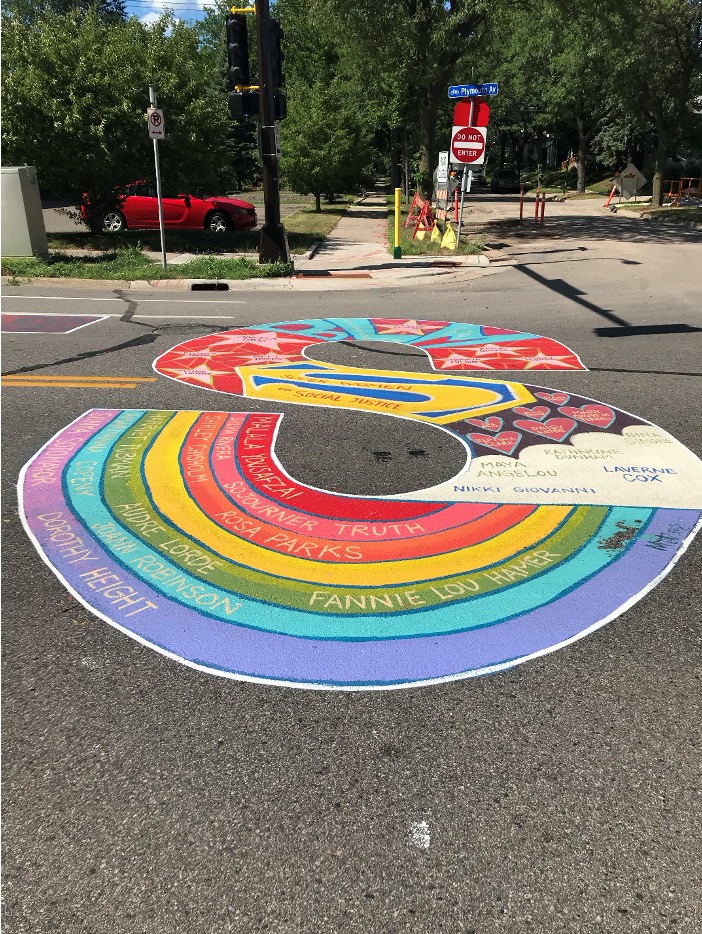 "This is their opportunity, that they don't always get, to have freedom to do what they think is important," said Strong.
She said her concept for the "S" in "lives" was "superwomen of social justice" with the letter as a superhero emblem.
Strong's "S" is filled with a rainbow of colors and names which include Rosa Parks, Maya Angelou and Sojourner Truth.
Strong said she was responsible for managing the mural while Seeds to Harvest helped arrange volunteers for the overall event.
Brett Buckner, a representative for Seeds to Harvest, said in an email that it is an informal coalition of local community organizations that does service projects across north Minneapolis.
Ashley Partyka, an intern with Seeds to Harvest and University of Minnesota student, said the volunteers were at the event to help the artists if they needed water or painting assistance.
Partyka said the volunteers would also plant trees and hand out voter registration and census information in the neighborhood.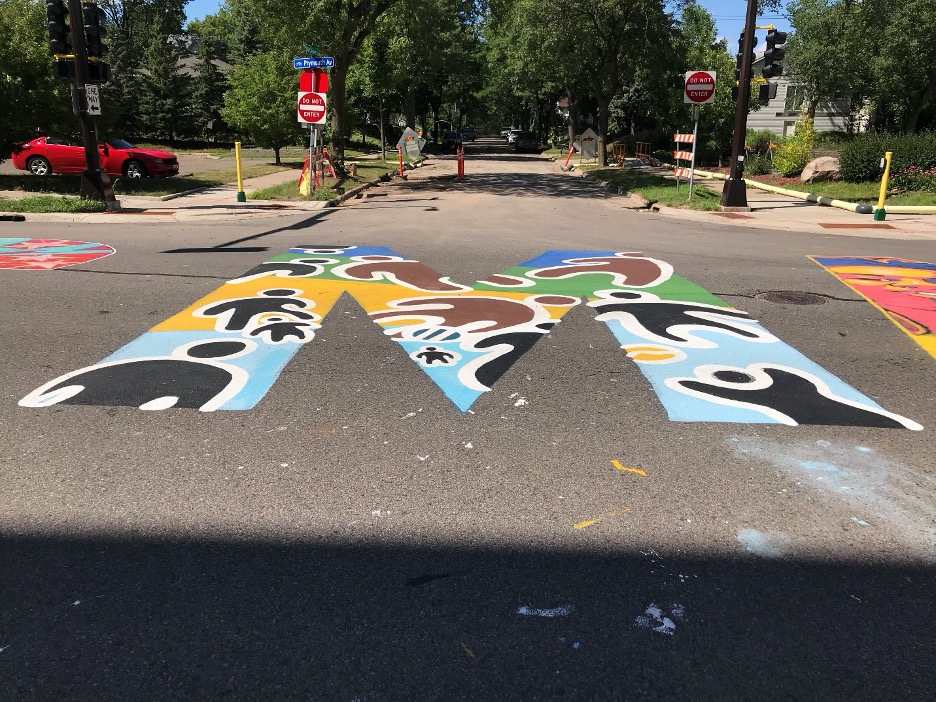 Chris Harrison, an artist who has lived in the Twin Cities for 30 years, said in a telephone interview he chose to paint the "M" in "matter" because it covers a lot of space.
His "M" has silhouettes of human figures in brown and black against a background of blue, yellow, and green.
He said his art is inspired by a trip to Senegal, Africa, years ago.
"The concept of using the patterns that relate to the ancestral homeland and bringing in the urban setting is something I do in my work," said Harrison.
Harrison said he got involved with the mural through Strong, whom he works with in the Roho collective, a group of Black, Indigenous and people of color artists who exhibit together.
He said he wasn't concerned with painting in the heat. He's worked on at least five outdoor murals over the last month while temperatures have been in the 80s and 90s.
Timi Bliss, a children's author and illustrator, worked on the letter "L" in "black."
"I didn't think twice about signing up," she said in a telephone interview. She grew up with Burnside, cofounder of the museum, and created the graphic panels in the museum when it opened two years ago.
A portrait of James Baldwin is centered in the corner of her "L" in colors of blue, orange, and black. His name is spelled out in clear block letters.
Bliss said she wanted to paint a detailed image of Baldwin's face, but it needed to be simplified given the size of the letter. This was her first street mural.
"The scale is incomprehensible," she said of the letter, which is 24 feet by 11 feet. "I'm trusting in my ability to graph out the image and work square to square to square."
Bliss said Baldwin was transcendent and someone everyone should know.
"I want the community and people to know the power that lies within the Black community," she said of the final mural.
Monica Bryand, co-executive director of Voices for Racial Justice, a local organization working on racial justice efforts for over 25 years, said in an email, "We are thrilled to have this beautiful art piece in our city, and I know that it means a lot to us and so many others."
Harrison, who worked on the "M" in the mural, said he hoped it doesn't get painted over as he has seen in other cities.
"We need to keep it in people's minds, and people can see that art can speak to change as well as be a marker of time and history."