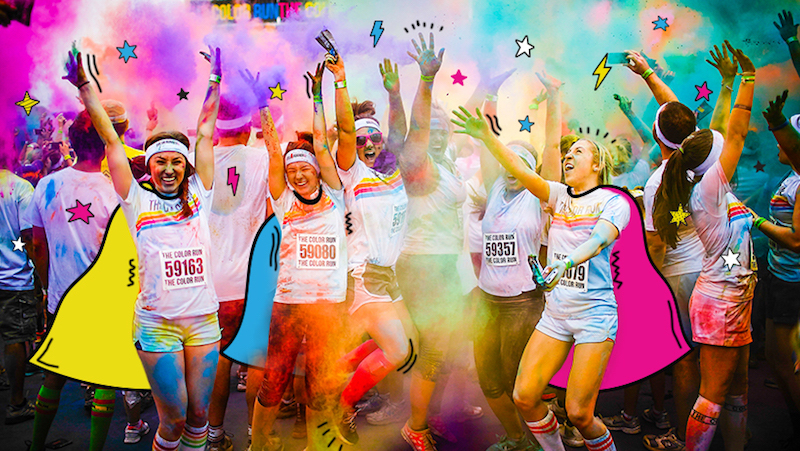 courtesy The Color Run
 
What if I told you that there was a way you could help a good cause, get exercise, and have fun all at the same time? With fun runs you can accomplish all three! You don't have to be a avid runner to participate and many races donate proceeds to charity. These nine runs are fantastic ways to get outside, spend time with friends and family, and enjoy Minnesota's beautiful summers. 
Midnight Sun Midnight Run
June 22, 2018
Duluth, MN
Not a morning person? Then this 5K is the fun run for you! The race begins when the clock strikes midnight. Run beneath the stars while enjoying the peace and quiet of a warm summer Duluth night.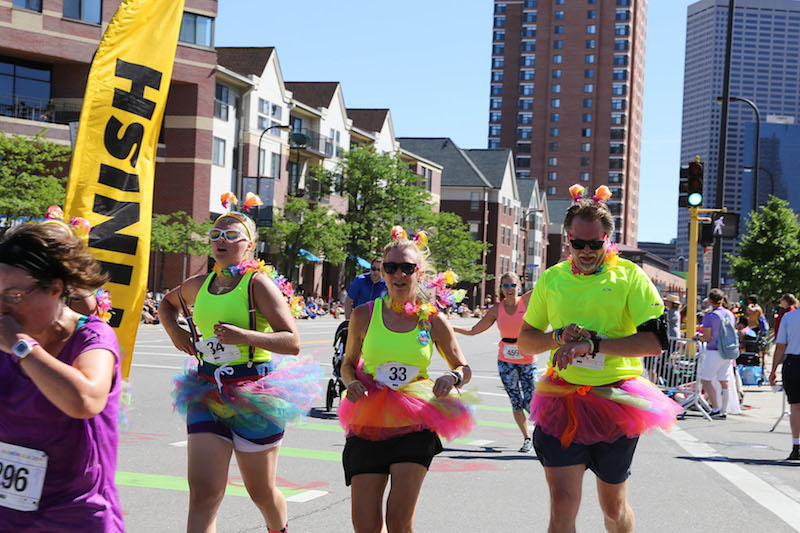 Courtesy Twin Cities Pride
Twin Cities Pride Rainbow Run
June 24, 2018
Minneapolis, MN
Show your pride at the Rainbow Run 5K! The race is a part of the annual Twin Cities' Pride Celebration, a festival that aims to support and celebrate the LGBTQ+ community. After the race, 21+ runners get a free beer at the Twin Cities Pride Festival Beer Garden.
Bubble Run
June 30, 2018
Minneapolis, MN
Are you living in a bubble? After this race you will be! Run, walk, or dance your way through this 5K race, while being showered in colorful foam. It's impossible not to have a good time when you're surrounded by bubbles. 
Bigfoot 5K
July 7, 2018
Remer, MN
This race takes you through the "Home of Bigfoot," where episodes of Animal Planet's Finding Bigfoot were filmed. After the race, join in on the storytelling and a Bigfoot BBQ—who knows, maybe the big guy himself will show up.
Margarita Madness
July 7, 2018 
St. Paul, MN
This 5K is more "fun" than "run." Fresh margaritas, food trucks, and music await you at the finish line, which is when the party really starts. Get ready to dance the night away to the DJ at the main stage for an evening margaritas and madness!

Courtesy of The Color Run
The Color Run
July 8, 2018
St. Paul, MN
Nicknamed "The Happiest 5K on the Planet," The Color Run will take you down a rainbow road. Wear all white and be sure to take a before and after photo, because when you cross the finish line you'll be covered from head to toe in color. As one of the largest running series in the world, The Color Run is not a fun run to miss out on.
Wicked Wine Run
August 11, 2018
Stillwater, MN 
Walk or run along the beautiful trails of Saint Croix Vineyard for either the 5K run or 1K tasting walk. Glasses of wine, food trucks, and live music await you across the finish line. The race is 21+ for obvious reasons, so it's not an event for the whole family, but for those old enough to participate, don't forget to dress-up for the costume contest!
The Glo Run
August 25, 2018
Bloomington, MN
This 5K walk/run is lit. Seriously. Not only is the course lit with glowy lights, but so are you! Get ready to dance and glow all night at this fun run.
Happy running!
Facebook Comments