The Look: Elizabeth McKay blouse, $219, Henry & Belle skinny ankle jean, $149, necklace, $158, and bracelets, $30 each, all @ Melly, 3327 Galleria, 952-929-9252, mellyonline.com; Loeffler Randall calf-hair pumps, $350 @ Pumpz & Co., 3335 Galleria, 952-926-2252, pumpzco.com. Photos by Erin Smith. Hair and makeup by Shannon Darsow.
Dr. Carol Bruess has a PhD in family communication, is a professor and director of the Family Studies Program at the University of St. Thomas, co-hosts the WCCO Mid-Morning segment "Relationship Reboot," and is a published author. But despite the seriousness of her credentials, the perky 47-year-old has a style that's anything but. It might be described as classic yet eclectic, with a dollop of preppy—or, as she likes to put it, "as if J.Crew married vintage resale and they adopted Frye boots and ballet flats as offspring."
Bruess is known around campus as a high fashion gal, "which is kind of hilarious because I'm just a high-aesthetic type," she explains, "but my style stands out on a college campus because most professors are, well, flat on style."
Upon meeting Bruess, it's hardly surprising to learn that she got her undergraduate degree in art and has been sewing for nearly 40 years. In fact, she sews and designs most of her home décor and gifts using vintage and reclaimed fabrics. So consider her a high-aesthetic type turned academic. "But secretly, I'd paint and sew all day—with a yoga break—if I could," she admits. 
Bruess's colorful personal style is reflected in the 1920s St. Paul home she shares with her husband, Brian—an executive VP at St. Catherine University—and teenage daughter, Grace, and son, Tony. There is a story to go with nearly every piece of furniture and décor: An architectural lamp found at a reuse store in Madison, Wisconsin rests on a vintage robin's-egg-blue AV cart, itself a salvaged find from a building on the University of St. Thomas campus slated for demolition. In the sunroom, a couch is filled with an overwhelming number of colorful, patterned pillows crafted by Bruess and her daughter, pieced together from vintage fabrics.

Bruess's handmade pillows
One unique element of the family's home is its original grasscloth walls, a 1920s-era treatment in which strips of heavy-duty cloth were layered over plaster. She says, "It's really fun to find a home with grasscloth because in the '50s and '60s people said, 'This stuff's ugly!' and got rid of it." 
Of course the retro wall treatment would please a collector. Bruess's multiple penchants include a row of glass cake stands of varying styles and sizes; 1950s-era fans scattered throughout the living room in various sorbet shades; and vintage postcards (and during the holidays, vintage glass Christmas bulbs) dangled from a mobile. The cake stand collection began with one that belonged to Bruess's grandmother and quickly multiplied. "I bought one or two more, and people started to think of me as the cake plate lady," she explains. 
Despite the many vintage touches in Bruess's home, it's still decidedly modern, thanks to contemporary furniture from Room & Board and a kitchen dominated by stainless steel and industrial lighting—a renovation job that was tackled hands-on by Bruess and her husband, in fitting with their DIY style.

bruess's collection of cake stands and vintage postcard mobile
---
Carol Bruess's Style Crib Sheet
Styling an Upstairs Porch
"I thought, that's the answer!" she says of her idea to install Astroturf onto the porch along with colorful steel furniture from Room & Board. "It was just begging for some beauty. It's such a magical private space—it's like our treehouse."
Favorite Shopping Spots
As a successful career woman and mother of two teens, Bruess's life is really busy. "At this stage, I shop fast and gravitate to just a few quick and easy, go-to brands and stores" she says, naming Laundry, Vince, Anthropologie, J.Crew, Madewell, Nordstrom and Nordstrom Rack, and upscale resale shops among her favorites. 
A Pressing Obsession
"I've taken over a room in our house for my closest and filled it with vintage metal bookcases to store sweaters, boots, and jeans," she says, "and I have my iron on a remote because I use it every day. I love pressed clothes!"
---
Web extra—Tour Carol's house:

Tory Burch knit dress, $395, and beaded flower necklace, $98, both @ Melly; Bettye by Bettye Muller suede pump with fur pom, $195 @ Pumpz & Co.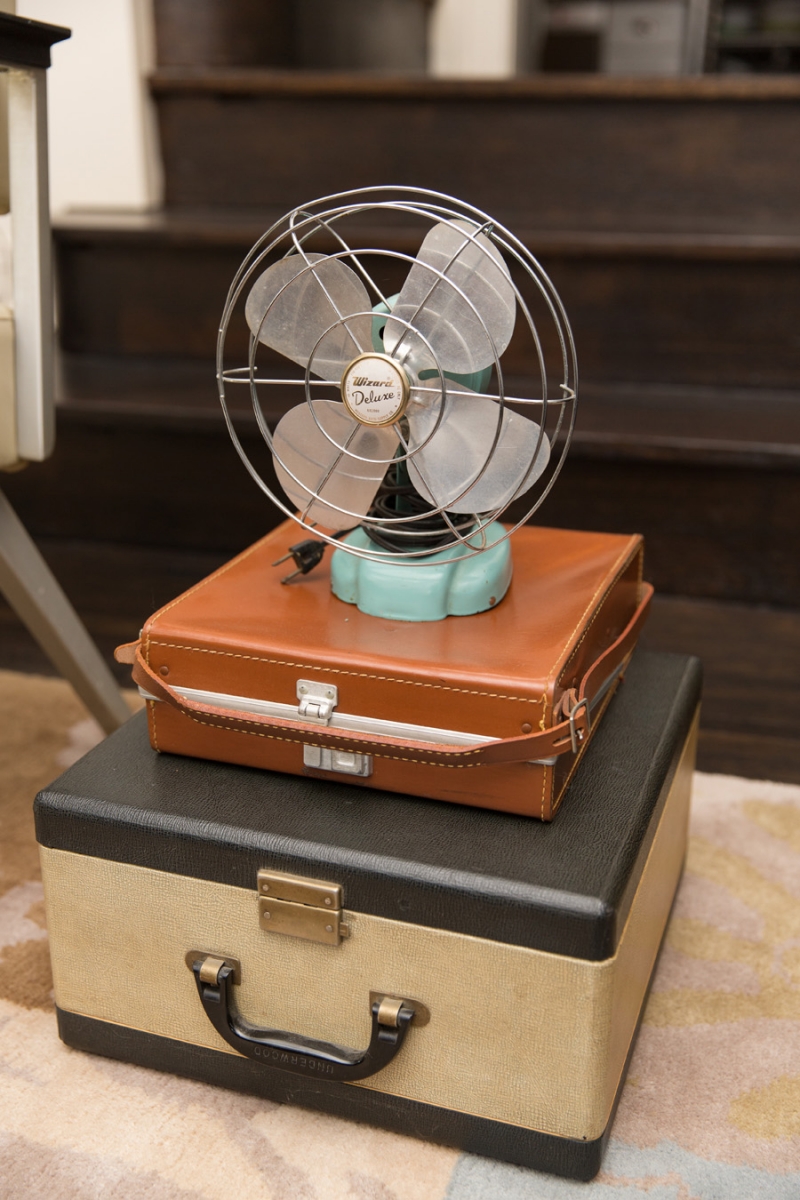 Facebook Comments