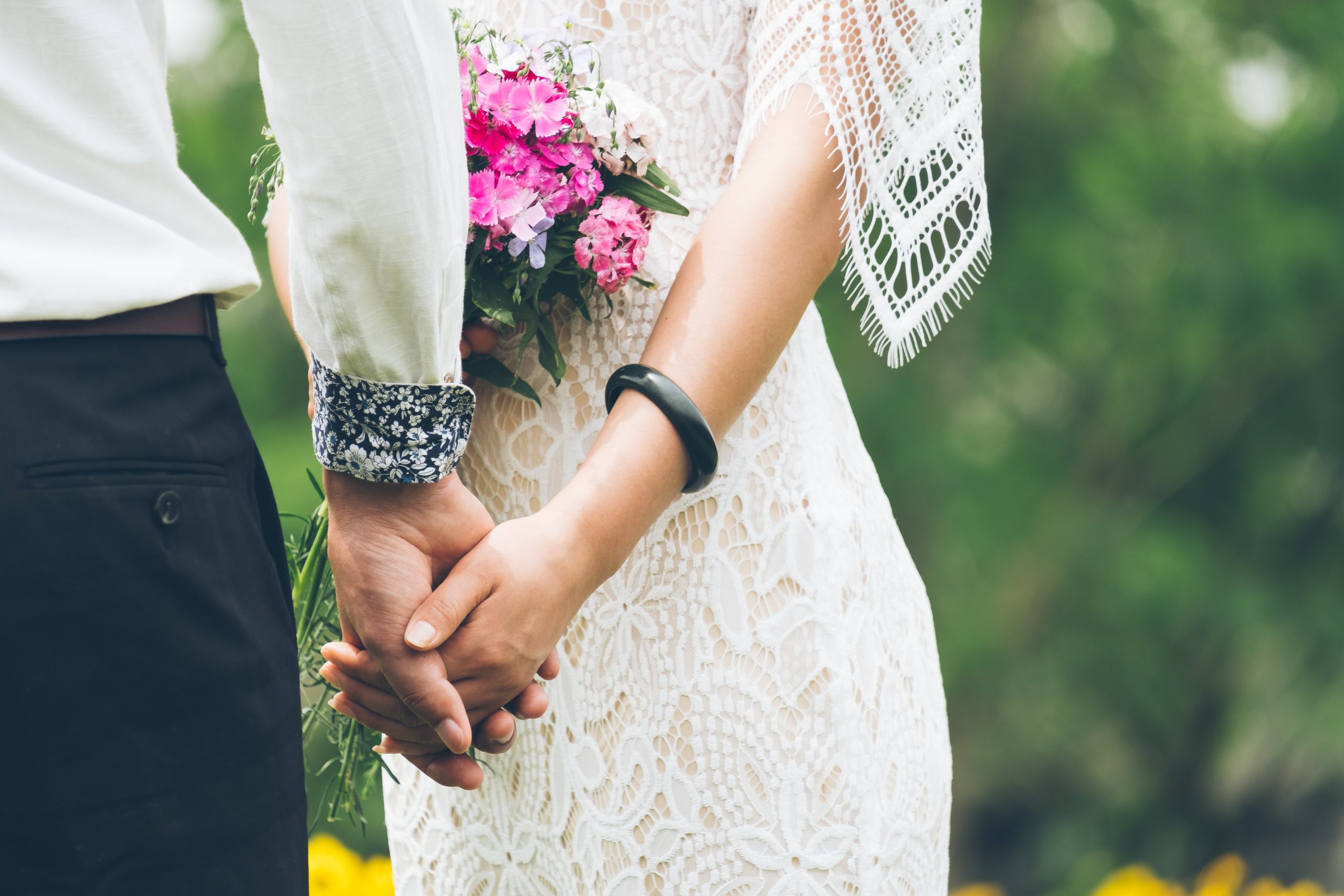 Twin Cities local Sophia Rick is one of the many people hoping to get married this June. Even as she has been sending out invitations, she's been half-joking that she has the "right to uninvite." Currently, her church is only allowing 10 people, which doesn't even cover her, her fiance, their parents, and their siblings. "It's not like my day would be completely ruined if all my friends weren't there. At the end of the day, we just want to be married," she says, "so it's not really affecting our mental state about the whole day, if that makes any sense. It's going to happen whether or not everyone is there."
Rick, along with thousands of other brides, grooms, wedding parties, photographers, caterers, and others are forced to go through a waiting game. Every person and business has been impacted by the pandemic, and wedding-centric businesses are no different. And just like everyone else, those in the wedding industry are hoping that things can return to normal (or some version of normal) sooner rather than later.
 

View this post on Instagram

 
A Closed Storefront
At Annika Bridal Boutique in Edina, store manager Rachel Seppi and owners Annie Corbin and Kate Applebaum were already feeling the change back in mid-March. In an effort to follow the social distancing guidelines that were coming out, the store put a limit on how many people the bride could bring with her to an appointment. Attendants started asking the bride to dress herself instead of helping her into and out of the gown.
While the store had always been sanitary, now Lysol and hand sanitizer were in easy reach, and staff doubled down on cleaning the clamps that helped fit the sample dresses. Perhaps most indicative of the growing situation, the team started trying to book as many appointments as possible before the end of the month.
Now, in late April, the retail front is closed and the stylists are not working. (Seppi says that all of them had full-time jobs outside of the boutique.) Spring is a popular time for alterations, but the shop's seamstress can only work on dresses if the bride was able to come for a fitting prior to shutdown.
So far, Seppi says they have not had any requests for virtual dress appointments, nor have they seen the need to explore more unorthodox methods, such as shipping sample dresses to women. Every week, she, Corbin, and Applebaum run back and forth to the shop to receive dress orders for brides who have chosen dresses. They also want to make sure they can show a full, curated stock whenever they're able to open their doors again. In anticipation of a May re-opening, brides are still booking appointments, and everyone's crossing their fingers.
"When we do reopen, it's still going to be some distancing, and we'll have to figure out 'what is this new normal?'" Seppi says. "Do you have to limit your group? Is the shopping experience going to be a little different? Maybe. … At the end of the day, we're just a little more one-on-one, and the experience might be a little more personal because it won't be you and five of your friends with you shopping. It might be you and your mom or you and your sister."
 

View this post on Instagram

 
Waiting for June
For venues, florists, and photographers, the pandemic didn't arrive as a closed storefront. Instead, it arrived as an email, asking about postponement policies.
"Initially, people just started reaching out with questions. 'What if I can't have my wedding? What are my options?'" says Christy Turman, the chief operating officer who oversees the venues A'bulae, Bavaria Downs, and Van Dusen Mansion as well as Bellagala, the wedding service middleman that connects couples with photographers, DJs, florists, and more.
"Now it's a little more controlled. I'm reaching out to couples in the first weekend in June. 'These dates are available; you have four days to choose from these dates.' Then I go to the second week of June and offer the remaining dates. I'm trying to take them in order [rather] than just offering them up to anyone who is wanting to postpone because I believe that's fair."
Most vendors are allowing couples to use the money they have already invested toward a new wedding date anywhere between a year and 15 months from the original date, although they all caution couples to book soon. After all, there are only so many weekends—and even Thursdays and Fridays—before you start colliding with 2021 weddings. Turman says she will have to reschedule more than 200 events if she has to go through June, and if the pandemic causes disruptions through July, it'll end up affecting about 40 percent of the companies' weddings in the year.
For Claire Zobel, owner of Florals by Claire, the effects of the pandemic hit quickly. Spring constitutes about 15 to 20% of Zobel's annual weddings, and by the end of March, 18 brides had already cancelled or rescheduled.
Despite the tough times, she's not worried about having to close doors. "People are going to get married; I'm not worried about that aspect," she said at the time. "The hardest part for me is that I have absolutely no income. If I can reschedule these weddings down the line, I will have that income at that point, which is wonderful, but it's really hard for me to say I'm not working until May 31."
When I checked in with her again on April 22, the numbers had only climbed. Four weddings transformed into elopement styles that only require a bridal bouquet, and 30 weddings had been canceled or postponed. For six of those, Zobel was already booked on the rescheduled date, and she only walked away with the deposit.
Wedding photographers are also being hit hard. By luck and by clientele, Tessa Lange, owner of Tessa June photography, had only two spring weddings that needed to be postponed, and she was able to squeeze in a large, 300-person wedding on March 7. While she has been worried about June, so far only one of five weddings has been officially postponed.
 

View this post on Instagram

 
New Ways to Wed
In the face of the pandemic, the wedding industry first reacted by making the necessary changes for a new normal. Once the dust settled, it got proactive, with increasingly creative solutions, ideas, and inspiration. Virtual wedding fairs like the one by Three Rivers Park District have started appearing, and Change the Date cards are populating Pinterest inspiration boards. Video streaming services (some as simple as Facebook Live) are becoming serious options for couples, and new resources have been created for couples, including the Wedding Guys' list of venues with open 2020 dates.
As Seppi pointed out, even when the stay-in-place order is removed, the wedding industry won't bounce back to the status quo. Venues might not have the go-ahead to hold large events for a while, either. To that end, D'Amico Catering is launching Minne Weddings with Rocket Science Events. Starting in late July, Minne Weddings will be offering micro celebrations for 30 people or less, and the 90-minute event will include a venue, decor, photography and videography, cake, champagne, and more.
Matthew Trettel of the Wedding Guys recommends that as couples plan their weddings amid the pandemic, they create a plan B. As for couples who are changing their plans, consider what you can do for the wedding industry now. Be compassionate and understanding if you have to give up a deposit, and if you can pay your vendors more up front, do it as a way to help your neighbor. Wedding businesses were unable to apply to the state's DEED Small Business Emergency Loans, and even if they could, now the fund is tapped out.
"These are businesses that make their life's work out of serving others in creating a celebration of marriage," Trettel says. "Now, they are tasked with helping these same couples navigate the highly emotional considerations of postponements and cancellations." Not only that, Trettel adds, but they're also trying to maintain a business, homeschool their children, and work from home. "That is a lot to take on."
Facebook Comments