It would be a feat to attend every Pride event in the Twin Cities in 2022. 
Flip Phone XXL at First Avenue. The Pride Beer Dabbler. Twin Cities Pride Rainbow Run. Pride bar crawls. And then, of course, the Twin Cities Pride Festival itself, held June 25-26 throughout Loring Park—a weekend-long celebration and march culminating in a huge show at the Armory headlined by Carly Rae Jepsen.
You'd hardly be able to tell that the festival got its start as a 50-person protest 50 years ago this year. You'd almost certainly be surprised to know that for the better part of the last decade, it's had just one salaried employee, working with an army of volunteers to coordinate hundreds of vendors and bring out nearly a 500,000 people each year.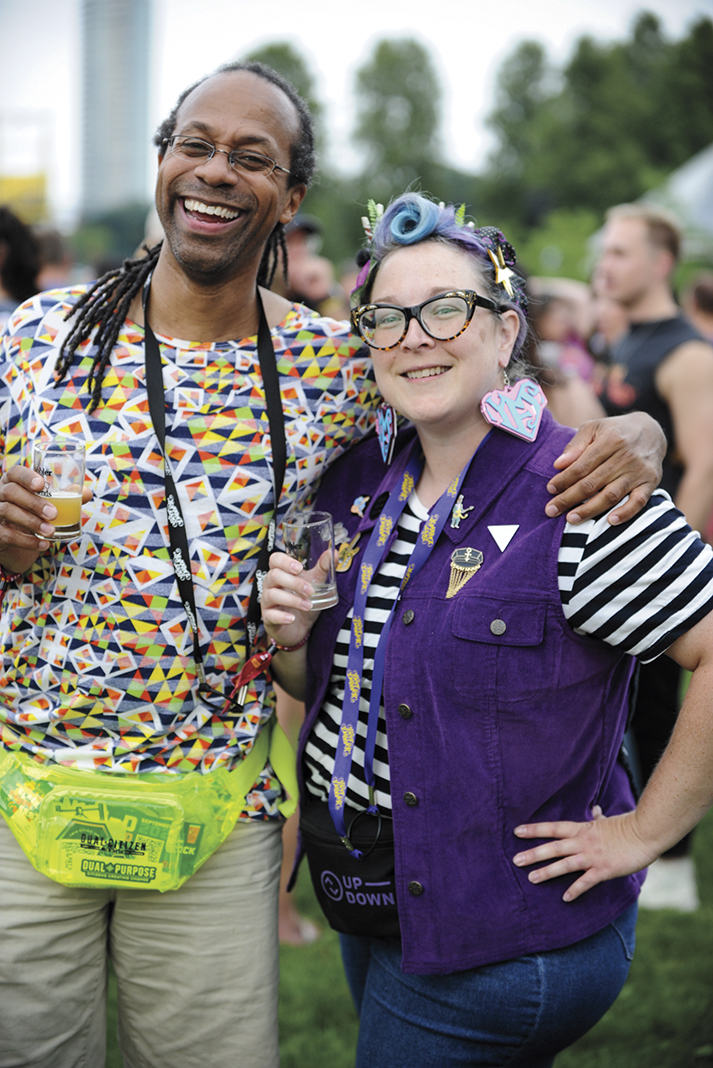 To honor its 50th anniversary (and glorious return to form after two years of COVID-19-modified events), Twin Cities Pride chose the 2022 theme Past, Present, and Future.
"Because it's going to be a really big year of changes," says board chairman Felix Foster. That's especially true within the Pride organization: After more than a decade, executive director Dot Belstler will retire at the end of the 2022, and the nonprofit is bringing on a slew of new board members and volunteers. "By next year, it will be like a whole new organization, so we're really taking the Past, Present, Future thing to heart," Foster says. 
What better opportunity than this to talk to some of the people who've made Pride what it is over these last five decades to find out how the festival became what it is—and where it's headed.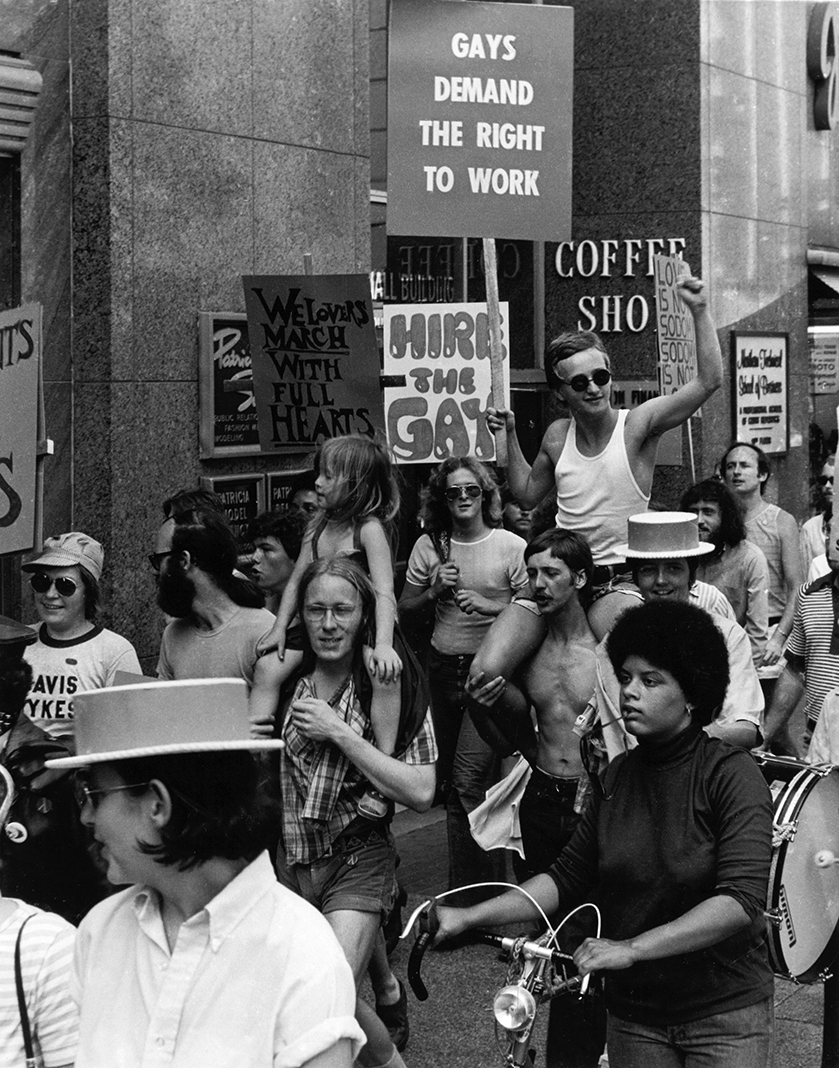 The first Pride was a protest. That's no different here in Minneapolis than it was at Stonewall. Only here in Minnesota, a little flyover-state shoulder-chip had something to do with it as well.
In 1971, Jack Baker was elected the first-ever openly gay student body president at the University of Minnesota. Baker was an officer of the gay-rights group Fight Repression of Erotic Expression (FREE), and his victory made him the first openly gay student body president at any major university. 
"And because he'd been elected, Chicago, which was on their first or second Pride celebration, invited him to come there and be their grand marshal of their parade," recalls Jean-Nickolaus Tretter.
Tretter—an activist and archivist whose donation led to the creation of the Jean-Nickolaus Tretter Collection in Gay, Lesbian, Bisexual and Transgender Studies at the U of M—was an organizer of that first Pride (and many subsequent ones). He remembers getting together with other early activists, including Steve Endean, who would go on to found Washington, D.C.'s Human Rights Campaign, and saying: "If Chicago can have a Gay Pride, Minnesota can have a Gay Pride." So they planned one. 
"We got together at Loring Park, and then, because we were afraid we'd be arrested by the police, we decided that we would split ourselves into two groups," Tretter recalls. Half of the protesters would wait in Loring, and the other half would march down Nicollet Mall to Fourth Street and head back to the park. When the marchers got arrested—and they were nearly certain they would—the group waiting in Loring would come and bail them out of jail.
But to everyone's surprise, no one ever came to arrest them. The marchers headed down Nicollet Mall, waving their picket signs and chanting about gay pride, and returned to meet their counterparts for a picnic in the park. 
The early '70s were a time of great protest in Minnesota and around the country, with activists taking to the streets to protest everything from the Vietnam War to the limits on women's rights to environmental injustices. Looking back, Tretter laughs, "They just figured we were another oddball group." 
So they had their picnic and left the park. And about six months later, they started making plans for the next Pride. ("When you have 50 people show up, compared to today, 500,000 people showing up, you don't have to spend the entire year making plans, you know?" Tretter quips.)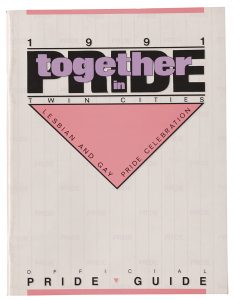 "That's the significance of Loring Park for us," says Dot Belstler, who's been the executive director of Twin Cities Pride since 2009. "It's kind of where it all started here."
The festival has grown and changed immensely over the last 50 years and now brings hundreds of thousands of queer people and allies to Loring Park each June.
"Especially in the early years, I think that it was really just queer folks," Belstler says. "Just to be able to be with other gay folks was really important and meaningful."
Those early years provided a rare opportunity for members of the LGBTQ+ community to gather together in public, hand in hand with their partners, without fear of persecution. Because to be out as gay was to risk being attacked (as, of course, it still is, especially for non-white, non-cisgender members of the community). 
"The first thing we have on Twin Cities Pride in our archive is a Pride program from 1973," says Lisa Vecoli, longtime curator of the Tretter Collection and founder of the Minnesota Lesbian Community Organizing Oral History Project. The program is a single sheet, about eight inches square, deliberately designed to be folded up and whipped like a frisbee. "The thinking that the organizers had was that you might be confronted, might be harassed by people on the street, you might run into the police. There would be lots of reasons you might want to get rid of this. And so it was deliberately designed to be discarded."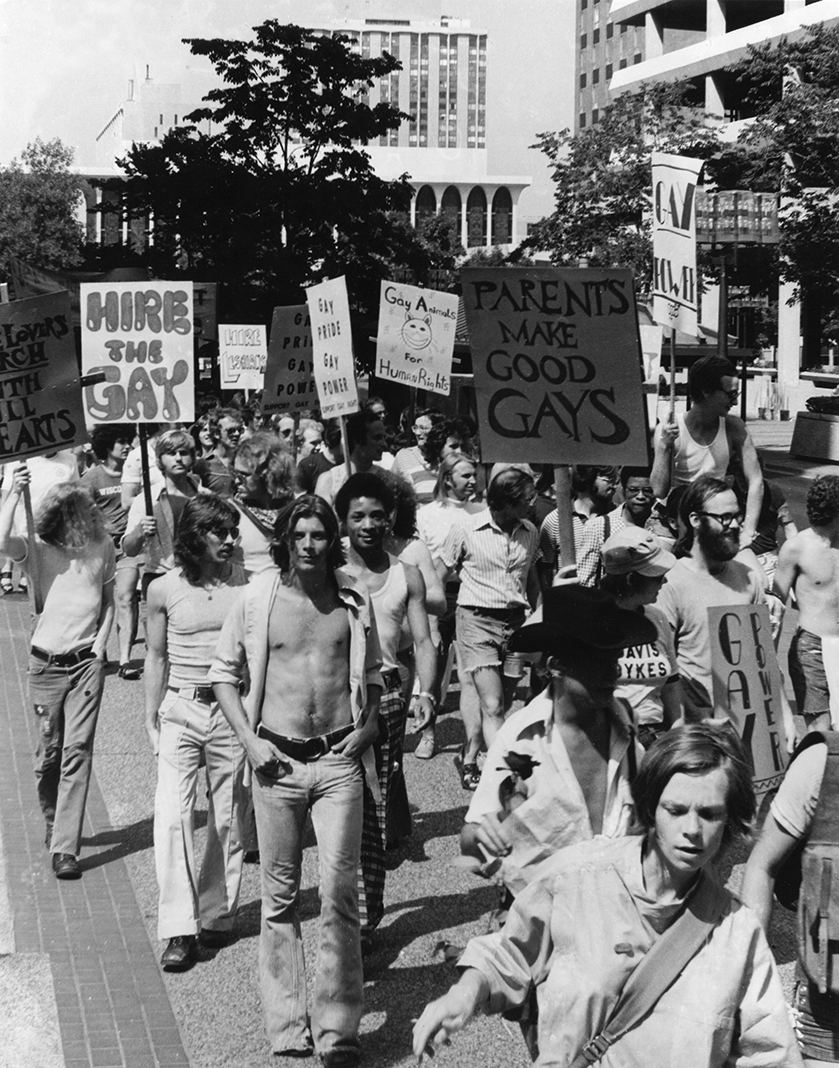 As a reminder of how fragile their slow push toward equality was, there's the 1978 festival, for which organizers decided to gather at Mears Park in St. Paul rather than Loring Park. The city had passed a non-discrimination ordinance in 1974—one of the first of its kind in the country—but voters passed a referendum to repeal it in '78. 
"And it was repealed by voters by a 2-1 margin, which was devastating to the community," says Stewart Van Cleve, author of "Land of 10,000 Loves: A History of Queer Minnesota." The New York Times reported at the time: "​​In a turnout much larger than usual for an off-year election here, citizens voted overwhelmingly to repeal a four-year-old section of the city code that had prohibited discrimination on the basis of 'affectional or sexual preference.'" Pride went to St. Paul as a show of support for the city and solidarity for the community.
The '80s were tough, too, especially due to some fracturing within the community. In 1982, "the year of the great split," the city held separate gay and lesbian Prides. "There was a lot of sexism at the time towards women, in a lot of LGBTQ+ organizations," says Van Cleve. And in 1982, the men on the committee—then known as the Gay-Lesbian Pride Committee—had decided to remove the word "lesbian" from the name. 
The story goes that the two Prides sent emissaries to each other's events; a gay ambassador went to lesbian Pride, and a lesbian ambassador went to gay Pride.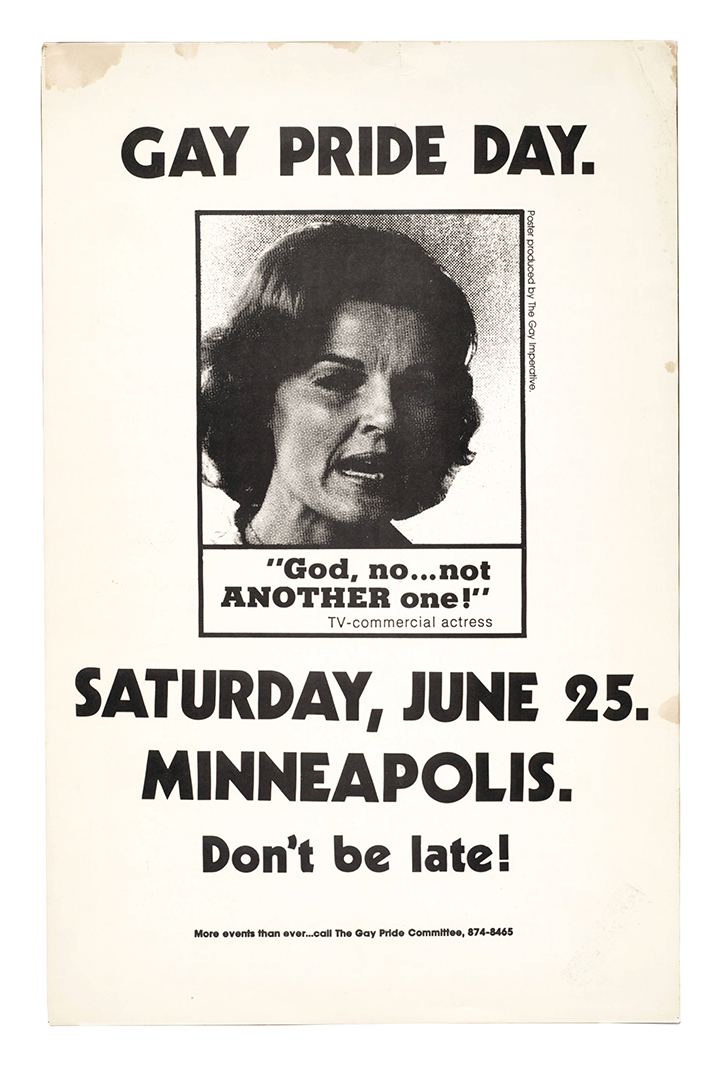 "It's a great story, and it's kind of funny—but it also underscores just how difficult it has been to build the LGBTQ+ coalition," Van Cleve says. "It took a lot of struggle to add each of those letters onto the acronym." If 1982 is a good example of how the "L" came to be added, it would take until the '90s to add the B and T. And though the Twin Cities was among the early Pride festivals to add transgender and bisexual to its name, "that was not easy for them," Van Cleve says. There was pushback, and it was challenging.
"There's been a lot of controversy, there's been a lot of really justifiable criticism of the committee itself over time, and those criticisms have changed as the community has," Van Cleve says. One historically contentious year was 1985, at the height of the AIDS crisis, when organizers tried to gate the festival and charge an entrance fee. Their hearts were in the right place—any money would have been donated—but people revolted.
"If there's one rule about Pride that everybody learned and I hope that they remember for the next 50 years, it's that you cannot charge," he chuckles. "That's the one things Minnesotans will not abide."
More recently, conflicts have centered around issues like whether cops belong at Pride, or the increased corporatization of the event. There have been other Prides over the years: Lesbian Pride, Twin Cities Black Pride, Capital City Pride. MN POC Pride, taking place Aug. 18-21 this year, is an annual event of its own for LGBTQ+ people of color.
"I think we do a really great job with hearing everybody. It's just: How can we use the platform to make the biggest difference for everybody?" says director of operations Andi Otto, who joined Belstler as the second paid Pride staffer earlier this year. To do that, board chairman Felix Foster explains, they rely heavily on feedback, both from their volunteers and from attendees.
They're open to changes—for example, the parade? It's not a "parade" anymore. "We've now gone back to calling it a march, because it was really about marching for equality, when it first started," Otto says.
To that end, Tretter has this suggestion: "I always thought it would be nice to get large blocks of margarine, and instead of doing a butter queen like they do at the State Fair, we'd do drag queens in margarine," he chuckles. "Wouldn't that be fun?"
Lisa Vecoli has been going to Pride in Loring Park pretty much since she came out in 1981. And she remembers those early years feeling far different, recalls ​the intensity of the transition from the city to the park itself.
"I remember parking over where the sculpture garden is now, walking across the pedestrian bridge, and entering this very gay, lesbian space. Seeing everybody I knew, feeling like I knew everybody in the park, putting on the buttons and the stickers—and then at the end of the day, walking back across that park, and being so conscious of leaving a safe space and going back into the 'real world,'" she says. "Kind of literally taking off the buttons and the stickers and the things that I had put on, because it was no longer safe to be wearing those."
These days, Vecoli laughs that she's a "walking rainbow" when she climbs back into her car after Pride. But outside of the liberal oasis that is Minneapolis, there are many places where it remains unsafe to wear the buttons, to don the rainbow tank tops, or to come out at all.
The nation today is not so far removed from 1978, when St. Paul repealed its legal protections for gay people; at press time, Republicans appeared to be ramping up for an attack on marriage equality. In order to move confidently into the future, Pride organizers believe it's important to understand the struggles of the past. That's one of the things that makes the History Pavilion such a crucial—and unique—feature of Twin Cities Pride. 
"There are Prides where you don't hear the word 'Stonewall' or read it anywhere," Van Cleve says. Not at Twin Cities Pride, where they know not everyone was there to experience those early years. That's why the pavilion, often helmed by Tretter himself, exists.
Vecoli notes that every year, a new wave of people is going through the coming-out process. "And they need a space. [I ask myself] 'Do I still need Pride?' Maybe not, but I'm there every year. Because I know our community needs to be strong, and our community needs to be visible. And the people who are established and safe need to continue to try and make that possible for the people who are struggling."
"The reason that I come to work every day is really for that kid from Podunkville who comes to Pride and finds family," Belstler says. "They find acceptance, they find a community. Silly things like the lights on the Hennepin Avenue Bridge and the Lowry Bridge that turn into rainbows on Pride weekend … it lets people know that hey, we see you, we love you. You are part of the community, you are valid."
That work is ongoing, and it's never completely finished. In recent years, the festival has made changes around accessibility, particularly for the disabled members of the community. In 2019, led by security manager Kris Oullette—who is in a wheelchair—Twin Cities Pride introduced a number of improvements to accessibility, including ramps and platforms where people can view the performance stages and an increased number of bathrooms approved under the American with Disabilities Act. They've added a "chill-out" tent where those with sensory sensitivities can go to get away from the crowds, and American Sign Language interpreters are posted for all performances on the Loring Stage and the Stonewall stage.
Foster notes that they've started to do more behind-the-scenes work as well—more networking, events, support—and would like to host more things year-round. They recently added a calendar to the website, where nonprofits and other groups can post their LGBTQ+-friendly events. He expects that work will continue: "We feel like we're really at a point where we're able to move forward and bring a bunch of new people and get the community as involved as possible." 
The festival will inevitably continue changing and growing long into the future—and that's the point. 
"We're such a teeny voice in the bigger movement," Belstler says. "But by joining together, with these other groups, we can hopefully make a bigger impact." 
"I think Pride has an opportunity to use its platform and its voice to speak out against injustices around the country, actually," she continues. "And we need to, I think, join with other Prides and make even more of a political statement, as it were."
Read more: A Timeline of Twin Cities Pride at 50 – From its beginnings in 1972, we track some of Twin Cities Pride's milestones