Some of MN's best things [from left to right]: A Year in the Wilderness (book, above); The Vanilla Bean Baking Book (book, below); Tattersall Distilling spirits; the Vageode cake by Nadia Cakes; the burger at Red Cow; beers by Bent Paddle Brewing; winter hats from Askov Finlayson; cacti from Madre Cacti; a tote bag featuring our cutest new state mascot (containing, ahem, our November issue); and a sweatshirt from our readers' favorite Minnesota college
Photo by TJ Turner
---
Things to Do:
Glamping Destination
The Wunderbar Eatery & Glampground is a new way to experience Grand Marais, year-round. True to its name, accommodations include themed vintage campers and cozy yurts for nightly rentals. The Eatery building offers upscale pub fare, cocktails, and regular live music. Owners Teri and Chris Downing's motto of "Let's play!" is apparent in the whimsical décor (there's a Twin Peaks-themed bathroom!) and friendly atmosphere. wunderbarmn.com

Bean and Bear Lakes
photo by alyssa hei
---
Instagram Spot Worth the Hike
The trek to Bean and Bear Lakes, near Silver Bay, is a nearly seven-mile round trip. The terrain is rugged and sometimes muddy, with a 400-foot gain in elevation. But hikers are rewarded with views of Lake Superior as well as an ultimately awe-inspiring ridge overlook of the two neighboring lakes. The Bean and Bear Lakes Loop has become one of the most popular portions of the Superior Hiking Trail, so much so that it's now listed as one of its "Big Bad Five" trails in need of renewal due to overuse.

Highway 53 Bridge
photo by paul pluskwik
---
New Bridge
The highest bridge in Minnesota opened in 2017 on the Iron Range between Eveleth and Virginia. The 204-foot-high Highway 53 Bridge extends 1,100 feet across the old Rouchleau mine pit. A pedestrian- and biker-friendly portion of the Mesabi Trail allows visitors to take advantage of dramatic views. The open-pit mine is mostly filled with aquamarine-hued water, a striking contrast to the  rocky red landscape and lush greenery. ironrange.org/attractions/virginia-bridge
New Extreme Event
Picture this: a small army charging around Minneapolis' Chain of Lakes with canoes, kayaks, and stand-up paddleboards held aloft, splashing in and out of frigid October waters on a self-charted race from Bde Maka Ska to the Theodore Wirth Trailhead. This is Red Bull Urban Portage, the uniquely Minnesotan type of Cannonball Run, from the folks who brought you Crashed Ice. (And, yes, it was every bit as insane as it sounds.)

Theodore Wirth Park Viking longhouse
photo courtesy minneapolis park and recreation board
---
New Post-Hike Hangout
Like a futuristic Viking longhouse, the new building at Theodore Wirth Park just outside Minneapolis, called The Trailhead, is ready to meet you at the end of your next adventure. Step off the fairway or any mountain biking trails, and you're greeted by wooden beams reaching dramatically toward the sky. Inside, you'll find an adventure shop, gear rentals, and mouthwatering Cajun Twist gumbo. loppet.org/the-trailhead
New Transportation
If you've spent more than a minute in downtown Minneapolis or St. Paul this year, you've seen a Bird or a Lime whizzing past. Will electric scooters get you to the coffee shop across town faster than a Lyft? Probably not, but it'll surely be more thrilling. Count Minnesota Monthly's food critic Jason DeRusha among e-scooters' many converts. bird.co; li.me
New Lake Name
While the recent arrival of Hamilton to Hennepin's theater row might have folks feeling more generous to powdered wigs of yore, trust us: John C. Calhoun was a slavery proponent and a bad dude. As of this year, our popular Uptown lake has a name worthy of its glorious shores and rich cultural history. Bde Maka Ska (buh-DAY muh-KAH ska). Let it roll off your tongue like a wave off a sailboat's hull.
New State Park
Minnesota's newest state park is located on the south shore of Lake Vermilion, the fifth largest lake within state borders. Purchased from U.S. Steel in 2010, Lake Vermilion State Park later merged with the neighboring Soudan Underground Mine State Park for 10 miles of continuous undeveloped shoreline, a rarity for such a popular lake. The new Vermilion Ridge Campground features 33 electric campsites and several group sites. Camper cabins and a visitor's center are in the works. dnr.state.mn.us/state_parks/lake_vermilion_soudan

Bad Axe Throwing
photo by bad axe throwing
---
New Bar Activity
An axe-throwing master once said, "If a 10-year-old can do it, so can you." Scary? Yes. True? Also, yes. Grab a few friends, don your best flannel, and head over to Bad Axe Throwing in northeast Minneapolis for an evening of throwing, laughing, and friendly competition. Add your favorite beer, cider, or wine to the mix and you've got a party on your hands. badaxethrowing.com
---
Arts & Entertainment:
Outdoor Music Venue
Booked and staffed by First Avenue and situated in the backyard of Minneapolis' celebrated brewery, Surly Festival Field is a match made in heaven. It's never cramped, even during sold-out shows, and Surly's nearby beer garden makes is a perfect pregame locale. Toss in  fan-friendly tweaks like $5 beers, ample food truck selections, and free water, and you've reached rock 'n' roll nirvana. surlybrewing.com
Theater Performer
Maren Ward creates unexpected, charismatic, and empathetic characters. She was a blast last December playing the dual roles of teetotaling, axe-wielding suffragette Carrie Nation and her alcoholic biographer in Hatchet Lady, with Walking Shadow Theatre. Then, in February and March, she killed it playing an assortment of characters from outlandishly comic to subtly nuanced in Open Eye Figure Theatre's Constance in the Darkness.
Musician on Instagram
Lizzo is the musical queen we all need right now. Her Instagram feed is bawdy and, to quote her hit from Barbershop: The Next Cut, good as hell. She flaunts her flawless style, luscious curves, take-no-prisoners attitude, and we haven't even talked about the flute solos. This gorgeous, proud, black woman celebrates the skin she's in with a power all her own. instagram.com/lizzobeeating

Double Negative by Low
Album
Double Negative by Low is an intense listen for intense times. The Duluth-based group's 12th full-length features elegant melodies peeking out from a curtain of harsh synthesizer noise. Alan Sparhawk and Mimi Parker's familiar harmonies show up on "Fly," but on "Poor Sucker," they've been bent electronically to sound like the voice of an android with a broken heart. Without betraying what they've built over a 25-year career, Low have yet another sonic language for their songs. chairkickers.com
New Museum
The renovated Bell Museum on the University of Minnesota's St. Paul campus blends style, beauty, and science in one splendid package. From the beautiful grounds, filled with native fauna and sculptures, to its indoor wonders, including historic dioramas, new installations, and dazzling planetarium, the Bell is a must-see. bellmuseum.umn.edu

Frank Big Bear collage
collage courtesy the artist and bockley gallery
---
Visual Artist
Duluth-based Anishinaabe artist Frank Big Bear is a master of bold colors and dizzying patterns. Known for intricate drawings and vibrant paintings, Big Bear also creates large-scale collage pieces, such as the fantastic "Untitled (Patti Smith)" at MIA, and "The Walker Collage: Multiverse #10" (below), which was recently on view at the Walker Art Center and subsequently purchased by the museum.
---
Content:
Feel-Good News Story
The 2005 theft of one of four known pairs of ruby red slippers worn by Judy Garland in The Wizard of Oz sent conspiracy theorists wild when they were stolen from a museum in her hometown of Grand Rapids. Turns out, they weren't thrown into a quarry lake, but were used in a Minneapolis extortion attempt, and the FBI recovered them in July.
Feel-Good Sports Story
The New York Times headline read, "Team U.S.A.? More Like Team Minnesota," and it was deserved. Cross-country skier Jessie Diggins, seven women's hockey team members, and the U.S. men's curling team led by John Shuster all brought home gold at the 2018 Winter Olympics in South Korea.
Public Safety on Twitter
Two Minnesota agencies inject humor and insight into a service that is vital, dangerous, and increasingly scrutinized. The @WyomingPD splits its time between tweeting deadpan PSAs and mocking the Packers, while the @ChisagoCountySO takes followers behind the scenes with its 24-hour tweet-a-longs. Both are worth your time, unless you're a Green Bay fan.
Web Series
From a Kenyan refugee camp to the driver's seat of an ice cream truck to a wartime brotherhood forged in Afghanistan, filmmakers Daniel Klein and Mirra Fine tell important stories through The Perennial Plate America Project. The award-winning series began in Minnesota, but it has migrated around the world. Through beautiful visual storytelling, each video introduces us to immigrants making up our collective neighborhood. theperennialplate.com
Podcast
Borrowed Interest features three black women getting candid about what it's like to work in today's advertising climate. The hosts are Amalia Nicholson and Shareina Chandler, of Minneapolis ad agency Mono, and Leeya Rose Jackson, of Fallon. With over 18,000 downloads, their smart, hilarious commentary has made major waves. borrowedinterestpodcast.com

#MPRraccoon
photo by evan frost, mpr news
---
New State Mascot
She scaled the UBS Plaza skyscraper in St. Paul, with Minnesota Public Radio tracking her every move, and inspired fan art, T-shirts, bobbleheads, socks, and tote bags with her furry little face on them. In the end, the #MPRraccoon climbed her way into hearts worldwide—even in a warm-and-fuzzy segment on The Late Show with Stephen Colbert.
Viral Hoax
Some local guy starts a rant about acorns on the sidewalks disrupting his barefoot running, and the I Love NE Minneapolis Facebook group pounces on him—too quick to check the facts, of course. The insanity, which also hit the local unicycle community, has since reached nearly 90,000 likes and retweets. It took BuzzFeed to eventually confirm that, no, this guy does not actually run barefoot.
---
Food & Drink:
Coffee Hangouts
Picture it: High ceilings, soft blue-and-yellow accents, colorful chairs, the Instagrammable light-up "F" above the coffee station—Fairgrounds Coffee & Tea's North Loop space (there are locations in Chicago and L.A., too) oozes with aesthetic. Pair that with innovative tea and coffee-elixir drinks like Power Flower Milk Tea and Rainforest Remedy. And you can sit on swings while waiting for a pour-over. On the flipside, Misfit Coffee just opened in the Wedge on Lyndale with with black walls, beat-up floors, loud(er) music, and a mirrored bathroom floor. fairgrounds.cafe; misfitcoffee.com
Food Getaway
Stillwater has always been charming, but an influx of eateries, plus the boutique Lora Hotel, make it an ideal foodie escape. You've got cocktails and oysters at Pearl and the Thief, brunch at Feller, cocktails and a burger at Brick & Bourbon, and cupcakes at Mara-Mi. They're all within an easy walk around town between plenty of cute shops.
New Brewery
Bored with local brewery homogeny? La Doña Cervecería founder Sergio Manancero and team have created America's first for-benefit brewery with a mission to celebrate and serve the Latinx community in Minneapolis and beyond. The color-soaked taproom houses an art gallery, meeting space, and a three-on-three soccer field. ¡Salud! dameladona.com
Gathering Spot
What exactly is The Lynhall? Is the south Minneapolis complex a coffee shop, a bar, an eatery, a bakery, a classroom, a TV studio, or an airy meeting spot? Yes. Since opening in 2017, owner Anne Spaeth's establishment has become a utilitarian space that works around your every need. It's a calming, nourishing place, and every station brims with creativity.

Poplar Haus
photo by ryan a stadler
---
Bite off the Beaten Path
Way up on the Gunflint Trail at the edge of the Boundary Waters Canoe Area Wilderness, two couples purchased the Windigo Lodge—which doubles as the trail's only liquor store. They decided to upgrade it to Poplar Haus without killing a view and vibe that has served northbound travelers well. The result: a hangout with cocktails that make sense whether it's time to hike or snowmobile. Get the burger made of bratwurst and some tots dusted in parmesan and thank us later. poplarhaus.com/restaurant

MN Nice Cream
photo courtesy mn nice cream
---
Instagrammable Food
After two years as an ice cream truck, owner Katie Romanski opened the MN Nice Cream shop in northeast Minneapolis, and trust us—people are here for it. The sky is the limit when it comes to toppings. Glitter? Of course. Fruity Pebbles? On it. Doughnuts? Say no more. You'll be whipping out your phone before the soft serve has a chance to melt. mnnicecream.com

Chef Yia Vang
photo courtesy union kitchen
---
Chef without a Restaurant
The harbinger of a new era in Hmong cuisine, chef Yia Vang combines heritage cooking and modern, fine-dining technique. But his Hilltribe chicken and kimchi fried rice aren't at a fixed address. Union Kitchen is a rotating pop-up that has to be followed on social media to find. It's a journey worth the effort. unionkitchenmn.com

Union Kitchen
photo courtesy Union kitchen
---
Full Bar in a Brewery
Minnesota brewery taprooms can't legally serve hard alcohol. But with a creative open-concept design, a 900-square-foot space adjacent to Hoops Brewing in Duluth skirts this issue. Opened in March, woman-owned The Ripple Bar's vibe is dive-bar chic, with buckets of Blatz served alongside classy cocktails mixed with Vikre Distillery spirits. theripplebar.com
New Treat
The latest gourmet sweet? Spinning Wylde cotton candy. Inside St. Paul's Keg and Case Market, these spun-sugar "cloud pops" come in 50-plus flavors—including honey rose, piña colada, spicy strawberry, and ones reflecting owner Soktevy Phann-Smith's Cambodian heritage, like lychee and tamarind—with such toppings as sprinkles, cardamom, dried fruit, seaweed, and, for the s'mores version, a graham cracker dust. spinningwylde.com

Chef Justin Sutherland
photo by smallz & raskind/bravo
---
Chef on the Rise
Just standing next to chef Justin Sutherland, there's a crackling energy that says something thrilling could happen at any moment. First, he opened the Southern-tinged, piggy-loving Handsome Hog, then the bayou-kissed Pearl and the Thief, and then he won Iron Chef America. Up next: Top Chef.
Cake
Maple Grove's Nadia Cakes paid the ultimate tribute to the female form with its Vageode Cake. Okay, so the anatomical resemblance was completely unintentional, but the bakery's photo of the confection still went viral. "Let's put that cute mushroom cake we had planned in the 'do not make' file," Nadia's quipped. nadiacakes.com
Pastry Instagrammer
In a hopeless world with no new episodes of The Great British Baking Show, local pastry chef and best-selling author Zoë François is a ray of happiness. (She co-authored the Artisan Bread in Five Minutes a Day books.) Her Instagram stories are funny, serene baking tutorials set to a wildly entertaining soundtrack. Watch her create towering diva cakes, cloud-like pavlovas, and fire up a massive blow torch. instagram.com/zoebakes
Cookie Chef
Minneapolis baker Sarah Kieffer's The Vanilla Bean Baking Book became a viral sensation gracing The New York Times with her pan-banging chocolate chip cookies. Her ultra-buttery, chip-studded cookies begin like a normal recipe, but then you open the oven and drop the cookie sheet, so the cookies spread into crackly, sweet goodies. thevanillabeanblog.com
---
People:
Environmental Activists
Do you love the Boundary Waters Canoe Area enough to spend 366 consecutive days there? Outdoor enthusiasts Amy and Dave Freeman answered the call of environmental nonprofit Save the Boundary Waters and embarked on an epic voyage of over 2,000 miles to raise money and awareness about mining threats to Minnesota's unspoiled wilderness. Their book, A Year in the Wilderness, is both a rallying cry and a stirring ode to the majesty of the north woods. freemansexplore.com
Minnesotan (Deceased)
Prince left us in 2016, but his estate sure is workin' up a black sweat. Paisley Park is buzzing with activity, his videos are on YouTube, his back catalog hit streaming services, and the University of Minnesota gave him an honorary doctorate. Released in September, the Purple One's first posthumous album, Piano and a Microphone 1983, showcases iconic songs like "Purple Rain" in early, raw form, and unearths his scorching version of "Mary Don't You Weep" (used in the Spike Lee movie BlacKkKlansman). Plus, a memoir and Netflix documentary directed by Ava DuVernay are on the way.

Kirk Cousins
photo by andy kenutis, minnesota vikings
---
New Pro Athlete
The Kirk Cousins era has begun. Big contract, bigger arm, big wins (and, OK, a big tie), and all of a sudden Adam Thielen is the best wide receiver in the NFL. The storyline is still unfolding as this issue goes to press, but it'll take more than a split second for you to conjure up the name of last year's Vikings quarterback. Case who?
Politician
While a fatiguing news cycle has a stranglehold on our attention, bright spots are quietly blossoming on the periphery. Ilhan Omar is Minnesota's own bright spot. The Minnesota House representative rose to the highest position of any Somali-American, and her race for the Fifth Congressional District thrust her further into the national spotlight. It has been no easy journey for Omar, but her progressive platform and fighting spirit have made her a true local hero. ilhanomar.com
Mayor
After Duluth's Trump rally in June, Ana Marie Cox ripped the city in a Rolling Stone piece, noting its downtown is covered in a "thin layer of grime." A Twitterstorm followed, and Duluth Mayor Emily Larson responded with an open letter to Cox, admitting Duluth has work to do but suggesting Cox revisit to witness the progress being made. And this: "Isn't your magazine named after a song by some guy? Yeah. He was born here." The mayor was diplomatic, and wrapped by saying that she'd "leave the Enger Tower light on" for Cox.
New Bar Owner
After the Triple Rock Social Club closed in late 2017, Minneapolis' West Bank needed good news, especially when the owners of Esquire-touted Palmer's were selling. Dreadlocked angel Tony Zaccardi stepped in, promised not to change a thing. The longtime local rocker and Grumpy's NE bartender has kept his promise. Aside from taking cards now, Palmer's remains eternal. palmersbar.net
Swim Team
The electrifying enthusiasm of the Subversive Sirens—a women's synchronized swimming team founded on the tenets of black liberation and joy—is infectious. Made up of artists and social-justice organizers, these unlikely athletes had an ambitious goal: to get to the Gay Games in Paris. With hard work and perseverance, they came home with gold medals.
facebook.com/SubversiveSirens

Danez Smith performs "Trees"
---
Poet
It feels a tad sleazy to name a "best poet." But St. Paul-bred Danez Smith isn't just a virtuoso spoken-word artist and award-winning author of four works of poetry. (The 2017 collection Don't Call Us Dead examines America from a black, queer perspective and was named "essential" by NPR.) Smith also champions emerging voices, having co-founded Dark Noise Collective for multi-racial spoken-word talent, and is a hilarious, incisive human being, as heard on the poetry podcast VS. danezsmithpoet.com
---
Shopping:
Bookstore
Truly great bookstores feel every bit as magical as the novels they peddle. Appropriately, Moon Palace casts spells over Longfellow in Minneapolis. The wood, splashy colors, and lofted split-level layout transport you to a land of whimsy, inviting young and old to peruse an impeccably curated selection. Hungry? Geek Love Cafe, located in the rear of the store, sells house-made pizza, salads, vegan-friendly fare, and even beer. moonpalacebooks.com

Makers Mercantile
photo by sarah jean photography
---
MN-Made Goods in a Camper
After starting in a Duluth storefront, Makers Mercantile proprietors Sara and Scott Clifton are now mobile, peddling wares that celebrate the region and its makers from a renovated 1976 Mallard trailer. The store offers a range of handcrafted bags, pillows, soaps, and pottery at pop-up events on the North Shore and beyond. makersmercantilemn.com
Vintage
The Golden Pearl Vintage isn't your typical vintage shop. The northeast Minneapolis store is modeled after the upscale department stores of the past. (Its glimmering jewel case actually came from the dearly departed downtown Neiman Marcus!) They've got vintage for women and men, and everything's in pristine condition, whether you're snapping up a '50s prom dress for a costume party or channeling your inner Golden Girl in a sequined tunic dress from the '80s. facebook.com/goldenpearlvintage
Size-Inclusive Shop
Cake Plus-Size Resale beautifully filled a void in our local resale shopping landscape when it opened last year near Lake Nokomis. They offer fun, trendy, and classic pieces with a body-positive vibe and accessible prices so every woman can feel fabulous in her clothes, and since you can buy and sell clothing at Cake, it's almost like you're sharing a closet with your most fashionable friends. cakeplussize.com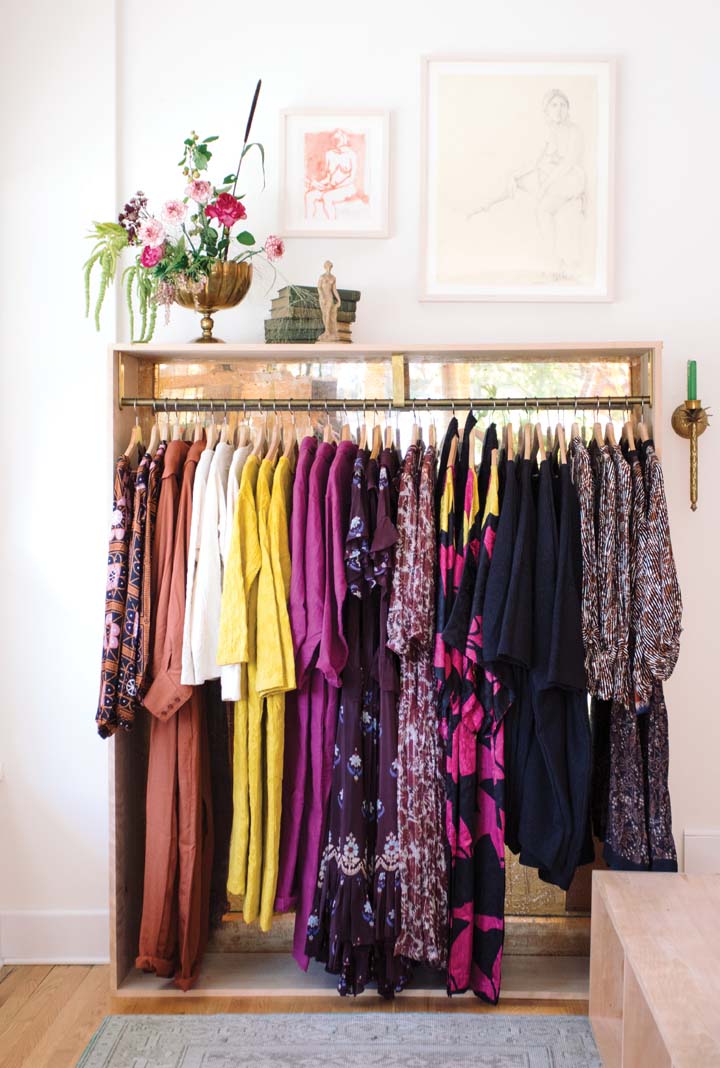 Mille
photo by emily freitas
---
Splurge
It's impossible not to coo, "Oooh, pretty!" when you step into Mille in south Minneapolis. It's a jewel box of a store filled with feminine-but-not-fussy pieces from designers like Ulla Johnson, Rachel Comey, and Ganni—lines you won't find just anywhere. Mille brings a much-needed blend of California cool and romantic Parisian chic to the Twin Cities shopping scene, making it the ultimate "treat yourself" stop on your next shopping spree. shopmille.com 

Celina Kane
photo by jennifer simonson
---
Hats
Local milliner Celina Kane's hats would look right at home in Buckingham Palace. Kane's travels from Paris to Thailand have informed her beautiful designs, and boaters, veils, and turbans come alive in her talented hands. Every piece feels like a little dose of couture delight—the kind you can wear on your head. celinakane.com
---
The 2018 "Best of Minnesota" Reader Survey Winners
Food & Drink
Burger
Red Cow
Pizza
Young Joni
Taco
Taco Cat
Brewery
Bent Paddle
Distillery
Tattersall
Coffee Shop
Spyhouse
Things to Do
State Park
Gooseberry Falls
dnr.state.mn.us/state_parks/gooseberry_falls
Lake
Superior
Resort
Grand View Lodge
Golf Course
Hazeltine National
Hotel
Hewing Hotel
Shopping
Clothing
Primp
Men's Clothing
Askov Finlayson
Shopping Center
Mall of America
Furniture
Blu Dot
Grocery Store
Lunds & Byerlys
Liquor Store
Surdyk's
Beauty & Fitness
Hair Salon
Haus
Spa
Spa Sweet
Gym
The Firm
Arts & Institutions
Art Museum
Minneapolis Institute of Art
Music Festival
Rock the Garden
Theater
Guthrie Theater
Concert Venue
First Avenue
College
University of Minnesota