It's that time of year when the temperatures drop and we start thinking about Halloween and everything spooky. We love a good haunted house or ghost story, and here are our picks for the most haunted places in the state.
Glensheen Mansion
It would be difficult to speak of the most haunted places in Minnesota without featuring the story of the Glensheen Mansion. Although this popular Duluth attraction tends to omit its gory history from public tours, it is hardly a secret that there is much more to this mansion than its formal gardens and luxurious furniture. 
This past July marked 45 years since wealthy heiress Elisabeth Congdon and her nurse, Velma Pietelia, were murdered inside the mansion's walls. While there is still much speculation about the exact events of June 26, 1977, Ryan Jacobson stitches together an evidence-based play-by-play of the night in his book, "Minnesota Hauntings." The killer was said to have snuck into the mansion through a basement window and made his way to the staircase where he encountered Pietella by unfortunate chance. The killer presumably took out Pietella with the first "murder" instrument he could find, a brass candlestick. After bludgeoning her to death, the killer found 83-year-old Congdon asleep in her second-floor bedroom. Again, reaching for whatever was nearby, the crafty killer suffocated her with one of the pillows on her bed. 
Suspicion was immediately pinned close to the family, on Congdon's daughter Marjorie, and her husband, Roger Caldwell. Caldwell was eventually arrested for the crime, and later confessed to it on a plea bargain. However, many say he claimed innocence upon his self-inflicted death, leaving an eerie cloud of mystery surrounding both the crime and the Glensheen Mansion itself. 
This fog of mystery, however, is not the only thing that haunts the mansion. Visitors tell tales of the ghosts of Pietella and Congdon still lurking its grounds and the accounts are undeniably chilling. Unexplained flashes of light from the staircase, barely-there figures lurking in the background of photographs, sudden lightheadedness waving over guests, and supposed sightings of ghostly figures trolling the basement or looking out Congdon's window are just of few of the stories that have been passed between mansion visitors and employees. With its 39 rooms and more than 27,000 square feet, this mansion provides a whole lot of space for haunting. It's no wonder no one has lived there since.
Crazy Annie's Bridge
The average passerby may not think twice when crossing this gravelly pathway, but residents of Henderson know that the conflicts linked to this eery site are not just water under the bridge. In fact, locals have nicknamed the bridge after its chilling association with none other than Crazy Annie herself, a World War l widow whose spirit allegedly never left the spot she died. 
Although there is not much to see surrounding the bridge today (save a large tree to the left of the creek), legend says there was once a small house nearby, where a woman named Annie lived with her husband and three children. After being widowed, legend says that Annie drowned her three children in the creek under the bridge, and hung herself from the nearby tree. Thus earning herself the nickname of "Crazy Annie." 
While this story may be urban legend, many still believe that Annie's ghost plagues the bridge today. There is an entire Facebook community dedicated to mysterious sightings and reports from Crazy Annie's Bridge. Locals and ghost hunters alike have claimed hearing Annie's anguished cries from the gravel road leading to the bridge. Other spine-tingling reports have included the sounds of unclaimed footsteps, radios going static, phone batteries draining, cars mysteriously locking or refusing to start, bodiless faces emerging from the darkness, and even unexplained handprints on car windows. It's safe to say Annie's grief did not die with her, and residents of Henderson may never hear the end of it. 
Wabasha Street Caves
While the Wabasha Street Caves in St. Paul today are a lively venue filled with swing dancing, guitar strumming, and cake cutting, they were once reserved for enjoyments of quite the opposite nature. In the 1930s Prohibition era, the Wabasha Street Caves were home to the Castle Royal Speakeasy, where criminals, indulgers, and thrillseekers enjoyed illicit nights of drinking and gambling in the hideaway of the caves. Perhaps the most notorious of the speakeasy's attendees were St. Paul's gangsters, who thrived during that era due to the relatively blind eye turned by the city's police force. 
One infamous night, five of these gangsters were playing a game of poker long after the speakeasy had cleared out. The waitress tasked with closing the club was busy in the kitchen when she heard gunshots ring out of the casino. She rushed to the scene where she found three of the gangsters dead. Locking herself in a back room, she called the police immediately. However, when the police arrived, they did not find any bodies or blood. In fact, they found no indication of a crime having occurred that night at all. When the waitress emerged, she was shocked to find that the scene was, indeed, perfectly spotless. Legend assumes the ultimate coverup had been executed, possibly involving the police themselves, and that the bodies of the three gangsters are still buried somewhere deep in the Wabasha Street Caves. 
Today, there are many unsettling accounts of these gangsters' spirits still roaming the caves, but what is perhaps even more unsettling is that the Wabasha Street Caves have since become a popular wedding venue. The irony of starting a new life in a place of death may very well be what makes the venue so alluring, and the two concepts certainly mingle at these underground ceremonies. Jacobson's book, "Minnesota Hauntings," details one wedding in particular, during which a bride named Jane had a nephew named Charlie who expressed how much fun he had "playing with the gangster men." Jane initially shrugged it off, as many people loved playing pretend in the caves to keep the legend alive. However, when going through wedding photos, Jane supposedly stumbled upon an image of Charlie playing poker with three blurry, barely visible figures. The gangsters may still be settling their infamous poker game even from beyond the grave.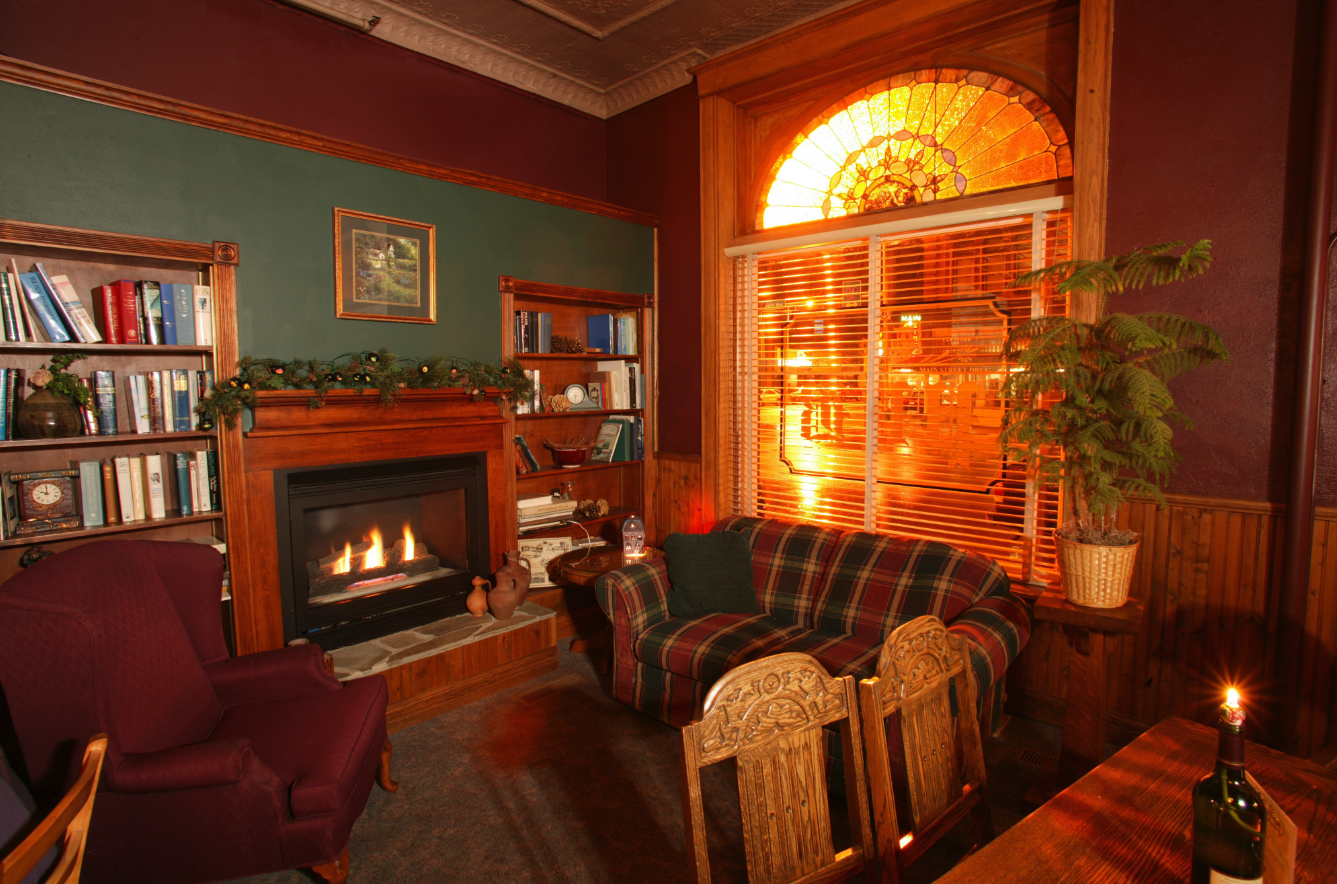 Palmer House Hotel
A visit to the Palmer House Hotel in Sauk Centre should come with a piece of cautionary advice: Nothing good happens after midnight. Or in this case, nothing good happens after 3 a.m., the hour in which the Palmer House ghost likes to begin his prank-oriented hauntings. While the former identity of the Palmer House ghost is somewhat disputed, the existence of the ghost is certainly not disputed by the world of ghosthunters. The Palmer House Hotel is, in fact, one of the most popular ghost hunting destinations in the country, as a Minnesota Monthly's previous article  points out. So much so that it was included on an episode of Travel Channel's "Ghost Adventures" in 2012. 
Part of why the mysterious ghost's identity has not yet been agreed upon is because of how many possibilities lie within the hotel's century-long history. Erected in 1901 atop the ashes of the old Sauk Centre House, the hotel has seen many guests pass through its doors. These guests have included everyone from traveling salesmen to prostitutes to actors, artists, and musicians to even Nobel-Prize-winning author Sinclair Lewis. Some legends say the ghost is the spirit of a lonely traveling salesman who committed suicide within the hotel's walls during its early years of operation. Others believe the spirit is that of an angry prostitute named Lucy, forever seeking her revenge on the lineages of men she was forced to work for. Perhaps the most popular of theories believes the ghost to be that of Sinclair Lewis, who, before he attained writing fame, was a misfit Sauk Centre local. Never quite fitting in amid his community, Gina Teal's "Ghost Stories of Minnesota" tells how Lewis received great satisfaction from taunting his fellow townspeople. It may not be a far stretch to say that he is still doing so from beyond the grave. 
Regardless of the ghost's identity, he or she or they certainly seems to have an unfinished agenda at the Palmer House Hotel, and particularly loves to cause commotion during the night. Guests have reported being mysteriously locked inside of their rooms, hearing banging on their door in the middle of the night, having heavy furniture shifted around, being awoken to the faint sound of children singing in the hallway, and even having their clothing stolen from their suitcases and mysteriously soaked in water. More than 120 years since its foundation, the Palmer House Hotel may just have the longest-staying guest in history. 
Heffron Hall
As a fresh pack of St. Mary University students in Winona get acquainted with their new home this fall, it is likely they will hear a few pieces of advice: go to class, do your laundry, and–most importantly–stay away from Heffron Hall, which today houses upperclassmen. Although the century-old legend of the ghost of Heffron Hall has been investigated, disputed, embellished and ghost-busted a million times over, one sure truth prevails: the legend will not disappear any time soon. 
The tale began in 1915 with Bishop Patrick Heffron. The bishop was reciting the most sacred part of Mass in a private chapel when he was allegedly shot to death by a bitter Father Louis Lesches, who later was committed to an insane asylum. John Rupkey, former dean of St. Mary's called it a "profoundly Catholic ghost story." He explained to the Winona Post newspaper in 2021 that the tale is made even more chilling by the fact that St. Mary's is a Catholic university. On a campus where it is tradition to welcome the presence of the Holy Spirit, Rupkey said it is not "so far of a stretch to believe in an 'unholy ghost.'" 
Regardless of the actual events of 1915, which no one can prove with certainty, students love to embellish and twist the tale. It is likely that hundreds of versions of the Heffron Hall ghost story exist on campus, especially versions fabricated to terrify gullible freshmen. Students report seeing the ghost's figure lurk across the second and third floors of the dorm, feeling drafts in mysterious places, seeing dark figures laying at the end of their beds, and watching doors swing open unprovoked. Whether they are eerie instances such as these or exaggerated tall tales of blood dripping from bathroom faucets, these stories would certainly not make it any easier to go to sleep in the brick enclosure of Heffron Hall each night. 
Facebook Comments