There's no precise formula for cultivating a sense of place, but all these buzz-worthy 'hoods have it. Not only that, their identities are among the most rapidly changing in the metro. Whether it's artsy, boho Lowertown welcoming a new sports stadium or the once-industrial North Loop becoming the Minneapple's Meatpacking District, entrepreneurs and creative types are weaving their visions into each neighborhood's fabric and evolving character. As these areas remake themselves for modern tastes—often literally, by opening a crop of cutting-edge restaurants—and cultivate a unique vibe, they become irresistible day-trip destinations.
Cathedral Hill: Victorian Elegance Goes Upscale Trendy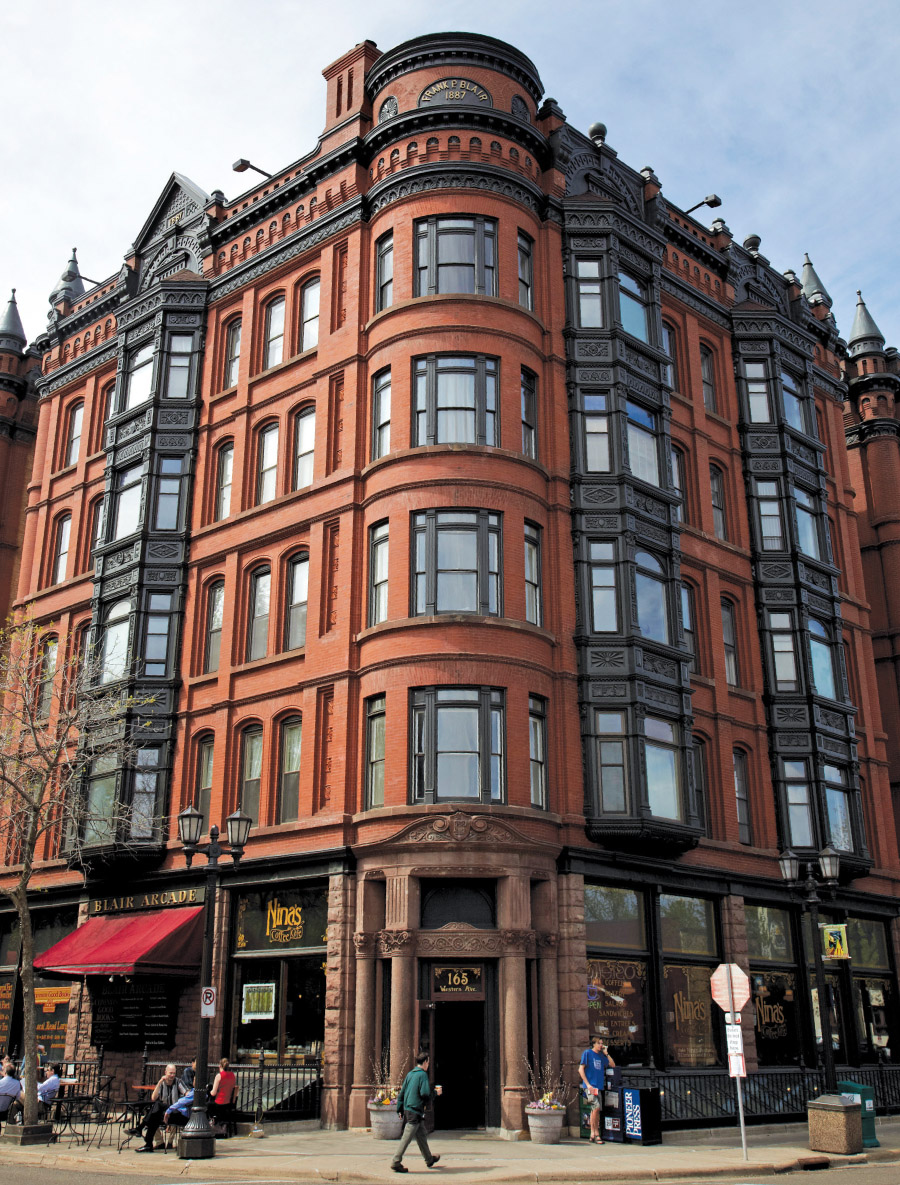 nina's coffee cafe by todd buchanan
Neighborhood Character
As one of the Cities' oldest neighborhoods, where James J. Hill built his mansion and F. Scott Fitzgerald spent his early years, Cathedral Hill offers charm and turn-of-the-century elegance in spades. Its heart is the stretch of Selby Avenue that lies in the shadow of the St. Paul Cathedral, packed with picturesque Victorian houses plus shops and restaurants tucked into transformed brownstones. The area had its heyday in the 1930s, when it was a major commerce center and streetcar hub, and is returning to its former glory as new restaurants and boutiques open their doors.
The Classics
W.A. Frost, settled into the first floor of the 1889 Dacotah Building, is a fine-dining stalwart and home to one of the city's prettiest patios, where steaks, proposals, and birthday toasts are likely on any given summer evening. Across the street is the 1887-built Angus Hotel, which now houses Nina's Coffee Café (pronounced "Nye-na's" by those in the know). It's the cozy epitome of a coffeehouse with overstuffed couches, intimate tables, and a tarty history—it's named for the madame who ran a nearby brothel in the late 19th century. Down the block, the 100-year-old St. Paul Curling Club has an upstairs bar open for the public to watch the sweepers compete, or don a jacket and gloves during open hours to give the sport a shot.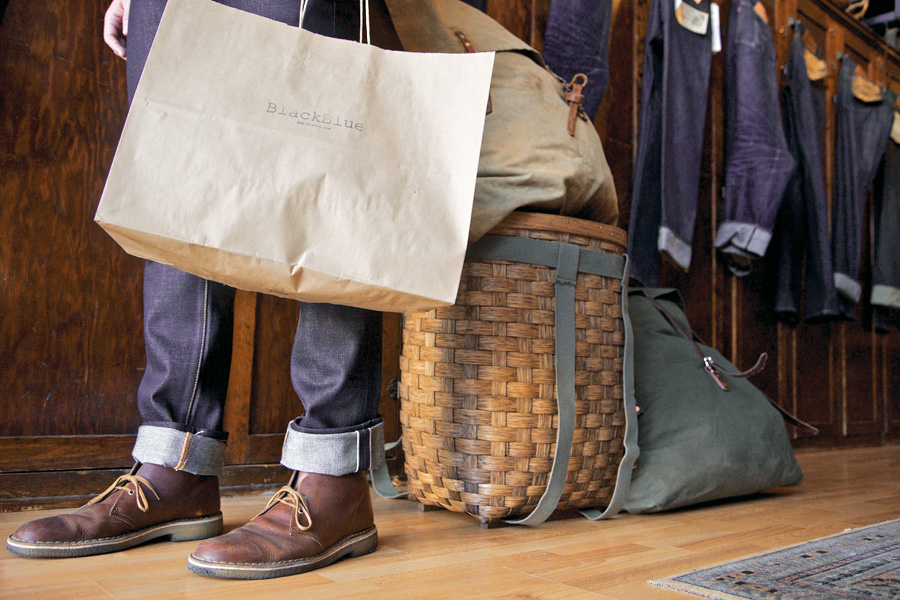 blackblue by allen brisson-smith
New Arrivals
After hip denim emporium BlackBlue opened on the corner of Selby-Dale in 2009, new boutiques followed in droves. Mini-chain Primp opened its first shop in 2010, geared toward those too sophisticated for Forever 21 and too broke for Bloomingdale's. Other small boutiques followed suit, including last year's Corazon, a quirky gift shop, and minimalist high-end clothing and accessory shop Idun. In even tastier news, the French Hen Cafe blends French and Creole cuisines for breakfast and lunch, and the new Salt Cellar nods to the area's history with supper-club fare.
By the Numbers:
Median Monthly Rent: $1,337
Median Age: 32
Walk Score: 76
Why Cathedral Hill?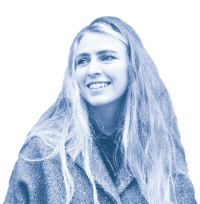 "I think that Idun is a good example of the mixing of old and new here—I tried to pay homage to the building and really keep its character while bringing in contemporary pieces. There's a sense of respect, and that's how it all works together—no one here is trying to change that or take away from it; I think people try to plan so they can embrace that history."
Dahlia Brue, Owner of IDUN; Photo by Colleen Eversman/2nd Truth Photography
---
Northeast: A Hipster's Ground Zero. With Beer, Beards, and Bikes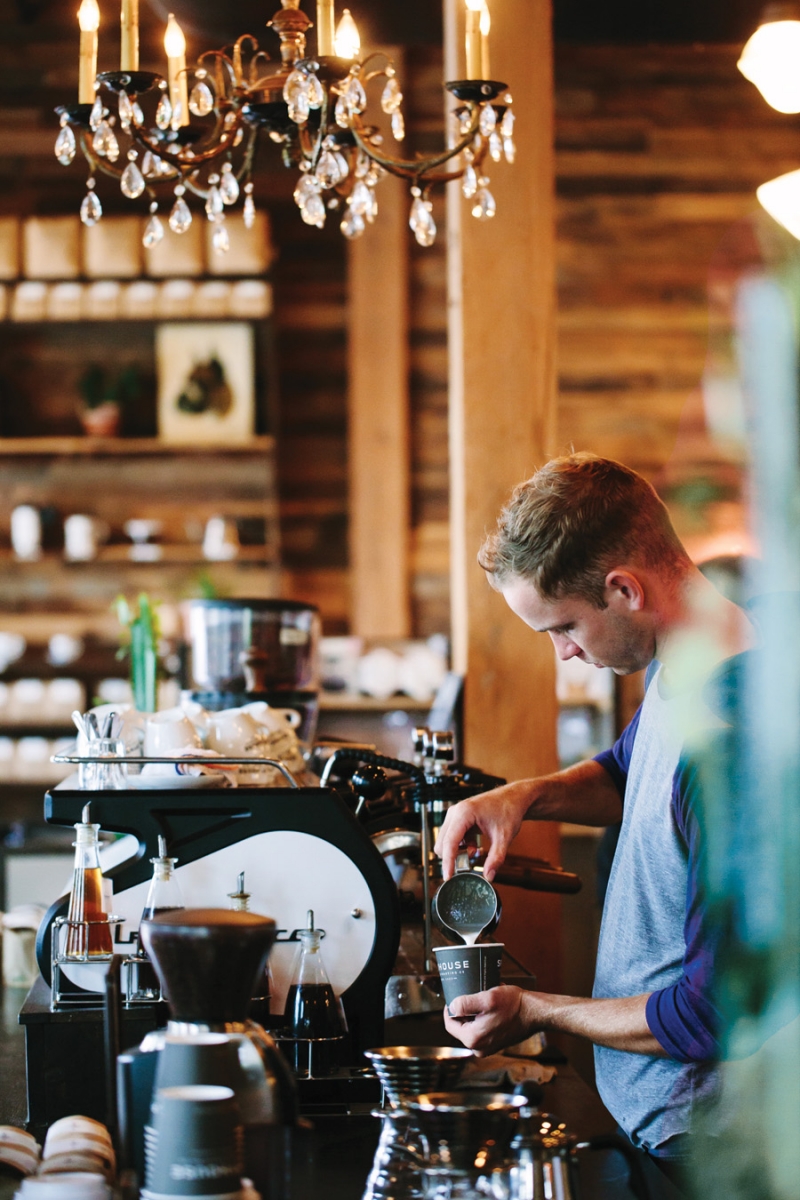 spyhouse coffee by wing ta
Neighborhood Character
If Uptown has gotten a shave, stylish haircut, and hip new outfit, its cousin across the river has embraced its own renaissance of the non-conformist variety. Home to relatively lower rents and some of the oldest architecture in Minneapolis, Northeast pedals the fat-tire bike at the fore of TC trends: taprooms, galleries, and studios; a vibrant street life that makes it a destination for both artists and young families drawn to its up-and-coming feel; along with some of the greatest diversity in the Cities and an almost palpable sense of constant transformation.
The Classics
The patio at Psycho Suzi's Motor Lounge is quintessential Northeast: The Mississippi gambols lazily, tiki drinks and greasy food battle for supremacy, and tattoos outnumber empty seats by a factor of several hundred. A few blocks away, the slightly more sedate Sample Room has a smaller patio of its own, and cocktails and charcuterie plates that speak a more refined vernacular. Over on Central Avenue, some of the Cities' best Mexican, Thai, and Central American eateries nestle alongside the indispensable Holy Land grocery and deli.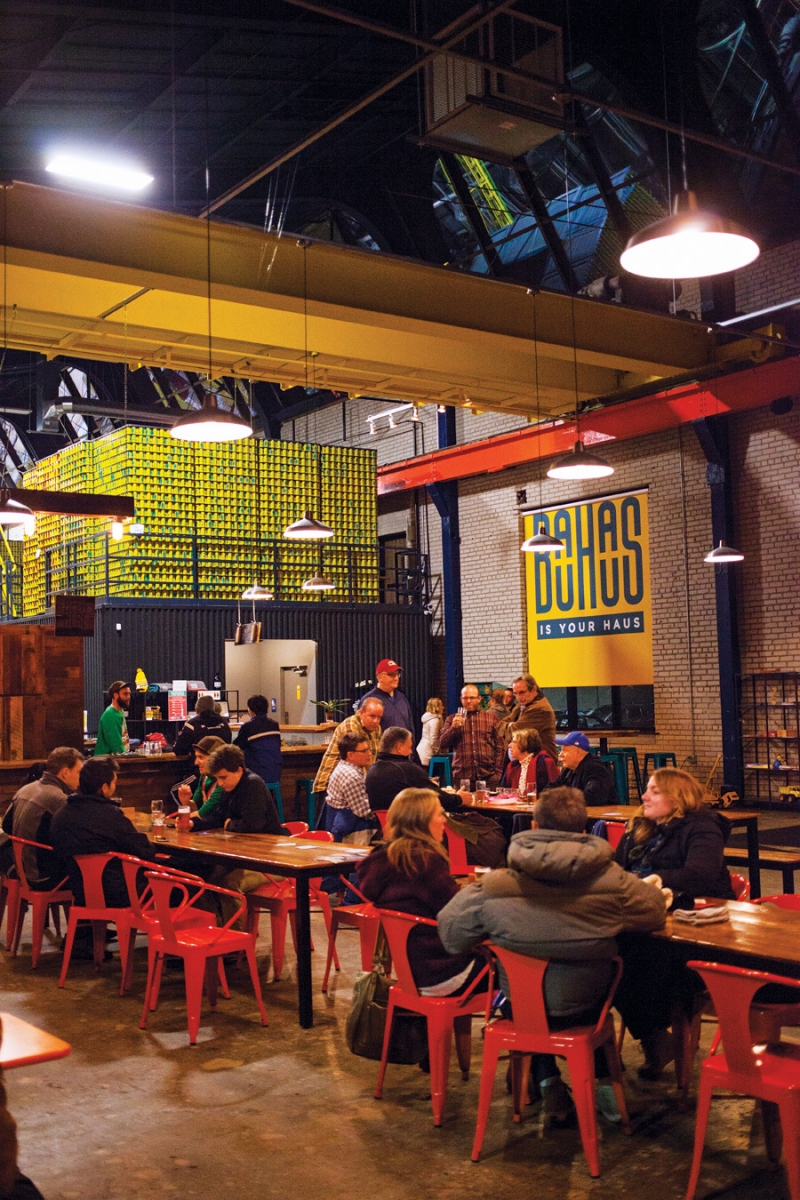 bauhaus brew labs by tj turner
New Arrivals
Available space and a seemingly unquenchable public thirst have made Northeast the sudsy center of a taproom boom that has yet to show signs of reaching a high-lager mark (it's even spreading to next-door suburb Roseville). Among the brightest of the class are the cavernous Bauhaus, the inventive Indeed Brewing, homey Fair State, and the see-and-be-seen Dangerous Man. The rehabbed industrial look that Northeast pulls off so well (the architectural equivalent of lumbersexual?) finds its epitome at Spyhouse Coffee (the day office of every freelance writer, off-the-clock academic, and night-owl performer in the city). The postage-stamp image of the new Northeast has to be the candy-colored Ferris wheel glowing in the night sky above eatery and fun-house "country club" Betty Danger's—think Cape Cod invaded by circus carnies.
By the Numbers
Bike Score: 86
Home Value Change Since 2012: +24%
Diversity (non-white population): 50%
Why Northeast?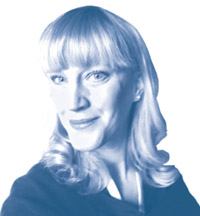 "Northeast is becoming increasingly entrepreneurial. It is the epicenter of creativity in Minneapolis. Northeast is very supportive of artists, musicians, and creatives while maintaining its blue collar roots, and that is what makes it a humble and awesome combination."
Leslie Bock, Owner of Psycho Suzi's Motor Lounge and Betty Danger's Country Club
---
Downtown Wayzata: Lakeside Renaissance—With Roof Deck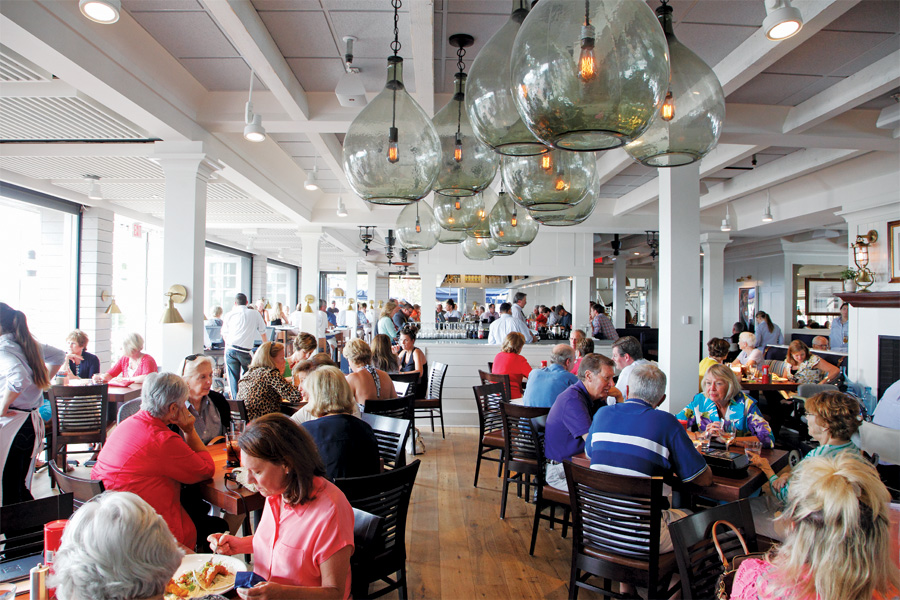 cov by alex steinberg
Neighborhood Character
Everything about downtown Wayzata is charming—even the Starbucks has a front porch and climbing ivy framing the front door. Known as a vacation destination spot in the 19th century for the wealthiest of Twin Citians who wanted to spend summers on Lake Minnetonka, Wayzata has flourished into a full-fledged suburb—but its downtown maintains a quaint midcentury appeal. The East Lake Street area has everything its suburban residents could want within reach—nature, food, shopping—all with an enchanting small-town feel.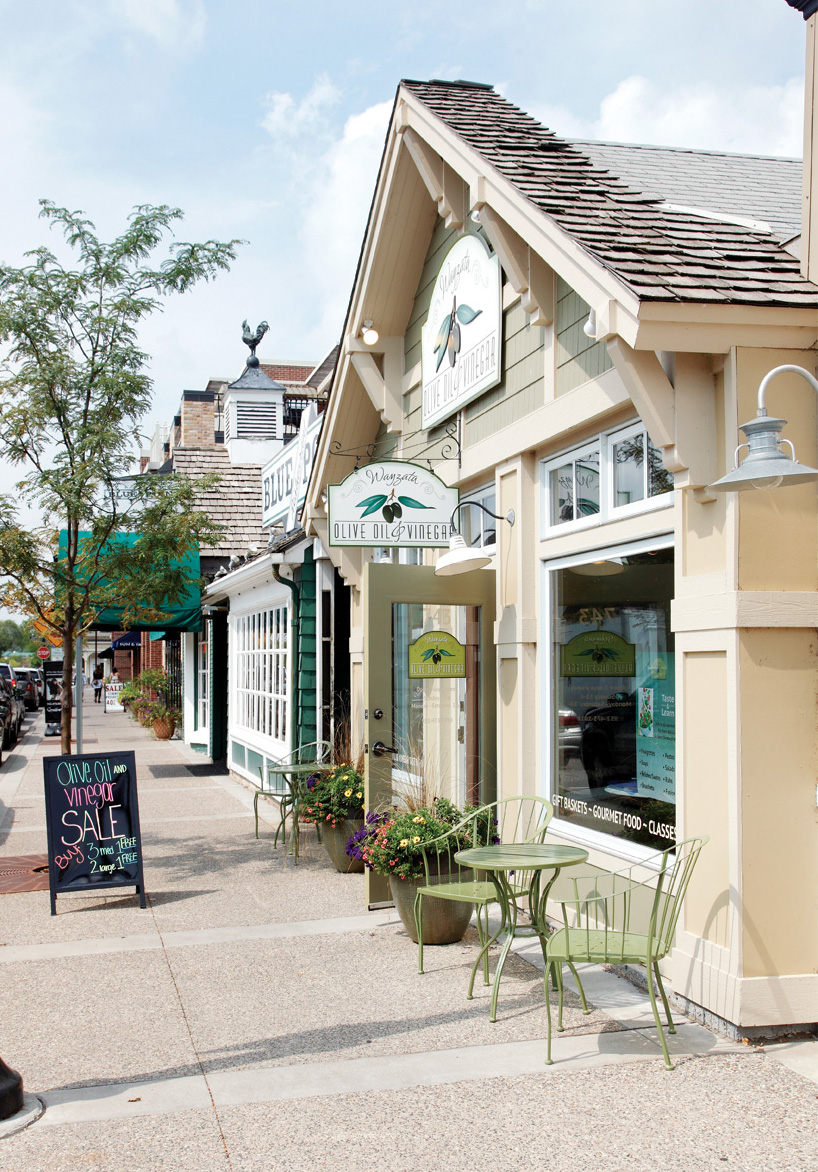 downtown wayzata by alex steinberg
The Classics
The old kids on the block know their game well—dining on the water never gets old and lends a special-occasion vibe. Gianni's Steakhouse is the classic white-tablecloth spot, with a menu full of steak, seafood, and seared foie gras. Blue Point serves everything from scallops to swordfish to its namesake oysters in a chic nautical setting with a gorgeous back garden. Pick up something to wear for a night out (or a silver serving platter for entertaining at home) at Blanc de Blanc boutique, a housewares-and-apparel mecca that has inhabited Lake Street since the '80s but has aged as well as its Tony Patrons.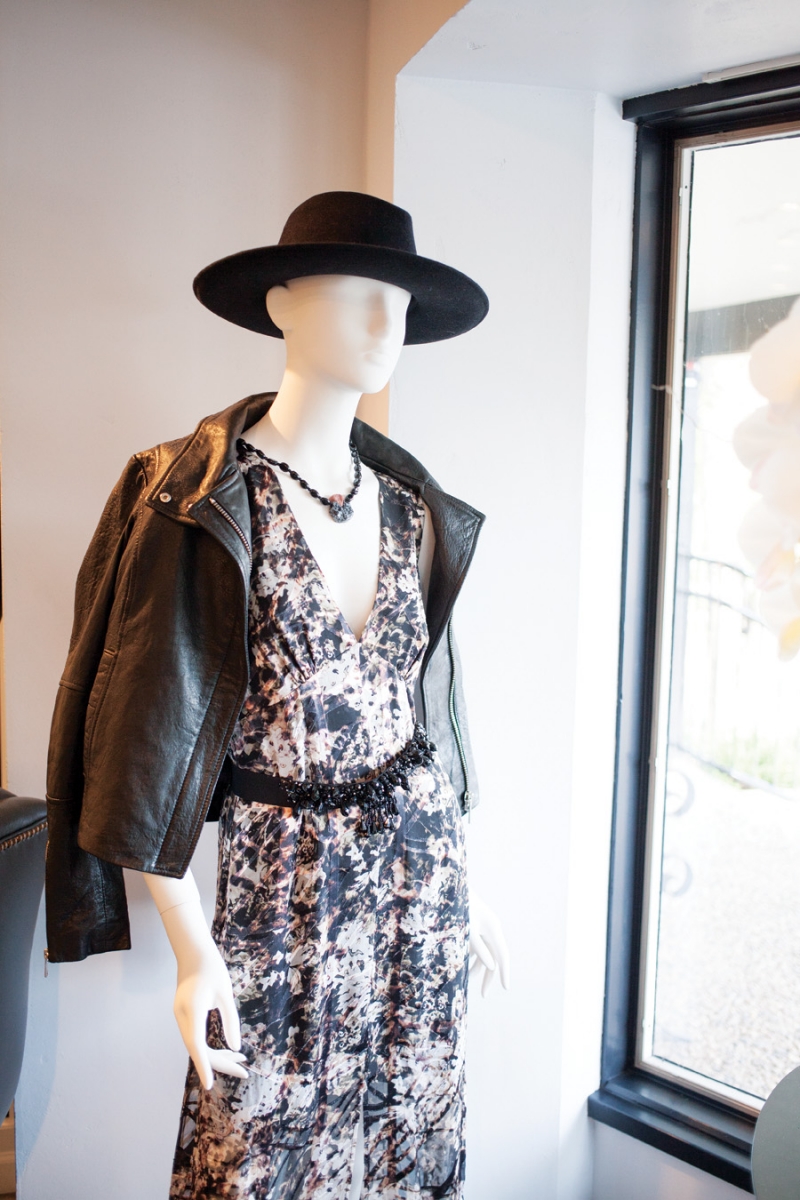 house of 365 by tj turner
New Arrivals
The lakeside charm and upscale clientele in Wayzata draw high-end boutiques like boats to a harbor. 2014 launched womens' apparel shops House of 365 and Merilou Boutique, both in glamorous spaces with equally chic inventory. New restaurants COV (in the space of the longstanding Sunsets) and 6Smith a few blocks down are defining a new guard of steak-and-seafood hot spots, pairing trend-forward menus with modern waterfront dining rooms and outdoor seating—in 6Smith's case, a hopping roof deck. Not far from Wayzata's Lund's supermarket is the company's new grocery/restaurant concept, Lund's & Byerlys Kitchen, which offers shoppers the opportunity to head to happy hour after picking up their provisions. There's more change to come in the next few years—the flourishing Promenade development on the corner of Lake and Superior is slated to add more luxury housing, an Anthropologie store, and a new green space for concerts and a farmers' market.
By the Numbers
Median Home Price: $348,000
Average Commute: 21 minutes
Median Income: $65,077
Why Wayzata?
"I live three blocks from the restaurant, and on nice days I walk to work and have a habit of poking my head into all the businesses along the way to say hello. This is such a lovely community to come to, and chock-full of history. Even though there are developments going up in town, we try to keep that charming small-town quality about us. It is kind of like Mayberry. I get a lump in my throat when I think about all the businesses here trying to be successful."
TERI HUML, OWNER OF Gianni's STEAKHOUSE
---
Uptown Minneapolis: Yesterday's Grunge, Today's Glitz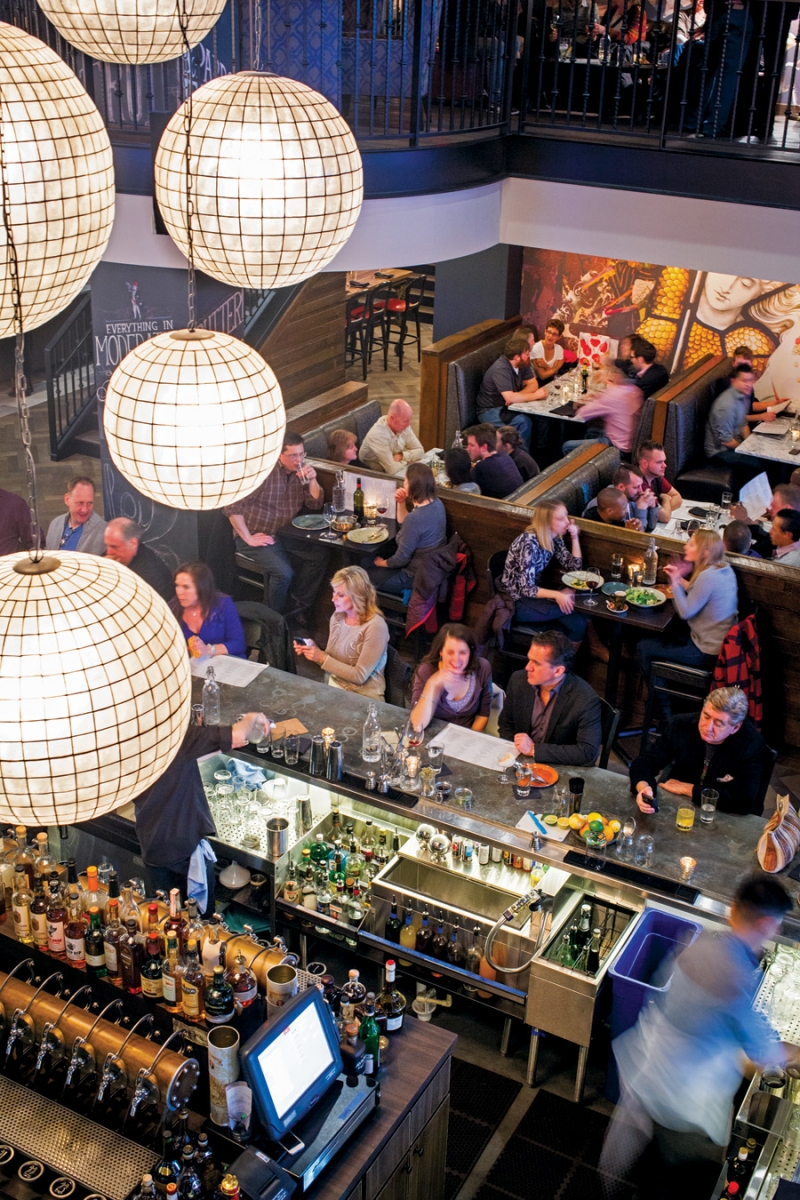 coup d'etat by tj turner
Neighborhood Character
Hennepin and Lake has been fast evolving since Prince named a song after it in 1980. The bohemian free-for-all that the Purple One depicted has given way to national chains and luxury apartment buildings, with fewer and fewer of the little hole-in-the-wall joints probably best symbolized by the razed Uptown Diner and its ghosts of the Minneapolis music scene. The neighborhood's holdouts still stoke a brainy, literate culture of book and record shops beneath the rising glitz.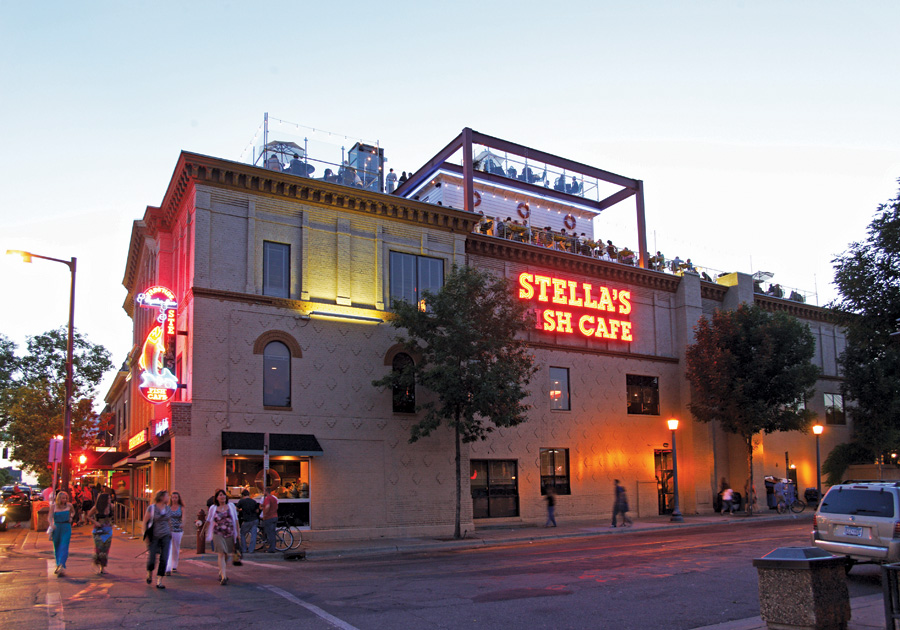 stella's fish cafe by alex steinberg
The Classics
The gritty, timeless Uptown shows up in the old institutions that largely cluster on or near Hennepin: the cozy, reliable-as-roast-chicken (and just-changed-hands) Lucia's, Magers & Quinn's bibliophile paradise bookstore, and the Lagoon Cinema (with screens not much bigger than those at Buffalo Wild Wings, showing the most consistently well-curated films in town). The outdoor classics also endure—from the glistening lakes to the go-go Greenway—and have always constituted half the charm of a neighborhood that attracts both the edgy scenesters and the hardcore outdoors people (sometimes one and the same).

libertine cocktail by tj turner
New Arrivals
The Walkway luxury apartment complex's hot tub suspended out over Lake Street is the most obvious icon of the new era (along with the glamour-lit patio and artsy fire pit outside Bar Louie's), full of young singles living like they have no plans to save for a down payment on a mortgage. They're hanging out at hip dining spots Coup d'Etat and Libertine, shopping in the cold weather months at Columbia and The North Face, and year-round hitting up H&M and MAC Cosmetics. There's also a new CoCo shared workspace where entrepreneurs and freelancers can punch their individualistic clocks (and make that spending money), and the old Uptown Theatre bridging the gap between ages with a spiffy interior remodel.
By the Numbers
Home Value Change Since 2012: +13%
Median monthly rent (2013): $1,353
Rent for a Three-Bedroom Unit at the Walkway: $3,600
Why Uptown?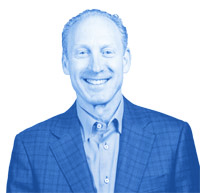 "Uptown has always been an amazing place to be—and I believe it always will be. The culture ebbs and flows—but there is constantly a new generation who 'discovers' Uptown and calls it their own. You can't find any other place like it in the state, maybe even the country. Amazing restaurants, quality shopping, strong entertainment experiences—and then the natural wonders of the lakes? Uptown will never fade away."
STUART ACKERBERG, OWNER OF CALHOUN SQUARE
---
Nicollet Avenue: Eat Street Advances Past Lake Street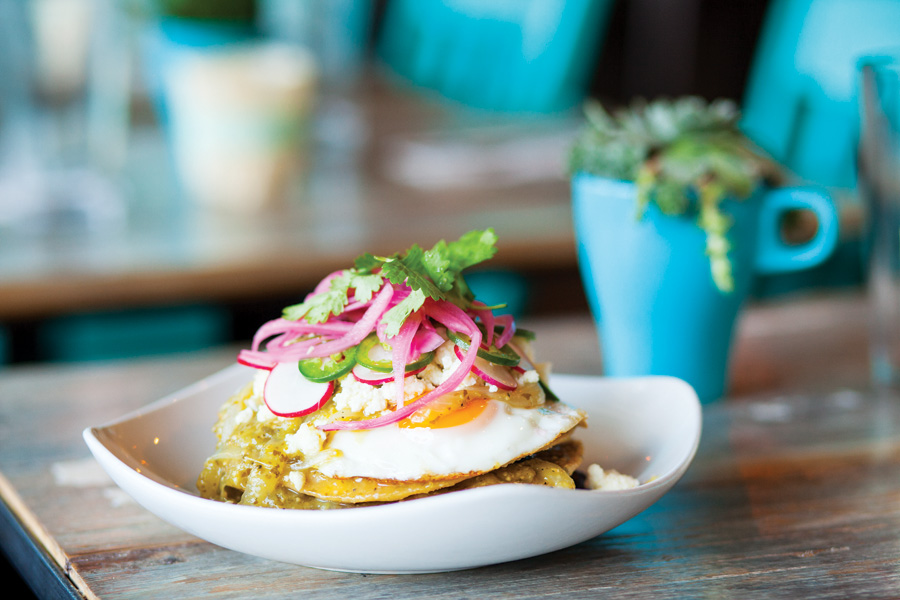 hola arepa by tj turner
Neighborhood Character
In downtown Minneapolis, Nicollet Mall was once the city's primary shopping strip. Since then, the stretch between 14th and 29th streets has earned the nickname Eat Street for its concentration of international restaurants—German, Greek, Mexican, Caribbean, Middle Eastern, Asian, and a place serving foie-gras-topped hamburgers that couldn't be more American. But south of Lake Street, Nicollet long has been more a place to pass through than a pit stop: a busy north-south thoroughfare lined with gas stations and auto services. Today, nodes at 35th–38th are changing that.
The Classics
Gentrification came to 38th and Nicollet on the wings of Blackbird, which moved to the corner in 2010 (just a few months after the co-owner of the tattoo parlor across the street went on a killing spree). The cozy café already has achieved institutional status with its crowd-pleasing approach (think champagne-cocktails-meet-antler-collection). Brunches can be crowded, but the Norwegian-style scramble and egg-chorizo burrito are worth the wait (though the latter isn't as authentic as Cocina Latina across the street). B-Squad Vintage is another (relative) veteran. The merch isn't pristine, but it's affordably priced: from Coors belt buckles and Red Wing boots to cat-eye sunglasses and neon spandex.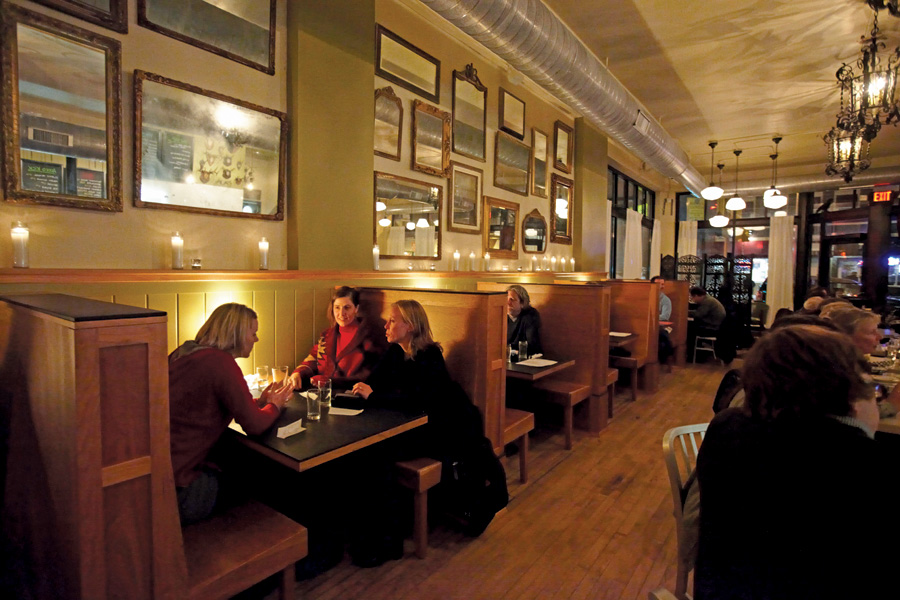 blackbird by todd buchanan
New Arrivals
Nicollet has doubled down on its reputation as a foodie haven, adding hip new culinary concepts seemingly ripped from a millenial's Instagram feed. At 38th, Sunday service means mellowing out to Miles Davis' "All Blues" being played on a Hammond organ at Five Watt coffee shop while sipping an espresso drink spiked with black pepper and bitters. The equally quirky Pat's Tap, on 35th, pairs gastropub grub with Skee-Ball machines. (Owner Kim Bartmann has invested heavily in the 'hood, also opening the sustainability-minded Kyatchi sushi at 38th.) Last year, the restaurant version of the Hola Arepa food truck parked itself across the street from Pat's, offering the same spunky Latin fare paired with craft cocktails and (tough-to-snag) seating.
By the Numbers
Average Age: 35
Median Home Value: $253,000
Home Value Change Since 2012: +19%
Why Nicollet Avenue?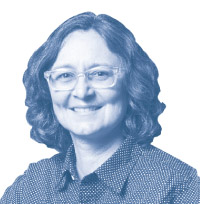 "I went to the old Casey's after broomball a few years back, so I was familiar with the place Pat's is now; I love an old bar. The neighborhood I wasn't so in love with it; there used to be a lot of police calls there. Like with Bryant-Lake Bowl, not many people thought I was making the best decision to do a project there, but much faster than with Bryant-Lake Bowl, the whole neighborhood is changing rapidly. For awhile it was all about Northeast, but I'm excited about stuff happening in south Minneapolis right now."
KIM BARTMANN, OWNER OF PAT'S TAP and Kyatchi
---
Lowertown: All Aboard For Baseball in Bohemia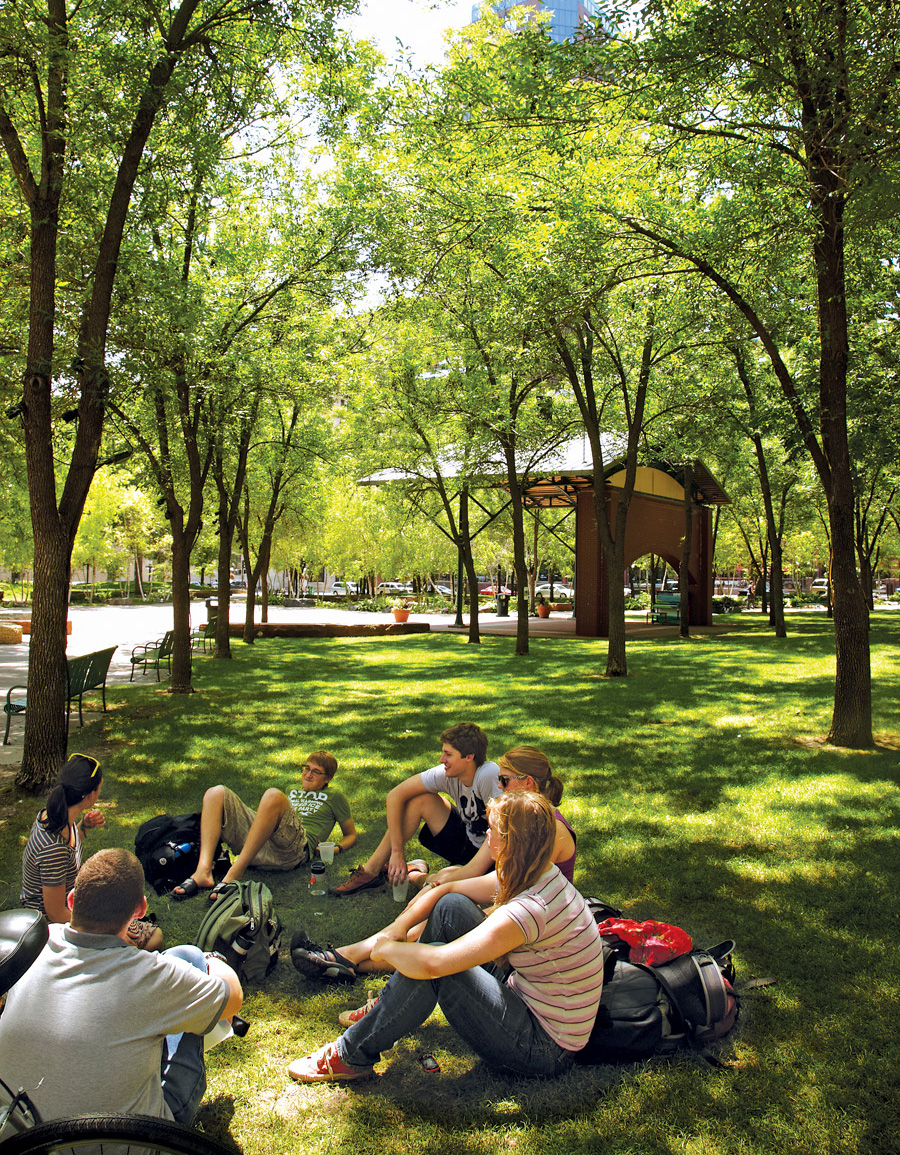 mears park by todd buchanan
Neighborhood Character
Nestled on the edge of downtown, historic Lowertown is to St. Paul what the Warehouse District was to Minneapolis: a riverboat site that once buzzed with manufacturing and rail activity before heading into a steady decline through the 20th century. Like its Minneapolis sister, the 'hood is hip again, thanks in large part to having gained national recognition as an up-and-coming area and receiving major grants from the Knight Foundation for revitalization. Today, it's taken on an artsy persona, being home to the annual St. Paul Art Crawl and several artists' studios.
The Classics
150 years ago, the St. Paul Farmer's Market opened as a year-round spot to pick up everything from locally grown grains to dairy products, with fresh produce available seasonally. The market inspired chef Lenny Russo to move his hyper-local fine-dining Heartland restaurant into the neighborhood in 2010, serving fresh fare from ingredients delivered by the farmers next door. Despite its growth, outside of busy market hours, Lowertown has a serene vibe, especially at the Mears Park gardens and the minimalist Tanpopo noodle shop, dishing up udon and soba in a sleek loft.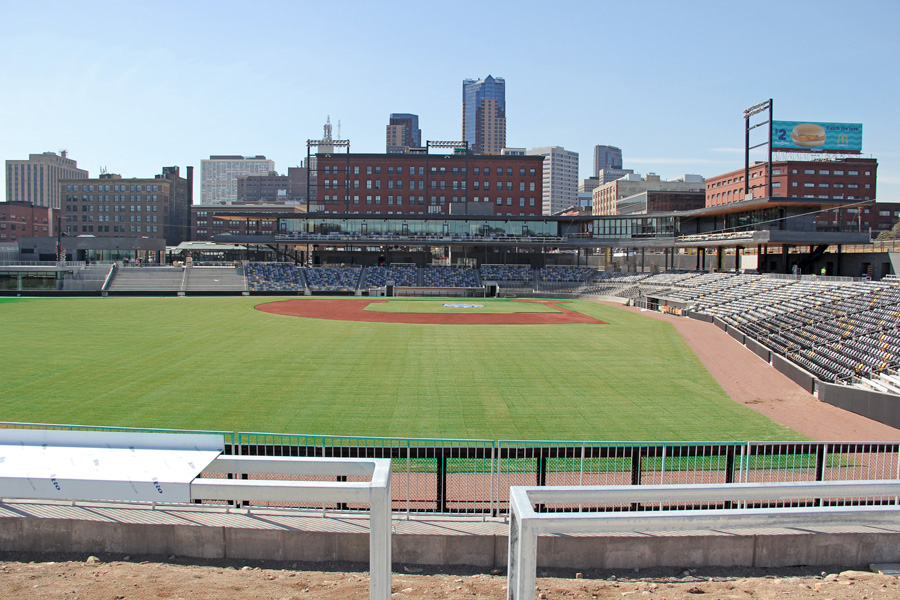 chs field courtesy the st. paul saints
New Arrivals
Last year's restoration of the Union Depot brought a major transportation hub to Lowertown, and on May 21, baseball fans will congregate there when the St. Paul Saints play the first game in their new stadium. For those looking to fuel up for a day of waving foam fingers, the Buttered Tin serves spins on classic brunch dishes with nostalgic house-made Twinkies for dessert. And Heartland will be getting a face-lift: Russo has added a gourmet ballpark menu to the restaurant's lounge (fancy cheese curds, bratwurst, and the like) and plans to transform the eatery's deli and market space into a wine bar, just in time for summer.
By the Numbers
Transit Score: 72
Diversity (non-white population): 30%
Rent Increase (2012–2013): +7%
Why Lowertown?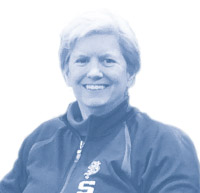 "We're all about being funky and irreverent, and the majority of the people I've interacted with here are very similar. Most Saints players are people who are hoping to have their careers continue beyond the Saints. Most Lowertown artists are looking to have their artwork discovered. They're both emerging. Every once in awhile, we have a star, and there are a lot of stars here in the Lowertown Arts District. There's just a really strong bond and a lot of connections between the two."
ANNIE HUIDEKOPER, COMMUNITY PARTNERSHIPS & CUSTOMER SERVICE FOR THE ST. PAUL SAINTS
---
North Loop: Sleepy Warehouses Wake Up on the Cutting Edge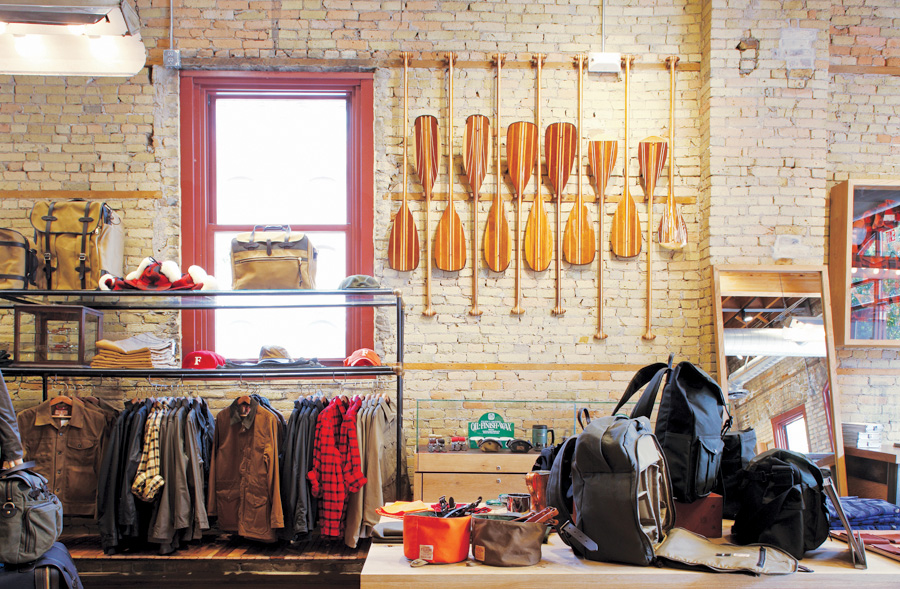 filson by alex steinberg
Neighborhood Character
The North Loop's less poetic name—the Warehouse District—used to be an apt descriptor for its industrial feel and largely sleepy nighttime streets. Starting in the mid-1990s, though, a new condo and building boom helped double the population within a decade, and those snoozy streets began to positively thrum with activity from restaurants, clubs, and, in the summertime, that monument to eternal northern optimism that we call Target Field. Now the Loop is home to some of the trendiest nightspots and most sought-after pads in the Cities—and pretty much a dream location for those who work downtown and manage to commute on foot.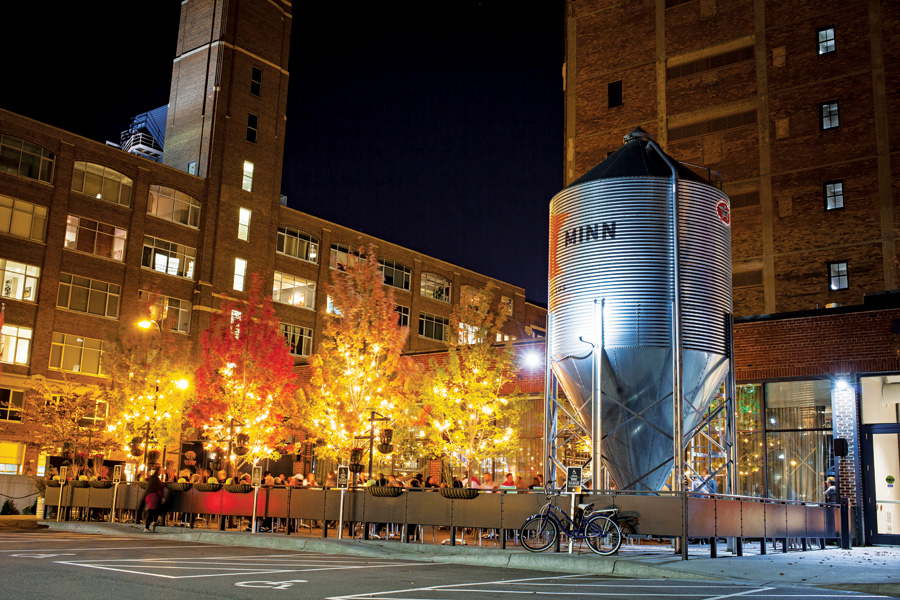 the freehouse by tj turner
The Classics
The North Loop has been glowing so hot the past several years that some of its restaurants and boutiques opened just a handful of years ago today are considered institutions alongside quick-blooming crops of newcomers. The Bachelor Farmer and Bar La Grassa have aged from infancy to full-on culinary adulthood, and boutiques such as Martin Patrick 3 and Askov Finlayson have similarly evolved into standards for the sartorially minded. All offer the kind of sophisticated, urban point of view that marks the Loop's rise. Origami Restaurant's sushi remains a solid holdover from quieter days, the Monte Carlo's patio beckons, and the Lab Theater survives past its old Guthrie affiliation today as a venue for itinerant theater and dance companies.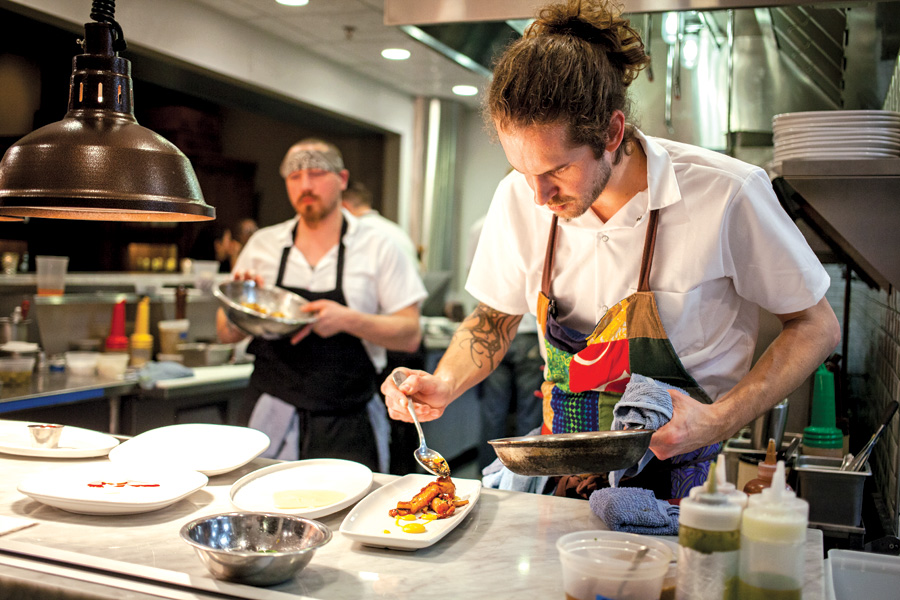 borough by tj turner
New Arrivals
Some of the most lauded and talked about new restaurants (Borough, Smack Shack, and the good-luck-getting-a-reservation Spoon and Stable)? Check. The most innovative and, to be blunt, sexy stops for cocktails (Marvel Bar, Parlour)? Check. Hot-stuff boutiques and salons (Wilson & Willy's, Filson, D.NOLO, Roe Wolfe, HAUS)? Check. Cutting-edge trends arrive at the North Loop first, whether it's the Oliveto cocktail (with olive oil and raw egg white, and it's delicious) at Marvel Bar or those "North" hats at Askov.
By the Numbers
Transit Score: 89
Bike Score: 95
Median Age: 36
Why North Loop?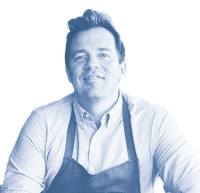 "When we looked at the Bar La Grassa space early in 2009, I was concerned that it felt too far away from foot traffic and off the beaten track, but today it's not that way at all. You can look at the North Loop as our little version of the Meatpacking District in Manhattan—this industrial neighborhood that didn't have much, but now has hip boutiques, restaurants, and young people that have really changed everything."
ISAAC BECKER, OWNER OF BAR LA GRASSA, BY KELLY LOVERUD
---
Neighborhoods to Watch: Change on the Horizon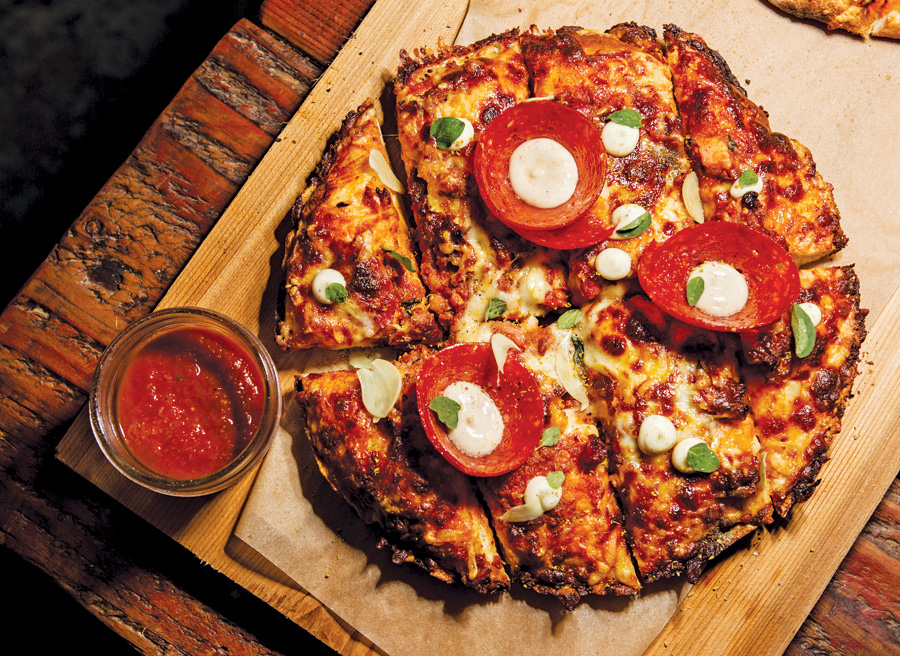 pig ate my pizza by courtney perry
Robbinsdale
Home to the venerable 100-plus-years-old Hackenmueller's Meat Market (as well as a disproportionate number of professional wrestlers, including legend Verne Gagne), Robbinsdale's stock has risen with the Travail/Pig Ate My Pizza/Rookery triumvirate of eateries and the national attention it garners. Now the first-ring suburb, with its affordable houses and an old-fashioned neighborhood feel, is in line to be serviced by the Bottineau Transitway light-rail project connecting it to downtown Minneapolis. If it happens, expect a big boom there around 2019.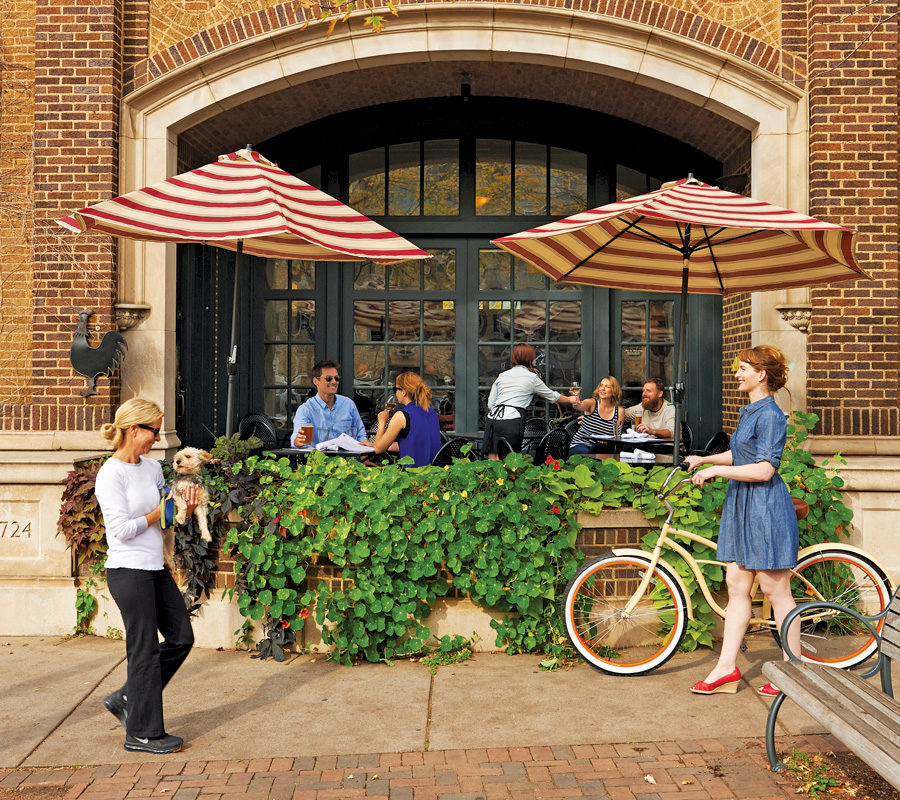 harriet brasserie by jeff johnson
Linden Hills
Compared to 50th and France, the commercial node at 44th and Sheridan has the edge in history (Harriet Brasserie inhabiting a 1914 fire station), charm (the leafy patio at Sebastian Joe's), and quirks (free-range chickens roaming the Wild Rumpus bookstore). In fact, downtown Linden Hills likely keeps a lot of suburban-leaning Minneapolitans from defecting to Edina. Though housing demand outstrips supply, neighbors aren't about to let new development disrupt the cozy feel Linden Hills has cultivated. After several years of battling the local residents, one potential developer gave up on his condo project and sold the former Famous Dave's parcel to a new group that plans to pursue a dense-but-boutique mix of residential and retail. The lines outside Tilia will only get longer.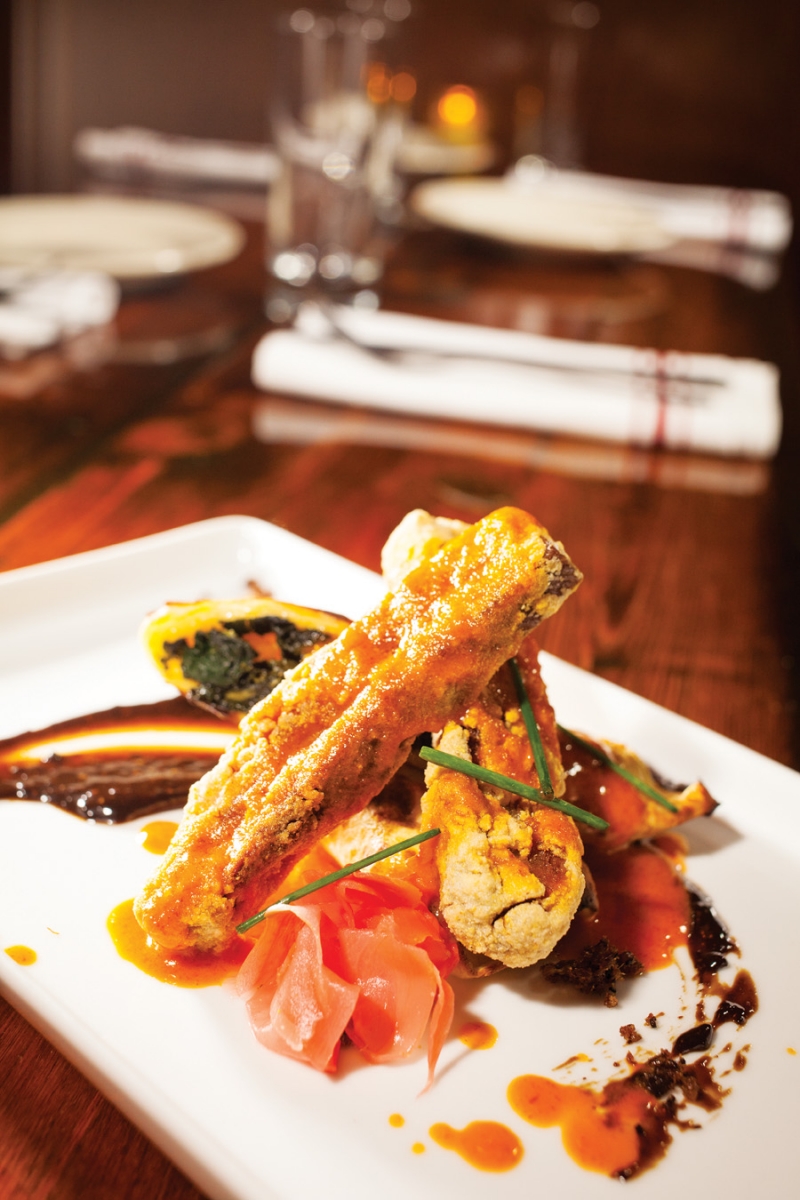 lyn 65 by tj turner
Richfield
The long-ignored middle child adjacent to Minneapolis and Edina, Richfield's prime geographic potential is finally getting its due. Last year brought a double-whammy to Lyndale Avenue with a third location for Lakewinds Food Co-op and chef-driven Lyn65 Kitchen & Bar. With Restaurant Alma alum Ben Rients at the helm, the eatery's fried-chicken platter is reason enough to visit the suburbs. Nearby Lyndale Gardens begins construction this year and will bring more apartments and retail to the area, along with a host of lakeside amenities attached to the Richfield Lake walking path, including gardens, a splash pad, and an outdoor pizza oven, as well as a new space for the Richfield Farmers Market. And on the other side of town, Andale Taqueria & Mercado serves up traditional Mexican dishes alongside a massive Latin grocery store.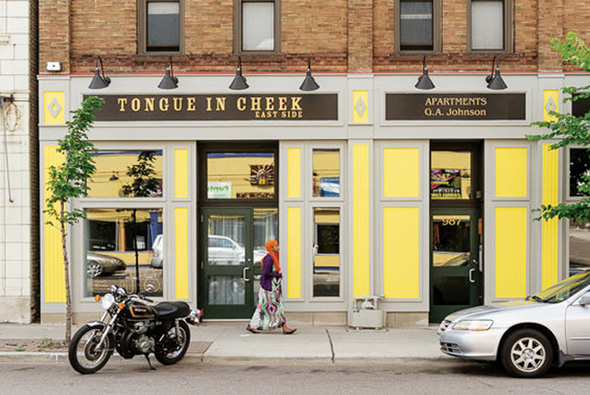 payne avenue courtesy of tongue in cheek
Payne-Phalen
Over the years, St. Paul's once-bustling East Side Payne Avenue business district declined as major employers—3M, Whirlpool, Hamm's—left the area. For a period, the stretch's best-known landmark was a strip club called the Payne Reliever. But today, the area's rough image is being recast by a trio of progressive eateries inhabiting charming vintage storefronts: the Ward 6 gastropub, Cook St. Paul's diner-fare-plus-Korean-specialties, and Tongue in Cheek's accessible fine dining. And some real-estate watchers are pointing out the parallels between Payne-Phalen
and Northeast Minneapolis, where affordable commercial and residential space attract both artists and entrepreneurs.