1. Cooking class
Photo courtesy of Saga Hill
Hey, good lookin'! What'cha got cookin'? Whether you're still learning how to boil water or you're a seasoned pro looking for inspiration, gather the girls together and channel your inner Rachael Ray at a cooking class. Local classes are offered at Saga Hill Cooking & Events (Minneapolis), Local D'lish (North Loop), Nordic Ware Factory Store (St. Louis Park), Cooks of Crocus Hill (Edina and Grand Avenue, St. Paul), and Cooking the Market (Midtown Global Market).
At Cooks of Crocus Hill, the classes are educational and entertaining (For the Love of Brunch, anyone? Or maybe Homage to Fromage, or Wicked Fast Weeknight Feasts?). After laughing and learning and cooking and eating, check out the store for unique culinary gadgets, a wide selection of constantly changing cookbooks, and quality, high-end cookware. Cooks of Crocus Hill also offers a really great crop share program.
Another fun cooking class is offered at the Nordic Ware Factory Store, where classes are taught in the contemporary demonstration kitchen. Award winning local chefs, cookbook authors and experienced cooking instructors teach cooking and baking techniques and sample delicious recipes. There are many exciting classes planned for 2013. The two-hour classes are $25 per person, plus tax.
If you want to learn how to plan a menu while you shop, Cooking the Market is a fantastic way to think on the fly (because really, how many people go grocery shopping with an exact plan?), while becoming familiar with the seasonal ingredients and grocers throughout Midtown Global Market. The classes are offered once a month on Saturdays.
Photo By Amber Procaccini
Since the first class was launched two years ago by personal chef Molly Herrmann, Cooking the Market has attracted couples (date night!), girlfriends, and corporate folks wanting to do a little team-building. "Honestly, Cooking the Market is great for anyone, at any level of cooking experience, and with any kind of interest," says Tracy Morgan, who co-owns the company along with Herrmann. "You just need to be willing to have a great time and be open to new ideas."  The classes are fun and interactive. Wine is served along with a fresh, locally grown, in-season meal created on the fly by class participants. With private classes, you can add upgrades like a top-notch sommelier or karaoke, and customize the menu for dietary restrictions (gluten-free or vegetarian/vegan, for example).
"Sure, you can learn how to properly cut an onion, hand-make pasta, or whip up a mother sauce, but you also get three hours of pure enjoyment, and, you know, wine," Morgan says. "CTM is never the same twice, and we've never had a recipe fail. This class will give you a burst of confidence in your ability to riff on a recipe idea, be inspired by ingredients, and just jump into something new. It's wine, food, and fun, and we handle the dishes. Who wouldn't love that?"
2. Girls Night at a B&B
photo courtesy of village house
Book a cozy room (or the whole house) in a bed and breakfast and catch up with your best friends without constant interruptions. Go out to dinner, take your time savoring the meal, relax, have another glass of wine. Stay up late and sleep in. Laugh until your sides hurt. Staying at a B&B with girlfriends is simply good for the soul.
"We've had the Village House for over five years and hosted many girlfriend gatherings," says Anne Larson, manager of the Village House in Winona. "I've offered some sort of Girlfriend's Getaway Travel Package for the past several years because the Village House is such a perfect venue for a small gathering of friends. We don't actually live on the premises, so groups get to have the whole house to themselves. The atmosphere at the Village House is relaxed and intimate, and guests can bring in their own wine and appetizers, watch a movie, or enjoy a leisurely morning together."
Larson has customized packages for cross-country skiers, leaf-peepers, Shakespeare Festival-goers, college roommates, bridesmaids, and knitters (to name a few). Oftentimes the ladies enjoy their stay so much, they make it an annual tradition.
3. Take a bliss break
When you are overstressed and overworked, your mind, body and spirit all suffer. Spas provide a much-needed escape from a stress-filled environment. Strong female friendships provide a much-needed foundation of stability, sense of belonging, and sounding board for speaking honestly about any and everything, sometimes crying openly, other times laughing inappropriately, reminiscing and teasing and sharing stories. Merge spas and friends during a spa party, and enjoy one another's company while getting manicures, pedicures, refresher facials, or massages. You'll leave feeling refreshed, rejuvenated, and recharged.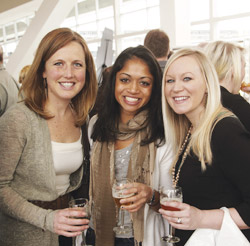 Photo By Todd Buchanan
4. It's wine time!
Sample a nice mix of five-star food and wine, watch interesting cooking demonstrations, and meet talented winemakers and chefs at the 19th annual Minnesota Monthly Food & Wine Experience, set in the elegance of the Metropolitan and Legend's Clubs of Target Field the first weekend of March. The "most delicious weekend of the year" includes 200 exhibitors sampling gourmet fare, 350+ fine wines, and 75+ specialty beers. Spend an afternoon celebrating your sisterhood (and the intricacies of the grape!) while sipping, sampling, and shopping your way through Target Field. Tickets are available at www.foodwineshow.com.
5. Tea for two (or three, or ten)
Tea parties aren't just for little girls and their stuffed animals. You and your best friends can enjoy high tea (and pretend you're on Downton Abbey) at the Saint Paul Hotel, Brit's Pub in Minneapolis, the Mad Hatter Tea Room in downtown Anoka, Avalon Tea Room in White Bear Lake, Lady Elegant's Tea Room in St. Paul, Maudie Macbride's Tea in the Woods in West St. Paul, and Wisteria Twig in Red Wing. Reservations are always recommended; if not required.
According to Terrie Bulanek, director of catering at the Saint Paul Hotel, the hotel has had a long tradition of afternoon tea. "We know that public teas have been offered throughout the ages from the time the hotel opened in 1910. We also know that there were Tea Dances held in the grand ballroom for the public to provide social gathering opportunities during Prohibition. In recent history we have been offering afternoon tea to the public since the hotel was reopened in 1982 after a major renovation."
On average, the hotel now serves a five-course traditional English style tea to over 4,000 people in the hotel's beautiful lobby, as well as in private rooms. The appeal, Bulanek says, is more real face time, allowing us to expand our cultural and social skills. "Tea is a perfectly elegant event that allows us to gather, slow down, and practice the art of conversation," she says. "It gets us out from behind our computers and away from electronic communication. It's a sophisticated event that spans generations."
 6. Blowdry bar
Whether it's a handful of your best girlfriends or a big group, a party at a blowdry bar is memorable for a few reasons: there are no cuts and no colors—just blowouts, you get to pick your preferred hairstyle from a menu, hang out with your girls in a lighthearted fun atmosphere, then leave feeling sassy and confident. Check out local blowdry bars Blowdry, WOW Bar, and Blast.
7. After-hours boutique shopping
Shop without the crowds at private after-hours parties, catered specifically to small groups of girlfriends. Many boutiques allow guests to bring wine, hors d'oeuvres, and dessert after-hours, allowing friends to sip and shop while checking out a beautiful selection of items for purchase. Cliché, located on Lyndale Avenue in Minneapolis, hosts happy hour parties for groups of 15+ girlfriends, typically with a discount of 20 percent off inventory. Cliché parties are hosted after hours from 7 to 9 p.m. Monday, Thursday, Friday, and Saturday, or early Sunday from 9 a.m. to 11 a.m. Other local boutiques offering private shopping parties include Nani Nalu Beachware Boutique in Edina, Roe Wolfe in Mendota Heights, Fringe in Edina and St. Paul, Flirt on Snelling Avenue in St. Paul, and The Fun Sisters Boutique, with locations in Minneapolis, St. Paul, Stillwater, Nisswa, Walker, and Pequot Lakes. Call the individual stores for more details.
8. Hire a pro at home
Photo by Don Anderson
Sometimes the best times with your friends are the times you're in the comfort and privacy of someone's home, which is why it can be a blast to hire a pro to teach you how to belly dance, learn self defense, put on makeup, or look (and feel) your best through jewelry, fashion, and at-home spa parties.
Mirah Ammal, artistic director with Al-Bahira Dance Theater, teaches women's improv dancing (aka belly dancing) to women ranging in age from seven to 70. "One of the wonderful things about this dance form is that it really appeals to women of all ages, shapes and sizes," she says. "The movements are inherently feminine, powerful and well-suited to the female body. The form helps build strength, confidence and grace, and because it's low-impact, it can be a life-long activity."
In my 'classroom'—be it a formal studio class or a more casual party-lesson in someone's home—I strive to create an environment where women can feel safe, beautiful, and accepting of themselves and one another regardless of their ages or physical conditions; where they can laugh and explore together. My greatest joys in doing this for a living are the women I get to work with and meet, and spreading the joy of this beautiful and fun dance form."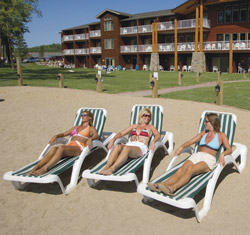 Photo Courtesy Of The Lodge On Lake Detroit
9. Weekend getaway
Call your closest girlfriends and schedule a scrapbooking, shopping, or "just need some time with my girls" weekend at Bluefin Bay on Lake Superior (they host a specific Girls' Gone North weekend every fall), the Lodge on Lake Detroit (this spring they're hosting a murder mystery event and throughout the year host many fun themed weekends, including wine tastings and live music), or Larsmont Cottages on Lake Superior (a specific girls' getaway package is offered online, including movies, popcorn, wine, beauty products, and discounted massage therapy services). Don't feel guilty leaving town for the weekend. You deserve it.
10. Outdoor adventure
Photo courtesy of REI
Everyone escapes reality in different ways. If you'd rather carve off-road trails, log road miles, paddle flatwater rivers, catch some air, or tune in to Mother Nature rather than sit on the couch watching TV, you can connect with your girlfriends through a class at REI, Mid-west Mountaineering, or various community centers throughout town. REI has been offering a women's specific climbing class since the store opened in 1998, says Matt Poppleton, REI market manager of outdoor programs. The class appeals to a wide spectrum of women, he says. Women learn the basics of climbing in a small, comfortable, fun environment. Co-ed classes are also offered, but the women-specific classes are in consistent demand. The Learn to Climb for Women classes are scheduled the second Wednesday of every month from 6 to 9 p.m.; $45 for REI members and $65 for non-members.
Facebook Comments