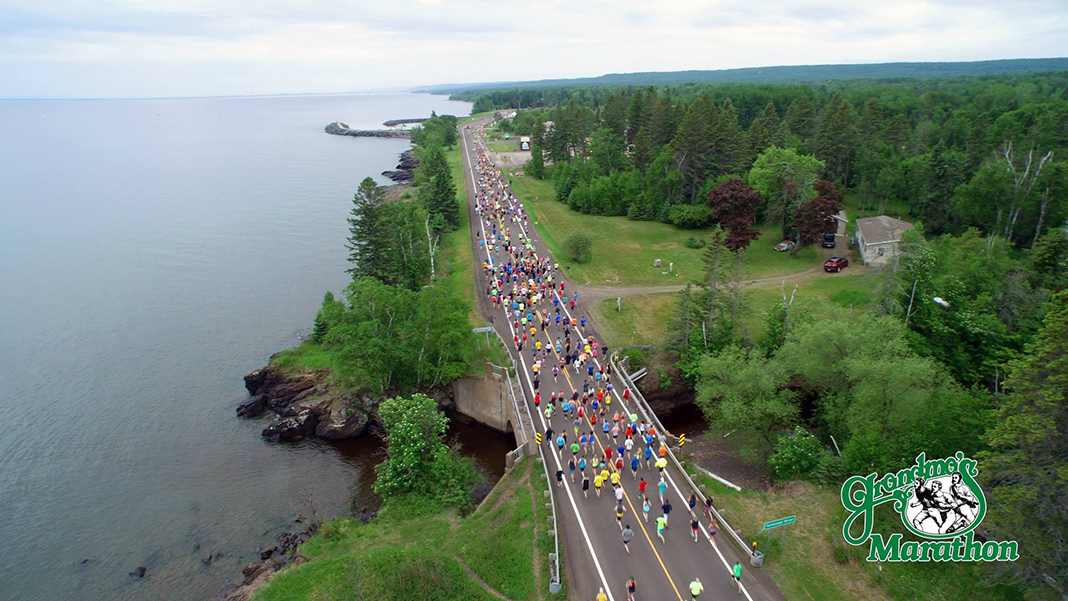 Many Minnesotans have heard of the iconic Grandma's Marathon in Duluth, one of the 12 largest marathons in the country, but most people don't know the race began in 1977 when 150 runners participated in a picturesque road race from Two Harbors to Duluth. This year, Grandma's Marathon weekend was slated to take place June 19–20, to include more than 20,000 participants in the three races.
Due to COVID-19, the 2020 Grandma's Marathon weekend of events has been canceled—with all races going virtual. The 45th Anniversary Race Weekend will be hosted next year on June 18-19, 2021. The anniversary weekend will provide a merited occasion to be grateful that running is a sport that endures all circumstances—a sport that will come back from this crisis even stronger—because together, we are stronger.
Here's what makes Grandma's Marathon so unique:
A Scenic Run Unlike Any Other
Likely one of the best perks of running in Grandma's Marathon is the view. When you participate in this race, you're not running through a busy city; you're taking the scenic route along Lake Superior's north shore, over 32 rivers, creeks, and streams before finishing in the heart of Canal Park.
"I ran it myself," says Mandi Peterson, marketing and public relations director for Grandma's Marathon. "The first half is really scenic. You're enjoying the views and, of course, you're feeling good, too. The second half, when you need more support, you get it. The crowds and community are out there cheering you on."
An Excellent Qualifying Race
Not only is Grandma's Marathon beautiful, but it's a fast, rolling course, which makes it ideal as a qualifying race for bigger races such as the Boston Marathon and Olympic trials. In fact, many personal records are set each year.
If you really want to challenge yourself, sign up for Great Grandma's Challenge—running the William A. Irvin 5K on Friday and Grandma's Marathon or the Garry Bjorklund Half Marathon on Saturday.
Unparalleled Community Involvement
Over the years, Grandma's Marathon has flourished into a full-blown community event complete with the Essentia Health Fitness Expo, live entertainment, Michelina's all-you-can-eat spaghetti dinner, and much more. And you don't have to be a runner to enjoy the biggest weekend in Duluth. "If you're not running, you're probably volunteering, cheering, or VRBO-ing your house," Peterson says. "It's such a big event for the community."
Peterson says it takes about 6,000 volunteers to make the event run smoothly and thousands show up in support of those running. "We've received accolades for exceptional production and on-course support, strong community involvement, and a scenic marathon course that showcases the beauty and attractions of the local region," she says.
A Sustainable Race
Grandma's Marathon is committed to practicing sustainable initiatives in order to minimize waste. Sustainability efforts include everything from recycling leftover medals and used heatsheets to upcycling used sponges to be made into carpet-backing. The organization uses local vendors and products everywhere possible and works with other local nonprofits to donate extra food items and clothing left behind by the runners. Speaking of the runners, they are all shuttled to the start lines by bus or train while volunteers and spectators are offered a bike valet station to get to their posts near the finish. The sustainability initiative evolves more every year as Grandma's Marathon works toward becoming a zero-waste event.
Registration is open for the virtual races for all three distances here through May 1, 2020. Participants can safely run their races virtually and have until July 31 to submit their finisher time. There is also still the option to participate on behalf of a charity as a charity runner.
Next year, Grandma's Marathon celebrates its 45th anniversary, so it's safe to expect the events will fill fast. Mark your calendar—registration opens each year on October 1.
Facebook Comments