Is cabin fever creeping in? Breathtaking national parks and monuments, hundreds of miles of groomed snowmobile and hiking trails and a weekend getaway to the Black Hills and Badlands are the perfect solution to break those winter blues.
Day 1
The best way to start your weekend adventure is with a trip through the winding limestone cliffs of Spearfish Canyon. Known for some of the most spectacular views in the Black Hills, Spearfish Canyon showcases all facets of winter beauty. Frozen waterfalls, caves and a lush covering of pine, spruce, aspen and birch make for a dazzling winter wonderland of exploration and adventure.
Terry Peak Ski Area
For faster, downhill activities, be sure to take advantage of the local ski area at Terry Peak outside of Lead. Annually receiving over 200 inches of snow, Terry Peak boasts nearly 600 acres of ski territory, with over 80 trails that total over 30 miles. The best part? With minimal crowds and short lift wait times, it's easy to spend an entire day carving the mountain sides in the great outdoors.
Snowmobiling
If motorsports are more your speed, thousands and thousands of square miles of forested mountains and valleys are contained within the Black Hills, and with an expansive, interconnected trail system, snowmobiles are a thrilling way to explore it all.
Lodging and More
Many hotels/resorts on or near the trails have plenty of on-site parking for your truck and trailer. Some even offer rentals and have everything you need for a day of playing outdoors in the Black Hills forest. For a full list of accommodations, see our Places to Stay page.
Out in the Northern Black Hills, Deadwood offers up great entertainment at its cozy casinos and gaming resorts. Stop by the city's new Outlaw Square for 'Glice' skating, and take the city's self-guided tour to explore all of the hidden secrets of the town's wild past.
Day 2
Start your second day with one of the most memorable views of a lifetime—watching the sun rise over Mount Rushmore National Memorial. Take the winding Presidential trail to get the closest views of the monument and to get your blood flowing in the early, chilly hours of the day.
Afterward, take a scenic drive 18 miles down the road to Crazy Horse Memorial® and witness the World's Largest Mountain Carving in progress. The incredible mountain carving is open year-round and features the Indian Museum of North America, the Native American Educational and Cultural Center, the Sculptor's Studio Home and Workshop and the Laughing Water Restaurant.
Custer State Park
Traveling back toward the Central Hills, be sure to round out your park tour with a trip through Custer State Park. During the winter months, you'll experience nearly 700 free-roaming bison, more than 50 miles of hiking trails and a variety of dazzling wildlife, almost entirely to yourself.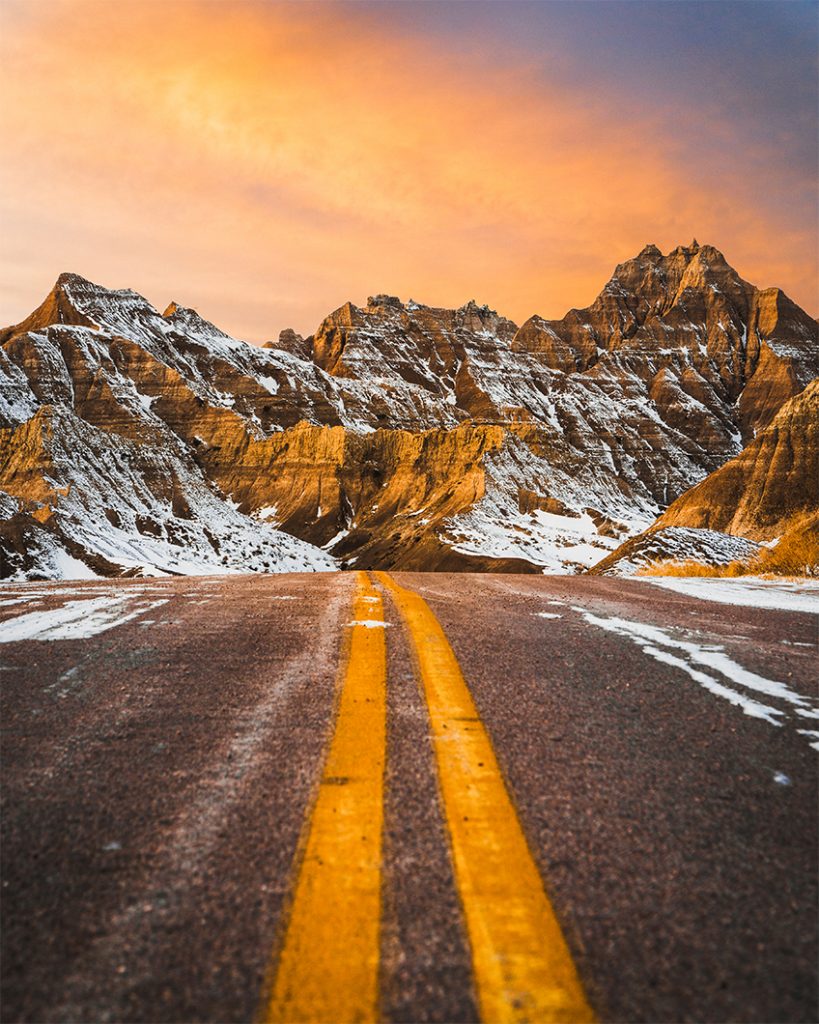 Day 3
Your last morning in the region is dedicated to one of the most captivating national parks in the U.S. Filled with bison, prairie dogs, coyotes, bighorn sheep, deer and more, the craggy park is a wildlife paradise. Take a hike on one of the park's many trails to explore the frosty terrain, drive through the park or stop at one of the many scenic overlooks to just admire the impressive views. Afterward, lace up your ice skates and head back to Rapid City.
Exploring Rapid City
Located in downtown Rapid City, Main Street Square transforms into an outdoor skating rink every winter. Skate and explore the many nearby eateries and landmarks, such as Art Alley and the City of Presidents.
Once the sun goes down, check out one of the best viewing spots in the city at Dinosaur Park to watch the cityscape transform. And wrap up your day at one of the local breweries or distilleries.
Whatever you choose to do in the Black Hills and Badlands, in whatever order you choose, it's sure to break you out of your winter blues and reignite your passion for adventure, travel and nature.
Facebook Comments