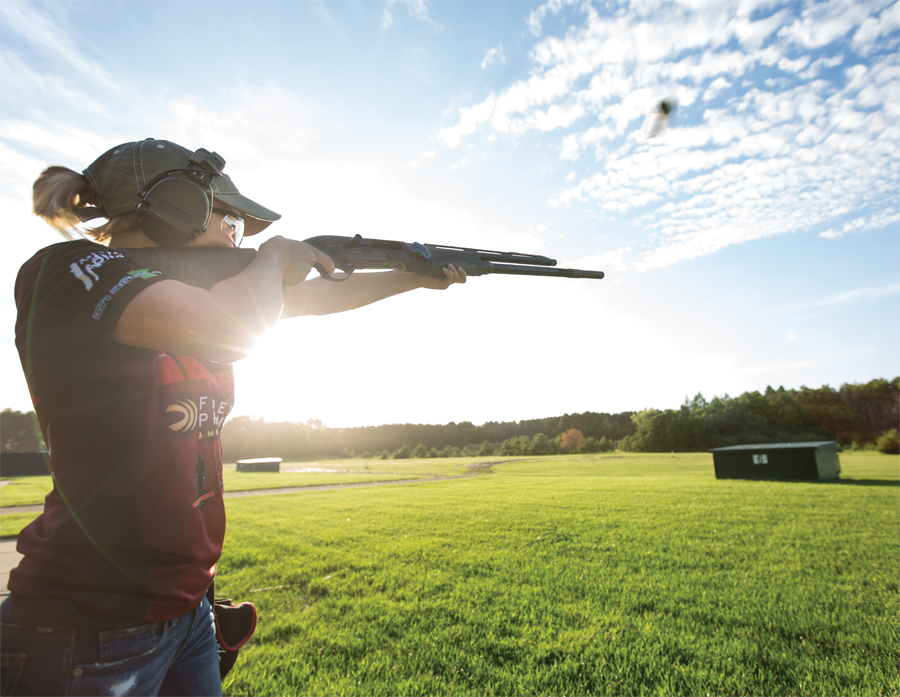 photo by T.C. Worley
---
Dakota overland learned her first lessons with firearms as a toddler sharing a deer blind with her father, Todd. After almost a decade of hunting trips near their hometown of Wyoming, Minnesota, she enrolled in a trapshooting summer camp at the Forest Lake Sportsmen's Club. The sport's emphasis on individual improvement and discipline was an immediate fit for the young shooter. Plus, it's a supportive community.
"The shooting community is very open, and they lend gear to people even if they don't really know them," she explains. "It's the only sport that I've ever known of where the people that you're competing with will show you the best way to beat them."
Now 15, Dakota is a world-class talent. By the end of this year, the rising sophomore at Lakes International Language Academy will have competed in 21 major shooting competitions, only two in Minnesota. There is an expert's sophistication in the way she discusses "quad loading" [putting four shells into a shotgun in rapid succession], "cheek weld" [firm cheek contact with the gun's stock], and the proper muzzle follow-through to track a clay pigeon's flight.
She primarily competes in three-gun shooting, a tactical, fast-paced sport comprised of pistol, shotgun, and rifle stages on a closed course. In May, she competed against some of the world's best shooters at the IPSC Shotgun World shoot in France and finished third among women.
Dakota and her mother, Tiffany, coach her high school's trap team, and both have witnessed the empowerment students feel when they successfully track a target and bust it mid-flight. Trap involves standing in five positions and shooting five clay pigeons from each position.
"Anyone can participate; it's not a gender-oriented sport," Tiffany says. "The girls have the ability to be just as good, if not better, than their male counterparts."
---
Get Started
Mount your gun on your shoulder, and set your sights by using the trap house (the clay pigeon launcher) as a visual guide, aligning your eyesight several feet beyond the house.
Due to the target's rapid speed, you'll have to fire slightly ahead of the pigeon's flight in order to hit it. This is called "leading" the target.
Two popular methods of leading are "swing-through," where you start with your gun behind the target and swing all the way through the pigeon's arc, and "maintained lead," where your gun stays ahead of the target the entire time.
Avoid aiming down the barrel of the gun. As you follow through, focus on precision, consistency, and economy of motion.
---
Trapshooting Gear

The Savage Stevens 555 is a fast-handling over-under option ($692, savagearms.com)
photo by federal premium ammunition
---
Shotgun
Dakota Overland suggests a 12-gauge shotgun for most trapshooters, and a 20-gauge for smaller bodies. "A 12-gauge has more BBs in the shell, so you'll have a much larger shot pattern to hit the bird," she says.
Pros lean toward stacked double-barrel guns, called "over/under" guns, that are longer and heavier for a smoother swing and less recoil.

Gold Medal Grand shotshells are optimized for trap ($10.95/box of 25, federalpremium.com)
photo by federal premium ammunition
---
Ammunition
Anoka-based Federal Premium sponsors Dakota. She recommends their Gold Medal Premium line for trapshooting use.
Protection
As with any firearm sport, quality hearing and eye protection is essential. A sturdy ballcap helps keep the elements out of your field of vision.
Shell Holder
A shell holder or shooting vest assists with consistent loading during longer shoots. "When you're a beginner, one of the tricky things is keeping track of where your gun is pointing," Dakota says.

The Wheelybird 2.0 mobile trap comes with a wireless remote and foot pedal ($529.95, championtarget.com)
photo by federal premium ammunition
---
"If you're bending down towards the ground to try to pick up shells, a lot of people aren't cautious of where their muzzle is pointing. So that's why it's helpful if [your shells] are right at your side, it's just one less step to make."
---
Gun Safety and Skill Training
Proper knowledge of gun safety is a must. Dakota and Tiffany Overland recommend drafting an experienced shooter as a guide and borrowing gear while you get used to handling a firearm.
The South St. Paul Rod & Gun Club, Metro Gun Club in Blaine, Oakdale Gun Club, and many other clubs around the state offer classes. More info at mnsportingclays.org
---
Digital Extra: Annie Get Your Gun
Watch 15-year-old Dakota Overland breeze through a shooting course after reading about the rising sport of trap shooting.