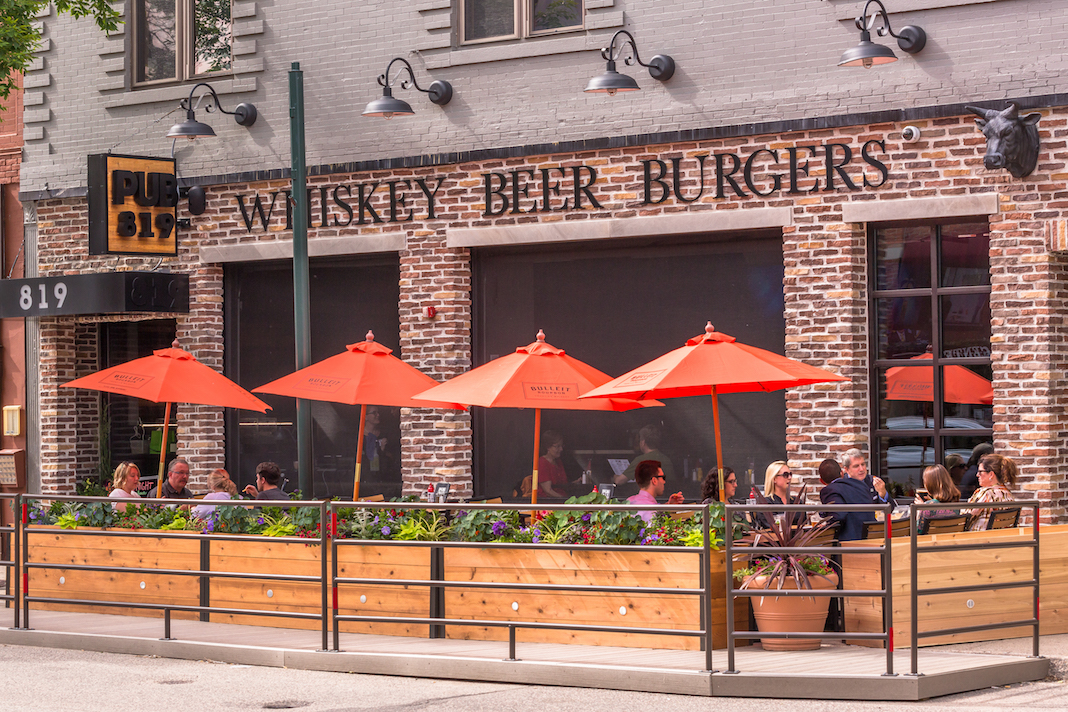 I've lived in Minnesota my whole life, but last Saturday was the first time I had ever been to downtown Hopkins. Let's just say it was long overdue! Described as "the next Linden Hills" of the Minneapolis suburbs by a friend of mine who lives nearby, Hopkins is now characterized by pretty new apartment complexes (much like the ones that grace the Uptown Minneapolis neighborhood) and a vibrant downtown—the kind of downtown most people read about in books, see in movies, or hope to live near one day. With spring upon us and the first 60-degree day not far off, it's the perfect time to stroll down the street, try a new restaurant or two, and explore all the unique experiences Hopkins has to offer. Here's five picks for your next day trip:
Pub 819
Diehard motorcyclists—or at least my editor, Mike—will remember this place as a hole-in-the-wall dive bar, straight out of a motorcycle gang movie set. But not anymore! Pub 819 (open since 2015) is a renovated rustic chic gastro-pub offering a large selection of beer, whiskey, and wine, and some of the best burgers one could hope for. The sidewalk and back patios buzz with people in the warm summer months; Friday and Saturday nights require a reservation or the ability to wait 20 to 25 minutes for a table. Both patios are dog friendly and there's even a three-course dog menu available in the summer that includes a pup-friendly ice cream, locally made by Izzy's. My personal dinner recommendation is the turkey burger and the locally brewed sour from LTD Brewing Co., just down the street.
Amy's Cupcakes Shoppe
The name says cupcakes, but the pretty shop owned by Chief Pastry Chef Amy Brace offers more than that, with macarons, cookies, cakes, and cookies adding variety to the already delicious lineup. The shop is known for its custom cakes, but visitors and locals can walk right in for a quick sweet treat. Cupcakes are each $3.25 (vegan cupcakes are $4.00) and the bakers recommend checking out their Instagram and other social media channels to keep updated with the new and rotating flavors. You can also check out the website for occasional baking classes and more information about hosting parties.
LTD Brewing Co.
I gave a little shout out to this brewery in my first recommendation, but LTD Brewing Co. is worth visiting in its own right. Enjoy all different styles of beer while sitting at the bar or relaxing outside on the patio. You can plan your visit around weekly events, too, like bingo on Mondays, trivia on Wednesdays, live music on Fridays, and tours on Sundays. Thanks to the brewery's small, flexible system, they're able to experiment with new styles and ingredients and rotate beers frequently.
Hopkins Center for the Arts & Royal Comedy Club
Hopkins Center for the Arts is home to Stages Theatre Company and is considered the epicenter of all things creative, including visual art exhibits, music concerts, dance performances, theatrical productions, and so much more. Upcoming shows at Stages include The Most Magnificent Thing (April 12–May 21), a musical based on the STEM-inspired children's book written and illustrated by Ashley Spires; Hidden Heroes (April 26–May 19), a play about the black women of NASA; and a musical rendition of Roald Dahl's Willy Wonka (June 28–Aug. 4). You can view the website's calendar to see other concerts, classes, events going on in the next month or so. If comedy is more your style (or if you just want to try something new), check out the Royal Comedy Club, right on Mainstreet. Past comedians include Amy Miller, Todd Glass, and Mitch Fatel, and with an intimate 50-person showroom, there isn't a bad seat in the house.
Cream & Amber
My opinion: Cream & Amber is the cherry on top to an already cute downtown. Recently opened in February by friends Kacey Hruby Wytten and Katie Terhune, Cream & Amber is equal parts books, rotating craft beer, and locally roasted coffee, with a chill coffee house vibe bringing it all together. The light space is framed by shelves filled with new and used books (used paperbacks are $3 while hardcovers are $5), and ample seating makes visiting (or studying) a piece of cake. Cream & Amber even has a pleasant side room available for reservation, which is perfect if you're hoping to host a small group of friends or a book club. Combine all that with two house wines, delicious paninis, salads, and soups, and you're set for a cozy, comfortable afternoon or evening.