Blue Mounds
photo by Johnsroad7 – Fotolia
---
They're at once huge and easy to miss: In the small town of Pipestone, two hours west of Mankato and an hour north of Sioux Falls, South Dakota, sit three boulders. Near a path that winds through lush prairie grass before skirting the delicate thunder of Winnewissa Falls, about a mile off Main Street, each boulder is larger than an elephant. Still, they struck this tourist, at first, as unremarkable. After all, Pipestone gets its name from pipestone quarries, and over the past 5,000 years, Native Americans have mined and crafted this rock into ceremonial pipes. But instead of pink and glossy like pipestone, these boulders are gray, mottled. Indigenous tribes named them the Three Maidens. They would leave them offerings, and some still do before approaching the quarries of Pipestone National Monument beyond. They knew something was up. They're the only examples of granite around.
In fact, during the last Ice Age, roughly 12,000 years ago, a glacier toted a massive chunk of granite to this spot from present-day Canada. Years of freezing and thawing split it open, and now the Three Maidens sit, as out of place as migrants of an ancient time, bizarrely within walking distance of Lange's Cafe—a cute diner with vinyl booths and a famous sour cream-raisin pie.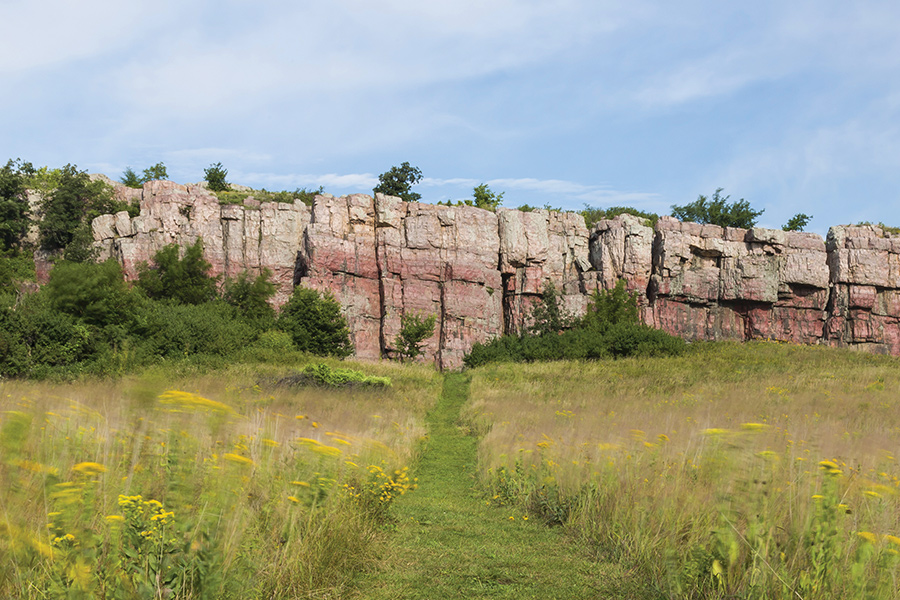 Blue Mounds State Park in Luverne
photo by Johnsroad7 – Fotolia
---
Their mystique extends 30 miles south to Blue Mounds State Park, home to rarefied prairie land and some of the country's last remaining bison. It might be easy to drive through the small towns and ominously exposed flatness of southwestern Minnesota, but two of the region's biggest champions convinced me to slow down and take in these undisturbed subtleties: world-renowned National Geographic photographer Jim Brandenburg, whose Brandenburg Prairie Foundation, 30 minutes south of Pipestone, works to preserve and expand the native prairies, and Laura Ingalls Wilder. The author of the Little House on the Prairie children's book series wrote about late-19th century life on the southwest prairie, in a book and for newspapers.
To begin my education, I trekked from the Twin Cities southwest on U.S. Route 212, wielding a camera like Brandenburg and a paperback copy of On the Banks of Plum Creek, the book Wilder wrote about her years near Walnut Grove, an hour northeast of Pipestone. On my way, I would visit three towns: Walnut Grove, Pipestone, and Luverne.

Laura Ingalls Wilder Museum in Walnut Grove
photo courtesy explore minnesota
---
Walnut Grove presents Wilder's case: Off Highway 14 sits the Laura Ingalls Wilder Museum. I'll admit I wasn't antsy to go in. My older sister enjoyed Little House on the Prairie, but I found the series bleak. A girl comes of age in covered-wagon times, when grasshoppers destroyed crops and blizzards stranded loved ones. She found joy in school, new work horses, and the reversal of tragedy.
But the museum makes clear this is why we still read the series—and it's part of the region's appeal, too. The power of scarcity mythologizes even simple items on display, such as Pa's $10 buffalo-hide coat, the family's quilt, and the "big green book" they read for entertainment, illustrating 200 animals of polar and tropical climates—especially meaningful compared to today's easy gratification.
Behind the museum, period-specific buildings bring the era to scale. They include a cramped, aromatic schoolhouse; a packed-dirt dugout like the ones that provided settlers temporary housing; a clanging jail cell; and a house redolent of freshly sawn pine. For the Wilder Pageant, on the first three weekends of July, actors take to the banks of Plum Creek as characters from Wilder's loosely fictionalized Walnut Grove, in a show narrated by an actor playing Wilder.
You can take a peek inside Wilder's mind at the museum's two-story house. News clippings from her stint as a Missouri Ruralist writer present her as a Nora Ephron-styled columnist for rural living: "[People] are tired of the noise and dirt, bad air, and crowds of the cities and are turning longing eyes toward the green slopes, wooded hills, pure running water, and health-giving breezes of the country," she wrote. "I must say if there are any country women who are wasting their time envying their sisters in the city—don't do it. Such an attitude is out of date."

Calumet Inn in Pipestone
photo by mark thode
---
Those perks still make the area's highlights. Farther west, Pipestone covers what used to be prairie, but its "city life" is all about quiet. The largest building in town, the 100-plus-year-old Calumet Inn, sits above a well-contained basement dive bar alive with regulars playing pool at night, a stroll away from antique shops lining Main Street. You might recognize Calumet Inn from the Gordon Ramsey-hosted TV show Hotel Hell. In 2014, its former owners pretended to need help running the hotel as a publicity stunt, according to their explanation on TripAdvisor. Under new ownership, the hotel opened a coffee shop in early spring, offering fresh-ground specialty coffees and a lunch menu with homemade macaroni salad and chicken-salad sandwiches in the dining room.
Ghost stories written by past guests fill a binder in the lobby. But the quartzite building, recognized by the National Register of Historic Places and currently under restoration, is enough of a draw (as are 16 other pink buildings in downtown's historic district), encapsulating a time that the Pipestone County Museum across the street lays out in rotating collections. Exhibits today look at Native American beadwork, the evolution of the fire department, and how WWI affected the region.
Besides the imposing, totemic Pipestone National Monument, what makes the town a quintessential road-trip stop is the 24-hour Lange's Cafe, run by a family that has served comforting diner food for more than 60 years. The authors of the Roadfood book series ranked the café's sour cream-raisin pie "in the top tier of great ones," describing the Lange family's version of the Midwestern classic as "sweet with the sour-cream edge that makes its sweetness all the more potent." The review caused sales of the dense, meringue-topped delicacy to soar. Lange's, where mornings are packed, makes fresh pies every day.
But the real "country life" that Wilder loves lies farther south. There, the carefully preserved geology of the 1,000-some-acre Blue Mounds State Park spans almost 2 billion years. Located in Luverne, this is also where Jim Brandenburg grew up. Brandenburg admitted, in a 2016 National Geographic story about photographing the region, that the "flat, featureless landscape" is "not exactly a location brimming with compelling imagery." But, in his early years, that meant he was "weaned on looking carefully."
At the Jim Brandenburg Gallery downtown, framed photos glow with Kinkade-esque light. Vibrancy defies bleakness. A dragonfly clings to a twig after rain. Leaves still burn with autumn color while submerged in a frozen stream. A rainbow arcs into a tawny field. Here, you'll find instructions on how to pinpoint the site of a shot Brandenburg took of Touch the Sky Prairie, 15 minutes northwest. Instead, I headed nine minutes north, to Blue Mounds, where Brandenburg got his start as a kid.

Blue Mounds holds more than 100 bison
photo by Ten03 – Fotolia
---
Four of Brandenburg's photos were included among the International League of Conservation Photographers' top 40 nature photographs of all time in 2010—more than any other photographer. One of those shots captures a bison in Blue Mounds. It should surprise no one that southwestern Minnesota shows up on the list; the region is unique, supporting some of the last 1 percent of our country's original 18 million acres of prairie. About 20,000 bison live in conservation herds in the U.S. today, with Blue Mounds holding more than 100, compared to the 1,000 left after extensive hunting in the 1800s.
Walking along the park's foot-to-horizon vistas, I fast learned that nature photography is not as effortless as Brandenburg's iridescent work makes it look. For his best-known project, a 2016 series called "93 Days of Spring," he allowed himself one shot per day in Minnesota. A documentary playing in the Luverne gallery shows Brandenburg waiting, tense, for a bird's best moment. He describes the agony of having to snap a floating leaf as dusk threatens. Meanwhile, it takes me six tries to get even a less-than-good shot of a generously still tree. I crouch. I move around it. I almost get on my stomach.
Next, I aim my camera at a smattering of bison. I can't guess how far away they graze beyond the fence. The prairie offers no easy distance markers. Instead, I lower my lens. I turn, face the green undulations, interspersed with lonely trees and bare spots of pink. The overcast sky washes everything in the same pale light. It feels untouched, ancient. I raise my camera but turn to the small tree on my right, nuzzling the lens among its branches. There, I find a tiny nest—one of hundreds of examples of bird, mammal, and insect life relying on the prairie's grasses and flowers. I can imagine Brandenburg's crisis, restricting himself to one shot. There's so much. You just have to look closely.
---
Eat, Play, Stay
Walnut Grove
Named after the bratty, golden-curled little girl in Wilder's series, this "Little Café on the Prairie" is, indeed, tiny—although home-style breakfasts and hand-pattied burgers make it a perfect stop after exploring the Laura Ingalls Wilder Museum a few blocks away.
Visit the dugout the Ingalls family used as a temporary home in the 1870s. On the banks of Plum Creek, the grasses and flowers—nourished by a spring nearby—grow as much as they did in Wilder's wilder time.
Complete the old-world charm with a bed and breakfast. Ten minutes from Walnut Grove, in Tracy, this three-story Victorian was built in 1902 for the town's railroad conductor, designed to
entertain upper-crust travelers. Now, the restored house offers five rooms and a full breakfast.
Pipestone
You may be in Pizza Ranch territory, but locals swear by Dar's for Minnesota-style 'za: thin crust loaded with cheese and as many toppings as you want, then cut into squares.
Formed by local Native Americans to educate the public about the pipestone quarries, this nonprofit offers 30- to 60-minute pipe-making workshops (it's not as difficult as you might think). The gift shop sells pipes and other indigenous crafts, too.
For a break from the historic, this three-star hotel comes with modern comforts, including free Wi-Fi, in-room coffee, an indoor pool and whirlpool, and an outdoor playground with a patio and grill.
Luverne
Dining doesn't get finer southwest: In a white-table-cloth space adorned with nature photos, a cordial staff serves elegant entrées—from surf and turf to fettuccine alfredo—with impressive desserts including crème brûlée and homemade cheesecake.
Flat prairie makes for great skydiving. Flights take off from Luverne Municipal Airport less than 10 minutes south of town. For more than 50 years, the company has attracted in-tandem plunge-takers from South Dakota and Iowa, too.
For budget-conscious travelers, up-to-date amenities—including free coffee, breakfast, and Wi-Fi—get you off your feet after exploring Blue Mounds State Park, kitty-corner to beloved '60s-era diner Vinnie's if you would rather eat like a local.
Facebook Comments