Three steeples: First Baptist Church (far left), Pillsbury Academy (in the distance), and Steele County Courthouse (right)
photo by Courtesy Owatonna Area Chamber of Commerce and Tourism
---
My fiancé and I live in the Twin Cities, but I still yearn for the comforts of my small-town upbringing. I miss knowing everyone's older brother and having neighbors who aren't too busy to snowblow your walk. On a lonely weekday, we venture 65 miles south to Owatonna in hopes of a reclamation.
I grew up in a town much like Owatonna. Many of you probably did, too. Picture a red-brick beehive of a downtown, ample parks, and a handful of historic curiosities mixed into this community of 25,000, which is the seat of Steele County.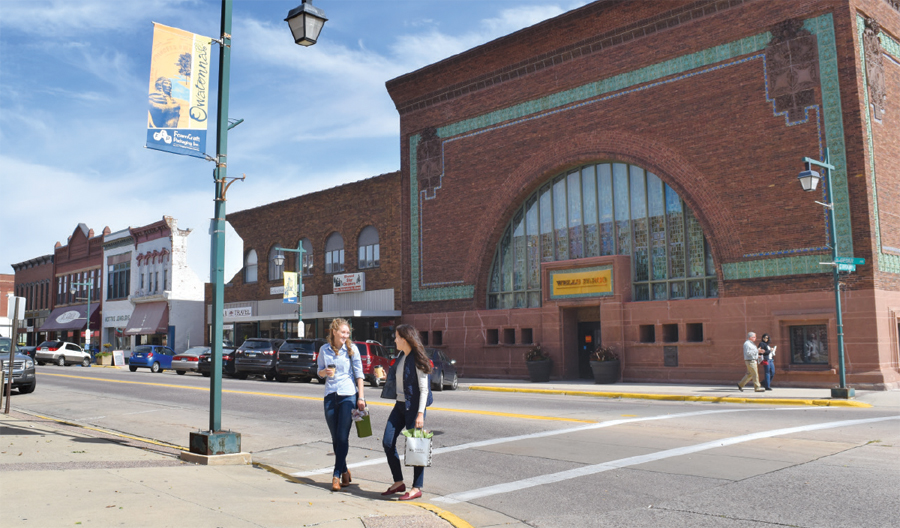 National Farmers' Bank building
photo by Courtesy Owatonna Area Chamber of Commerce and Tourism
---
Downtown's Cedar Avenue hosts the town's prominent National Farmers' Bank building—a "jewel box" designed by modernist architect Louis Sullivan and completed in 1908. Now a Wells Fargo, the structure features ornate stained glass, terra-cotta detailing, and cast-iron  electroliers (electric chandeliers). The building's National Historic Landmark status—awarded in 1976—poetically describes the inside as "like sunlight passed through sea-water."
The nearby Central Park Coffee smells like caramel inside. Menu offerings range from chocolate-turtle waffles to a cashew chicken sandwich, but dessert-quality coffee drinks are Central Park's specialty. I order a 16-ounce half-chocolate, half-white-chocolate mocha topped with whipped cream and a syrup drizzle from a grinning busser in too-big eyeglasses. The confection is townie magic, like you've ordered from a "locals-only" secret menu.

Costas' Candies
photo by hannah olson
---
Across the street is the nearly 100-year-old Costas' Candies and Restaurant. Along with the traditional hand-rolled buttercreams, toffee, and truffles, Costas' also serves lunch (get the Reuben), but the sweets wrapped in wax paper are undeniable. A nugget of marshmallow-stuffed chocolate serves as a reminder that indulgence is found in the simplest things.
Owatonna is crowned with an abundance of nature. The town is home to Rice Lake State Park, Lake Kohlmier, and Kaplan's Woods, but it is Mineral Springs Park that calls most seductively. According to an apocryphal legend, a Dakota chief's ailing daughter was restored to health by these mineral-rich streams.
At present, it's a scenic spot to hike off a sugary daze. The 48 acres break off into trails and bridges that give way to gazebos and a disc golf course. In the bloom of late spring, the trees creep together into a lush canopy over the pebble-gray waters. It's a welcome invitation to lose yourself.

Village of Yesteryear
photo by Skye's the Limit Photography
---
For further historic exploration, pay a visit to the Village of Yesteryear, a group of 17 buildings (and one outhouse) retrofitted into a town along Austin Road. A few of the structures are replicas, but most, like the well-preserved church, general store, and carriage house, date back to Minnesota's early days of statehood. Stitched together, the village plays out like a highlight reel of Owatonna's past glory.
The day ends, as all good days do, with my belly resting against the solid oak of a bar. Torey's Restaurant & Bar is in the heart of Owatonna, and even on a weeknight, it's bustling. Torey's is where to go for a good steak after graduating high school or to meet up for a beer with your old classmates 30 years later.
I hear the table behind us erupt with glee. Torey—yes, the Torey—has passed along some tequila shots. Her treat. My fiancé and I call for a pair of scratch-made, iridescent daiquiris (a mandatory order) and toast to a hostess who has held down this corner of the strip mall for a decade and a half.
Before leaving town, I'm back at Central Park Coffee. The same smiling busser greets me, and I order the same zebra mocha. If she recognizes me, she makes no indication. It's premature to call myself a regular, but I'm definitely making strides—500 calories at a time.
---
Eat, Play, Stay in Owatonna
Famous for sopes and pupusas, this 3-year-old Salvadoran eatery also serves traditional Mesoamerican fare like burritos, tamales, and tacos.
Nearly every local restaurant serves a burger, but this one's the best. Go for adventurous takes on the classic (a little peanut butter never hurt) and come back for the constantly rotating craft beer menu.

Reptile and Amphibian Discovery Zoo
photo by Skye's the Limit Photography
---
Off the I-35 frontage road is a warehouse full of snakes and crocodiles. The alligator snapping turtle is a prehistoric fascination.
This wood-paneled, blue-collar pool shark hangout is where the drinks cost as much as a play on the jukebox.
A sure bet with a friendly staff and generous hot breakfast provide shades of home.
Facebook Comments