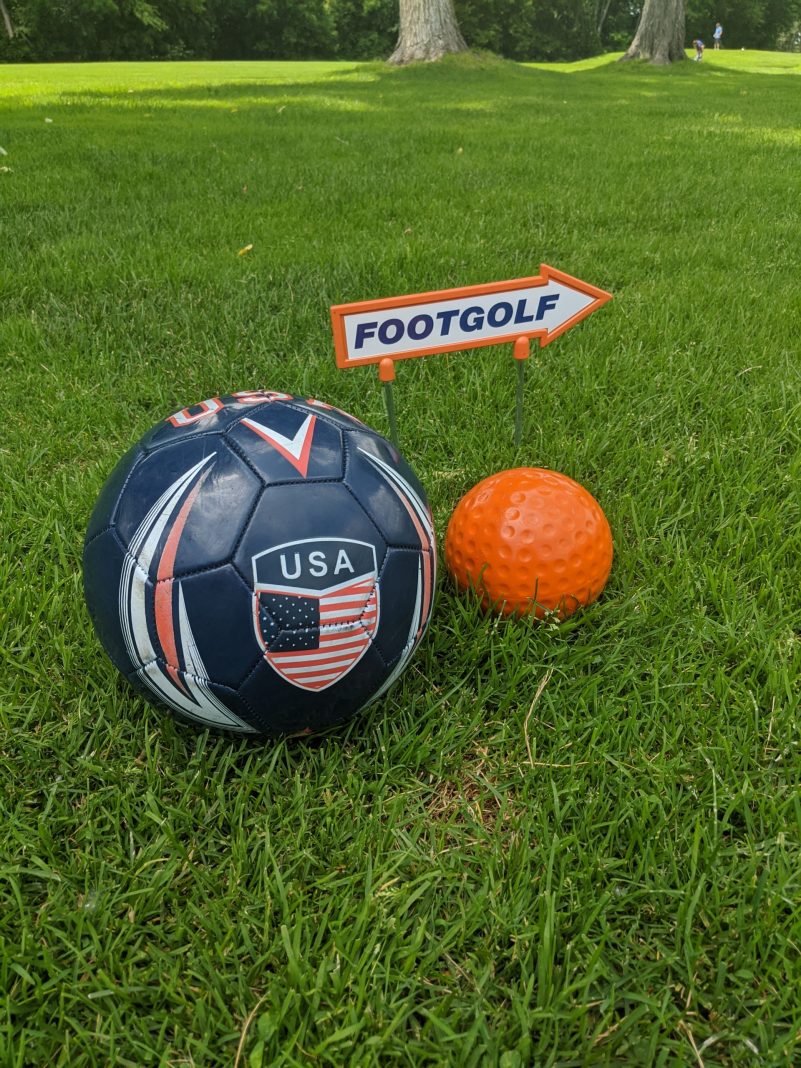 The little orange arrows in the rough alongside the golf course caught my attention when I was golfing at Brookland Golf Park in Brooklyn Park earlier this summer. When I looked closer, I noticed they read "Footgolf" and pointed across the green to an orange flag in the ground some 50 yards off. A week later, I was back at the golf course, but instead of grabbing my 5 iron, I laced up my tennis shoes and teed off with a soccer ball.
Footgolf is—as you can probably guess—golf with a soccer ball. The simple concept makes it accessible to all ages: kick a soccer ball from a tee into a cup in the ground. While there are rules on how you can kick the ball (you cannot roll the ball with the bottom of your foot, for example), the goal is to get the ball into the hole in the fewest kicks possible, just like in golf.
At Brookland Golf Park, they ask that you bring your own soccer ball. (In non-COVID summers, you can rent balls from them.) There aren't any driving ranges to practice kicking, but it doesn't take long to get into the groove of it. After you reserve a tee time, you'll start by setting your ball atop one of the available "tee boxes," then kicking your way across the fairway. (My favorite hole involves kicking the ball over a hill.)
The origins of footgolf are a little unclear, but according to the American Footgolf Federation, people started playing in multiple different countries as early as 2001. In 2011, the American Footgolf League was formed, and the game has taken off since (with Brookland Golf Park's website calling footgolf one of Minnesota's fastest growing sports). Just as disc golf quickly gained popularity not long ago, footgolf seems to be trending the same way.
A few tips: Kicking with the inside of your foot helps with accuracy, but using your toe offers more power and gives the ball a little lift. If you keep your leg straight on the follow-through (something I always forget to do), the ball should cooperate.
My fiancée and I have gone twice now, and both times have been afternoons well-spent. It gave us a chance to get outside, to get a little bit of exercise. It seemed easy to do while social distancing, as well.
Check out these courses around the Twin Cities:
Brookland Golf Park
232 Regent Ave N
Brooklyn Park, MN 55443
Phone: 763-488-6497
Baker National Golf Course
2935 Parkview Drive
Medina, MN 55340
Phone: 763-694-7670
Par 3
1695 Dodd Rd
Mendota Heights, MN 55118
Phone: 651-454-9822
Eagle Lake Youth Golf Center
11000 Bass Lake Rd
Plymouth, MN 55442
Phone: 763-694-7695
Hyland Greens Golf and Learning Center (closed for the 2020 season)
10100 Normandale Blvd
Bloomington, MN 55437
Phone: 952-563-8868
Facebook Comments