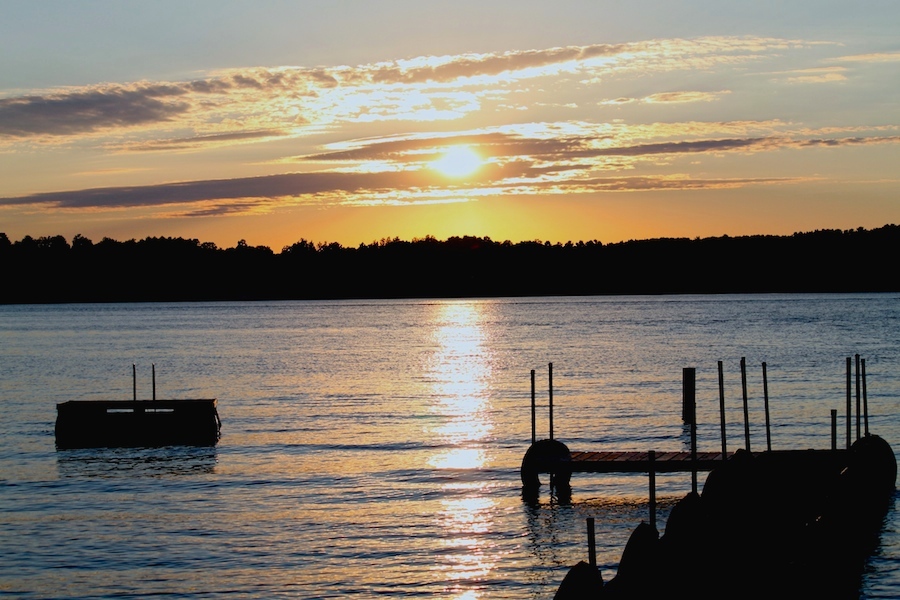 Sunset over Pig Lake at Black Pine Beach Resort. Photos by Halle Mason.
Every summer my family (including my parents, siblings, my dad's three brothers, their wives and kids, and my grandmother) pack up and spend one week in the Whitefish Chain of Lakes. It's been a family tradition ever since I can remember. The greater Whitefish area is just a half hour north of Brainerd and offers tons of opportunities for boating, hiking, and campfires—Whitefish is Minnesota's s'more capital, after all. Here are a few of my favorite spots along the chain.
Where to Lodge
Black Pine Beach Resort is tucked away in Pequot Lakes on Pig Lake, and owned by Bob and Lynn Scharenbroich, who—along with their wonderful staff—anticipate all your needs and strive to provide top-notch service. After all these years, we know Bob and Lynn personally, and they really take the time to connect with their guests and make sure your stay runs smoothly.
As a kid, I always loved playing with their yellow lab (unfortunately, the resort is strictly no pets), and heading to the gift shop to pick up a real, old-fashioned root beer (it's not a root beer if it isn't in a glass bottle) and some candy from their goodie shop—particularly Hot Tamales and gummy worms. We used to bounce from resort to resort on the Whitefish Chain, but more than 10 years ago, we fell in love with Black Pine Beach Resort, and I don't see our tradition stopping anytime soon.

Pond near Pig Lake
Where to Dine
There's one restaurant that's become a tradition for our yearly trips: the Wharf in Crosslake. As the sign reads, "Come as you are, by boat or by car." The walleye always proves to be a favorite among my uncles, but I'm more a fan of the black & bleu burger. A tip from a Wharf pro: Get the onion rings; I've never regretted it. Like my mom always says, "if you're going to do something wrong, do it right."
Where to Shop
On the rainy days of our trip, we visit the nearby towns, specifically Nisswa, which is just 20 miles away. Nisswa is home to bluPaisley Boutique, a socially conscious store that focuses on selling American-made, fair-trade clothing. The Purple Squirrel houses fun vintage items, ranging from furniture to signs, and household items. My dad in particular has spent a good amount of time in Nisswa after we once stranded him there. We thought he was in the other car with his brother's kids—it turns out he wasn't. (You would think this lesson would have taught him to carry his cellphone at all times, but alas.)
Where to Ice Cream:
The absolute best night, rain or shine, of our one-week stay in the Whitefish Chain is our yearly pilgrimage to Crosslake's Crafts & Cones. The staff is friendly and fast—a great thing for this small store, considering the line is almost always through the door whenever we stop by.
As the title suggests, they sell both ice cream and crafts. Before or after you snag a scoop, you can wander the aisles, looking at trinkets and fun cabin décor. I recommend the monster cookie ice cream in a waffle cone. Be sure to look out for the jellybean at the bottom of every cone!
 
The Whitefish Chain of Lakes holds special childhood memories for my two siblings and me, like when we played rainbow tag on the beach, or my Uncle Barry whipping the boat around in donuts as we fought (unsuccessfully) to stay on the tube. It's comforting to know that wherever life takes my family, we'll always meet the last week of July at Black Pine Beach Resort. 
Discover more vacation destinations on our Minnesota Journeys travel blog.