Paul Bunyan and Heartland State trails
Photo Courtesy of explore minnesota
---
Not long ago, the idea of vacationing in Walker without going fishing would have been as baffling as traveling to Italy and not eating pasta. Angling for the wily walleye and mighty muskie was just what folks did when they visited the small town on the shore of northern Minnesota's Leech Lake—and they still do.
But the area's land-based recreational opportunities are quite a catch, too. Walker sits at the crossroads of a remarkable collection of trails. Two of Minnesota's premier biking routes—the 49-mile Heartland State Trail (one of the nation's first rails-to-trails conversions) and 123-mile Paul Bunyan State Trail (the country's longest continuously paved trail)—intersect at Walker. And hikers can jump on the 4,600-mile North Country Trail, by far the longest of our national scenic trails, just a few miles south of town.

Leech Lake
Photo Courtesy of Explore Minnesota
---
My wife, Lisa, and I (non-anglers both) packed our bikes and hiking boots and headed for Chase on the Lake, Walker's landmark waterfront hotel just a few pedals from the Heartland and Bunyan trails (if you don't have a bike, Chase rents them for $30 a day). I was drawn to the bird's-eye view from our room of Leech Lake's vast expanse—it's the third-largest lake in Minnesota—while Lisa seemed more intrigued by the Copper Door Spa downstairs.
For our first bike expedition, we pedaled south on the recently completed Shingobee Connection Trail, a shortcut that lets riders avoid the hilliest section of the Paul Bunyan Trail known as "the Pyrenees." Starting off as a patchwork of off- and on-road routes, the Shingobee eventually settles into an undulating ribbon of pavement that traverses the densely wooded terrain of the Chippewa National Forest. Seven miles later, at the junction with the Paul Bunyan Trail, we continued south over the gently rolling hills under a birch canopy.

North Country Hiking Trail
Photo Courtesy of Explore Minnesota
---
Leaving the forest, we turned off the trail on a county road that wrapped around the southern half of Ten Mile Lake. Lightly traveled by cars, it offered a relaxing ride, though not much in the way of shade. Fortunately, a "Public Water Access" sign pointed us down a dirt road that led to the lake, where we were able to splash our faces with cool water.
Refreshed, we rode on through the rural landscape to the sleepy little town of Akeley, once home to the state's largest sawmill and a population nearly 10 times its current size. After a fortifying lunch of turkey wraps and tater tots at the cheerful Zappy's Café, we strolled down the town's main street to snap a few selfies with a kneeling (yet still towering) Paul Bunyan statue before making our way back to Walker on the Heartland trail—a little saddle-sore from the 36-mile circuit, but otherwise no worse for wear.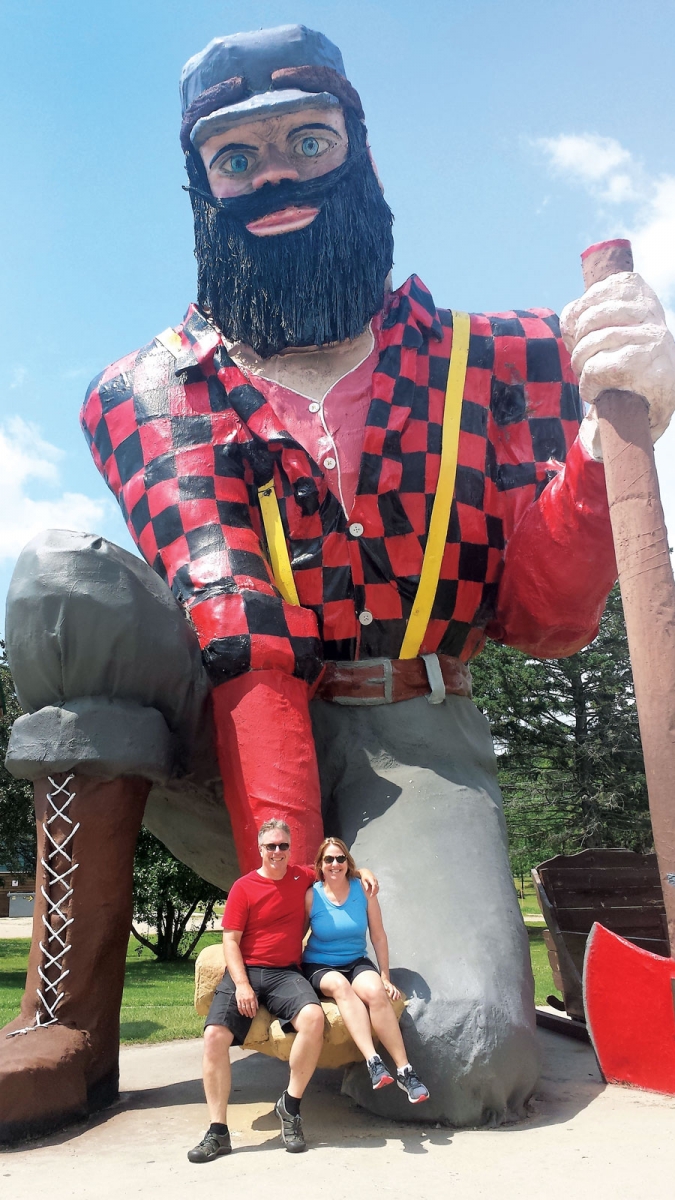 Paul Bunyan statue in Akeley
Photo by David Mahoney
---
I couldn't say the same for my bike. After having trouble shifting gears, I noticed that my derailleur cable was badly frayed. Pedaling behind me, Lisa remarked that my rear wheel was out of kilter. Fortunately, Paul Nye, a former newspaper editor who operates Back Street Bicycle out of a tiny shop behind his Walker home, was able to make the necessary repairs while I waited.
The next morning, we set out in the opposite direction. But where the Paul Bunyan and Heartland trails parted ways we did the same, as Lisa had booked a massage back at the hotel's spa. I pressed on to the north, again using county roads to make a loop with the forking trails, and again taking advantage of public water accesses for lakeside rests. Even so, arriving back at the hotel after my 44-mile ride, I was thoroughly exhausted (post-massage Lisa, meanwhile, felt totally rejuvenated).

Copper Door Spa at Chase on the Lake
Photo Courtesy of explore minnesota
---
The following day, we switched gears from biking to hiking. From a trailhead parking area in the national forest, we followed the North Country Trail across a bridge over the meandering Shingobee River, up a hill, and into the woods. We walked through stands of tall pines mingled with birch and fir that occasionally opened enough to allow glimpses of the wild river plain below us. After about two miles, we emerged from the forest at a rustic bridge that spanned a stream flowing into the Shingobee from a small lake visible to the north. Standing on the bridge, we basked in the solitude of the unspoiled scenery for a while before retracing our steps.
For our final trail trek, we drove through the nearby Paul Bunyan State Forest to Waboose Lake, where volunteers have built a four-mile loop trail that connects with the North Country Trail. We circled the still lake on the trail, walking through patches of old-growth pines on a soft carpet of needles. Except for a family of ducks, our only company was a couple of fishermen out in the middle of the lake who, at one point, let out a whoop as one of them reeled in a fish. As I breathed in the sweet fragrance of the pines, I was happy to know that they got what they came here for, too.

Downtown Walker
Photo Courtesy of Explore minnesota
---
The Best Restaurants En Route
For a pre-ride meal in Walker, The Outdoorsman Café and Jimmy's Family Restaurant both offer filling breakfast fare. And you can refill the tank after a day on the trail with a rib-sticking barbecue sandwich at The Piggy.
Restaurants conveniently spaced along the Heartland Trail between Walker and Park Rapids include Zappy's Café in Akeley, where lunch orders come with enormous mounds of tater tots. Burgers and barbecue dominate the menu at the Iron Horse Bar & Grill in the old railroad depot in Nevis. And in tiny Dorset, the self-proclaimed "Restaurant Capital of the World"—based on its number of eateries per capita, and a population of 22—you can choose between four eateries, including next-door neighbors Compañeros (Mexican) and Dorset House (pizza and ice cream), newly reopened after being destroyed in a fire two years ago.
Hackensack offers various dining options within striking distance of Walker on the Paul Bunyan Trail. The best bet is Udom's, where improbably good Thai food is served in a former gas station.

Dorset House pizza
Photo Courtesy of Dorset House