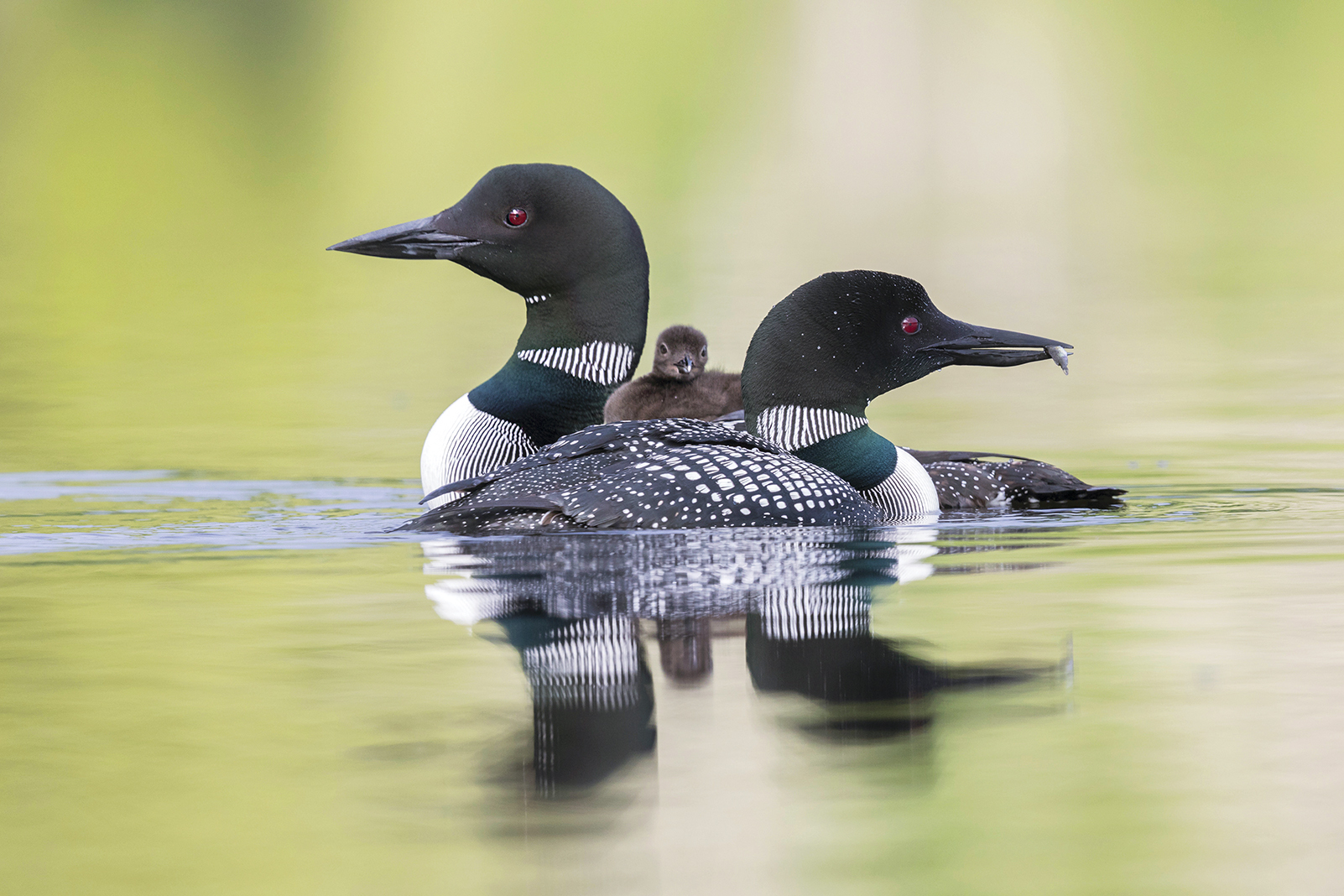 On March 13, 1961, Governor Elmer L. Andersen signed legislation designating the common loon as Minnesota's official state bird. The sleek, sophisticated diver with a majestic wail had prevailed over the goldfinch, pileated woodpecker, and wood duck to become a lasting symbol of the Land of 10,000 Lakes.
Of course, the loon was revered long before this legislation. Charles Grolla (Ogimaagiizhig, Caribou Clan), an Ojibwe language teacher at Cass Lake-Bena High School and author of the book Ojibwe Bird Stories (Binesi-Dibaajimowinan), relays one elder's story of how the loon (maang in Ojibwe) came to be.
According to the tale, a young boy was sent to battle a water monster across the lake from his village. They both perished, but Nanaboozho, an Ojibwe cultural hero, arrived and turned the boy into a new kind of black-and-white bird that would be seen throughout Ojibwe territory.
Today, loons are also synonymous with northern Minnesota cabin country. Many lakes, resorts, and events pay tribute to them by name, and gift shops across the state are stocked with loon-centric souvenirs.
Every spring, the Routledge family starts preparing the cabins and docks for the upcoming vacation season at Pine Terrace Resort, north of Brainerd near Crosslake. They'll hear the loons coming back from the Gulf of Mexico to build their nests at this time. There is usually a pair on the nearby Star Lake, and another pair on the adjacent Little Star Lake. By the Fourth of July, the chicks start riding on their parents' backs.
For the Routledges, their guests, and the countless others who spend summer and fall "up north," loons are integral. To the Ojibwe, especially members of the tribe's Loon Clan, they're sacred. "Loon Clan identify that bird as a family member, a guardian spirit, a protector," says Grolla. "To harm a loon is to harm them."
Loons Among Humans
Minnesota's loon population, second only to Alaska's, has remained at about 12,000 for several decades. They're not considered endangered, threatened, or a species of special concern in Minnesota. But a perfect storm of persistent threats—climate change, pollutants like lead and mercury, shoreline development, and human disturbance—has set the common loon on a path toward disappearance from the state that made it famous by 2080.
The loon is one of several dozen bird species destined for the same fate in Minnesota, according to a troubling 2019 report by the National Audubon Society. In addition to warming temperatures and changing water levels, one of the biggest threats that loons face is a direct result of Minnesota's greatest pastime: fishing.
Loons that ingest lead sinkers secondhand, usually by eating a fish that has swallowed one, will likely die within a few weeks.
The Minnesota legislature has introduced measures to ban lead tackle. Meanwhile, state agencies are focusing on research and habitat restoration projects, plus a public education campaign to raise awareness for lead's potential dangers.
An increase in recreational boating brought on by the COVID-19 pandemic is another cause of concern. Conservation officers have had to stop boaters from chasing loons across the water, and large wakes can disturb nests and separate loons from their chicks. And because the birds swim just below the water's surface, boat propellers can easily hit them.
Loons at the Center
A U.S. Army Corps of Engineers campground in Crosslake is the future home of the National Loon Center, a new education, advocacy, and research foundation. Situated on the Whitefish Chain, the center will eventually include an educational facility akin to the National Eagle Center in Wabasha.
This past summer, the foundation opened its information and visitor center, debuted a new outdoor exhibit, and began its shoreline restoration project. It also hosted educational boat tours on Gull Lake near Brainerd and launched a research project to study loons' life cycles.
"It's part of the Minnesota DNA to love loons and lakes," says executive director Jon Mobeck, who returned to Minnesota from the Jackson Hole Wildlife Foundation to lead the Loon Center. "Everyone wants to see loons in Minnesota. No one wants to see them disappear. [The Loon Center] has the potential to really move the needle with respect to conservation."
Carrol Henderson, who started the Minnesota DNR's nongame wildlife program in 1977 and led many pivotal conservation projects during his 40-year career, is one of the Loon Center's founding board members. He believes the center can serve as a catalyst to help people appreciate loons and learn how to enjoy our lakes responsibly—what Mobeck calls "compassionate recreation."
"People can think about how their actions are affecting loons while they are boating, as they are fishing, as they are landscaping their cabin," Mobeck adds. "Think about the environment that you're enjoying and you can make very simple changes."
Get the Lead Out
Minnesota received more than $6 million after a research project led by the DNR's Carrol Henderson showed that 600 to 1,000 Minnesota loons were directly affected by the devastating Deepwater Horizon oil spill in the Gulf of Mexico. The Minnesota Pollution Control Agency (MPCA) is using $1.27 million of a resulting settlement to encourage anglers to trade in their lead tackle for nontoxic alternatives such as copper, tungsten, and bismuth.
The campaign kicked off virtually in 2020, with online training sessions and partnerships with schools to teach kids about the issue. This year, destinations including the Great Lakes Aquarium in Duluth and the National Loon Center housed lead collection boxes and sample kits of loon-safe tackle.
"These are preventable deaths," says MPCA program coordinator Kelly Amoth. "Twenty percent of loon deaths are caused by lead poisoning. We can change that number by changing our behavior."
More information, including a list of lead-free tackle manufacturers, is available at pca.state.mn.us/leadout.
Books About Loons
Ojibwe Bird Stories (Binesi-Dibaajimowinan) by Charles Grolla (Ogimaagiizhig) 
This oral history of many species of birds and their relationship with the Ojibwe people is available at Birchbark Books & Native Arts in Minneapolis.
Loon Lessons by James D. Paruk
One of the world's leading loon researchers, the author goes deep into their biology, behavior, and beauty, sharing both scientific observations and personal stories about Minnesota's beloved bird.
Lenny the Loon by Mikaela Casey
A pair of picture books follow Lenny the Loon on adventures around the Twin Cities and Lake Minnetonka, with enchanting illustrations by Yana Popova.
Loon Facts
Courtesy of the Minnesota DNR
Unlike most birds whose bones are hollow, loons have solid bones.
Their extra weight helps them dive as deep as 250 feet to search for food.
Because of their heavy bodies, loons need over 100 feet of "runway" to take off from the water.
Loons can fly more than 75 miles per hour.
Loons have four distinct calls—the tremolo, wail, hoot, and yodel.
Minnesota loons winter in the Gulf of Mexico. Many young loons return to the lake where they were born.
Facebook Comments