We got a taste of spring this week with 50-degree temps. But if that wasn't enough, we know where you can head inside to bask in tropical temps and view green vegetation while you wait for the snow to melt.
Como Park Zoo & Conservatory
Several years ago, Como's zoo and conservatory added Tropical Encounters, a neotropical rainforest exhibit that combines the animals of the zoo with the plantings of the conservatory. Meet Chloe the sloth as you view greenry from the Central and South African rainforest and enjoy the humidity. Not enough? Stroll the rest of the indoor gardens of St. Paul's Marjorie McNeely Conservatory to prepare for spring. The blooms of the Sunken Garden's Winter Flower Show (through March 18) and Spring Flower Show (March 24-April 22) will add color to any blah day. Open 10 a.m.-4 p.m. in March, free (donations encouraged).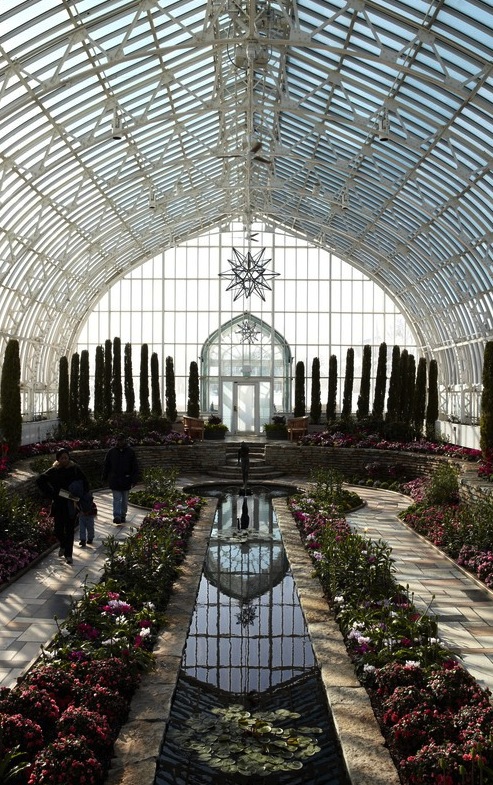 sunken garden, marjorie mcneely
conservatory. Photo by Todd Buchanan
Minnesota Landscape Arboretum's Meyers-Deats Conservatory
After a walk around the arboretum's three-mile drive, head inside the Snyder Building of the University of Minnesota arboretum in Chaska to view greenery and beautiful orchids in the Myers-Deats Conservatory. I did this last weekend and it was great to feel the warmth, even for just a few minutes. Snyder Building hours: Mon.-Fri. 8 a.m.-4:30 p.m., Sat. 9 a.m.-4:30 p.m. and Sun. 10 a.m.-4:30 p.m. Arboretum admission: $9 (free for children 15 and under, members), free on Thursdays through March 31.
Minnesota Zoo Tropics Trail
Take a trip to the tropics at the Minnesota Zoo in Apple Valley. On the Tropics Trail, you'll see the new Faces of the African Forest exhibit. Stroll the trail to hear birds chirping and meet De Brazza's Monkeys, red ruffed lemurs, macaws, otters, and more. Zoo hours: Mon.-Fri. 9 a.m.-4 p.m. and Sat. & Sun. 9 a.m.-4 p.m. Fees: Admission from $12-$18 (free for kids two and under, combos with IMAX available), parking $5.
Minneapolis Sculpture Garden's Cowles Conservatory
Located across from the Walker Art Center, the Minneapolis Sculpture Garden houses the Cowles Conservatory. Here, take a break from cool breezes of winter to see exotic orchids, palms and other beautiful species, plus Frank Gehry's Standing Glass Fish sculpture. Open Tues.-Sun. 10 a.m.-5 p.m., free.
Where else do you recommend people go for a taste of spring during winter?
Facebook Comments