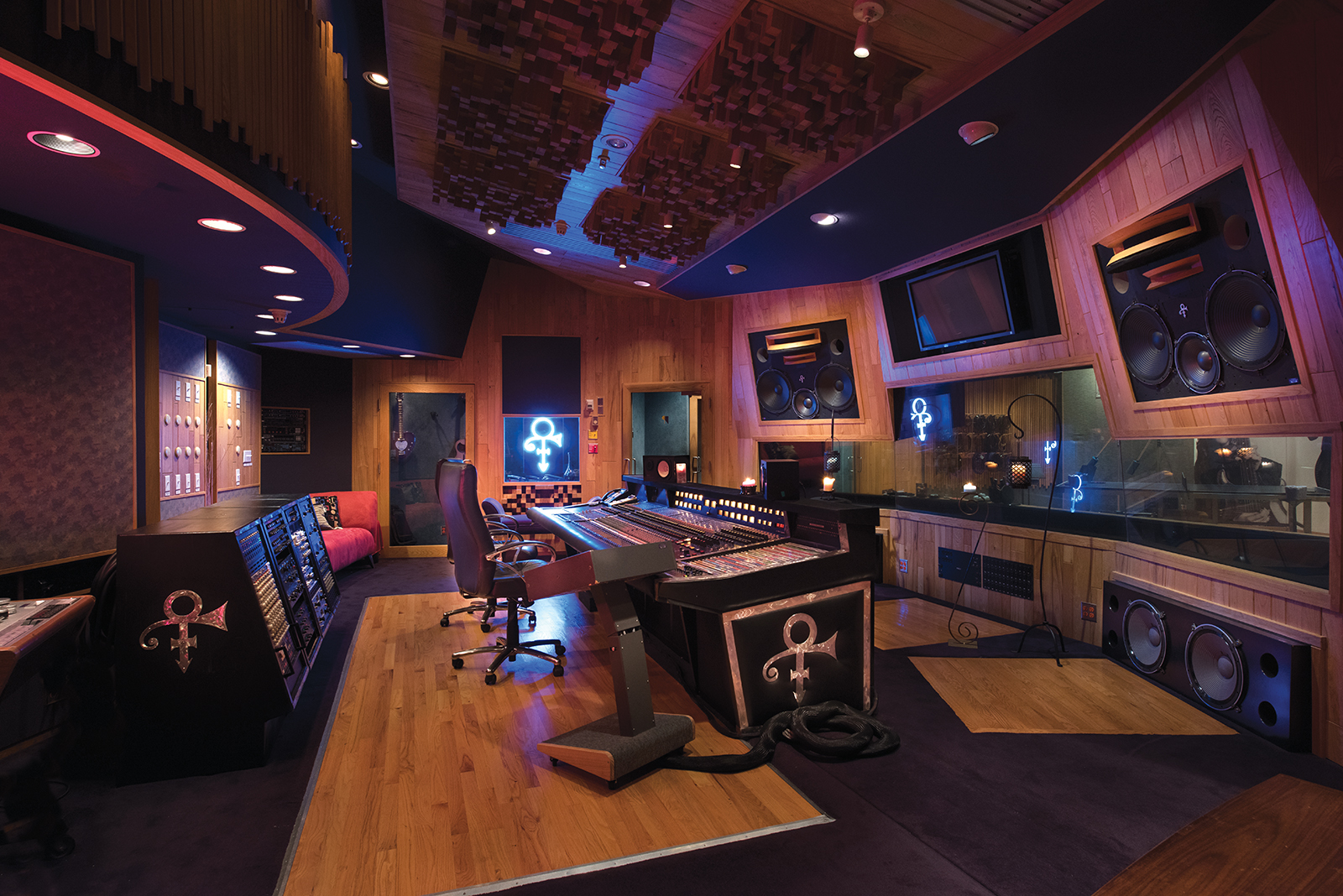 Prince had homes in Los Angeles, Toronto, and Spain, but the Minneapolis native's most famous residence is here in Minnesota. Completed in 1987, the white, boxy Paisley Park complex in Chanhassen—a low-key southwestern suburb of the Twin Cities—is where he recorded legendary songs like "7," "Cream," and "The Most Beautiful Girl in the World."
During his life, the Paisley Park studios, performance spaces, offices, and lounges were abuzz with activity. Prince, the artist, hosted incredible impromptu parties and concerts—several of which I was lucky enough to attend—and Prince, the human, was also regularly spotted at neighboring businesses like Caribou Coffee and the Minnesota Landscape Arboretum. He left behind a lifetime of chance encounters.
Since Prince's death in 2016, Paisley Park has become an enormous, meticulously kept museum dedicated to the extraordinary creative life he led. For $160, the three-hour Ultimate Experience tour (shorter tours are available for $45 and $85) lets visitors explore the spaces where the work and play happened, including three recording studios, a massive soundstage, and the more intimate NPG Music Club.
It's also a chance to relive his output by watching rare concert footage, hearing studio outtakes, and admiring tour outfits in wild colors and patterns custom tailored to Prince's diminutive specifications. You'll see the instruments that defined his funky sound, too. (Since resuming tours following COVID-19 shutdowns, Paisley Park says it has put in place health and safety protocols based on Minnesota Health Guidelines, including weekly deep cleanings.)
My Ultimate Experience tour earlier this year definitely justified its price tag. Led by a deeply knowledgeable guide named Heidi, five of us—including two from North Carolina, one from Detroit, and one from Indiana—had the time and space to explore. We could imagine Prince behind the desk in his personal office, marvel at walls filled with endless awards (Grammys have gotten larger over the years), walk through memorabilia-filled rooms dedicated to his major albums and films, and set aside some sober moments for reflection.
During our tour, there were opportunities for photos (your phone is only temporarily disabled), games of ping pong, and recording sessions featuring Prince hits in Studio B. While I belted the chorus to "7," I could picture the Purple One curling his lips in bemusement. We even got to hold a cloud guitar—while wearing white gloves, of course. (All of these might be subject to change.)
Any Paisley Park visit is a chance to relive old memories of Prince fandom while connecting with others from around the globe. In addition to tours, the space hosts concerts and movie nights year round, and the annual Prince Celebration, set to return in 2021, brings together past collaborators for concerts, panels, and more.
When you consider how much you'll fork over for an experience at Paisley Park—or at the well-stocked gift shop at the end—bear in mind the significant cost it requires to keep a spotless, well-curated 65,000-square-foot facility up to specs comparable to its historic heyday. Prince's cars, a Purple Rain vending machine, and the top-notch recording equipment all need ongoing care and preservation—especially when put on display.
Being immersed in the space where such a singular and prolific artist hatched ideas that were big enough to rock the world is a trip like no other. Evidence that Prince was a sensitive, competitive, humorous, and imaginative soul is everywhere.
Perhaps above all, he was also enigmatic. The parties Prince hosted here gave a fragmented glimpse into his world, and, in a different way, so does this new chapter. Though it doesn't bring back our departed hero, the mysterious allure of Prince lives on at Paisley Park.
Eat, Play, Stay near Paisley Park
Eat
Chanhassen and the surrounding cities offer other pleasures—some Prince-related, some not—to fill a weekend. Before a 10 a.m. Paisley tour, hit Ruby's Roost in Victoria for a latté and small-batch baked goods. Down the road in Chanhassen, order an El Diablo—a tequila cocktail that gets its purple hue from blackberries and Cassis syrup—at the tacos-and-barbecue spot Tequila Butcher. Wineries, including Schram Vinyards, as well as Garage Bar & Bowl restaurant await in Waconia.
Play
Underneath Highway 5, running next to Paisley, the Riley Creek underpass tunnel is covered in Prince-themed graffiti. Chanhassen Cinema's west wall features a 40-foot Prince mural. The Minnesota Landscape Arboretum has manicured botanical gardens, tree collections, and hiking trails—and Prince was photographed there in 1999. The next Prince Celebration is tentatively scheduled for June of 2021.
Stay
Nearby chain options include AmericInn, Country Inn & Suites, and Holiday Inn Express. There are also several Airbnb properties in and around Chanhassen.
Facebook Comments