Minnesota technically celebrates two Pie Days. First, there's the nationally recognized one. Held on March 14, it's a cutesy-nerdy nod to the date's shorthand, 3/14, matching the first three digits of mathematical constant pi (3.14159…). Physicists, math teachers, and regular pun enthusiasts observe the holiday by (cutesy-nerdily) eating pie.
Then there's central Minnesota's Pie Day in August, when the small town of Braham, self-dubbed the "Homemade Pie Capital of Minnesota," hosts a downtown pie blowout to honor the road trippers who, to this day, flock to its 90-some-year-old Park Cafe for a slice. But Park Cafe, while historic, isn't even the best-known pie stop in the state.
With National Pie Day around the corner—and because Minnesotans love their weekend getaways—here's a guide to the state's top road-trip pie destinations, from Beaver Bay to Park Rapids to, yes, Braham. Treat them as detours or ends in themselves.
(Note: This list includes only sit-down restaurants, which some bakeries are not.)
---
Northeast Minnesota
Two Harbors: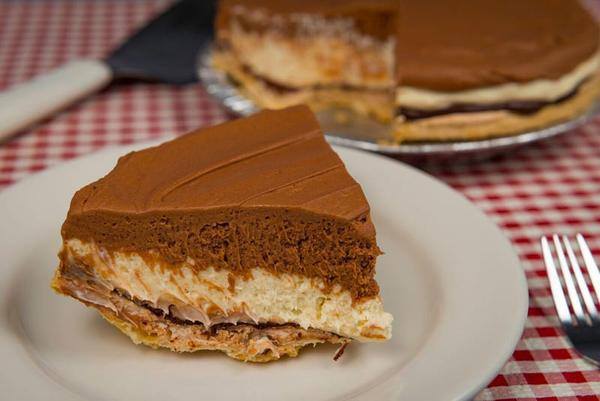 FIVE-LAYER CHOCOLATE PIE, PHOTO COURTESY OF BETTY'S PIES/FACEBOOK
Betty's Pies
1633 MN-61, Two Harbors
If you're driving up Highway 61 along the North Shore, this is your first stop for pie. (You'll have to decide whether you want to pull over here or continue to the slightly-higher-Yelp-reviewed Rustic Inn Café just 10 minutes ahead.) Betty's has 15 flavors on hand, plus another 20 that cycle seasonally—all cradled in crusts made of lard, which founder Betty Lessard claimed to be the best method. This place has become a Minnesota legend. Lessard, the daughter of a fish-shack owner, thought to open it back in the '50s to sate fishermen's sweet-tooth hankerings, and since then, maybe no other pie shop around has achieved as much name recognition.
Customer Favorite: Five-Layer Chocolate—the crust stacked with melted dark chocolate, cinnamon meringue, whipped cream, and chocolate mousse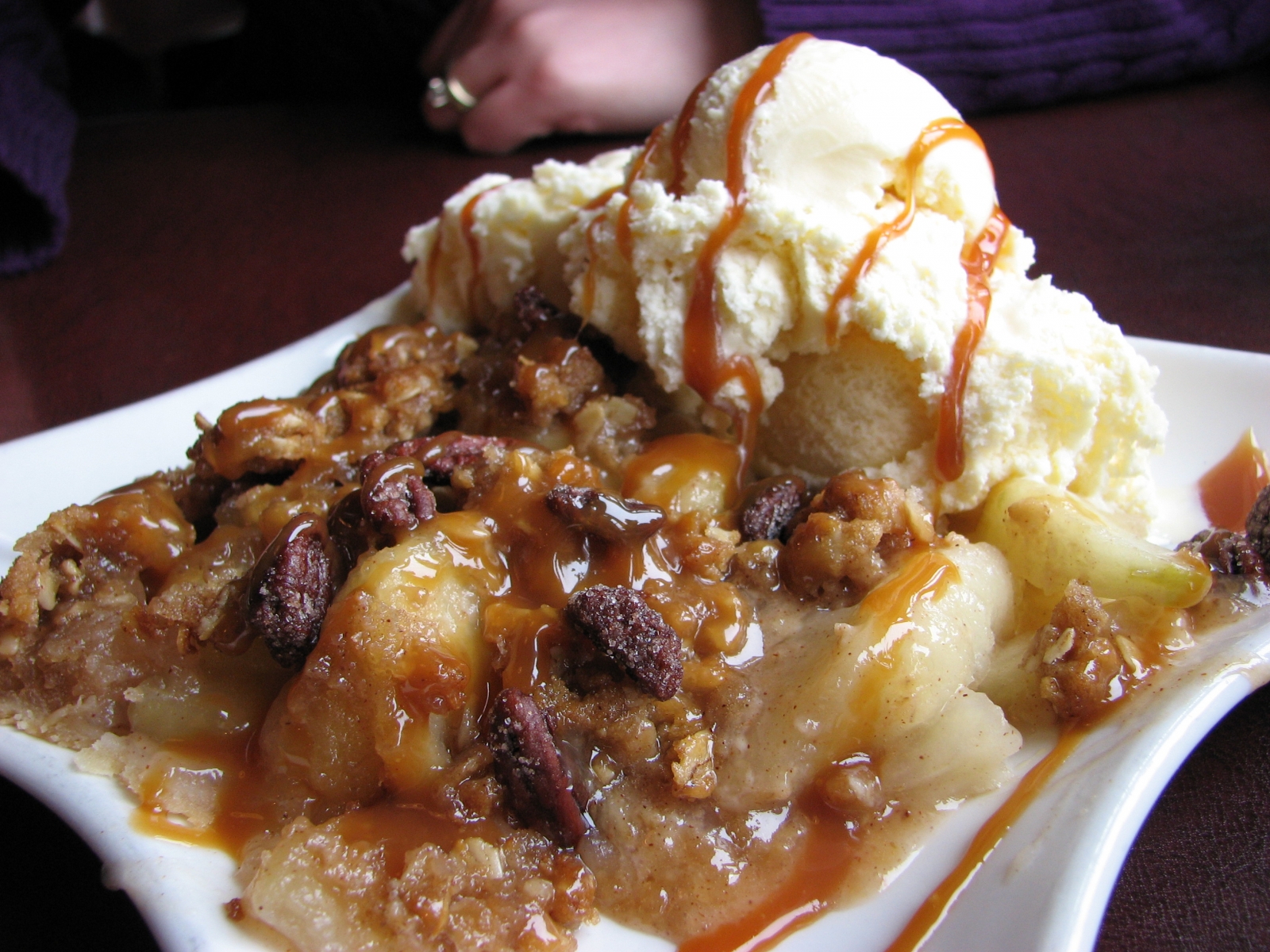 Apple-pecan pie at rustic inn café, courtesy of s.Kosoris/flickr
Rustic Inn Café
2773 MN-61, Two Harbors
The folks at Rustic Inn Café (technically closer to Castle Danger than Two Harbors) have been hand-rolling crusts and making fillings from scratch for more than 30 years. Online reviews cite these pies as reason alone to make the trip, but you can also find them at a couple Whole Foods Co-ops in Duluth, or get them shipped to your door. Choose from fruit combos topped with housemade crumbles and gluten-free varieties. According to rankings and reviews from over the years, this is the pie shop to beat.
Customer Favorite: Rustic Inn has built a strong reputation on its various pecan pies, but also try its unique North Shore Berry Crumble—combining rhubarb, apples, strawberries, and blueberries with an oat topping.
---
Duluth:

Triple Berry Pie, photo Courtesy of TripAdvisor
New Scenic Café
5461 N. Shore Dr., Duluth
The scuffle for "Best Pie on the North Shore" is fierce, and Rustic Inn Café often secures top billing. But by some estimates, the Food Network-recognized New Scenic Café—ranked higher, as a whole, than Rustic Inn, with more reviews—pulls ahead. Before traipsing any farther north than Duluth, tuck into this harbor-town staple since 1999 and compare it against Betty's about 20 minutes away, then Rustic a little later. It's all-inclusive, with every fruit pie, other than apple, vegan-friendly.
Customer Favorite: Hands down, it's the Triple Berry, featuring raspberries, blackberries, and blueberries—but available only in the summer. For Pie Day this spring, you can't go wrong with cranberry-raspberry, blueberry, blackberry, or apple.
---
Beaver Bay: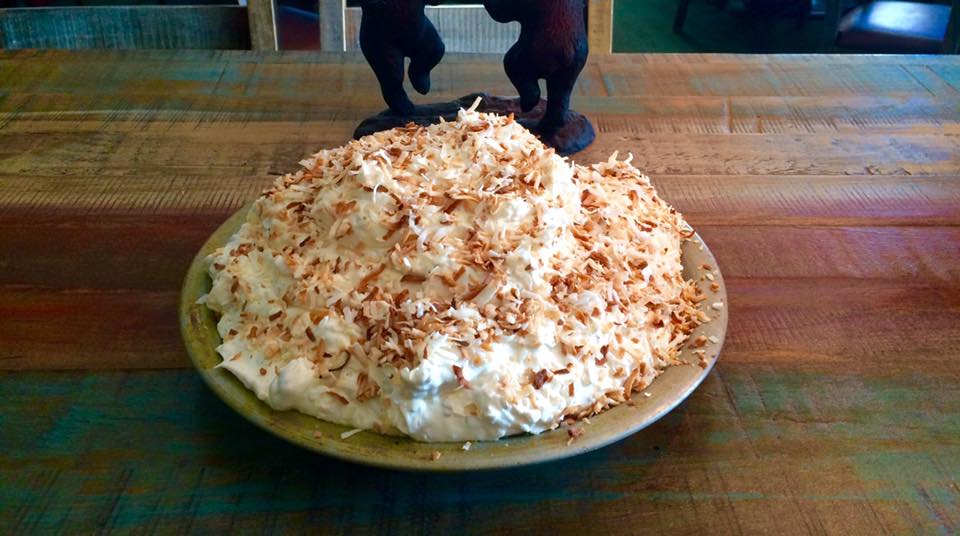 Coconut Cream Pie, Photo Courtesy of Lemon Wolf Cafe/Facebook
Lemon Wolf Cafe
711 East W. Town Rd., Beaver Bay
Fifteen minutes past Castle Danger, the understated Lemon Wolf Cafe, tucked beneath a community center, has racked up enough stellar online reviews to rival the Rustic Inn Café—many of them written by out-of-town patrons high off the thrill of discovery. The restaurant's plain exterior belies cozy north-woods decor inside, where offerings—including a light, fluffy coconut cream pie, each slice dense with coconut shavings—have earned its TripAdvisor ranking as the best restaurant in Beaver Bay.
Customer Favorite: Coconut Cream
---
---
Northwest Minnesota
Park Rapids:
Oregon Berry Pie, Courtesy of The Third Street Market/Facebook
Third Street Market
120 Third St. W., Park Rapids
Real whipped cream crowns Third Street Market's all-natural, seasonal homemade pies, their heaps of berries or cream held in crusts made from various crushed-up nuts. If you order in advance, Third Street Market serves its pies ($4 per slice, $22 for the whole shabang) at Bella Caffe next door. And they listen to their loyal customers, recently introducing a caramel-apple pie by popular demand.
​Customer Favorite: Oregon Berry, full of strawberries, raspberries, blackberries, and blueberries
---
Central Minnesota
Braham:

Courtesy of The Park Cafe/Facebook
The Park Cafe
124 Main Ave. N., Braham
The shop that inspired Braham's Pie Day has served fresh fruit pies to out-of-towners since the 1920s. This quintessential small-town diner—its humble, home-kitchen atmosphere squeezed next to the pizza pub on Main Street—steps into overdrive the first Friday of every August (see photo).
Customer Favorite: Dutch Apple
---
Onamia: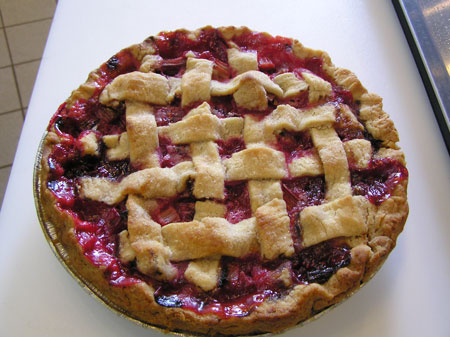 Courtesy of Farm Market Cafe
Farm Market Cafe
108 Wall Street S., Onamia
About five minutes from the beautiful expanse of Lake Mille Lacs, Farm Market Cafe sources most of its fruits, veggies, dairy, and meat from producers within a five-mile radius, all of them pledging not to use pesticides or antibiotics. That means this small, brightly colored café and gift shop (check out the mini sailboat mounted behind the register) serves fresh rhubarb-custard pie alongside a scoop of homemade, honey-sweetened vanilla ice cream.
Customer Favorite: The Five-Fruit Favorite (rhubarb, apple, and three berries of your choice)
---
Southern Minnesota
Pipestone:

Photo Courtesy of Lange's Cafe/Facebook
Lange's Cafe
110 Eighth Ave. SE, Pipestone
Lange's status as one of the (very) few places in southwestern Minnesota to be open 24 hours goes way back. (The owners purposely dropped the keys to the building in wet cement after renovations in the early '60s.) And the family-run café has pie to thank for its 60-some years of prosperity. The authors of the Roadfood book series ranked its sour-cream raisin pie "in the top tier of great ones," describing Lange's take on the Midwestern classic as "sweet with the sour-cream edge that makes its sweetness all the more potent." After their review, sales of the restaurant's dense, meringue-topped delicacy soared.
Customer Favorite: Sour-Cream Raisin, developed by the Lange brothers' great-grandmother
---
Stockholm, WI:

Stockholm Pie & General Store, courtesy of TripAdvisor
Stockholm Pie & General Store
N2030 Spring St., Stockholm, WI
If you're ever in southeastern Minnesota and within roving distance of Wisconsin, you would be remiss not to bound across the river, just south of Maiden Rock, to the Stockholm Pie & General Store, recently named one of the "18 Legendary Pie Shops in America" by USA Today. Customer favorites rotate seasonally; each uses fresh local ingredients. In spring, visitors clamber over the limited-time-only rhubarb-custard—making it perfect for Pie Day. The general store also comes stocked with chocolates, cheeses, and spirits.
Customer Favorite: The Double Lemon stands as a perennial go-to. A lemon chess pie, it boasts a custard-like filling thicker than lemon meringue, topped with lemon curd and sprinkled with lemon zest.
---
Whalan (open in May):

Aroma Pie Shoppe, courtesy of TripAdvisor
The Aroma Pie Shoppe
618 Main Street, Whalan
Open only from May to October, you'll have to wait until after Pie Day to hit up this destination for tourists biking in from Lanesboro. Along the Root River Bike Trail, the shop's screened-in porch looks over the small town of Whalan—as well as the hummingbirds that flit around its perimeters, perfect viewing for a not-too-sweet berry pie or a rich chocolate-cashew creation.
---
Maiden Rock, WI (open in April):

Courtesy of Smiling Pelican Bakeshop/Facebook
Smiling Pelican Bakeshop
W3556 State Road 35, Maiden Rock, Wisconsin
Just across the river from southeastern Minnesota's Frontenac State Park, the Smiling Pelican is the result of one pastry chef striking out on her own after 20 years' experience baking, finally opening up shop out of a powder-blue Victorian house on a scenic, bayside stretch of Main Street across from an art gallery and next to a textile vendor. Here, she devises her own sweet, decadent experiments—including pies lovingly crafted with fresh ingredients.
Facebook Comments