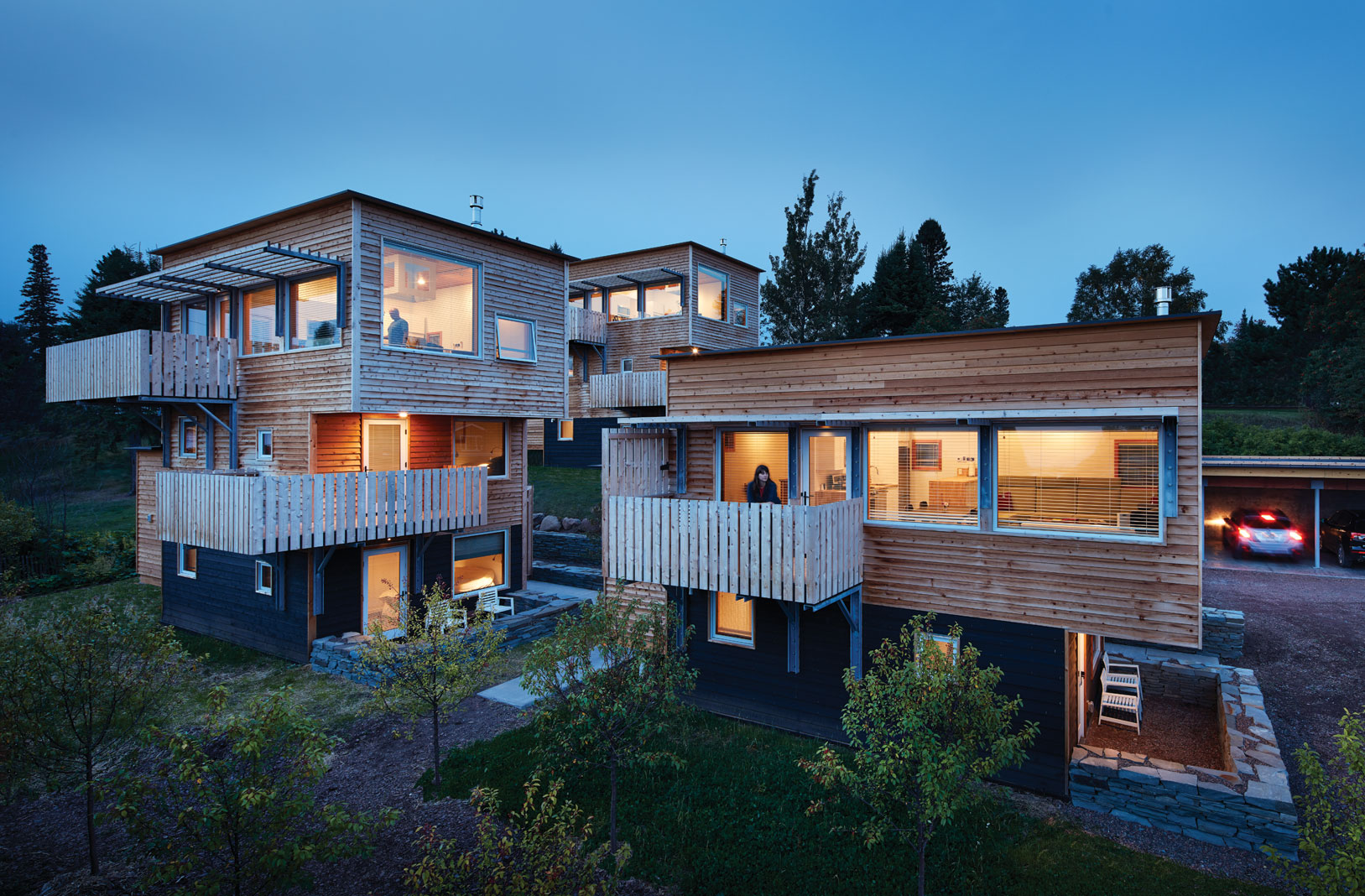 The air in Grand Marais is so fresh it'll bring you to tears. As you make that final descent on Highway 61 into the North Shore community, an overwhelming sense of calm fills your passages, your heart shifts out of overdrive, and an itinerary of possibility takes shape.
"Even if you're an asshole, the area brings the good out in you," says longtime visitor turned  boutique hotel owner Joel St. John.
The magnetism of Grand Marais (population: 1,350 or so) stems from more than any one attraction you'll find tagged on Instagram—though there are quite a few. Over the past century, the community's proximity to natural wonders like the Boundary Waters Canoe Area Wilderness and the Superior National Forest—not to mention Minnesota's so-called "Scandinavian Riviera," along Lake Superior between Duluth and Grand Portage—has resulted in decades of vigorous vacationing.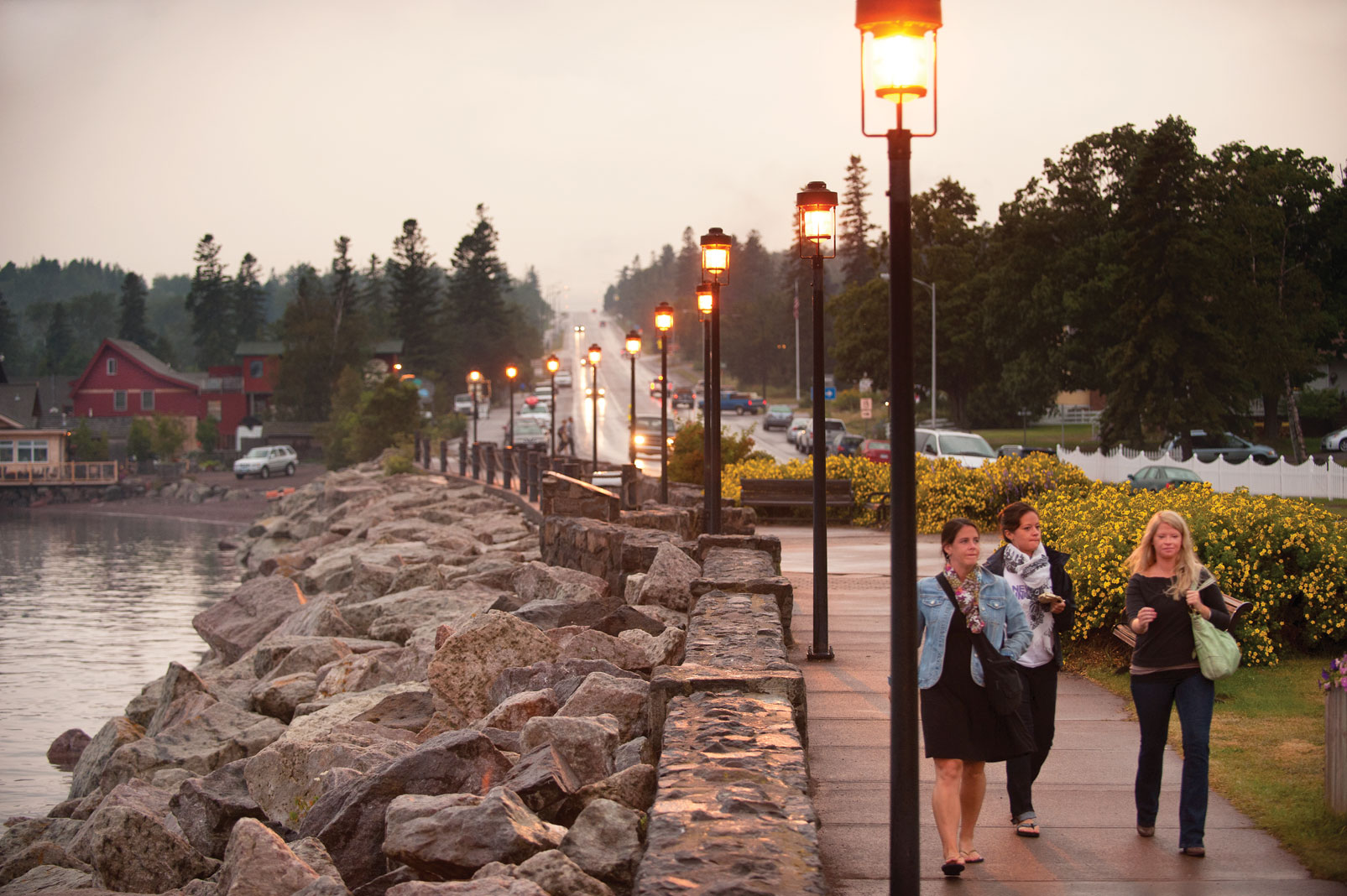 "Nature is the reason people like to come here," says Todd Miller, who operates a group of vacation rental properties near downtown Grand Marais. "The natural beauty of the ridge and the lake and the harbor—it's hard to compete with that. Doesn't matter what you're doing. This is the headliner."
Before vacationers arrived, this was Ojibwe (Anishinaabe) land. "North Shore Anishinaabeg resided seasonally at Gichi Bitobig [Grand Marais] long before whites would try to eke out a livelihood on its beautiful, but not always bountiful, terrain and waters," Timothy Cochrane notes in his new book featuring journal entries from the early 1800s, Gichi Bitobig, Grand Marais: Early Accounts of the Anishinaabeg and the North Shore Fur Trade. Throughout the 1800s, commercial interests brought fur traders, loggers, and fishermen. The first Fisherman's Picnic was staged on the harbor 90 years ago, a tradition that continues this year from July 31 to August 4.
Today, we retreat to this region for spiritual exfoliation and artistic inspiration especially during fair summer weather, only to retreat when the choppy winds pick up and blow winter back into the harbor. (The advent of the snowmobile and the paving of the Gunflint Trail, both in the '50s, have also stimulated winter pursuits.) It's a Venn diagram overlapping the love of the outdoors, creativity, and characters.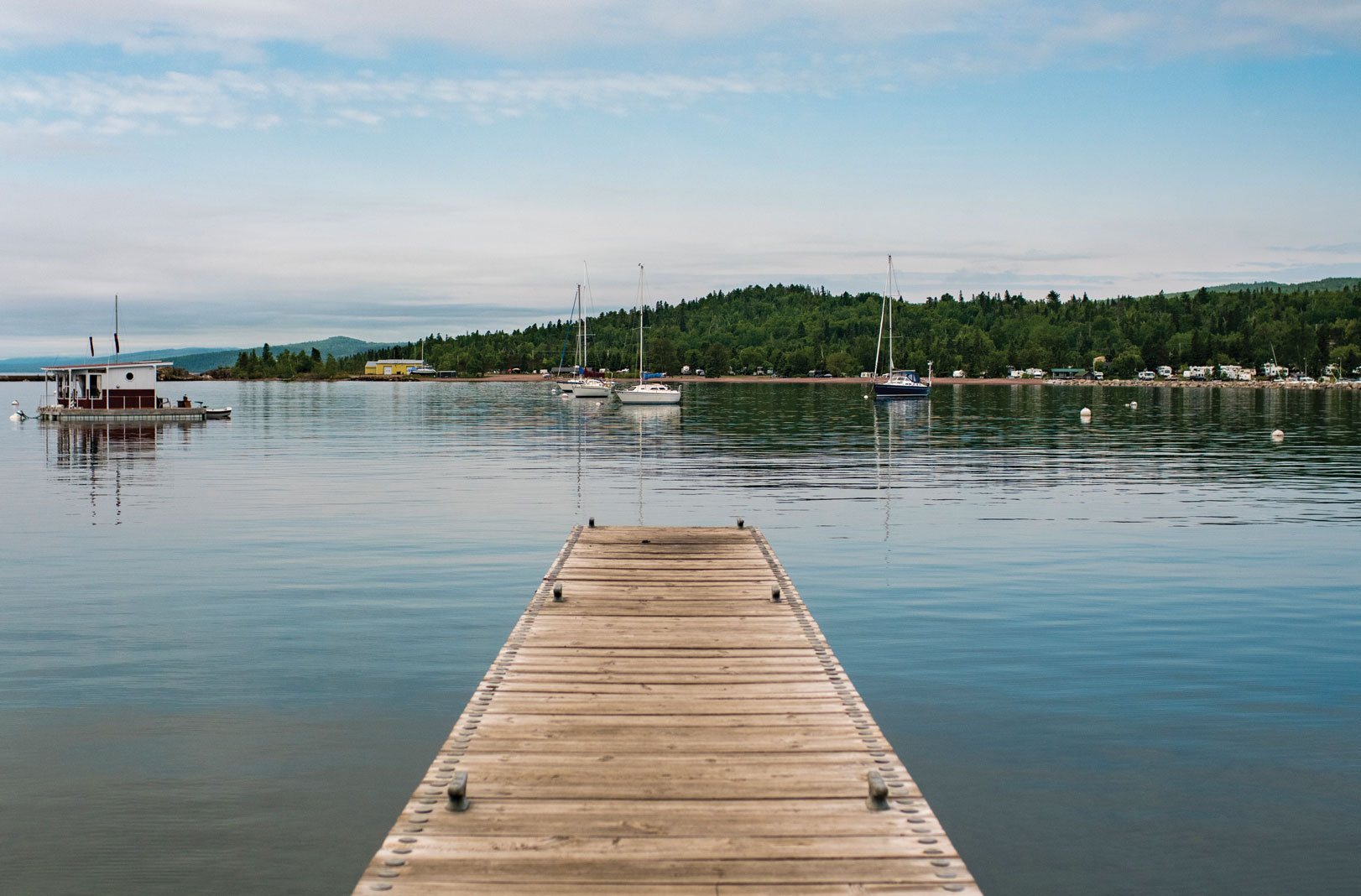 But gusts of change have started to flow past Grand Marais' scenic Artist's Point, up the trail, and into its zeitgeist. Increasingly, modern travelers are finding new niches in the lighthouse town.
"Grand Marais is starting to evolve with the times," says Bryan Gerrard, co-owner of Gunflint Trail lodge Poplar Haus. "Some people who have been coming up here forever don't like that kind of change, but most people are coming around to it. The forest and the lakes and the harbor aren't going to change, and classic things need to be here, but what are you going to do to get new people up to enjoy it? That little sense of exploration is really trending up here right now."
Standbys like North House Folk School, World's Best Donuts, the Java Moose coffee shop, the Crooked Spoon restaurant, Cook County Whole Foods Co-op (no ties to the Amazon-owned chain), and Sven and Ole's pizza are still figureheads. And the Fisherman's Picnic and the Fourth of July still bring in the masses. But newer businesses, like the chic Upstate MN gift shop, Voyageur Brewing Company, and Hungry Hippie Tacos, reflect the demands of visitors who have never eaten a fish burger, taken a canoe-building class, visited a Cook County art museum, or strapped on a camping backpack. (You can bet that many eventually will.)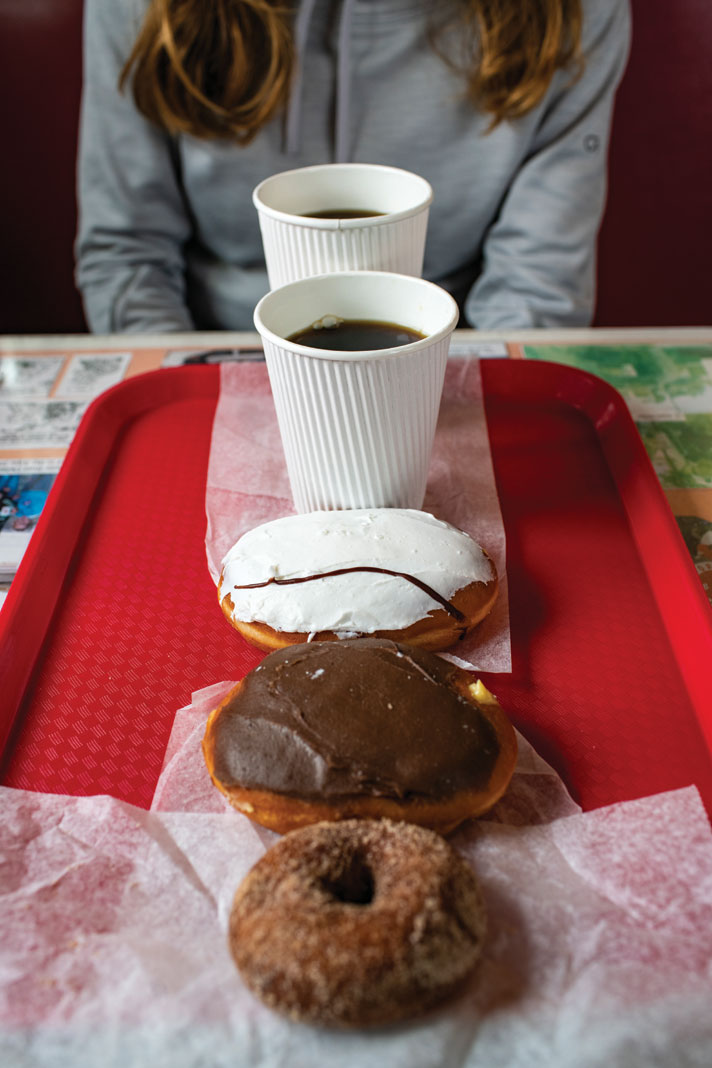 Over time, Grand Marais has evolved from a rest stop before roughing it to a place where a visitor can park, settle in, and just hang out. To that end, the home of the Grand Marais Art Colony—where creatives have flocked since the '40s—has witnessed new colonies taking shape in uber-boutique lodging options. These spots tweak the familiar formula of taxidermy-filled lodges, ski bungalows, and lakefront cabins; they range from tasteful modernization to full-on cultural reimagining. Each one has found a way to honor a piece of Grand Marais' past while keeping a keen eye on the future.
"When it comes to the Negative Nellies, I remind them that we are a tourist destination," says Linda Jurek, executive director of Visit Cook County. "Our economy is probably 90 percent based upon our visitors." It's a far cry from the lumberyards and fisheries of yore, but that's because times have changed—and are changing still. "We're not growing in population, we're growing in visitorship," Jurek notes. "We want to build it out with thoughtfulness. When you stand still, you become a desolate little town."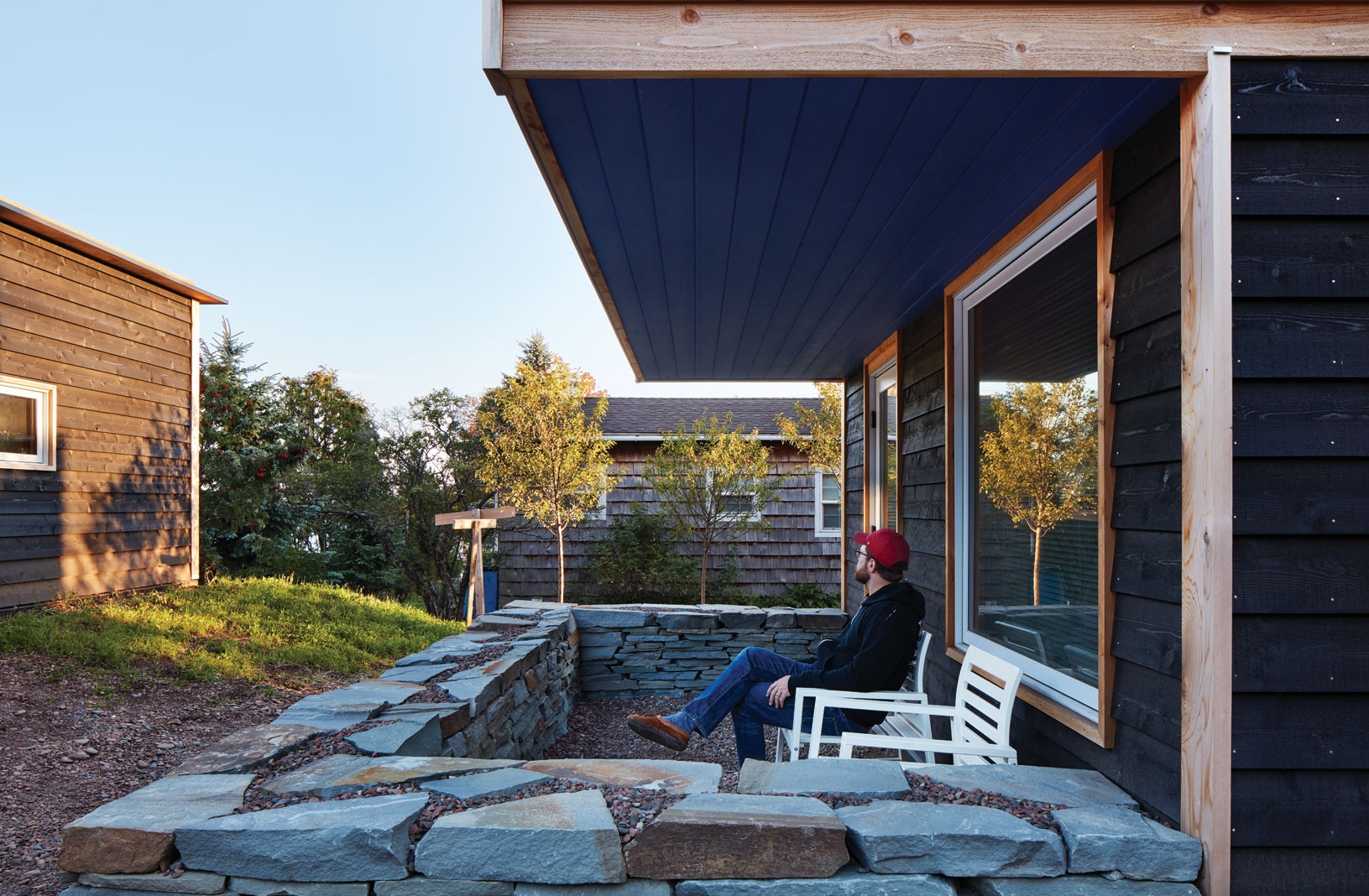 Tre Søstre
"Grand Marais is a place where people can do whatever they want—in theory," says Todd Miller, who arrived almost 20 years ago with his wife, Susan. His personal pursuits include real estate (as both a broker and builder), music (including organizing the annual Stars of the North Music Festival,  July 26-28 in Grand Marais Park), and fierce non-conformity. He camped on the North Shore as a kid with his uncle, a Boundary Waters guide: "We went for 10 days, cleared out all the mental underbrush, and came back renewed."
Before Grand Marais, Todd and Susan had spent five years living aboard a sailboat traveling through U.S. waterways down to Honduras and back—and several years active in Twin Cities arts communities prior to that. Unsurprisingly, they didn't settle for any old lakeside cabin. From the outside, their home—a pebble's toss from Grand Marais harbor—looks like a boathouse, with big double doors and cedar siding. Inside, it's part workshop, part recording studio, part actual living space, and 100 percent from the mind of someone burned out on suburban design.
In 2011, the Millers began developing their property's original three vacation rentals—the North Shore Fisherman's Cabin, the Writer's Cabin, and the Lighthouse. Aside from updated fixtures, the structures could've stood near the lake for generations (and one was once a commercial fisherman's home). Three new dwellings, completed in 2018, do not fit that mold—to the dismay of some traditionalist Scandinavian neighbors.
"Change is received with a very jaundiced eye," Todd says. "But if you aren't doing something different, you aren't living up to the Grand Marais spirit. Is this truly an arts community if everyone is painting and photographing the same thing? If you can take the heat for two years," he says of the initial disapproval, "then everyone will copy you."
Designed by acclaimed Duluth architect David Salmela, the Tre Søstre ("three sisters" in Danish) properties—the SkyHouse, the Horizon, and the Aurora—mix ultra-modern with ultra-modest. The buildings can't help but jut out of the landscape, but not in a bad way, and they embrace the concept of lagom, a Swedish word that means "not too little, not too much, just right." To Todd, Salmela described the six properties, now grouped in a micro village, as a timeline of Scandinavian and Nordic architecture, all tied together with untreated cedar siding designed to fade and weather. Where the Fisherman's Cabin honors the past, the SkyHouse honors the present.
Many other Salmela designs have come together as chic urban buildings (see: Izzy's Ice Cream in downtown Minneapolis) or majestic single-family homes. For architecture geeks, it's a rare thrill to stay in one of his creations, in this case inspired by Norwegian stabbur-style grain sheds. Each one is like an airtight ship with postcard harbor views. The visually alluring stairs, balconies, skylights, locally created art, and terracing come with practicality: an entryway that fits boots and gear, a full kitchen, and orderly rooms equipped for streamlined living.
And for creating, Susan adds: "We get texts that say, 'I really love this space, Grandma is already sketching the lake.'"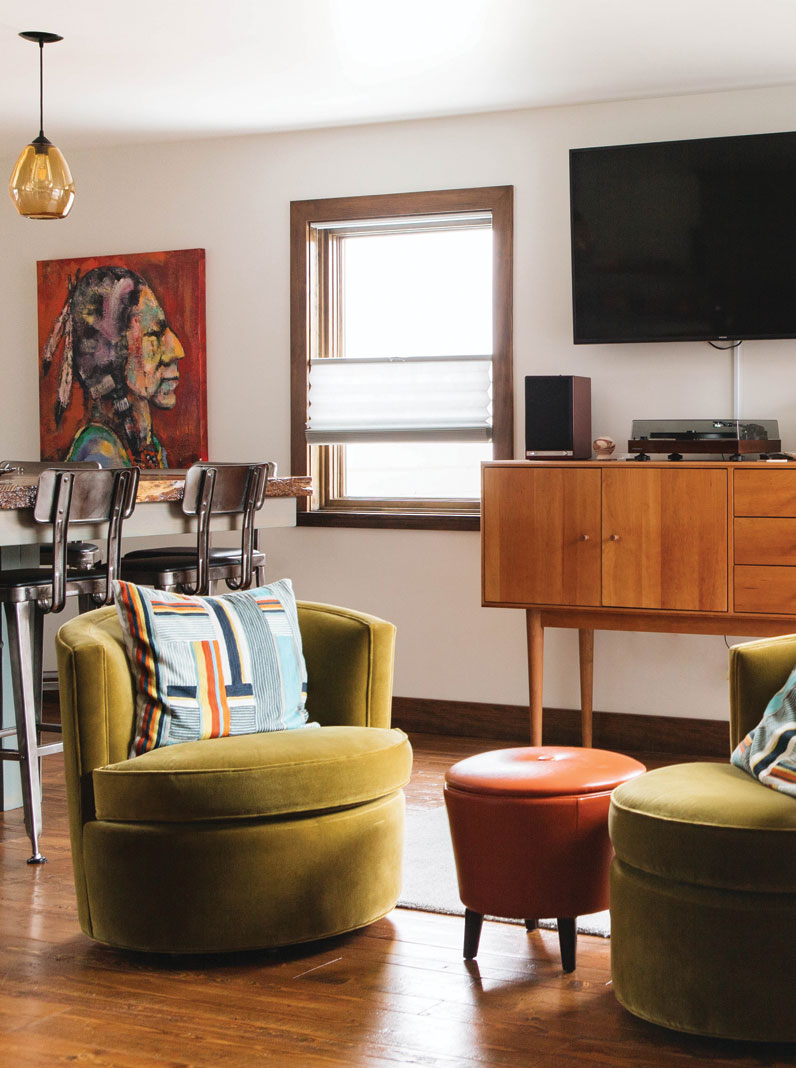 The Mayhew Inn
The promise of prominent visitors at downtown boutique hotel the Mayhew Inn has enabled owners Joel and Amy St. John to prank their staff. Sometimes, when booking a room for themselves, they'll enter a rock star's name. HGTV/Netflix show host Genevieve Gorder was a guest, and Gov. Mark Dayton's staff has inquired, so it's not unthinkable. "I'll put down Dave Grohl, and get a 'Wait, really?'" says Joel. "Naw, I'm messing with ya."
The Stillwater-based St. Johns bought the property in 2015, and grew from two Airbnb units to six by 2018, when the Mayhew Inn debuted. Since childhood, Joel summered around Grand Marais. He, Amy, and their teenage son kept that tradition going, but noticed that, despite rising rental prices, some establishments weren't keeping up with travelers' demands.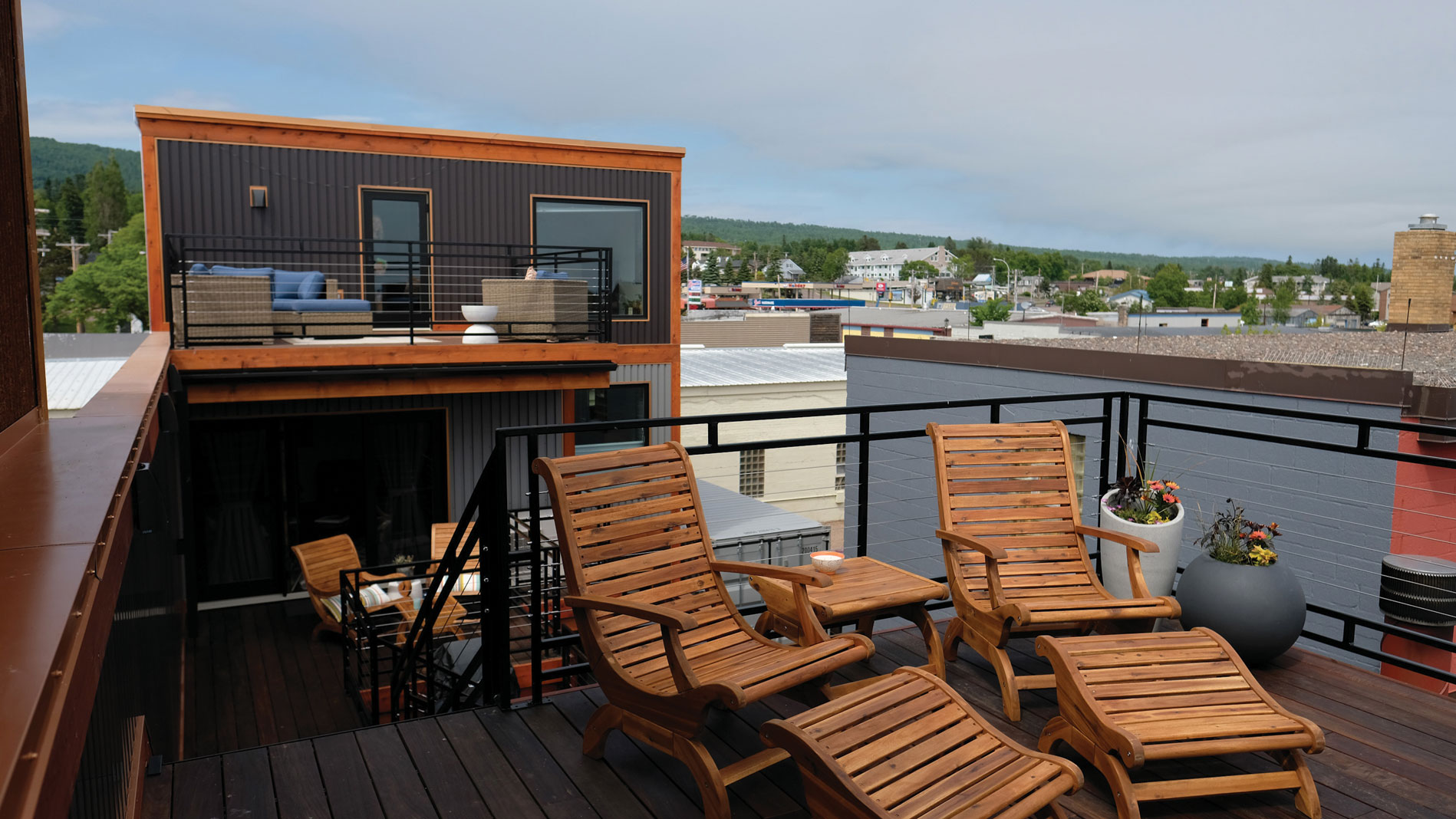 The Inn's identity, nodding to Grand Marais co-founder Henry Mayhew, was developed with Minneapolis creative agency Friends & Neighbors. In the late 1800s, Mayhew and his brother built the Mayhew Hotel (now the Cook County Historical Society & Museum). But each space at the new Inn—from the cozy Fur Trader room with a twin-and-queen bunk bed, up to the two-floor Thunderbird suite—is more hip than historic.
An updated North Shore sensibility utilizes mod furniture, artfully tiled bathrooms, kitchenettes, and stylish common spaces. Hand-painted wallpaper, developed by design studio SheShe, features local iconography—from fur trading to Smokey the Bear. "The last thing we wanted was rooms with knotty pine and loons hanging everywhere," Joel says. "Not that there's anything wrong with that, but we wanted something different."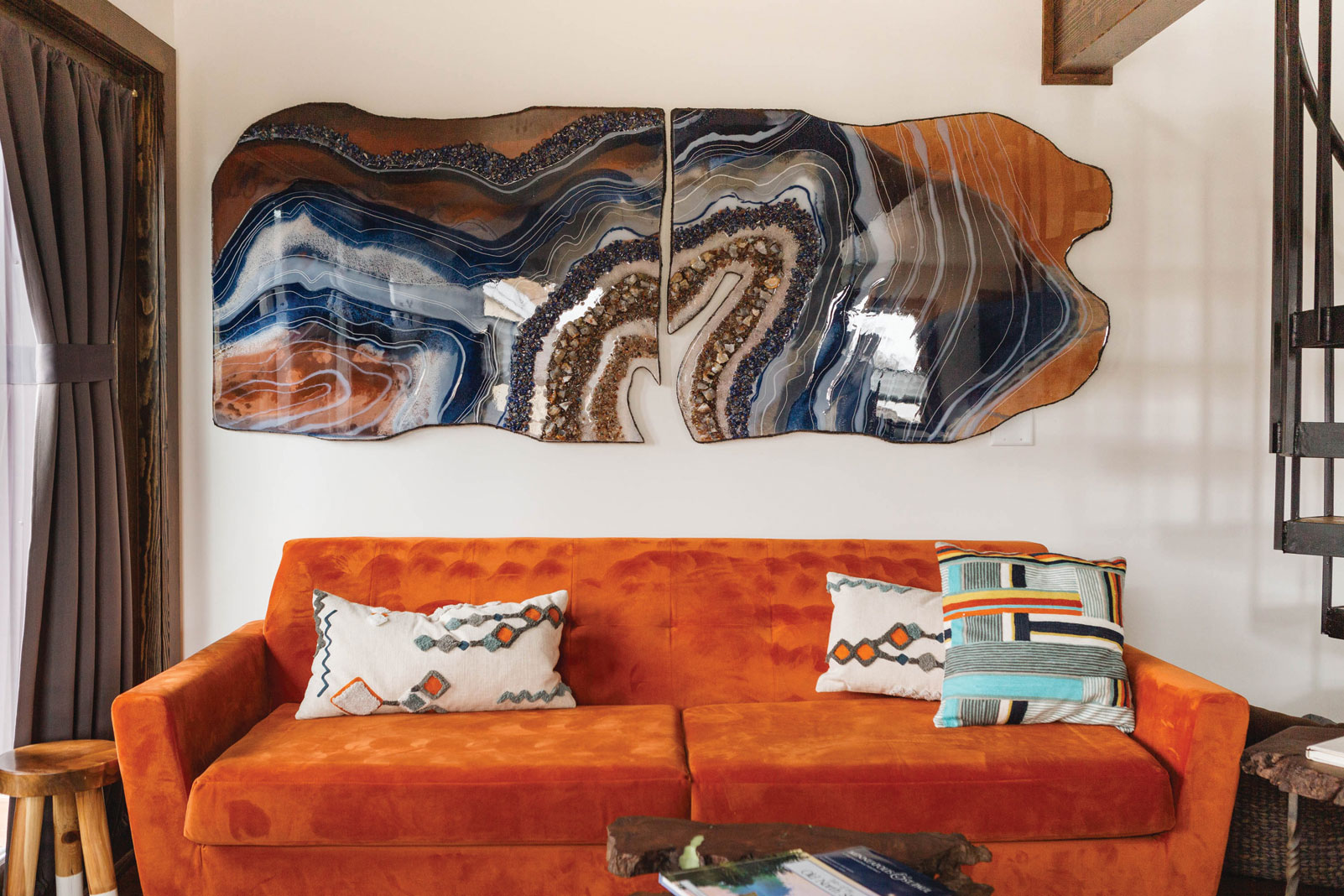 Inside and out, the Mayhew invites visitors to gather around a fire. There's the lobby with a bar, turntable, vintage records, and a fireplace; the Dragon Lounge looks out onto a brick outdoor fireplace; and fire pits on the roof deck are primed for lake viewing and Fourth of July fireworks. After hosting rooftop yoga last year, Joel promises events, including live outdoor music.   
The lake can mean so many different things to so many different people," he says. "Walk to a restaurant, take a day trip up Gunflint Trail, or stay in your room all day."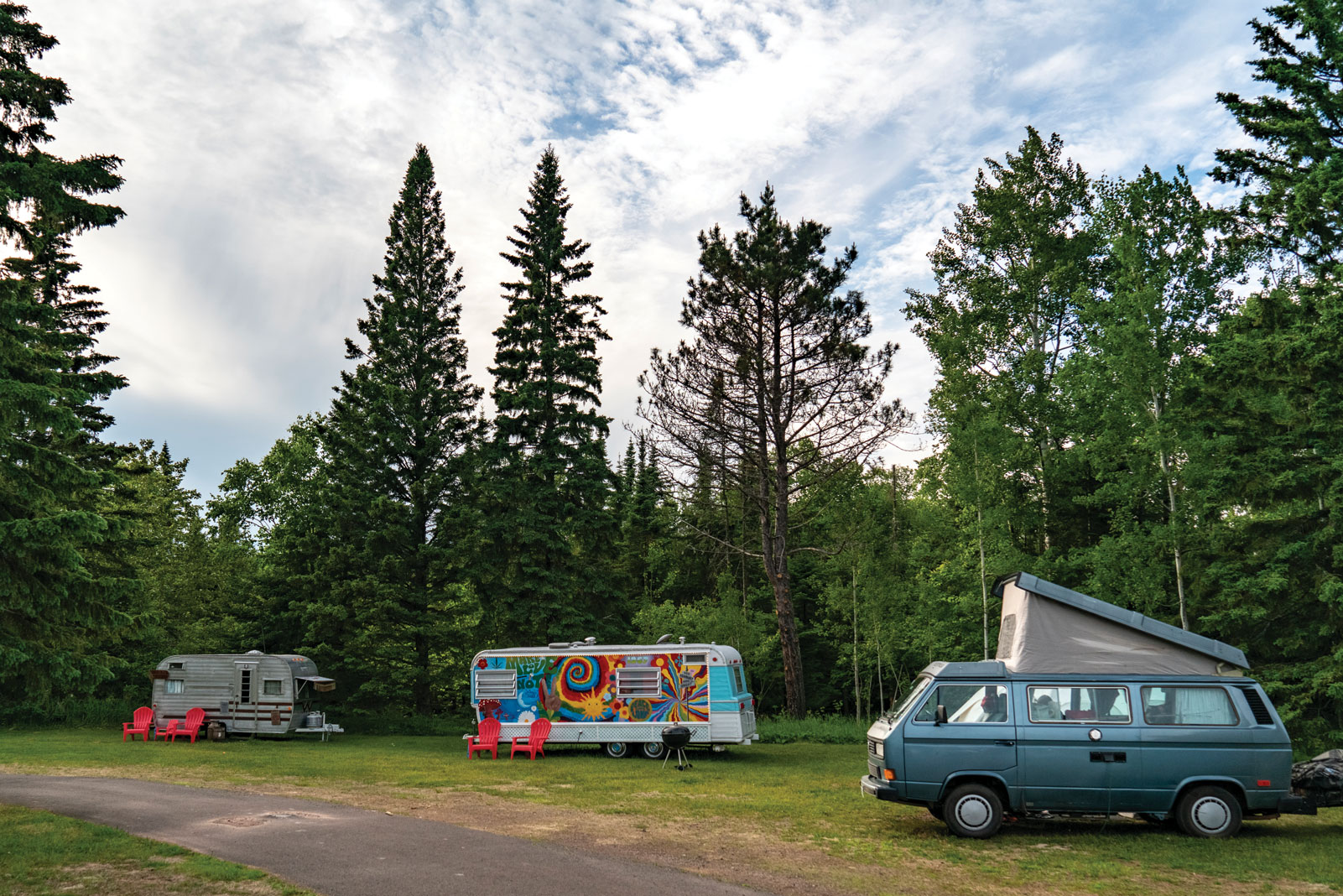 Wunderbar Eatery
& Glampground
The "glamping" concept—basically, an array of ways to camp with inventive amenities and flair—has exploded all over Minnesota. And it's one of the first things to greet you along Highway 61 when you arrive in Grand Marais.
Wunderbar Eatery and its adjoining Glampground rose in late 2017 out of the bones of the former Harbor Light Supper Club, a community staple for decades. New owners Teri and Chris Downing wanted to cultivate something fun, all-inclusive, and nostalgic. "It was a supper club, dance hall, and roller rink," says Teri, whose service-and-events-based background includes stints at Lucia's and Psycho Suzi's in the Twin Cities. "It had so much history to it, and was very endearing to the local community."
Well-preserved vintage furnishings in Wunderbar's lounge and bar churn up memories of past seasons' glories. Fitting, then, that the five themed, retro campers aren't on Airbnb or Vrbo. "We're old-school; you have to call and talk to somebody," Teri says. "Everybody gets to talk to somebody about their needs and how can we fulfill them."
Yet there's nothing dated about the curation that holds the whole experience together (or the silver "You Are Special" sticker bestowed upon a visiting writer by the roaming Teri). Wunderbar's menu is 21st-century bar food with craft beer, cocktails, and locally sourced ingredients, like Peterson Craftsman Meats. Plus, there's year-round live music and  unique seasonal events—football viewing parties to tap takeovers at the bar.
Visitors can also opt to stay in the spacious, onion-shaped Lotus Belle tents, or camp on trails behind the Glampground. A cabin that once belonged to Jacob Aall Ottesen Preus, Minnesota's 20th governor, now sits on the property as an event space. Among the Downings' future projects: turning the property's original icehouse into a speakeasy bar. Picture poker tables, bourbon, and cigars.
"There is something magical happening," Teri says. "There's the old guard that wants to keep everything Grand Marais-centric and the same, but we've done a beautiful homage. Keeping that old feeling alive. Tourists expect good service, great hospitality, fun—along with trails and fishing."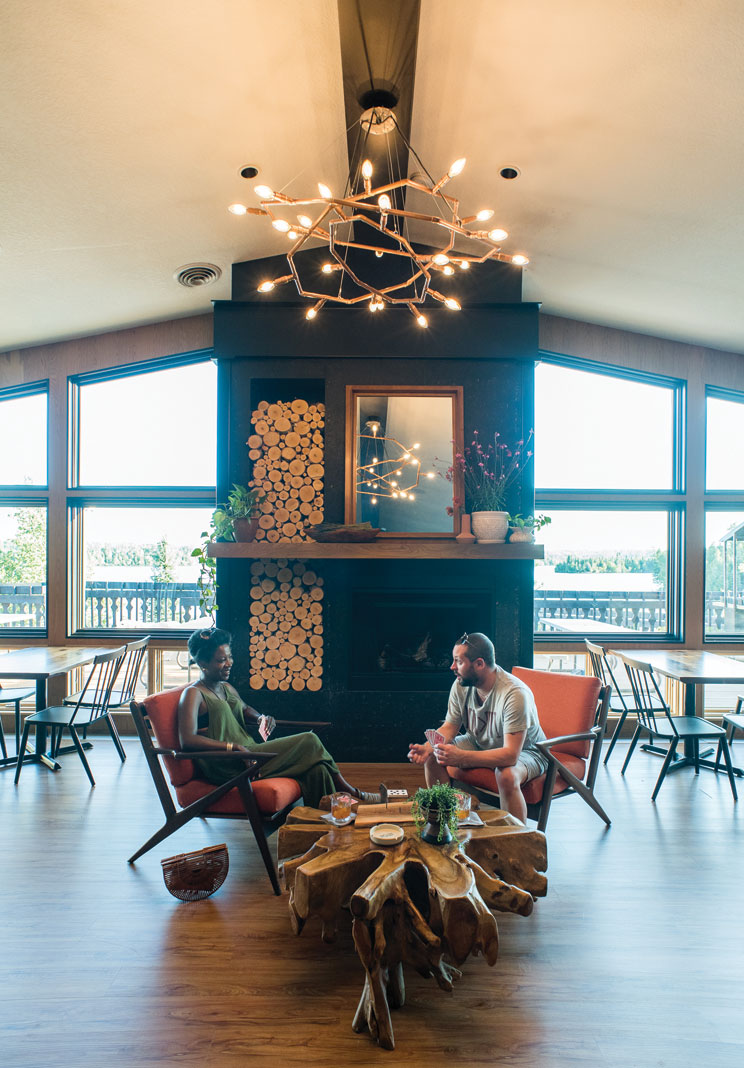 Poplar Haus
Adjacent to Grand Marais, the Gunflint Trail is 57 winding miles of wilderness escape—forest, mountains, lakes, and moose—that elevates visitors out of any remaining urban trappings. Except that the lodges do offer Wi-Fi now. And there's a sprinkling of other businesses, including one liquor store.
On a Gunflint camping trip a few years back, Bryan Gerrard and wife Stacey Palmer stopped to buy a bottle of wine at that liquor store, located inside what used to be the Windigo Lodge. When they saw a "for sale" sign, the charmed story of what became
Poplar Haus officially began.
In the summer of 2017, Gerrard, Palmer, and new fellow co-owners Kippy Kuboy and wife Lynse McDonough started taking ideas they had garnered over decades in the Twin Cities restaurant-and-bar scene and injecting them into North Shore lodge life. Though it's about 30 miles from downtown, Poplar Haus has both a Grand Marais address and spirit. Its gutted and remodeled restaurant and bar, with a sizable deck overlooking Poplar Lake, add to the rewards of heading up on the Gunflint. Visitors in flannel shirts—whether bought at Fleet Farm or Fjällräven—will feel right at home.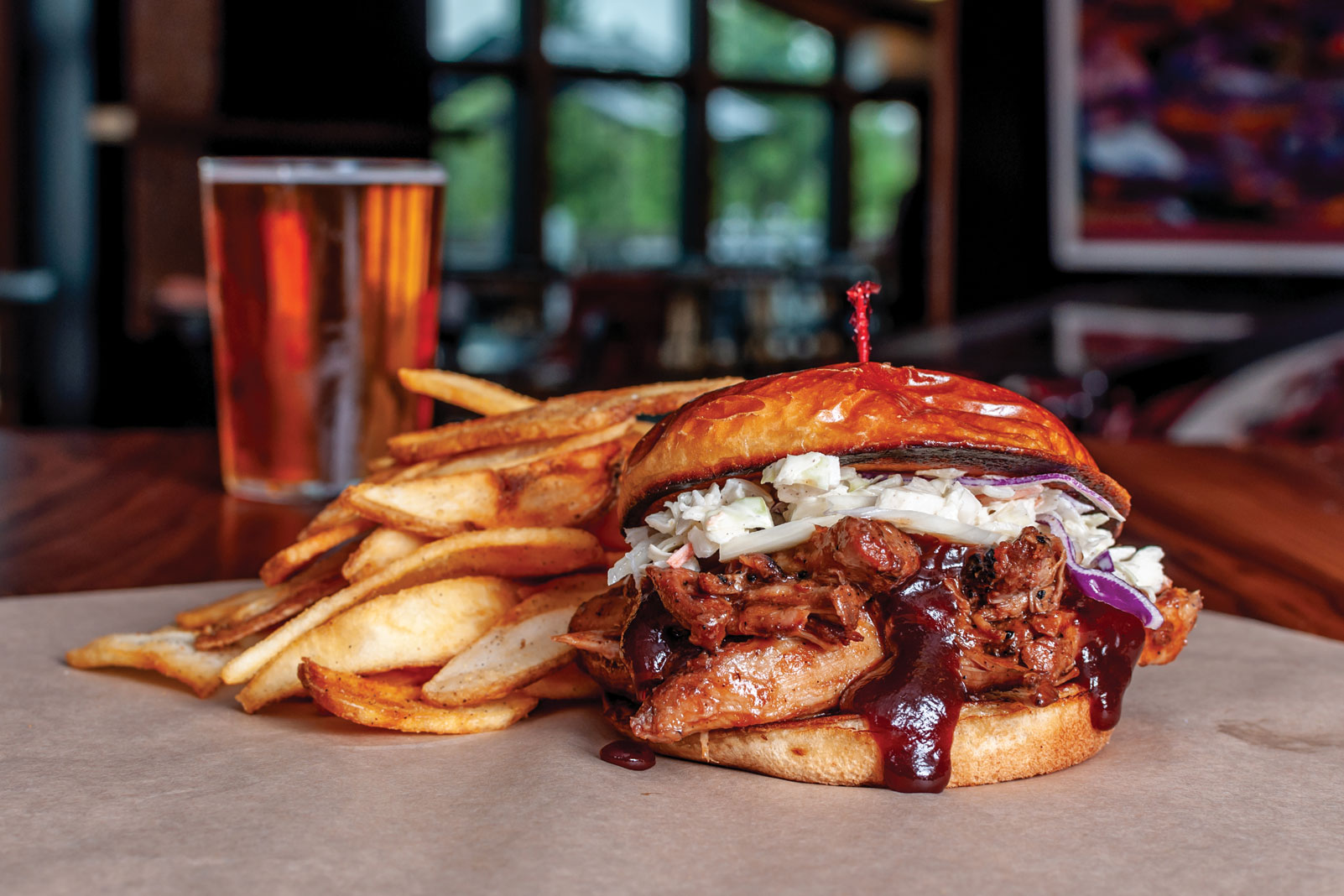 Chef Kuboy's experience at restaurants like Travail and La Belle Vie inspired an adventurous rotating gastropub cuisine menu—from walleye cioppino and ceviche to mouthwatering burgers. "We're trying not to cast a wide net with a 20-page menu of everything and be a Perkins," Gerrard says.
If you're staying, there are six cabins. "Rustic modern is what we're going for," Gerrard says. "We have 'That '70s Cabin' that is a completely retro, '70s-themed building. Then we have the cabins that are 100 years old but with some modern touches in there. It's a nice juxtaposition to the other lodges up here in the rustic, moose-y bear zone."
Poplar Haus works as a wedding venue, and there are deck events, like a tiki party last year, and live music. New this year are boat rentals: a brand-new pontoon, fishing boats, canoes, and kayaks.
The Gunflint life no longer comes with an obligation to grab some paddles and head out to the islands. Gerrard notes that some Poplar Haus guests just sit with a book as though they're on a beach vacation—stargazing at night and bonfires. "They all tend to meet up in the bar," he adds. "We don't have TVs or anything like that. I'm just spinning records. I think the people and the conversations who meet here—that's probably my favorite part. People from all walks of life under one communal roof."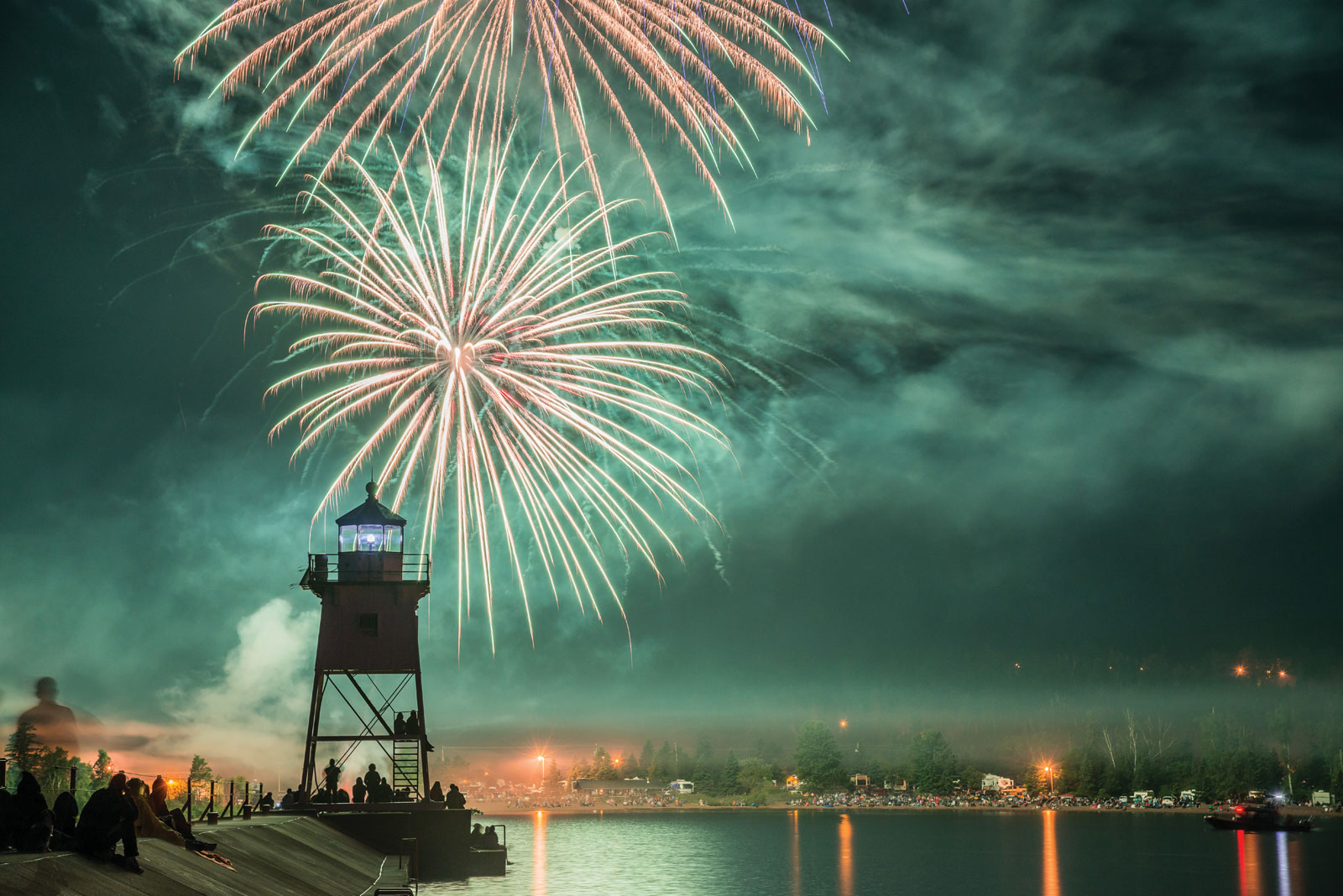 Grand Events
July 4
Grand Marais Fireworks
A concert by the Bazillions in Harbor Park followed by fireworks over the harbor.
More than 70 booths featuring regional artists and a weekend of interactive activities.
July 17
Gunflint Trail Canoe Races
Gunflint Lodge's waterfront hosts a day of competition for all ages.
July 19-August 20
Biggest Blueberry Contest
Berry pickers can bring their big blues to weigh stations along the Gunflint Trail for a shot at huge prizes.
Stone Harbor Wilderness Supply's weekend of outdoor water pursuits: a film festival, SUP yoga, and paddling demos.
A 225-mile, two-day gravel trail bike race between Two Harbors and Grand Marais.
A weekend of outdoor live music by the harbor put on by the Grand Marais Music Collaborative.
The 90th annual picnic is filled with fish burgers, fireworks, a parade, and more all over town.
Facebook Comments