The scenic beauty of Badlands National Park
Photo by ackerman + Gruber
---
We hadn't expected to see that planetary mass of a bison right there, roadside. We're just driving along, gravel beneath the wheels, and oh, hey, there's North America's largest land animal little more than a car-length away, bearded and shaggy, casually strolling out of the canyon. His ample hump eclipses a steady, dark-eyed gaze, sizing up our minivan as it slows to a roll on his wild and beautiful turf.
Already, Badlands National Park had worked its wonder several times over on our family—me, my husband, Clint, and our young kids, Roy and Vera. Who couldn't lay eyes on millions of years' worth of rock, pressed into a uniformly ribboned sea of wind-rounded buttes and spires, and not feel a deep-seated something like religion? Our amazement is as predictable as the kids' urge to scramble and scale the otherworldly terrain. And the punishing 100-degree heat forces us to understand the naming of this wonder by absorption. "It's not that they're bad, the conditions are just really harsh," a cheery young park ranger explained, while handing over a map.
I've wanted this adventure for so long that I'm not sure when Black Hills Road Trip became synonymous in my mind with quintessential Minnesotan family vacation, but it turns out that it probably is. More than 1.5 million Minnesotans visited South Dakota last year, the largest chunk of vacationers from any state, with most heading for the Hills. Growing up, my family was never among them. My husband's family was, making the gajillion-mile trip up from Iowa without air-conditioning during the hottest summer in the history of summers, as he remembers it. He was somewhat, well, resistant to try again.
The trip of my imagination was far superior—the open road in all its quaint and kitschy glory, offset by the kind of enormous, uniquely American beauty revered in travelogues, on movie screens, and so many Facebook and Instagram feeds. I wanted the souvenirs my kid-self coveted, the bison sightings, the family memories. I wanted to stand under those six-story faces at Mt. Rushmore, right in our proverbial backyard, alongside the sweaty throngs traveling across states and oceans to do the exact same thing. For us, getting there required roughly nine hours' road time and a couple tankfuls of gas, I argued. How could we deny this to our children—or ourselves?
Clint relented. Our minivan has air-conditioning and a DVD player, after all. We've comfortably conquered about three-quarters of the drive by the time we hit the Badlands' wildlife-rich Sage Creek Rim Road. We soon spot a bighorn sheep, prairie dogs doing their perk-and-freeze routine, and a cluster of brown dots—bison!—on the horizon.

The view of Mt. Rushmore from 16A, a.k.a. Iron Mountain Road
Photo by ackerman + Gruber
---
The dots are exciting enough. But then, there it is: that massive chocolate-colored bison lumbering our way. Another emerges behind him as we pull to the side of the road. Clint goes to the front of the van with the camera and we all watch silently as the majestic pair crosses the gravel with deliberate hoof-steps, coming towards us, my husband snapping away, my heart thumping. They pass close. Too close, I think, remembering the warnings I'd read that they do attack, and can run as fast as 30 miles an hour.
I'm shushing the kids, all of us frozen until the bison seem a safe distance past. Then, we release our wild ones amid the prairie dogs popping up whack-a-mole-style everywhere, their chirp-peeps joining the grasshoppers' songs as the sun beats down and wind barrels across the prairie, carrying the scent of dust and sweet, hot grass. A vulture soars nearby. The bison pause in the distance, glancing back at us, then continuing toward their herd. Roy inches close enough to one little prairie dog perched atop its hole to engage in a silent staring contest.
Back in the van, we continue on under the big, blue sky, the lone vehicle along this gravel road, all of us riding the wave of the idyllic moment we'd just stumbled into; relaxing, letting it soak in and buoy us a bit.
Before we even hit the hills, the road trip had delivered lots of the good stuff. It proved a brilliant move to exit the interstate half-an-hour past Sioux Falls for Porter Sculpture Park, the life's work of Wayne Porter, the artist/wonderfully wacky conversationalist who hangs out in a metal shed on-site during the tourist season. ("Oh. You're locals," he said when I told him where we were from.) At the overwhelming maze of souvenir shops that is Wall Drug, Vera scored a soft blue-leather dreamcatcher necklace and Roy a personalized Swiss army knife. (We absently handed it over with nary a safety tutorial, and he drew blood in, oh, seven minutes? Nothing serious, but not exactly a parenting high point.)
And I finally (finally!) got to check "See the World's Only Corn Palace," in Mitchell, off my bucket list, despite multiple people insisting it wasn't "worth it." They had me a little worried my expectations were too lofty, but come on. It's the only surviving example of the corn-themed buildings early Midwestern towns once erected to celebrate their agricultural prosperity: large-scale crop art that inadvertently doubles as a buffet for local birds. It's ringed inside with an historic timeline and shelters a kids' play area, art gallery, gift shop, and functioning auditorium that hosts the local high school's basketball games. Plus, Cornelius, the human-sized ear of corn who is the palace's mascot, wanders about. Those pooh-poohers are clearly A) wrong, B) fun-haters, and C) not fun at cocktail parties. Just saying.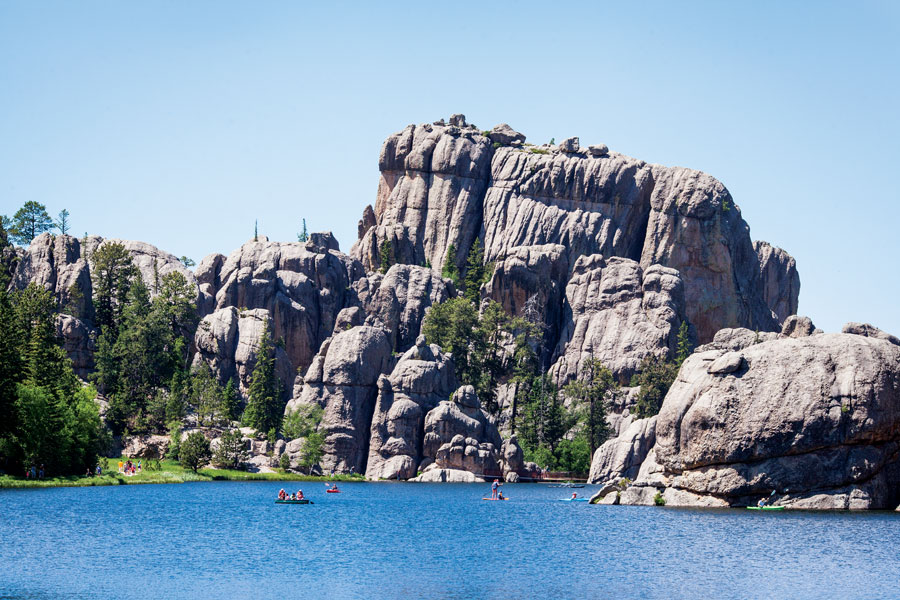 Sylvan Lake
Photo by TJ TUrner
---
Loving the Black Hills, though, is hardly controversial—in terms of pure beauty, at least; those rounded rock cliffs jutting out of gentle hills so thickly blanketed in ponderosa pine that native Lakota called them paha sapa, hills that are black. Imagine: They started out as a huge, domed rocks that bubbled up from the earth, layered inside like nesting dolls, with newer, softer stone on the outside and old, hard granite in the center. Then millions of years' worth of wind and water carried layer after layer away—sometimes down the road, where it was pressed into the Badlands' striking strata—revealing these slowly building concentric circles of hills, tall and rugged at their core. Early settlers respected the fact that the Lakota held them sacred, until gold was discovered. Native tribes have been trying to reclaim these hills ever since.
Some 2,000 square miles of their majesty are now the Black Hills National Forest, with Custer State Park and Wind Cave National Park taking up a little 150-square-mile chunk along the lower southeastern edge. They are typically divided into three sections, the Northern, Central, and Southern Hills, each with its own draws accessed by slow-and-scenic interior roads, dotted with little town-clusters of gift shops, motels, and attractions (or faster highways, which ring the whole fabulous mass). We planned to start at the top in Deadwood; move to the middle for a few days; using Rapid City, the Hills' biggest town, as a base; then head down for a night in a cabin scored in Custer State Park.

Crazy Horse Memorial
Photo by TJ TUrner
---
The gritty, graphic HBO hit series Deadwood is one of Clint's favorite shows, so we had to visit the spot where the real version unfolded. We wind down into the gulch, soaking in the spindly pines, dusty rock outcroppings, a bighorn sheep-crossing sign—more West than Midwest for sure—mentally overlaying muddy streets and shacks onto the compact few streets of present-day Deadwood, a themed two-story tourist town of casinos, bars, and souvenir shops with names like Gold Dust Gaming, Gunslinger Saloon, and Miss Kitty's Mercantile. We check into the Mineral Palace, a relatively new, non-chain hotel and casino where Al Swearengen's Gem Theater (ahem, whorehouse) stood about 140 years ago, then hurry a few blocks up Historic Main Street for one of the four daily assassinations of Wild Bill Hickok in Saloon No. 10.
We order a couple of beers and bar snacks from our hightop, essentially front-row seating for the free, half-hour show about to unfold at the back of the saloon. Wild Bill himself selects volunteers from the crowd to act as his fellow card players and the bartender. They take their spots as a recorded voice relays town history, like how it was named for the tangle of broken trees this gulch held before more than 10,000 people arrived to either find gold or separate those who did from their fortune. Then, Bill's death, in one quick shot at the hand of a comically drunk Jack McColl. After a few moments, Bill springs back to life and invites the crowd up for photos. I snap one of each of my kids, wedged between victim and assassin, everybody smiling.

Historic downtown Deadwood
Photo courtesy of South Dakota Tourism
---
After lingering over delicious New York Strips at the saloon's modern steakhouse upstairs, we wander back out to Main Street, where classic rock and country music mingle in the thick summer air, seducing visiting bar-hoppers and entertaining the sidewalk smokers and us. The evening is Deadwood distilled: tours and re-creations rooted in cold, hard history, camped up and wrapped in a friendly, easygoing party.
I'd read to approach Mt. Rushmore from the south on scenic 16A, aka Iron Mountain Road, all curves, switchbacks, and pigtail bridges designed to force you to slow down and enjoy its 17 miles over an hour or so. If you take it headed north, the one-car rock tunnels perfectly frame the presidents four. When we spy them for the very first time, they're teeny-tiny in the distance but still thrilling, like the Midwest version of spotting a celebrity walking New York City streets.
We pull over next to an open field to properly reflect and let the kids run off some crazy, the natural result of nonstop fun and late nights. It doesn't work. Back in the van, Mt. Rushmore grows with each curve, right alongside a magnificent backseat tantrum courtesy of one of our sweet angels—I won't name names, to protect the appropriately embarrassed. Mercifully, kidsplosion ends along with 16A (hereafter known as The Crying Road in our family), and a few miles later Mt. Rushmore waits not far from its parking lot, at the end of a stone-paved walkway lined in state and territorial flags. Visitors walk amid a melting pot of fellow road-trippers speaking multiple languages; traveling in huge extended-family groups and in couples, in wheelchairs and strollers; issuing parental threats and lapping up ice cream rewards.

Wild West Reinactors
Photo courtesy of South Dakota Tourism
---
We're among the roughly 3 million visitors annually who stand on this viewing terrace for a photo under George Washington, Thomas Jefferson, Theodore Roosevelt, and Abraham Lincoln, carved into the Hills' hard, white granite some 75 years ago; a patriotic, cocky, magnificent and totally American idea, carried out with strategically placed dynamite and men wielding jackhammers from cliff-side swings. This particular depiction wasn't the original suggestion. Ideas tossed around included somehow paying tribute to area pioneers and natives, but Idaho-born sculptor Gutzon Borglum pressed for something with broader appeal. His idea triumphed despite local protest calling it "an outrage against South Dakota's Black Hills," and the fact that Native Americans saw etching these four white faces onto this sacred spot as deeply insulting, to say the least.
You can snap your pic and leave, but we're all in—junior ranger activity "applications" for the kids, a short movie called Mount Rushmore—The Shrine, browsing the artifacts and exhibits in the visitor center as long as the kids' attention spans allow. At the end of the half-mile Presidential Trail loop, the sky darkens and sprinkles start, so we break into a sprint, making it to the small welcome center just as the sky opens up.

Bison in Custer State Park
Photo Courtesy of south dakota tourism
---
Inside, Roy and Vera hand their rumpled applications over to a waiting ranger. With raised right hands they solemnly repeat, "I promise, to visit every park, to learn as much as I can, and to listen to my mother." You can almost feel the radiating pride as they receive their formal handshakes and badges. The downpour shows no signs of letting up, so we dash to the van and accept our soaking, making the 30-minute drive back to Rapid City wet and hungry, exhausted and exhilarated. Happy. Because roadtripping—parenting life—is the not-perfect parts, too. Weathering the storms both real and emotional, honoring the difficult histories and the epic triumphs, and moving forward as best we can, together.
We've done so much and there is so much to do, but we're almost out of vacation. What little remains unfolds with a select few must-dos and whims. Experiencing Crazy Horse, the sculpture of a storied chief stabbed by a soldier while under truce, is touching and personal; a seemingly unending, self-funded family endeavor started in 1948 by talented dreamer Korczak Ziolkowski, who's buried here in a box he built with wood from this land. Not much more than the head's completed, though it's already bigger than all of nearby Mt. Rushmore. Downtown Rapid City turns out to be a sweet surprise, particularly the morphing work of publicly sanctioned graffiti that is Art Alley, the cool new record shop Black Hills Vinyl, and hands-down the best meal of the trip—blackened salmon salad for the adults, mac and cheese for the kids—at Murphy's Pub & Grill. And we're all thankful we made time for the alpine slide in Keystone. After a chairlift ride up, we chill over beer and ice cream at the hilltop café and gardens, within view of Mt. Rushmore, before pairing off into the waiting carts and zooming back down.
And Custer State Park—at 71,000 acres, one of the country's largest—makes for a worthy finale. After our night in a cozy, compact cabin, Roy and Vera explore the surrounding woods with two other Minnesota kids staying a couple doors down. At this point in the trip, especially, the Buffalo Safari Jeep Tour is a fine stand-in for driving the famed Wildlife Loop ourselves. We just sit back, relax, and let our tanned, denim-clad driver tell tales of broken treaties, stagecoach robbers, and tourists gored taking selfies with bison. He points out sites, like where Dances with Wolves was filmed, and answers our every question, all while driving right toward the antelope, deer, and bison, which are part of America's largest free-roaming herd. We observe, from an appropriately safe distance, hundreds milling about, the sight more familiar now, but still pretty spectacular—not unlike this classic trip, the greater Black Hills modern-day American adventure that is, finally, my family's, too.

The road to Mt. Rushmore
Photo by TJ TUrner
---
Read more:
Minnesota State Parks To Do List: The steepest hike, the wildest rapids, and the best place to spot albino deer, all within the state's borders
The National Park Service in Minnesota: A century after the National Park Service was created, it now oversees protected natural areas in all 50 states, including several in Minnesota