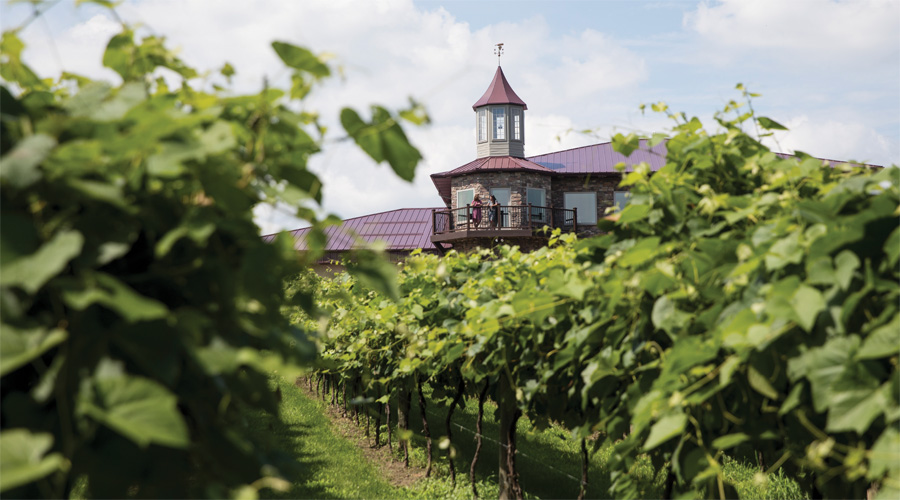 Winehaven Winery
photo by Ackerman + Gruber
---
When September comes, follow those autumnal oranges and browns until you can't recognize the town names blinking in your windshield.
There, you will also find wine. With beauty in all directions and more than 70 wineries—and even more just over the border—Minnesota has endless options for a fall trip.
We have three routes for you to try, compiled with input from Leslee D. Miller, a Minnesota-based, certified sommelier and owner of Amusée + Sip Better Wine Club.
Heading East
Along Minnesota's eastern border, there are ample destinations near the Twin Cities for sampling wine on patios and admiring the colorful foliage. Hike along the St. Croix River and savor a wood-fired pizza. Dawdle over locally roasted coffee at a historic bed and breakfast. And don't forget to purchase a few bottles along the route, which is less than 150 total miles.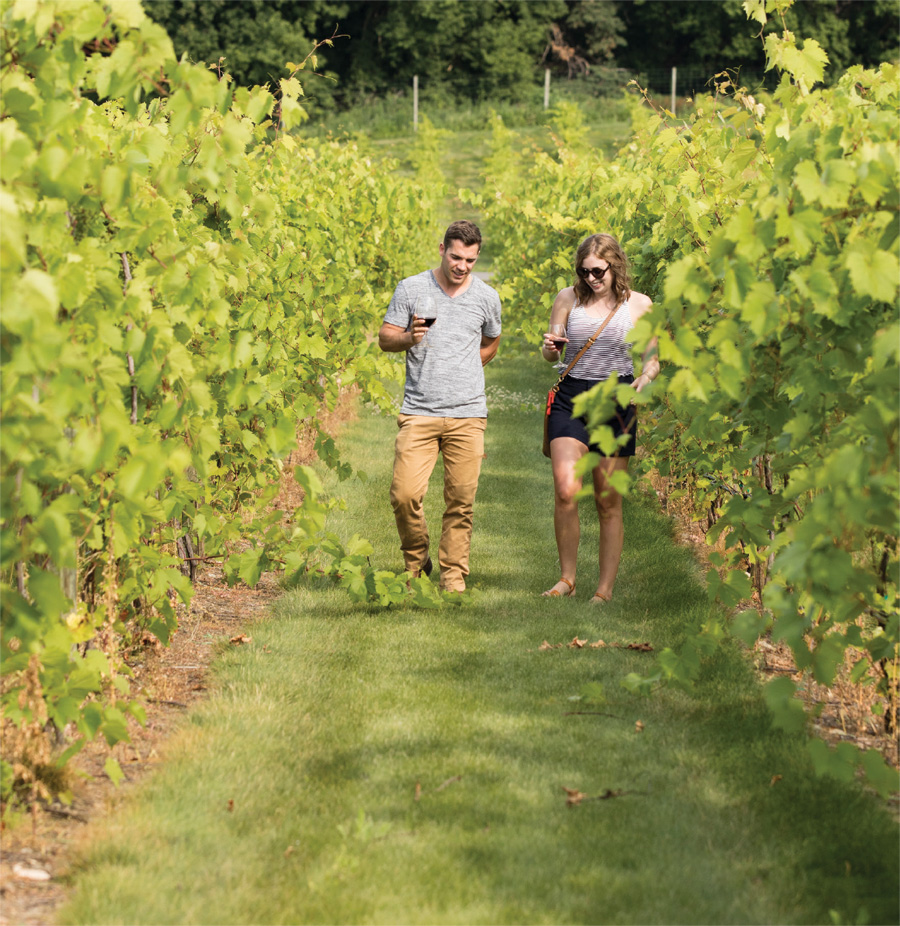 7 Vines Vineyard
photo by Ackerman + Gruber
---
Starting from the Twin Cities, head northeast to 7 Vines Vineyard in the tiny community of Dellwood east of White Bear Lake. Although you've barely left the metro, the winery's rustic design evokes a cabin up north, with stone fireplaces and panoramic views of the vineyard and wooded preserve. In addition to several Minnesota-grown options, 7 Vines offers a handful of wines featuring California grapes.
"7 Vines literally have the most impressive winery and grounds in the state of Minnesota," says sommelier Leslee Miller. "They actually modeled it after a winery they found in Sonoma. Live music, food trucks, events, gorgeous tasting bar, fire pit outside, gorgeous hearth, tours, and tastings."
Continuing north on I-35, WineHaven Winery is nestled among three lakes just outside Chisago City, with a terrace that overlooks the hillside vineyards. Besides a lineup of red, white, and fruit wines, WineHaven produces Stinger Mead, a smooth, richly flavored wine made with honey from their own beehives.
From there, drive northeast along Highway 8 toward the riverside town of Taylors Falls for dinner, pausing in Lindstrom for a photo of the iconic teapot-shaped water tower. The Drive In Restaurant is a blast from the past, complete with car hops, homemade root beer, and hand-packed burgers. It's open through mid-October. For something more upscale, Tangled Up In Blue serves a seasonal menu that ranges from beef Wellington to grilled mahi-mahi with coconut curry sauce, avocado, and mango. Backtrack to Center City for a cozy night's stay at the Summit Inn Bed and Breakfast, a Victorian-era home perched on a bluff overlooking North Center Lake.
After a leisurely morning, continue your wine tasting on Wild Mountain Winery's picturesque patio in Taylors Falls. Share a couple's tasting to try all 12 wines, and pair your sips with a local cheese-and-meat plate. Afterwards, head over to Wild Mountain Recreation Park for a chairlift ride featuring stunning views of the St. Croix River Valley's fall colors.
Just across the river in Wisconsin is Chateau St. Croix Winery of St. Croix Falls. The elegant tasting room is modeled after a French chateau, complete with a statue-lined formal garden. Chateau St. Croix is known for its ports—try the Jaune d'Or golden port or the ruby port made with local Frontenac grapes.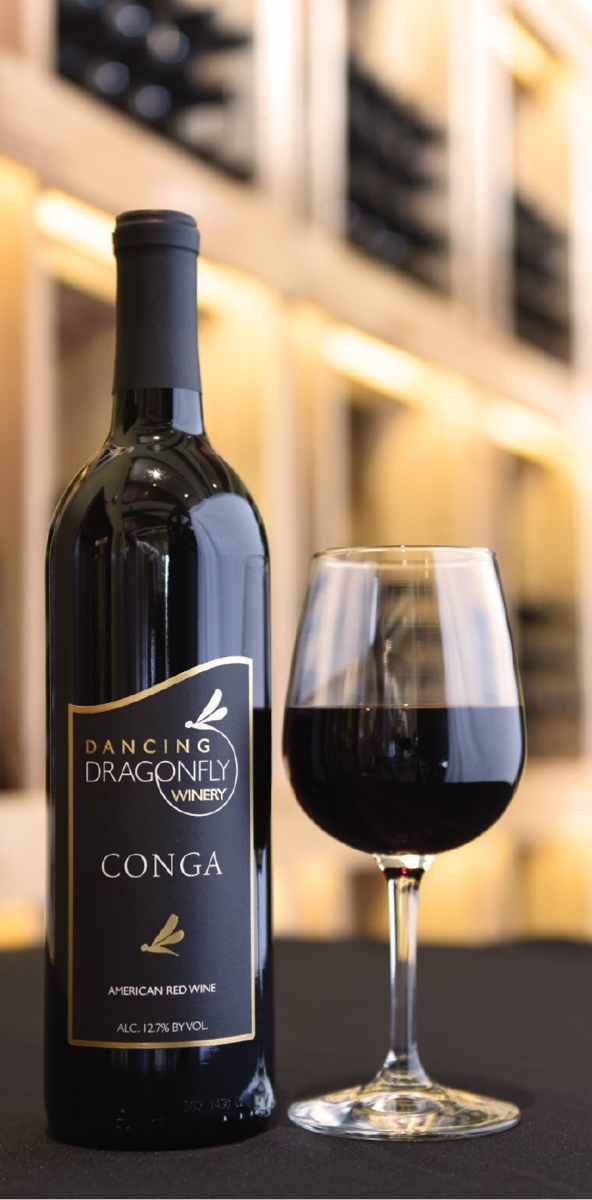 Dancing Dragonfly Winery
photo by dancing dragonfly winery
---
Dancing Dragonfly Winery is also in St. Croix Falls, with a tasting room and patio overlooking the vineyard. Wines are made with a variety of Midwest and West Coast grapes, with clever monikers that reflect the winery's name. (Polka is a crisp, refreshing white; Sashay is a full-bodied red.) Stay for dinner—wine tasting notes include food pairing suggestions, with options like paninis, freshly grilled flatbreads with dipping sauces, and wood-fired pizzas.
A relaxing lodging option nearby is the Autumn House Inn in Osceola. The bed and breakfast is a luxurious retreat complete with hydromassage tubs, river views, and a three-course breakfast delivered right to your room.
Head back into Minnesota along Highway 95 toward Stillwater, with a stop to appreciate the fall colors while hiking the 1.5 mile-long Riverside Trail at William O'Brien State Park. The loop trail runs through a wooded area along the St. Croix River and Lake Alice.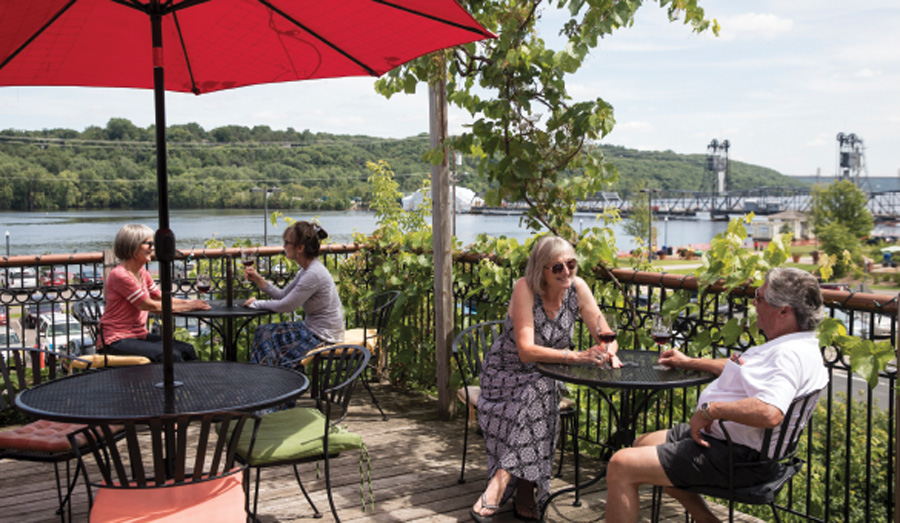 Northern Vineyards Winery
photo by Ackerman + Gruber
---
Continue on to Stillwater's historic downtown and Northern Vineyards Winery. One of the state's oldest wineries—they just celebrated their 40th anniversary—Northern Vineyards is owned by a cooperative of local grape growers. Sample some of the 15 or so wines on the rooftop deck overlooking the St. Croix River, then browse downtown's specialty shops. For lunch, go for a Neapolitan-style pie at QuickFire Pizza or treat yourself to the inventive American fare at Revé Bistro & Bar.
The final stop is Saint Croix Vineyards, a short drive west from downtown Stillwater. The winery's tasting room is housed in a restored, century-old barn, and there's a deck with picnic tables. Pick up a bottle of the intensely flavored raspberry-infused dessert wine to enjoy back at home with a bar of dark chocolate—the perfect finish to a relaxing fall weekend. -Stacy Brooks
Heading West
A 45-minute drive to Waconia quickly transports you from city skylines to Minnesota's hidden wine country. There are three vineyards in Waconia, all situated on the gorgeous, terroir-giving shores of Lake Waconia.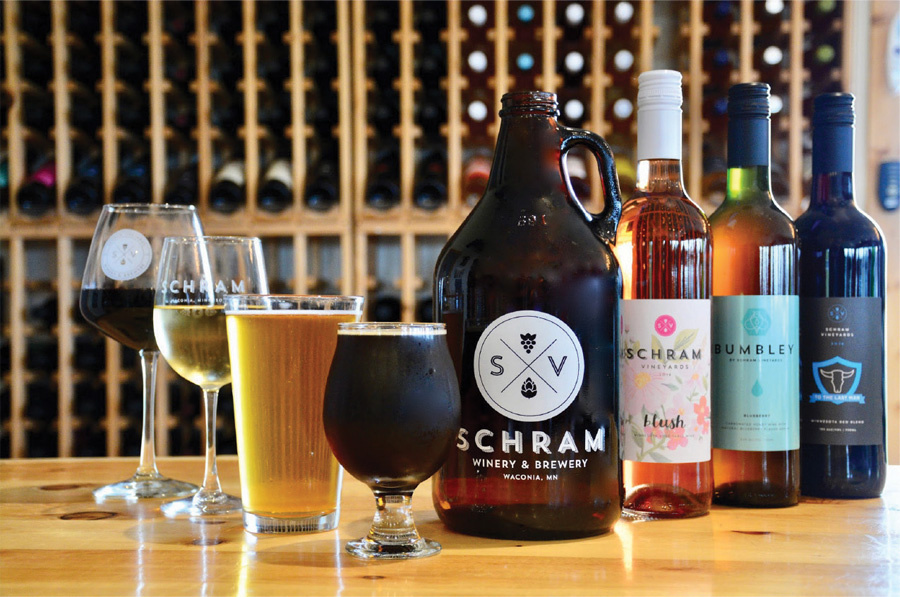 Schram Vineyards Winery & Brewery
The first stop is scenic Schram Vineyards Winery & Brewery, a family-owned vineyard-brewery combo mere yards from the landing strip at Molnau Airpark. Not only does this lakeview estate serve a full cellar of wines, but their approachable portfolio of beers will ease you into an afternoon on the vine. White wine fans, go for the aromatic Harvest White. Red wine aficionados, you'll find a soul mate in their complex Marquette. When you're ready for wine, their Laketown Rosé will be there for you.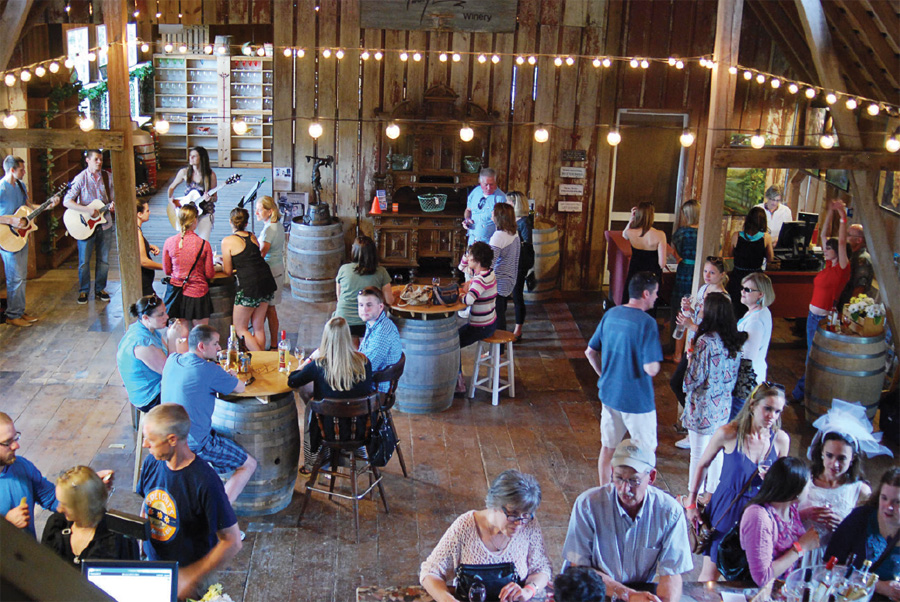 Parley Lake Winery
photo by deb zeller
---
Take four turns out of the gravel parking lot, and you're at Parley Lake Winery, another family-owned vineyard that opened in 2008. Lin and Bonnie Deardorff and Steve and Deb Zeller (along with their indomitable lab, Smokey) have amassed over 150 international medals for their mastery of Minnesota-grown grapes. Their Marquette is a standup example of how to turn cold-hardy grapes into a contender wine.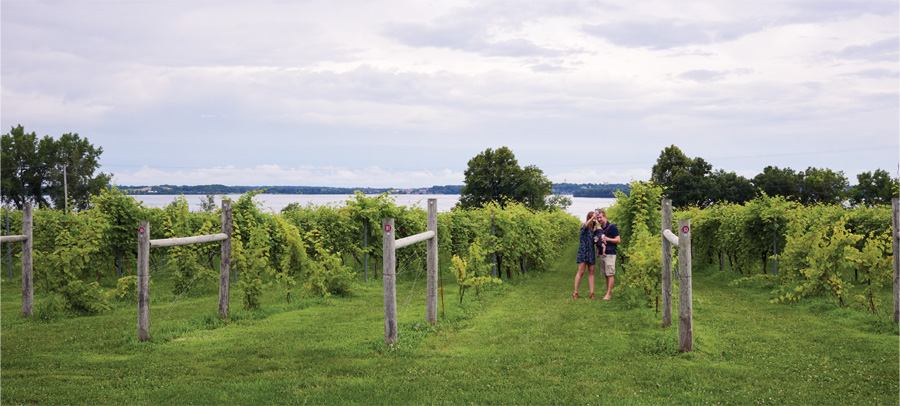 The Winery at Sovereign Estate
photo by david bowman
---
Next, a five-mile route up the northeast shore of Lake Waconia leads to The Winery at Sovereign Estate. If you hit the trail at sundown, you'll bathe in the refracted beauty of the lake, the oak branches creeping into the scene like paintbrushes loaded with red and yellow acrylic.
Plan to arrive hungry for excellent bistro fare. For a dinner pairing, let adventure guide you. Sample five one-ounce wines for $10, or double that for $10 more. Sovereign is ideal for riding out your night. There's usually a band on stage, and a bottle of their floral, herby Blue La Crescent will keep you and your tagalongs warm well into the autumn evening. In addition to functional hotel options in Waconia, check for lakeside rentals on Airbnb and VRBO.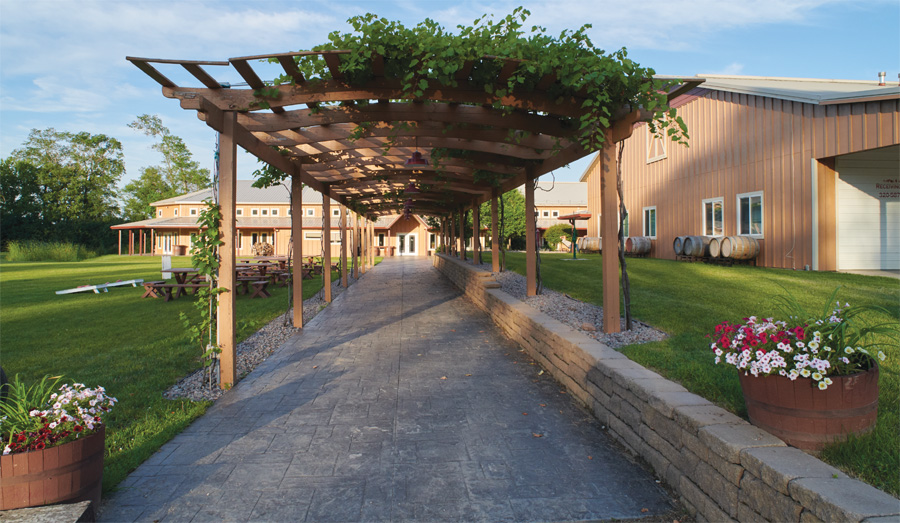 Crow River Winery
photo by David Bowman
---
Continuing west on Highway 7, Hutchinson's Crow River Winery is a quaint jewel that stretches across the prairie. Here you'll feel the distance from the Twin Cities the most, and if you're keen, do it with a goblet of oaky Frontenac red in your grip. Their bistro opens at 11 a.m. on weekends, so indulge in an eggs Florentine breakfast pizza before another day of wine and country roads. Their annual grape stomp comes at the end of every fall harvest. This year, it takes place on September 22 and coincides with the opening of their 12-acre corn maze.
A sharp turn north on Highway 15 takes you to Millner Heritage Vineyard & Winery on the southern tier of Kimball. "John Millner is a pretty unbelievable educator and winemaker," Leslee Miller notes. "It's quite the experience." Millner calls itself "the fun winery," something evidenced by their wine names (for example, Schnickelfritz and What the Foch) and tractor-driven tour carts. Take in the autumn sunset   with an overpour of their inviting Naplemente white.
Finally, a return to the Twin Cities doesn't mean the fun's over. Instead of a lake shore, the understated Urban Forage Winery & Cider House is located on East Lake Street in Longfellow. Kickstarted in 2014 and crowdsourced ever since, Urban Forage is a model of sustainable vinification.
Co-owner Jeff Zeitler uses backyard-grown apples, pears, dandelions, and apricots in fruit wines, ciders, and meads, giving the winery a co-op feel and his wines a fresh-from-the-press taste. Fruit wines are typically by the bottle, but ciders are on tap. The gin botanical cider is both sweet and herbaceous, and the maple-and-oak variant is an exercise in indulgence.
With a belly full of ferment and Minnesota's wine prairie in your rearview, arrive home enchanted. The loop from Minneapolis to Schram to Urban Forage is an unintimidating 163 miles—the rows of grapes, the lakeshore roads, and the wine all within an afternoon's drive. -Jerard Fagerberg
Heading Southeast
The sights alone in southeastern Minnesota are worth the trip—especially in the fall when the leaves turn red and yellow. Stand on any bluff in the Root River Valley, and you'll see wine's stronghold. Among the rolling wooded hills and dusty river vistas are vineyards. Lots of them.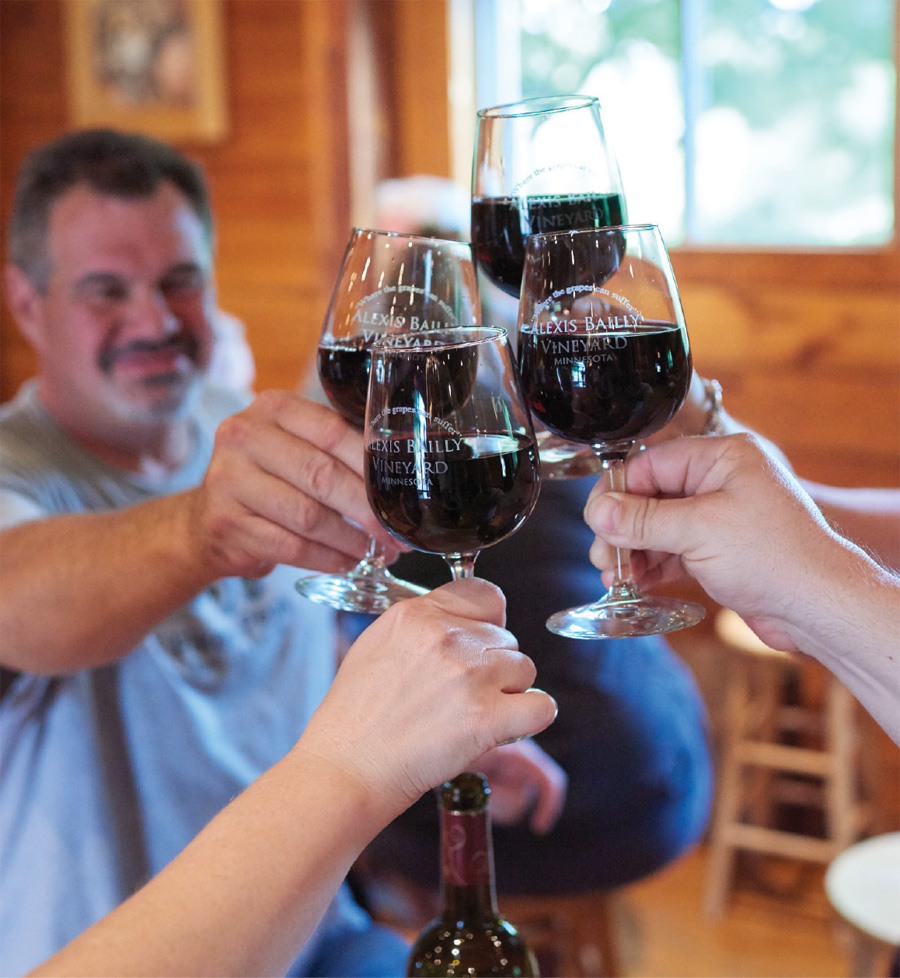 Alexis Bailly Vineyard
photo by david bowman
---
Minnesota wine began in earnest in this part of the state. Ask anyone at Alexis Bailly Vineyard, the oldest in the state, about those early years and they'll likely tell you a story about the tribulations. Yes, their wine once wasn't so good, but that's in the past. Don't believe me? Try the Voyageur red.
Better still is drinking on their estate east of Highway 52 by Hastings. When the weather is nice, the tasting room isn't the centerpiece of Alexis Bailly. Take a self-guided tour of the vineyard, admire the sculpture garden, play bocce on a court surrounded by grapevines, and hear live bluegrass on the patio.
A short drive south leads into downtown Cannon Falls, the home of Cannon River Winery. (Its 20-acre vineyard, which hosts weddings and an annual harvesting event, is in nearby Sogn Valley.) They host casual concerts on their tasting-room patio on weekends, and Ferndale Market, a locavore's dream, is an ideal spot to stock up on picnic materials or grab a quick bite.
The wine is good, too. Good enough that when esteemed wine judge Robert Parker tried Cannon River's Red Blend for the first time this past February, he rated it a respectable 87 points, right in line with wines from Sonoma and Napa Valley. "He was totally blown away," says head winemaker Sam Jennings, who moved from a large-scale Washington State winery years ago.
Over the past decade, Minnesota-made grapes have transformed this sleepy region into an offbeat wine destination in its own right. "Cabernet and Merlot have been around for thousands of years, but our varietals are less than 20 years old," says Jennings. "We have a very pioneering spirit. We've made a lot of progress."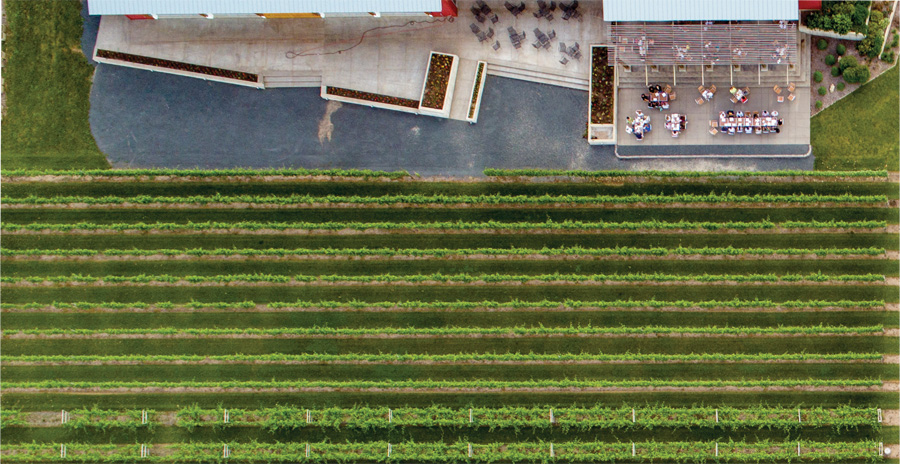 Four Daughters Vineyard & Winery
photo by jamey guy
---
On the back roads continuing south past Rochester, you'll find boutiques and jewelry stores in Harmony and Lanesboro before arriving at Spring Valley's Four Daughters Vineyard & Winery, housed in a remodeled red barn. "It's a much different vibe than other areas," says Justin Osborne, a winemaker at Four Daughters. "We want people to hang out."
A self-guided tour could take an entire afternoon, especially with the Loon Juice cidery and Four Daughters' top-notch restaurant nearby. It's also an entry point into regional recreation: biking, fly fishing, or even spelunking in Mystery Cave, the state's largest at more than 13 miles of underground tunnels.
East of Spring Valley, you'll likely have the valley to yourself. One moment you're gazing out at barns and dolomite bluffs, and the next you're ascending steep hills south with views spanning the Mississippi River. If you time it right, you'll see massive bird migrations, forming like black clouds over the fall-tinted maple and oak trees by the river. For an offbeat overnight stay, the JailHouse Inn in Preston has remade an old sheriff's office into a cozy and quaint hotel with 12 distinctive rooms and lots of historic touches.
Heading east to Winona takes you through the heart of Minnesota's Driftless Area. You'll soon find yourself on the Great River Road, which includes Garvin Heights Vineyards, a roughly three-acre family-owned winery that sits on the hills above Winona and provides some of the best views of the valley. Try a chilled glass of the award-winning La Crescent.
North of Winona is Lake Pepin's burgeoning wine destination. The route follows Highway 61 (in Minnesota) and Highway 35 (in Wisconsin) along the Mississippi northward. Arriving at Villa Bellezza in Pepin, Wisconsin, feels like arriving in southern Italy. Modeled after a Tuscan-style villa, the grounds are fun to explore, especially after a glass of their Cotes du Pepin red, aged in Italian-made oak vats. Hang out on the patio or check out the tower that gives an even better view of the Great River.
Nearby, Maiden Rock Winery & Cidery is also worth a visit; in addition to the Stockholm Red and popular Dolgo Crabapple wine, they make unique ciders and fruit preserves on an 80-acre farm. For another unique stay, Maiden Rock Inn, a converted schoolhouse, is just minutes away.
Finally, check out the wood-fired pizza spot, the Stone Barn, in a newly restored venue just outside Nelson, Wisconsin. Yes, wine is good, but after a day of tasting in Minnesota and Wisconsin, you will need something to soak it up and some time to reflect on your travels. -Joe Donovan
Wine Weekend Essentials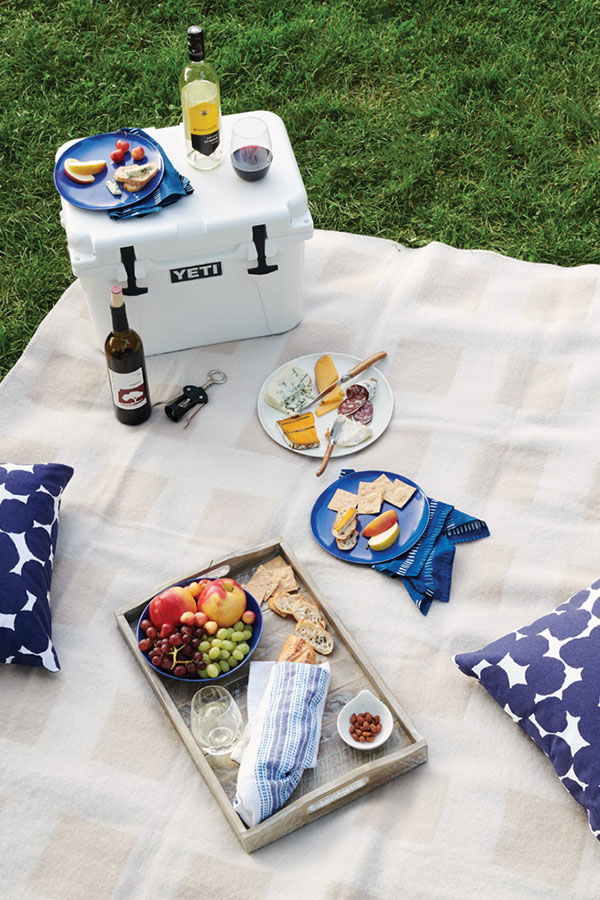 Sources: Midtown Global Market, assorted Minnesota cheeses, crackers, almonds: Grass Roots Gourmet baguette: Salty Tart organic cherries, apples, grapes: The Produce Exchange wool blanket: Forage Modern Workshop
Photo By David Bowman; styled By Mickey Clark
---
Aside from a weekend's worth of outfits and a full tank of gas, Amusée sommelier Leslee D. Miller recommends a few more necessities for your journey.
Govino unbreakable stemless glasses
"By the time you get to your hotel, or if you're stopping and camping, the one thing you're thinking is, 'Shoot—now I'm drinking out of a Solo cup.' Govinos are really nice. They don't really scratch. Get the Bordeaux shape. If you get 12 of them, and if you lose one, nobody's sad." ($17.95 for a box of 4, govinowine.com)
Yeti cooler (or similar), packed with dry ice
"In the fall, you could have days that are 80 to 85 degrees. If you're going from winery to winery, and buying some bottles to take home with you, you definitely do not want to leave your purchased bottles in a hot car. Wine starts to cook itself at 80 degrees, so put your reds and whites in there to stay cool. Get some dry ice, and pack that into a cooler. You'll get a few days out of that sucker." (YETI Roadie 20, $199.99, yeti.com)
Waiter's corkscrew/wine key
Opening a wine bottle should not require any MacGyver moves.
Cheese & crackers, fruit, etc.
"We always pack a couple hunks of cheese and a simple box of crackers. It just makes your experience. Many wineries will allow you to bring your own cheese, crackers, and fresh fruit. Buy a bottle of our wine, sit outside, and eat your own food."
More Minnesota Wine Destinations
Carlos Creek Winery
Located on beautiful grounds not far from a trio of lakes, Carlos Creek hosts its annual grape stomp and fall festival the weekend of September 14-16. Plus, this craft winery is about to add craft beer to the property when 22 Northmen Brewing Company opens in 2019.
6693 County Rd. 34 NW, Alexandria | carloscreekwinery.com
Chankaska Creek Ranch & Winery
Northeast of Mankato, this 25-acre paradise provides ample spots—a tasting room, sculpture park, and more—for sipping a glass of the full-rounded Marquette Reserve.
1179 E. Pearl St., Kasota | chankaskawines.com
Morgan Creek Vineyards
From the wine tastings to signature dining events and the annual Stomp New Ulm (October 6), Minnesota's only underground winery is packed with activity year-round.
23707 478th Ave., New Ulm | morgancreekvineyards.com
North Shore Winery
There's wine way up in Cook County—right in the heart of Lutsen's year-round outdoor pursuits, in fact. Sawtooth Mountain Cider House is also located on the charming premises.
202 Ski Hill Rd., Lutsen | northshorewinery.us
Round Lake Vineyards & Winery
This lovely lakeside spot close to the Iowa border has an extensive bistro menu and hosts a grape stomp September 8.
30124 Minnesota 264, Round Lake | roundlakevineyards.com
---
Digital Extra: Heard from the Grapevine
Listen to the origin story of Minnesota's cold-hardy grapes—the reason for the state's budding wine industry—before planning an autumn trip to our top wineries and vineyards.