Editor's note: The first part of this story recounts last year's Stillwater Harvest Fest—which was, in typical fashion, an event of massive proportions. Organizers recently announced that the festival's annual pumpkin weigh-off will occur virtually this year. Watch the big event streamed life on the Harvest Fest Facebook page. Otherwise, the event is, unfortunately, canceled. Read on to learn about other things to do in Stillwater this fall.
A 1,000-pound pumpkin dangles from a crane as spectators look on with anticipation, positioned behind ropes to prevent injury. The crane's operator is entrusted with a precise task: drop the huge pumpkin from a height of 140 feet to hit two similarly sized pumpkins stacked on the ground.
The crowd starts counting backwards from 10. The pumpkin is released right on cue, tumbling through the air to a soundtrack of gasps and cheers, and then splat: an orange explosion of 3,000 pounds of rind, seeds, and pulp. It seems incredible that a squish could resound with such volume, and it's echoed by the delighted squeals of children rushing in to grab handfuls of pumpkin guts.
The pumpkin drop is one of the highlights of the Stillwater Harvest Fest, an annual celebration of the season, the town, and the fascinating weirdness of enormous squash. The festival kicks off with the St. Croix Growers Association giant pumpkin weigh-off, which features entries from across the Midwest (virtually this year). Growers compete for bragging rights and $25,000 in prize money, and in past years the weigh-off has set Minnesota, Wisconsin, North American, and world records. Some of the behemoth pumpkins tip the scales at over 2,000 pounds—about the weight of a small car.
Once the winner is crowned, the giant pumpkins are displayed throughout the festival grounds for attendees to touch and pose with for selfies. Some pumpkins are brilliant orange, others a more sedate pastel shade. All of them have a cartoonish quality, their bulky girth making them seem like something from a fairy tale.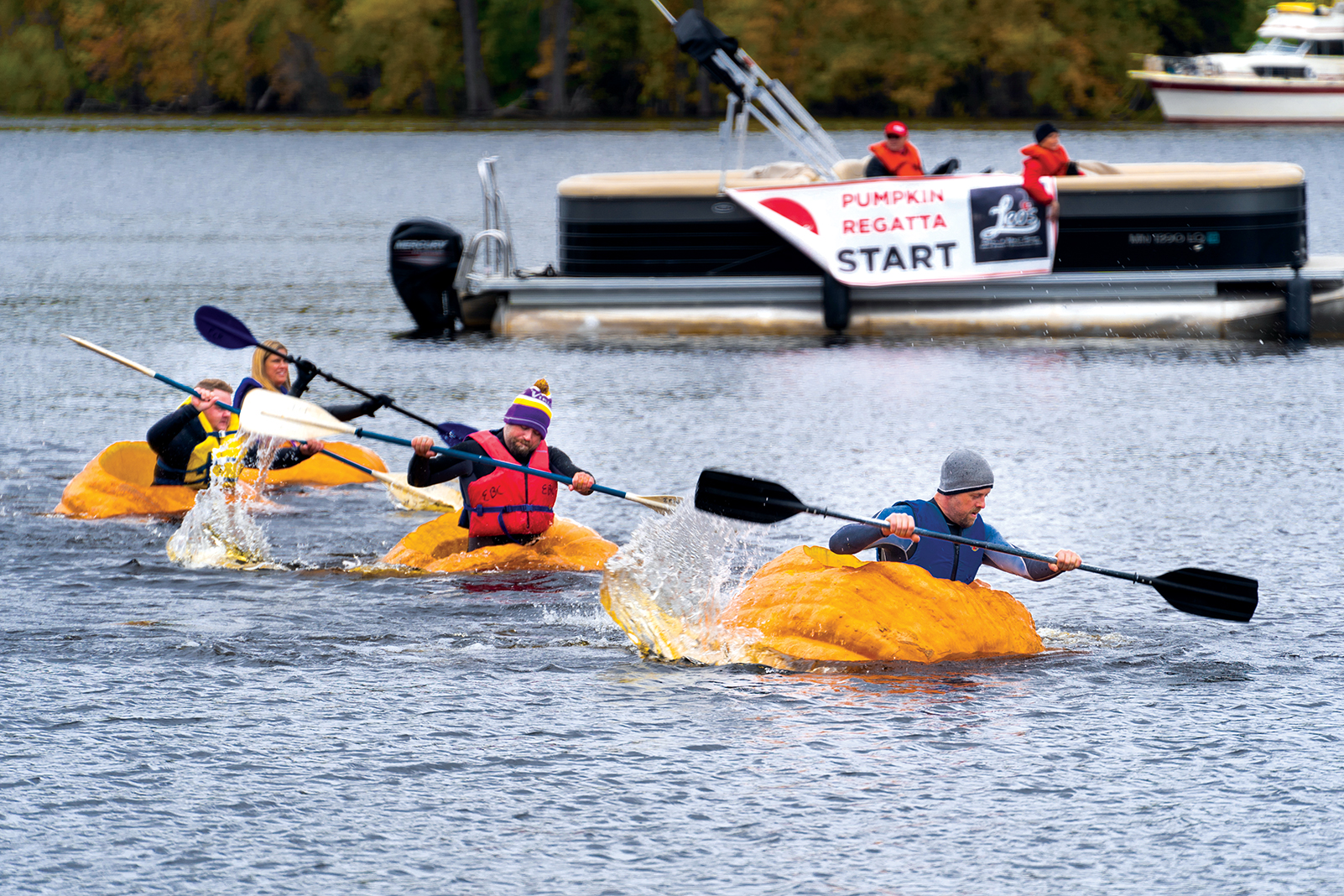 That fantastical quality is on full display at the Pumpkin Regatta, an event in which competitors suit up in wetsuits, climb into hollowed-out pumpkins, and attempt to paddle the ungainly vessels down the St. Croix River.
"This is thoroughly ridiculous, and that's the point," says the announcer over the P.A. system. She explains that at least one of the competitors usually ends up in the river, but a pontoon boat and scuba diver are on hand to ensure the participants' safety. Then the checkered flag drops and the race is on.
Not exactly built for speed, these 900-pound pumpkins gently bob down the river at their own pace, seemingly without regard for the furious paddling efforts of their occupants. One pumpkin veers off course; another looks precariously close to tipping. To the cheers of the assembled onlookers, the winner glides across the finish line in under a minute—or, well, as close as a massive, misshapen squash can come to gliding.
Beyond Harvest Fest, Stillwater has plenty of other activities to offer autumn visitors. For an excursion focused on the great outdoors, the nearby Brown's Creek/Gateway Trail gives seasoned cyclists and novices alike the opportunity to appreciate colorful foliage. Don't want to bring a bike? Stillwater has several rental options, including DIRO Outdoors' self-serve kiosk downtown (use a smartphone app to rent and pay for a unisex seven-speed bike) and Mike's Electric Bikes, which offers an extra boost on steep hills.
Bikers can also take advantage of the Stillwater Lift Bridge's new role: It reopened earlier this year as a pedestrian and bicycle-only bridge. Originally constructed in 1931 to connect Minnesota's Highway 36 with Wisconsin's Highway 64, the revamped bridge is now is part of a loop trail system that includes lookout points with views of the St. Croix River and valley.
Thirsty bikers in need of some refreshment should stop by Maple Island Brewery in downtown Stillwater. On warm autumn days, avail yourself of the dog-friendly patio, and on cooler ones, move indoors to the spacious taproom (currently operating at 50% capacity). The brewery's eponymous Maple Island Bock is made with locally sourced maple syrup for a subtle flavor of fall in each sip. Other autumn-friendly brews include a German-style Oktoberfest and the non-alcoholic maple-flavored root beer.
Downtown Stillwater is also a vibrant shopping destination, with over 50 locally owned retailers ranging from upscale boutiques to nostalgic candy shops (many of which serve up pumpkin spice ice cream during the fall season). One of downtown's more recent retail additions is Minnesota Made, an apparel company offering high-quality T-shirts and sweatshirts manufactured in the U.S. from sustainable and recycled fibers. The shirts are screen-printed locally, with refined Minnesota-themed designs and a hidden quote intended to empower and inspire the wearer.
Another downtown standout is Lora Hotel, which offers a luxurious warmth especially well-suited for an autumn stay. Originally constructed as a brewery in the late 1800s, the boutique hotel is built into the side of a cliff and retains many of the building's original features, like stone walls and vaulted ceilings. Each of the 40 rooms has a unique layout, and if there's a chill in the air, spring for a room with a fireplace.
Lora Hotel specializes in making guests feel pampered, with plush robes, mini bars stocked with local goodies, and workout kits available upon request. They also roll out the welcome mat for pets: Furry guests are greeted with a bed, bowls, toys, and a treat upon arrival, and the room-service menu includes pet-friendly items like house-made dog biscuits.
After a cozy night of sleep, visitors can linger over brunch at Feller, the hotel's sleek restaurant. The menu highlights wild game and foraged ingredients, such as wild boar breakfast sausage, wild rice porridge served with maple syrup, and a salad topped with salmon, local blue cheese, and pickled rhubarb. Order the mimosarita (a tasty mimosa/margarita hybrid) and toast to a truly unique autumn getaway—giant pumpkins and all.
Eat, Play, Stay in Stillwater
Eat
QuickFire Pizza offers classic wood-fired Neapolitan pizzas as well as inventive specialty pies, with gluten-free crust available. Maple Island Brewery boasts unique craft beers, house-made sodas, and free popcorn. A full-service bike shop, Chilkoot Café & Cyclery also serves up house-roasted coffee, scratch baked goods, and meals made with fresh local and organic ingredients.
Play
At Stillwater Escape Co., beat the clock to solve a mystery inspired by the building's original role as a shoe factory. Clues include authentic historical documents.
Stay
Suites at the homey bed and breakfast Cover Park Manor feature whirlpool tubs for two, fireplaces, and private porches. Enjoy a hot breakfast in bed—a multi-course meal is delivered each morning. The Lora Hotel is a stylish boutique hotel offering modern amenities in a historic setting.
Facebook Comments