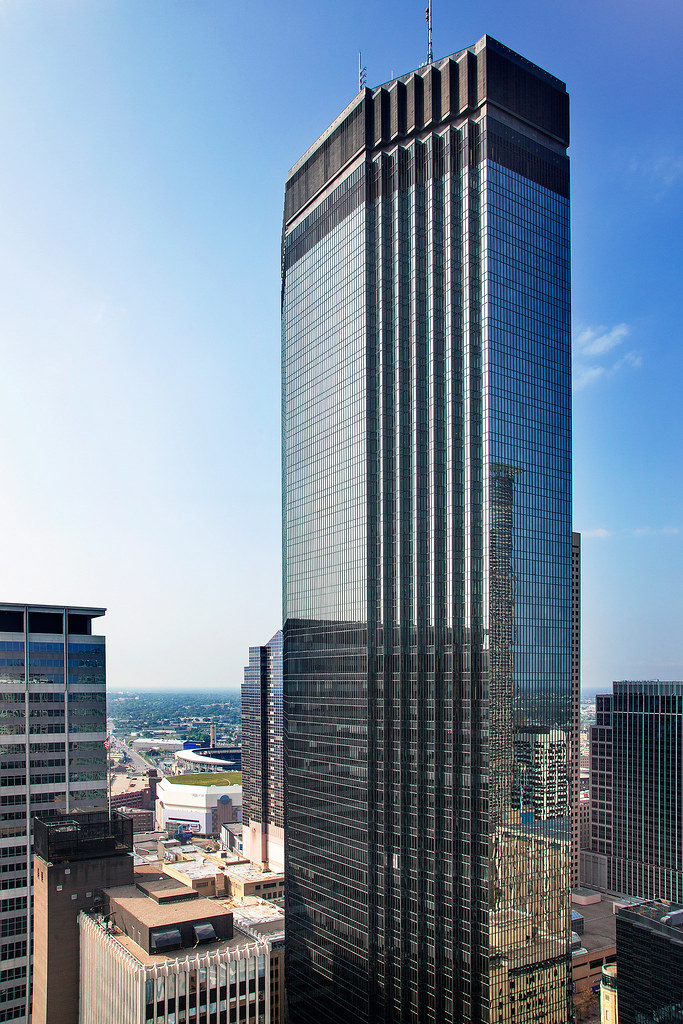 On floor 45, I stop to take a water break. Five more floors to go, and I can already hear the cheering awaiting me at the top. Half of my group is already up there, half is still below me. I sit here with my fiancée and a friend, gathering energy for one final push.
My phone's stopwatch reads 15:30, and my goal is to get to the top in 20 minutes. I know I'm cutting it close, but this break will help me get through five more floors. People pass me, sharing words of encouragement and motivation, which move my group onward and upward. Finally, we finish the journey of 1,280 steps to the 50th floor of the IDS Center.
There, I'm greeted with cheers, sandwiches, Dilly Bars, and a party complete with music and prizes for the top teams. We sit and catch our breaths, meet other climbers, learn their stories, and enjoy the view of Minneapolis from the top of the city. Then I take the elevator down to the main floor, with another successful Climb for a Cure in the books.
The Climb for a Cure is an annual event where participants climb the 50 floors of the IDS Center in Minneapolis—1,280 steps—to benefit the Cystic Fibrosis Foundation. In its 39th year, the Climb has established itself as a tradition in Minneapolis and in my family, where my sister and I were both diagnosed with cystic fibrosis in infancy.
I've participated in the Climb almost every year since 2006. This year I hold the position of "Climb Ambassador." I have been working to recruit others, raise money, and spread the word about the event. On leap day— February 29—I will once again begin the ascent to the top of the IDS Center with my team, the Dinomyte Climbers. It's a chance to raise money for cystic fibrosis research and spend a morning surrounded by family, friends, and others who want to champion a good cause—or simply love cardio.
The Climb features three types: the Fitness Climb, which starts at 7 a.m. and is a timed, competitive event for those who want to race to the top; the Public Safety climb, which starts at 8 a.m. and is also timed and competitive and consists exclusively of firefighters, police officers, and EMTs, who climb in their full gear; and the general climb, which starts at 9 a.m. and is open to anyone who wants to participate—no experience, training, or firefighting gear necessary.
So, what should you expect when you show up to the Crystal Court in downtown Minneapolis? Here are a few tips for climbing Minnesota's tallest skyscraper:
Dress for exercise! You're climbing 50 flights of stairs, so wear leggings, sweatpants, or shorts, and a comfortable T-shirt. It gets hot in the stairwell, so plan accordingly.
A water bottle is nice but not necessary. Every 5-10 floors or so, there are designated water stations with disposable water bottles. Water stations also contain garbages, so no need to worry about carrying anything extra.
Don't forget your watch! Whether it's with your Fitbit, your Apple Watch, or just a phone, this is exercise you'll want logged. And it's always fun to time yourself, even if you aren't climbing competitively.
Don't worry about coats and bags. There are coat racks at the bottom, in the Crystal Court, where you sign in, so you won't have to climb with your purse, coat, or any other luggage you bring.
Take breaks. Training is not necessary, but of course it can't hurt. Climbing 1,280 steps is exhausting, so pace yourself.
Have fun! This event is a unique opportunity to see the city from a new perspective and meet a lot of people. Most of the fellow climbers are social and love to hear and tell stories, so bring yours and share it over a water break.
Facebook Comments