I'm not a skier, so I have to admit that when I first heard a friend speak of "The Loppet" a few years ago I had no idea what they meant. I had to look it up. For those unfamiliar with the term, a Loppet is a Scandinavian term for a long-distance endurance race, or cross-country skiing event. The Loppet is certainly that, but it's so much more, including beer gardens, bonfires, snow sculpture, and yes, even dancing.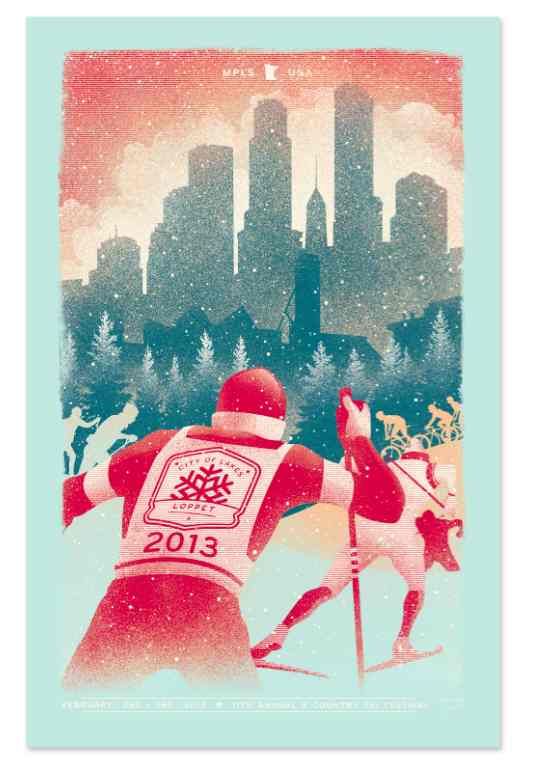 In its 11 year, The City of Lakes Loppet Cross Country Ski Festival is billed as the largest cross-country ski festival in the lower 28 states. With more than 13 events, which include ski races, bike races, snow sculptures, and games played in snow, The Loppet is actually a great way for the entire family to get out and enjoy Minnesota.
This year, the Loppet Festival will return to Uptown Minneapolis, where Lake Street will be turned into a snow-covered ski trail from Lake Calhoun to the Hennepin Avenue finish line. Come out and join the main events as a spectator, or you might even want to register for one of the many races. Some events will even allow day-of registration.
Many of the main events will start from Theodore Wirth Park, including two on Sunday. The Hoigaard's Classic Loppet will pit classic skiers in competition using the traditional style cross-country skiing across a 25 kilometer course. And The City of Lakes Loppet is a "freestyle" race, meaning skiers may propel themselves along the snow in any manner they see fit, most using a skate-style of skiing to navigate the 33 kilometer course. More than 1,200 skiiers are expected to participate. Past City of Lakes Loppet winners include Minneapolis-based Olympians Carolyn Bramante and Caitlin Gregg.
New events for 2013 include the Ski-O Loppet, where contestants navigate a course using a map and compass, and the Penn Cycle Fat Tire Loppet, a new race for fat tire bikers to race up and down the same course that will be used for the skiers. Sounds wild and dangerous to me. Another fun race to check out is the two-dog skijoring Loppet national championships.
The Loppet Foundation conducts the event every year to promote cross-country skiing in the Minnesota area, especially to inner-city youth. This year, more than 600 Minneapolis Public School elementary students learn to ski through participating in the foundation's events. The Minneapolis design firm Duffy & Partners created this year's poster for the annual cross-country skiing festival. The designers drew from nostalgic travel posters and art deco illustration to capture the spirit of this year's event.
2013 City of Lakes Loppet Cross Country Ski Festival
February 2-3, 2013
Minneapolis
Facebook Comments