Photo by terry brennan
---
Categories:
Food
Style
Arts
Leisure
Readers' Picks
---
FOOD
Donuts
It's the analog (and tastier, not to mention probably more tasteful) version of Snapchat: messages that disappear within seconds. Next time you have congratulations, kudos, or appreciation to express, do it in donuts from Angel Food Bakery + Coffee, which made these sweet letters (pictured above).
Global Restaurant
In the race to become the next Chipotle (without the E. coli), we're seeing an explosion in counter-service spots putting a modern, fast-casual spin on flavors from all over the globe. Some of these are national chains: Naf Naf Grill with its tasty shawarma and falafel, Spitz with delicious kebabs and other Mediterranean street food. But local, independent operators have brought us the underrated Afro Deli (serving fare from across the continent) and newcomers Pimento Jamaican Kitchen (killer jerk) and PinKU (Japanese street-cart snacks and sushi rolls). These slick, bustling eateries consistently make international flavors even more accessible.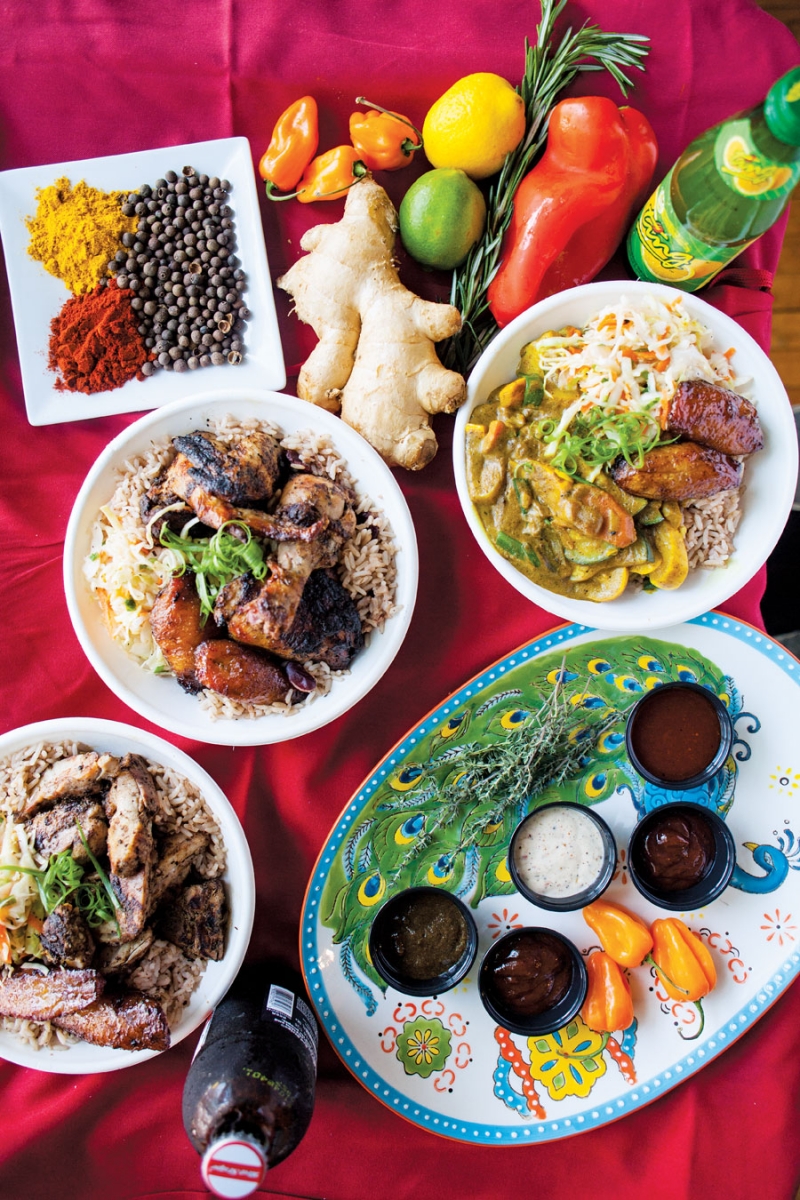 Pimento Jamaican Kitchen
Photo by TJ Turner
---
Booze
Ask hipsters what they're drinking and chances are, it's bourbon (for the non-hipsters among us, that's corn-based, American-made whiskey aged in new, charred-oak barrels). Though bourbon's roots are in Kentucky, it's a natural fit for the Midwest's abundant water, grain, and forests. So finally, we of the bearded, Faribault wool–wearing, unironically-hip-since-before-it-was-hip are getting our first taste of homegrown, handcrafted brown booze. The trend began a few years ago, just across the border in Wisconsin, when 45th Parallel  poured the region's first smoky-sweet grain-to-glass bourbon. Now much more is aging in Minnesota (where our liquor laws took longer to loosen), made with the finest local grains turned mash. For a taste of the good to come, check out J. Carver's bourbon and rye whiskeys, or the single-estate Rocknar Rye from Far North Spirits. Vikre Distillery in Duluth is also making a young-but-delicious Sugar Bush whiskey in small supplies and Tattersall Distilling has its own bourbon in back barrels, quietly biding their time. It'll be a few years, but should be well worth the wait.

Locally made whiskey
Photo courtesy of 45th parallel
---
Sommelier
Women only make up about 15 percent of all master sommeliers, but they're fast making inroads in what's historically been a male-dominated industry. And the Twin Cities women curating the bottles we drink are bringing a fresh, creative perspective to the notoriously stuffy wine world, serving up a combination of unexpected, easy-to-love wines. A few of the best: Erin Rolek at The Bachelor Farmer has assembled a list of unique, hard-to-find, northern hemisphere wines; Brie Roland is getting bubbly drinkers to go beyond the yellow label at St. Genevieve (the $50-a-bottle Loire Valley sparkling wines she's sourced offer great value); Laura Thompson has the best Italian wine-by-the-glass program in town at Terzo; and Mel Guse and Jill Mott are pushing boundaries with funky and strange wines (for example Broc Cellars' Valdiguié made from whole grapes fermented in a carbon dioxide–rich environment) to pair with the cheeses and fermented vegetables at GYST. Raise your glass to better drinking!

Women Wine Pros
Photo by TJ Turner
---
Meat Shop
Alice was onto something when she started up that thing with Sam the Butcher. Among the wisdom she brought to The Brady Bunch was a knowledge that the quickest path to a well-made dinner was to first make that connection with the meat man. Thankfully, the "modern" era's stacks of shrink-wrapped, Styrofoam-packed mystery meat are going the way of the vacuum-tube television as we make like Alice (to some extent) and return to forging a relationship with the neighborhood butcher. Not only are today's butchers working directly with their farmer suppliers, they're buying whole animals and breaking them down on-site to give us access to new and interesting cuts of meat. Plus, the sausages! From lamb merguez, to Ukrainian-style pork links, to Wisconsin-sanctioned brats, to goat sausages, even. And if you need cooking advice, by all means ask. Start by approaching the counters at the pioneering Clancey's Meats and Fish in Linden Hills, or newcomers including the St. Paul Meat Shop, Lowry Hill Meats, or the Seward Co-op.
Pizza
Dinner doesn't get more local than one of the many pizza farms that have cropped up in the region: The often-weekly events draw foodies to the fields for wood-fired pizzas, cooked on site, made with ingredients grown or raised within a crust's toss of the oven. The pizza farms are so popular that the wait for a pie can be more than an hour—and that's in addition to the drive from the Cities. This summer, the Food Building in Northeast Minneapolis launched its Urban Pizza Farm series, bringing the same concept to the city. It may be less bucolic—Northern Fires' ovens are stationed in the building's parking lot—but the pizza is made from just-as-fresh ingredients crafted by companies located in the Food Building: dough from Baker's Field bakery, cheese from Lone Grazer Creamery, charcuterie from Red Table Meats. Picnicking in the grass (they have loaner blankets) while listening to live music is quite the urban idyll.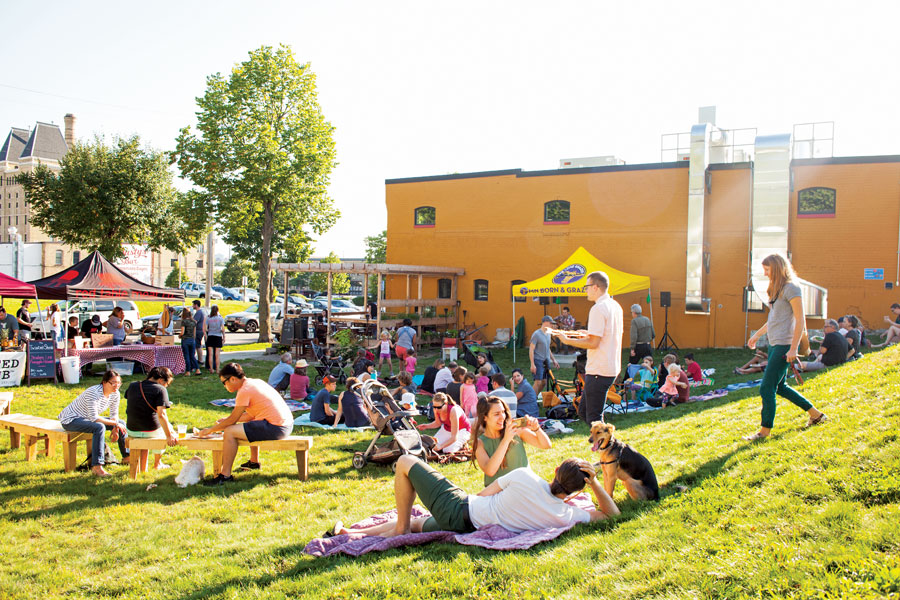 Pizza Farm
PHOTO BY TJ TURNER
---
Local Chain Restaurant
Every 10 minutes, the Green Line light rail makes trips between the downtowns of Minneapolis and St. Paul, and yet so many Twin Citians can go weeks without crossing the river. Thankfully, many of our best restaurants are making the leap for us. Years ago, Minneapolis favorite Brasa opened an eastern location, and St. Paul's beloved Blue Door Pub and Punch Pizza expanded with western branches. These days, we're seeing a rush of river crossers: Minneapolis' Southern star, Revival, is bringing its fried chicken to two St. Paul locations, one on Selby Avenue and the other in the soon-to-be renovated Schmidt Brewery, where it will share space with its current Nicollet Avenue neighbors Hola Arepa and Five Watt Coffee. What's next? How about a Mucci's in Minneapolis? Or a Cafe Latté in Edina? These are proven neighborhood concepts that food lovers on both sides of the river surely wish they had right around the corner.
New Restaurant
Restaurant Alma is among the most Midwestern of bests: quietly strong, consistently serving the highest quality of cuisine, and never one to brag about itself. Looking for a perfectly cooked trout, duck two ways, or buckwheat crepe and a carefully chosen glass of wine to coax out every flavor nuance? They've got you covered. After nearly two decades in business, James Beard–lauded chef/owner Alex Roberts is rebooting the University Avenue restaurant, expanding his empire to include a café, bakery, and full cocktail program—as well as a boutique hotel. (Will they rent by the month, so we can become residents and take all our meals on-site?) The new-and-improved old favorite is scheduled to open (fingers crossed) this month.
---
STYLE
Vintage Boutique
The new Golden Pearl Vintage shop in Northeast Minneapolis offers a fresh take on retro style. With its rectangular chandelier, high ceilings, and uncluttered displays, the Golden Pearl Vintage looks like a high-end designer boutique and owner Audra Frizzell has stocked the store with pieces that are intended to be mixed into a modern wardrobe, rather than a head-to-toe look. Merchandise spans the '20s to the '90s, with special emphasis on the 1970s—an era currently enjoying a renaissance on the runways. The store also carries a selection of menswear and offers in-house tailoring services, so you can wear vintage without looking like you're dressed in a costume.

Golden Pearl Vintage
Photo by TJ Turner
---
Design Concept
A trio of design trends—tiny homes, prefab construction, and reclaimed materials—has come together with Nomadic Shack, a Minnesota-based company offering four types of architect-designed structures, from a 2,800-square-foot, five-bedroom, three-bath design to a 600-square-foot, two-bedroom, one-and-a-quarter bath addition. The "shacks" incorporate reclaimed materials, such as electric pole cross members and barn wood, but they're not at all shabby, with Cambria quartz countertops, and fixtures from Restoration Hardware. The structures, which start at $200k, are delivered and installed within 90 days after construction begins, getting you "up north" as soon as possible.

Nomadic Shack
Photo by Lee Thomas Kjos
---
Clothing Brand  
Last year, Minneapolis fashion designer Kathryn Sieve quit her job at Target to focus on her clothing line, Winsome Goods, full time. She's now turned a retrofitted Airstream into a mobile studio, making stops in Toronto, Montreal, and Manhattan along the way. She's taken the idea of the pop-up shop to a new level—not only can customers shop the goods, they can see how Sieve's minimalist, thoughtfully crafted clothing is sewn in person, whether in Minnesota or Québec.
Women's Boutique
Sustainable fashion—a movement to stop the use of child labor, dangerous working conditions, and environmental hazards that plague the fast-fashion industry—has been one of the biggest international style headlines of the year. Women's boutique Hazel & Rose is leading the charge in the Twin Cities by carrying apparel, accessories, and skincare products exclusively from brands that use ethical, eco-conscious manufacturing and sustainable materials. Founded by Emma Olson, an alumnae of Target (a corporation well-known for its cheap-chic clothing), Hazel & Rose carries goods culled from brands around the world and locally, including Minneapolis' own Winsome, Hackwith Design House, and L. SHOFF jewelry. Move over, Birkenstock, eco-friendly fashion has never been this stylish.

Winsome Goods
photo by Leslie Plesser
---
Men's Boutique
From Martin Patrick 3 in the North Loop to BlackBlue in St. Paul, the Twin Cities hardly lacks in great upscale menswear options. But when it comes to boutique shopping on a budget, men don't have the variety of great options women do, such as cheap-chic chain Primp. That's why the owners of Primp launched its menswear counterpart John Henry, which emphasizes style and value, from its $30 ball caps to $125 moisture-wicking button-up shirts by Mizzen+Main (a favorite dressy look among professional athletes) and $265 chukka boots by Trask. Following the opening of its first store in White Bear Lake last May, the owners promise more locations across the Twin Cities in 2017.
---
ARTS
Actor
Tyler Michaels has been an ascendant young actor in the Twin Cities for the last five years, with a star turn in Theater Latte Da's 2014 production of Cabaret, a near-constant stream of onstage work, and a trail of awards from local media and an Emerging Artist nod from the Ivey Awards. He's an eye-magnet of a performer, capable of outsized expression and stillness from one moment to the next, with a truly precocious sense of presence for someone in his 20s. 
All of which means . . . for an actor? A terrific start, a reputation as a hard worker and a true talent—and few guarantees for the future. So as a next step, he's launching his own company, Trademark Theater, with big ambitions. 
Michaels hopes to produce one show in each of Trademark's first five years—notably, all will be original new works. The first Trademark show, The Gest of Robin Hood, is an adaptation with music that was produced in Workshop at Illusion's Fresh Ink last summer. But in May of 2017, it will get the full treatment—an adventure story interspersed with English and Scottish ballads. 
Michaels' aim with Trademark is to plant a flag in the Twin Cities landscape, though he knows it will be a gradual process. "I need to keep working as an actor," he says. "I can't pay myself a salary in the first year—that would be ridiculous."
He's right, but he also has the gleam in his eye of someone to watch—yes, on stage but also behind the controls—as the Twin Cities theater scene reaches big. View outtakes from the photo shoot with Micahels here.

Tyler Michaels
Photo by TJ Turner
---
Theater
At the Guthrie Theater, Refugia (May 13—June 11) brings the Moving Company—including core artists from Theatre de la Jeune Lune—to Big Blue's proscenium stage in a world premiere exploration of displaced peoples through time in a multimedia, layered approach that evokes cinema and poetry as much as the traditional stage. The new musical GIRL Shakes Loose (April 20—May 14) at Penumbra Theatre depicts a woman's journey after she's finished with graduate school and finds herself wondering what's missing—and where she needs to go to connect with her passions. Premiering at Children's Theatre Company, Dr. Seuss' The Sneetches the Musical (February 7—March 26) sets the surrealistic master of children's lit to music in a tale of humanity's tendency to hold fast to what we think divides us from the "other"—until outside forces come along and blow our minds. (Read more: Theater Venues to Watch in 2017)
Art Venue
Most art galleries and museums offer a refined, rarefied ambiance that attracts a niche audience, not a populist one. "If you go to any art opening in town, it's well-attended," notes Jennifer Pennington, head of the new Can Can Wonderland art space in St. Paul. "But if you go anytime after, it's crickets. And the people who go are always the usual suspects." Can Can's lively, relaxed environment is designed to draw broad, repeat crowds with an artist-designed mini golf course (along the lines of the Walker Art Center's, but indoors) along with art installations, two performance stages, and a beer garden. It's also Minnesota's first arts-based public benefit corporation, a business model that creates income in a way that aligns with a social purpose, giving local artists a more sustainable revenue stream.

Can Can Wonderland
photo by Milo Mietzner
---
Artist
MCAD-trained up-and-coming artist Bobby Rogers employs illustration, graphic design, and photography to portray both the vivid richness of communities of color and a personal fascination with futurism. His work, including Everything is Temporary, is provocative, emotional, and fairly cosmic all at once—with a vision that runs the gamut from the emotionally representative to the far-flung realm of dreams.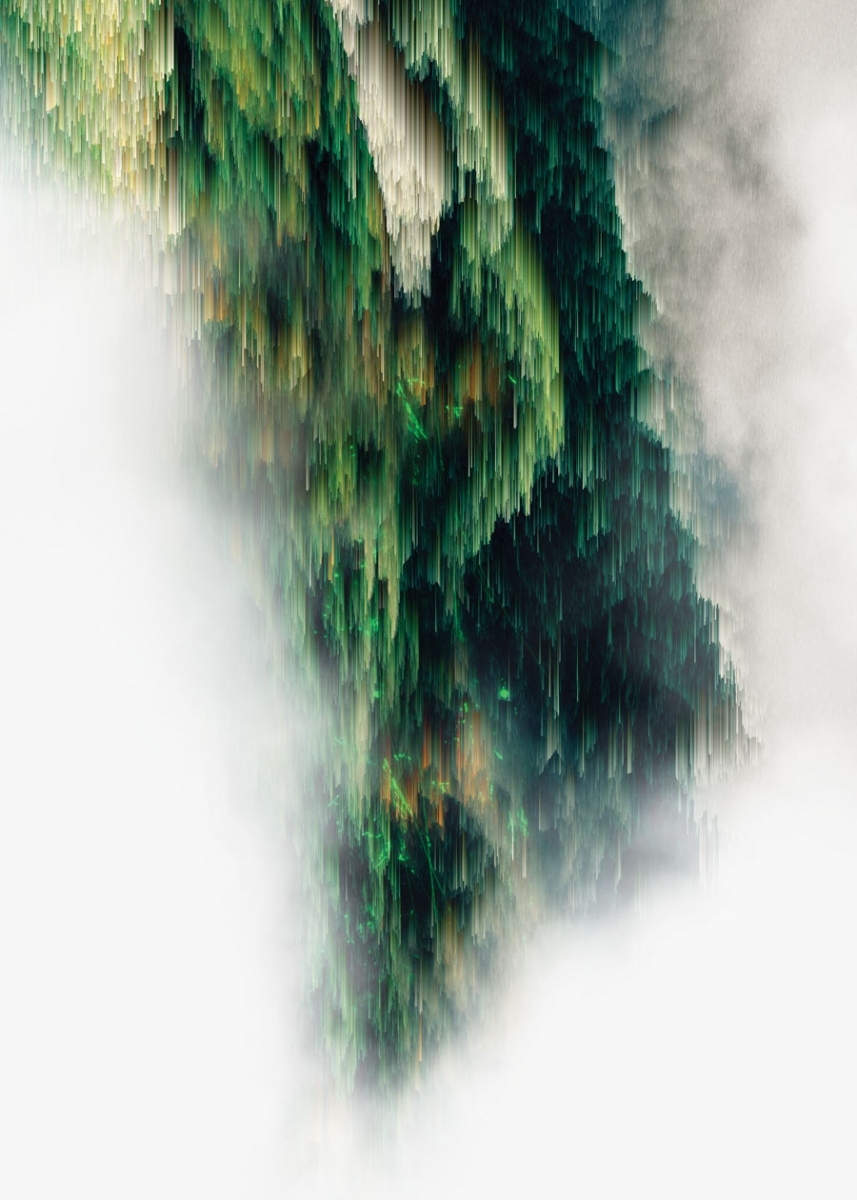 Bobby Rogers' Everything is Temporary
photo courtesy of bobby rogers
---
Author
Well-known for years for his spoken-word performances and poetry, Loft Literary Center staffer Bao Phi has been a crucial voice in the Twin Cities literary scene (the MN landscape features prominently in his work, such as when he name checks Minneapolis neighborhoods Phillips and Frogtown in his fireball poem "You Bring Out the Vietnamese in Me"). In 2017 he'll release Thousand Star Hotel from Coffee House Press, a work that should broaden his reach. It will tackle the weighty paradoxes of fatherhood in the context of estrangement from home and community—a work of resistance, confrontation of silence, and a history lovingly delivered from a parent to his daughter.
Musician
Chastity Brown has been a rising star in the Twin Cities in recent years, a singer/songwriter who mixes strains of folk, blues, and pop with assurance and charisma. At First Avenue earlier this year, she opened for Ani DiFranco and held her own with the six-string goddess. Red seems to be Brown's color lately—she's played the legendary Red Rocks Amphitheater in Colorado with DiFranco earlier this year and signed to Minnesota's Red House Records, which will be home to new album Silhouette of Sirens in early 2017 that should garner attention on a national scale.
---
LEISURE
Park
With the first whistle of Target's Michael Graves teakettle, Minnesota's hometown retailer established a local ethos of bringing good design to the masses. These days, our park system is jumping on that trend with architect-designed overnight accommodations for just $70 a night. In late 2014, the new Whitetail Woods Regional Park near Farmington debuted with a trio of sleek, cedar-and-pine treehouse-like camper cabins designed by HGA, which have been booking out on weekends almost a year in advance. The cabins offer a simple, peaceful overnight stay, with floor-to-ceiling glass framing picturesque forest views (and a lot more comfort than sleeping on the ground, with only fabric as protection from the elements). Due to the cabins' popularity, Dakota County Parks is considering adding more at Whitetail as part of the next capital improvement project, tentatively scheduled for 2018, subject to board approval. Consider our vote a Yes.

Whitetail Woods Camper Cabins
photo by dakota county parks
---
Lodging
Despite the boom in retail and restaurants in the North Loop, the area has been lacking when it comes to lodging. But that's changed with the recent opening of the Hewing Hotel, a buzzworthy new boutique guesthouse built inside a long-vacant, 1897-era warehouse. The Hewing is a 124-room homage to North Loop's logging history, Minnesota's Nordic heritage, and a Northwoods aesthetic; its rooms are decorated with wallpaper inspired by traditional Swedish patterns, custom wool throws by Faribault Woolen Mill, taxidermied pheasants, and old-growth wood beams and posts harvested from the state's pine forests. One of the Cities hottest 'hoods to hang out it is now a staycation destination, too.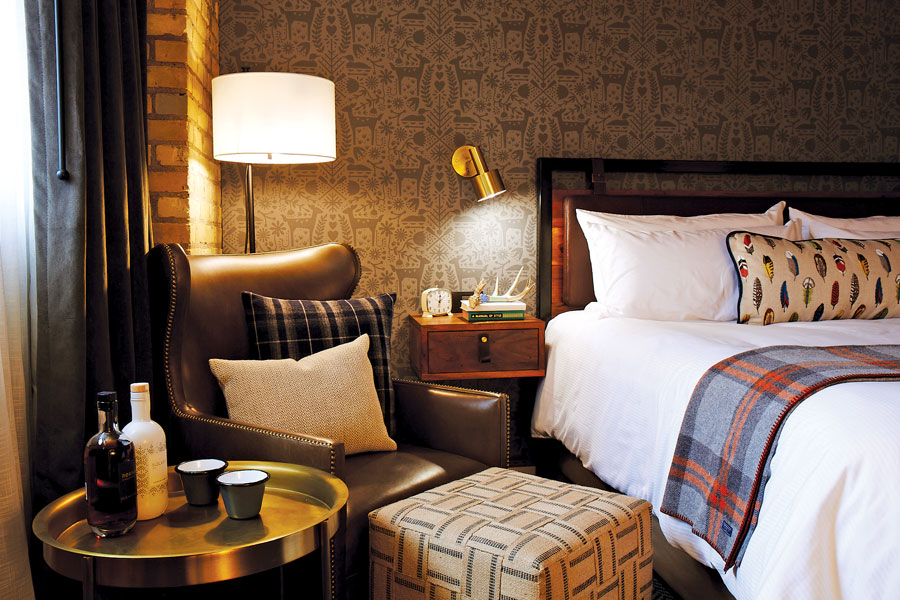 Hewing Hotel
photo courtesy of hewing hotel
---
Recreation Activity
The Summer of Pokémon GO will perhaps go down in history as the catalyst that brought gamers out of their basements, merging their digital devices with the real, physical world, and engaging face-to-face with other players. GO is one part of a new group of In Real Life gaming opportunities that are drawing players out of their virtual worlds to game together, testing their skills and socializing in the process. Several new escape rooms around the metro, such as Trapped Puzzle Rooms and Escape MSP, challenge groups to solve a series of clues to find their way out of a locked room. Uptown's new Up-Down Minneapolis brings back more than 50 arcade games from the '80s and '90s (at the retro price of just a quarter per play). This month, the national franchise Punch Bowl Social arrives at St. Louis Park's West End. It's a sort of Bryant-Lake-Bowl-meets-Pinstripes- on-steroids, pairing a modern restaurant/bar with a bowling alley, karaoke rooms, Skee-Ball, bocce ball courts, and pinball. Game on!
Workout
The new ZeSa workout studio in the North Loop looks like a gym crossed with a circus, with the usual weights, mirrors, and mats sharing space with rings and pulleys suspended from the ceiling. A key piece of equipment is the Activator, a Bosu-like stability ball connected to a rotating plate, which uses balance as a way to build strength (it was invented by ZeSa's founder, Shanti Rainey, a local fitness pro). Classes incorporate weighted movement using the Activators, so lunges, squats, bicep curls, planks, and other "traditional" exercises are done on the unstable surfaces, creating more planes of motion, simultaneously activating more small muscles. It's a balanced—not to mention challenging—workout.

ZeSa
Photo by Maxine Whitely
---
Outdoor Activity  
The Nice Ride public bike sharing system launched in 2010 and has contributed to the Twin Cities' reputation as one of the best biking cities in the nation. Now there's a similar paddling service on the river (perhaps putting us in the running as the best kayaking city in America?), which is the first of its kind in the National Park Service. At the Mississippi River Paddle Share station in North Minneapolis Regional Park, paddlers rent a kayak, paddle, and life jacket for $30: all the gear necessary for the 3.9 mile trip downriver. At Boom Island Park, paddlers place all their equipment in a return locker, then hop on a nearby Nice Ride bike to pedal back to the beginning boat launch. The journey isn't recommended for first timers (only those 18 and older are allowed to paddle) and the service reopens again next spring.
---
READERS' PICKS
Congratulations to the winners of Minnesota Monthly's Best Of The Cities Readers' Choice Survey:
 
Food
New Burger
Win
Red Cow Restaurant & Bar
Place
Victory 44
Show
Parlour
 
Local Pizza Chain
Win
Punch Pizza
Place
Pizza Lucé
Show
Red's Savoy Pizza
 
Sushi
Win
Fuji Ya Sushi
Place
Masu Sushi & Robata
Show
Origami Restaurant
 
Dive Bar
Win
Liquor Lyle's
Place
Half Time Rec
Show
CC Club
 
Special Occasion Restaurant
Win
Manny's Steakhouse
Place
Restaurant Alma
Show
Meritage
 
New Restaurant
Win
Upton 43
Place
Mucci's Italian
Show
St. Genevieve
 
---
Style
Women's Clothing Shop
Win
Bluebird
Place
Grethen House
Show
Bumbershute
 
Men's Clothing Shop
Win
Martin Patrick 3
Place
BlackBlue
Show
Heimie's Haberdashery
 
Salon
Win
Root
Place
Jon English
Show
Spalon Montage
 
Designer Consignment/Thrift
Win
Fashion Avenue/Fashion Avenue 2
Place
Rodeo Drive
Show
GH2
 
Shopping Center
Win
Mall of America
Place
Galleria
Show
Ridgedale
 
Home Goods/Décor
Win
The Foundry Home Goods
Place
Forage Modern Workshop
Show
Pharmacie

---
Arts & Entertainment
Theater
Win
Guthrie Theater
Place
Ordway Center for the Performing Arts
Show
Children's Theatre Company
 
Art Museum
Win
Minneapolis Institute of Arts
Place
Walker Art Center
Show
Weisman Art Museum
 
Concert Venue
Win
First Avenue
Place
Xcel Energy Center
Show
Dakota Jazz Club
 
Art Fair
Win
Art-a-Whirl
Place
St. Paul Art Crawl
Show
Edina
 
Local Musician(s)
Win
Atmosphere
Place
The Jayhawks
Show
Lizzo

Local Author
Win
Kate DiCamillo
Place
Louise Erdrich
Show
Dylan Hicks 
 
---
Culture & Leisure
Weekend Getaway
Win
North Shore
Place
Stillwater
Show
Brainerd
 
City Neighborhood
Win
Calhoun / Isles
Place
North Loop
Show
Mac Groveland
 
Suburb
Win
Excelsior
Place
Roseville
Show
Eden Prairie
 
Gym
Win
Lifetime
Place
YMCA / YWCA
Show
Anytime Fitness
 
Sports Team
Win  
Lynx
Place
Wild
Show
Vikings
 
Festival
Win
Minnesota State Fair 
Place
Rock the Garden
Show 
St. Paul Winter Carnival
Facebook Comments