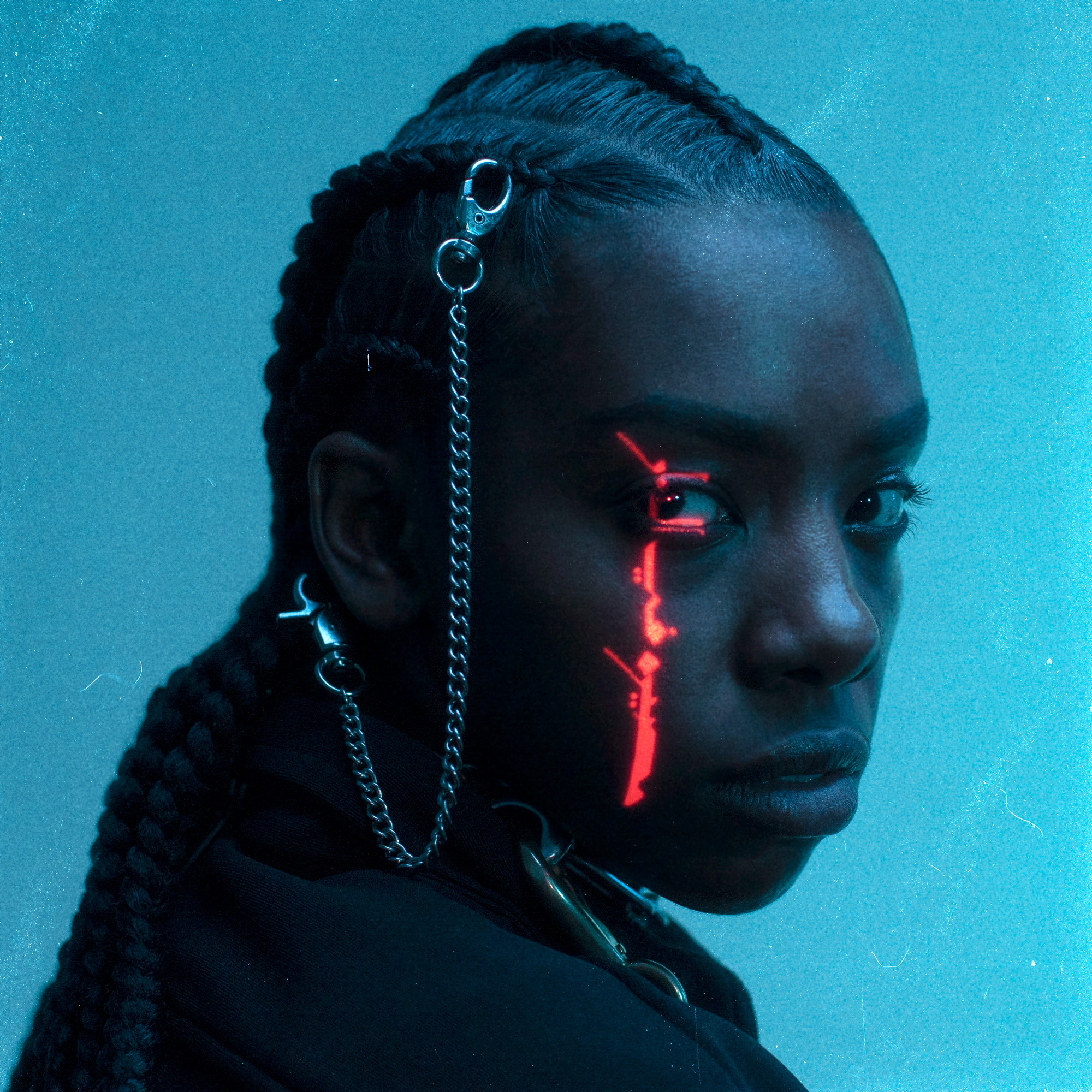 In the weeks and months following the killing of George Floyd at the hands of Minneapolis police, people across the Twin Cities have come together to demand justice. One of those people is local artist, songwriter, and poet Dua Saleh. Saleh, who is non-binary, was born in Sudan but raised in the Twin Cities.
Like many, Saleh felt an intense sadness after George Floyd was killed. They released a single addressing police brutality at the end of May titled "body cast," featuring haunting production by Psymun. The cover art is a litany of names—all Black Americans killed by police in recent years. It features a 2019 viral recording of a Black woman Angela Whitehead standing up to two white police officers who entered her home without a warrant in Montana.
Just weeks after "body cast" was released, Saleh put out their second EP, titled ROSETTA. The project features six tracks examining Black queer identity. Though they are relatively new to the Twin Cities music scene—their first single arrived in 2018—Saleh's work has received attention from Pitchfork, Rolling Stone, Paper Magazine, and more.
Minnesota Monthly asked Dua Saleh about "body cast," ROSETTA, activism in Minnesota, and more.
https://www.instagram.com/p/CA0b_bbn_U0/
Work on "body cast" began last year, and you released it earlier than planned to support the movements fighting for justice for George Floyd. What originally inspired you to create a track about police brutality?
I wrote the track while my community and I were still processing the trauma of Jamar Clark and Philando Castile being murdered by police officers in the Twin Cities. Many people in my community were still suffering from PTSD after watching the videos circulate and encountering state-sanctioned violence at the frontlines of protests. I was thinking about those things and the after-effects of protests in Minneapolis/St. Paul. I was writing from an emotional place.
Funds from "body cast" are going to Women for Political Change. What does this organization do?

Women for Political Change is an organization in Minneapolis committed to resistance work. They mobilized around the uprising after George Floyd's murder. They helped distribute essential supply needs, provided rides for protestors, and are now helping resource Black women and Black Trans/Non-binary people. I wanted to work with this specific organization to ensure that the money is redistributed to those in the community.
How did you create "body cast" and what was that experience like?
Psymun, the executive producer of my latest ROSETTA EP, sent me a dozen songs one weekend. Most of the ideas were just loops, but one track already titled "body cast'" was more finished. I had already written some lines down because I was reflecting on police brutality, and the instrumental brought my words to life. He asked for a video to sample for the song and I sent him two options, the first was Angela Whitehead's video and the second was Sandra Bland's. Angela Whitehead's voice ended up being the best fit to open and close the song.
Given your background in poetry, what does your writing process look like? 
I don't really have one particular writing process. I'm very melody oriented so that part is easy. Words also come easy, but they come about in many different ways: freestyling, freewriting, poetry, etc. A song can manifest from anywhere really, even from me looking up random facts.
You have been an advocate for racial justice and LGBTQ+ rights in Minnesota and nationwide. How does your music, both "body cast" and your other projects, try to address those issues?  
It comes naturally because I'm writing from personal experience. It's never my intention to speak for my communities. I'm just relaying my story, my observations, and whatever flows through my mind.
More broadly, what is the role of music in social advocacy?   
It can be used for narrative building, which is an essential part of the education process.
How would you define your experience living in Minnesota, and what has your reaction been to the protests and uprisings that we've seen here in recent months?
I love the community in Minnesota that holds me; it's where I was radicalized. But I feel torn about my love for Minnesota as we continue to witness stark institutional violence. I see the movement working towards more healing, restorative, and transformative models of resistance. It's very inspiring to me.
Your new EP, ROSETTA, explores purity, power, pain, identity — what do you hope listeners gain from it?  
I hope listeners get whatever they need from the project. Music has its own personal relationship for everyone so it's not really for me to say. I would like to mention that I intended the project to center radical Black queer love. I named it after Sister Rosetta Tharpe, a Black queer woman from the 1930s/'40s that inspired artists like Little Richard, Chuck Berry, and Elvis. Music experts and researchers credit her as the inventor of rock 'n' roll, especially because of her inventive guitar playing and her tenacious rock growl.
With live performances canceled during the COVID-19 pandemic, how have you adapted?
Making art has been in the back of my mind. I've mainly been focusing on caring for my community after the uprising hit. COVID-19 is also on my mind because I've been sick (although I tested negative)—it's a very difficult time for art-making. But I've been inspired lately by Minneapolis artists who have been putting out tremendous work.
Artists have been adapting with the times to find creative ways to perform. Many people are doing live streams or have alternatives for creating in these times. It's amazing to see how creative people can be. I really miss feeding off of people's energy at live events. I really wanted to experience my fans' initial response to the ROSETTA EP live, but I prefer to keep my fanbase safe from exposure. I hope people are taking the necessary precautions at this time.
Facebook Comments