The annual Red Dress Collection fashion show came to Minnesota three years ago, bringing along its mission: fashion for a purpose. A benefit for the American Heart Association's Go Red for Women program, the show raises awareness of heart disease in women by enlisting Minnesota fashion designers to create custom red dresses for local notables.
This year for the first time, guys got into the mix. Todd Walker, a reporter for Fox 9 News and columnist for Mpls.St.Paul Magazine, donned a crimson, quilted-satin smoking jacket and whimsical bowtie by designer Russell Bourrienne. Personal trainer Kirk DeWindt, who had a moment in the national spotlight when he appeared as a contestant on The Bachelorette in 2010, walked the runway in a deep-red, shiny tuxedo by Tim Navarro of Tim+Thom that featured a sporty hood. Minnesota Viking Greg Jennings strutted in a (decidedly non-red) look from North Loop menswear store MartinPatrick3.
But the evening truly belonged to the women. Host, founder, and co-producer Carly Aplin introduced the show by sharing the stories of Jennifer Thorson, a marathon runner who suffered a heart attack at 37, and August Watson, a child who has undergone four heart surgeries. Both wore designs by Thom Navarro of Tim+Thom that attempted to make things interesting by incorporating a brocade textile, which read a bit heavy and upholstery-like. (As my seatmate quipped, "It's like when Scarlett makes off with the drapes in Gone with the Wind!") Nonetheless, the silhouette and fit were both well-executed, and both heart disease survivors beamed as they confidently walked the runway.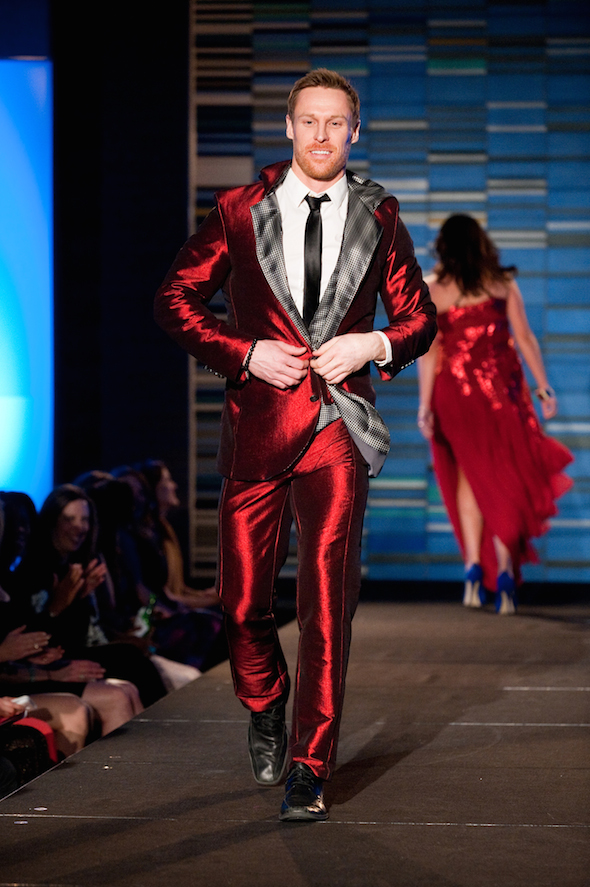 Kirk DeWindt in a design by Tim Navarro of Tim+Thom
Minnesota Viking Greg Jennings in a look from MartinPatrick3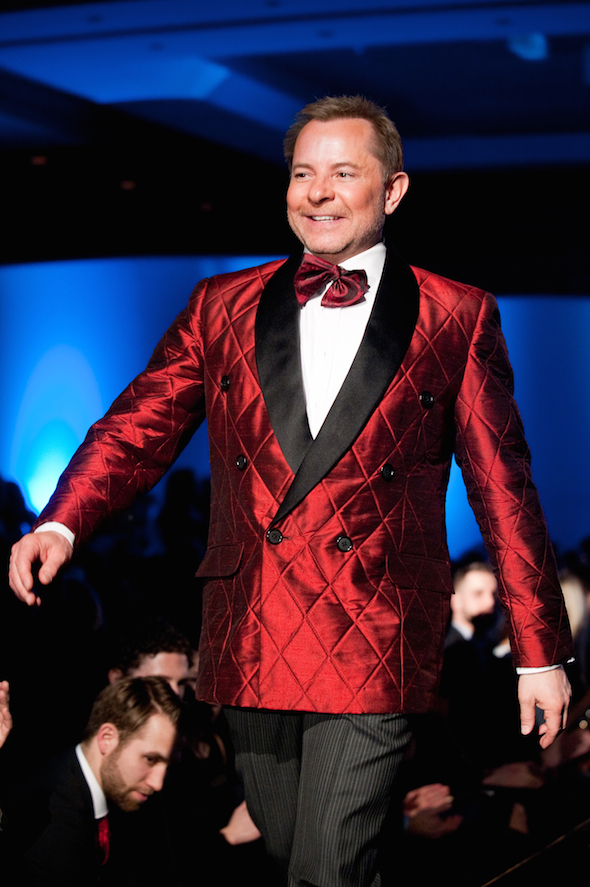 Todd Walker in a jacket by Russell Bourrienne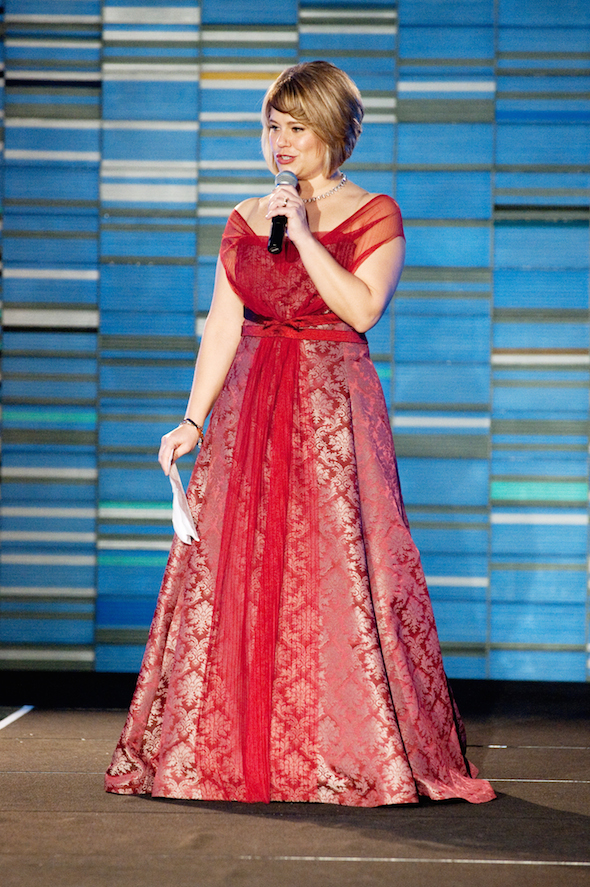 Heart disease survivor Jennifer Thorson in a design by Thom Navarro of Tim+Thom
The evening's best-known model, singer Kat Perkins of The Voice fame, kicked off the runway show in a design by Laura Fulk. While Perkins did her best to sell it, the waist sat way too high on her, making her torso look boxy. But the silk-satin fabric was gorgeous and the sharp shoulder details perfectly suited the singer's edgy style.
KDWB morning show host Falen Bonsett was next in a strapless, gingham taffeta gown with a ruffled, sweetheart neckline by Emily Trevor. In theory, "gingham taffeta gown with a ruffled sweetheart neckline" shouldn't work, but it looked truly adorable on Bonsett—like a very chic picnic blanket. (Though I felt the floral head wreath nearly overwhelmed the look.) Lindsey Hopkins also went for a bold pattern in her dress for KARE 11's Kim Insley. While it had potential, the shape of the dress was simple and rested too much on the print. With a more streamlined or more interesting silhouette—say a v-neck with delicate straps—it could have worked.
Alix Kendall, an anchor and reporter for Fox 9 News, donned a pair of hand-knit separates by Mary Pranica. While impressively constructed, the pieces didn't seem to go together. I would have preferred a dress version of the skirt, playing up on its lattice-like detailing.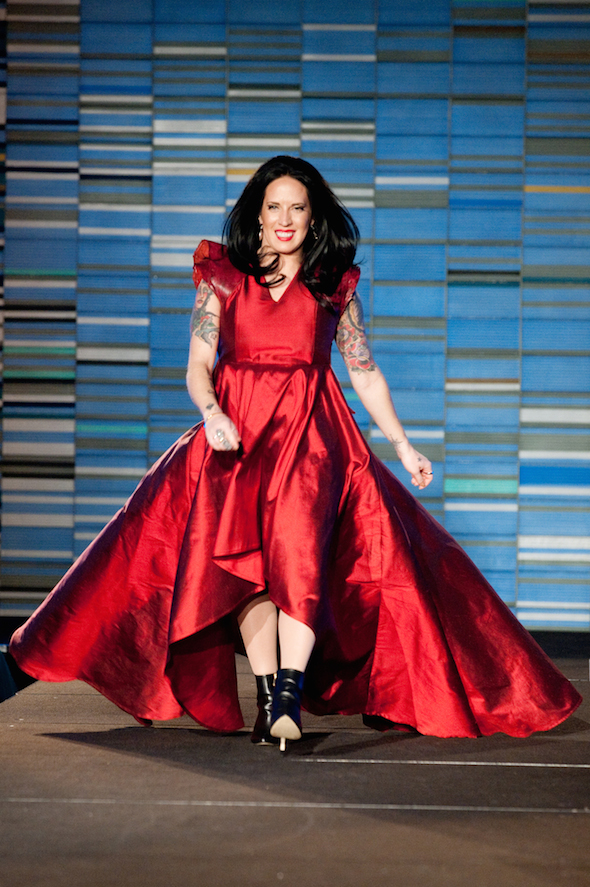 Kat Perkins in a design by Laura Fulk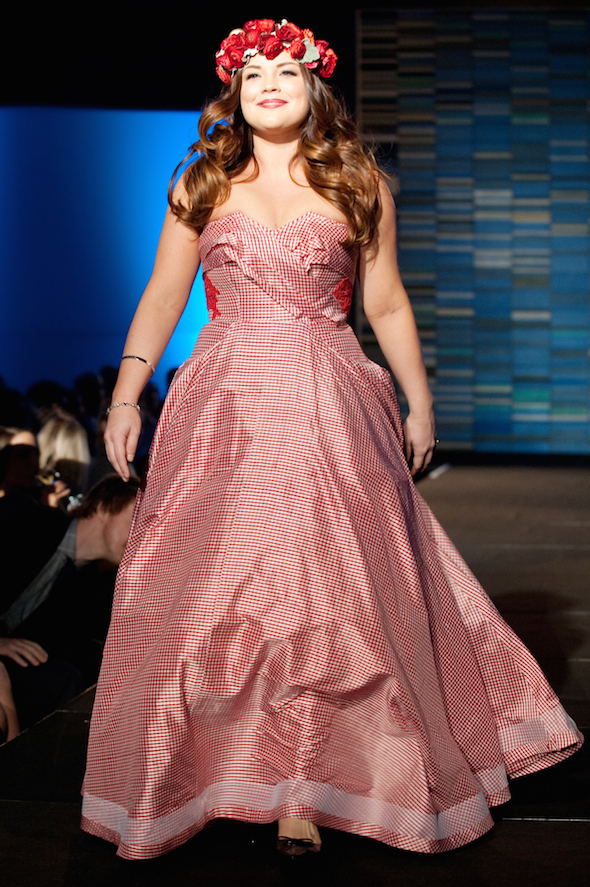 Falen Bonsett in a design by Emily Trevor
Kim Insley in a design by Lindsey Hopkins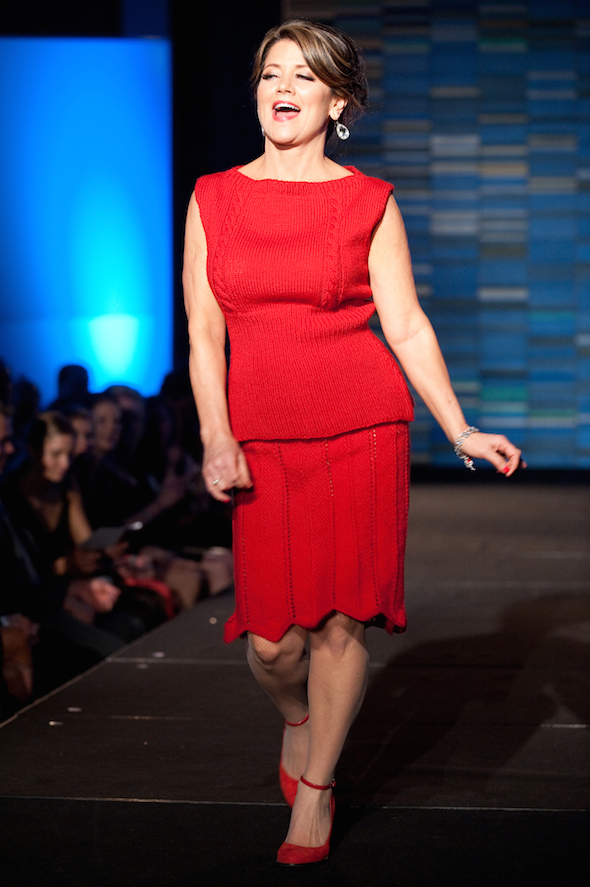 Alix Kendall in a design by Mary Pranica
A dress created by Emma Berg for Executive Vice President of US Bank, Mary Blegen, looked like liquid fire as it came down the runway. She achieved a wearable design tailored to her client's needs without sacrificing her artistry, as in the dress' subtle 1940s callout in its shoulder detailing and gathered waist. (Plus a well-deserved shout-out goes out to Berg for creating such a gorgeous rolled hem. It's not an easy thing to achieve.)
Another designer, Christopher Straub, opted for a brocade fabric for his red dress for Ali Lucia, a WCCO News anchor and reporter. The tricky thing with brocades is that they can look heavy and dated, especially when you add a hip flounce into the mix. But his instinct to go strapless went a long way to making the gown look a bit more fresh, as well as glamorous and red-carpet ready. Before the show, Straub said the dress took him out of his comfort zone, and I'd say his risk paid off.
It was clear that Kim Pominville, a dancer and acrobat who is married to Minnesota Wild player Jason Pominville, was having a ball in a burgundy, feather-trimmed mini-dress by Tessa Louise. While it definitely looked like something fun to wear out dancing, it didn't seem like there was much actual design involved.
Mary Blegen in a design by Emma Berg
Ali Lucia in a design by Christopher Straub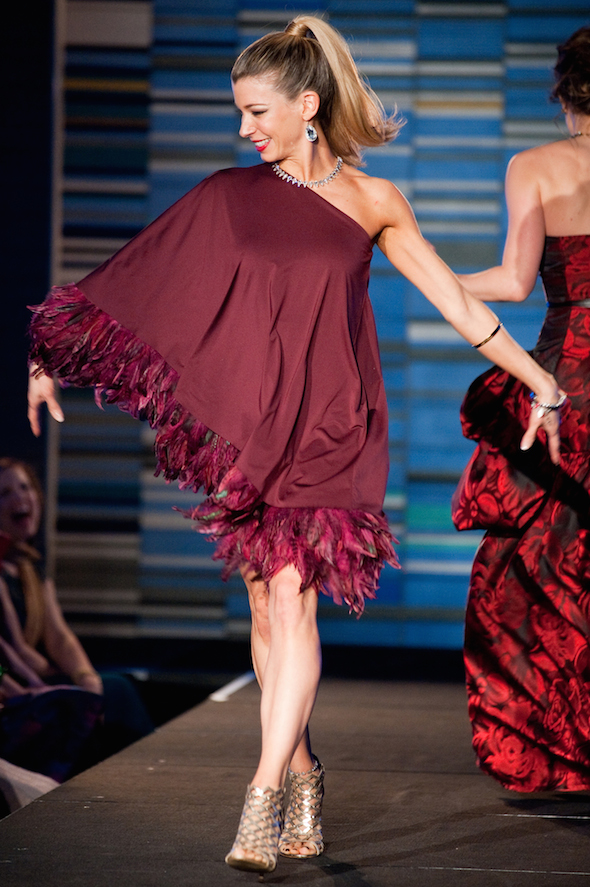 Kim Pominville in a design by Tessa Louise
Designer Caroline Hayden had the decks stacked in her favor with her model: stylist Hollie Mae Schultz, who, at a statuesque five-foot-eleven, is a former model and dancer. She pulled off Hayden's Studio 54-echoing, siren-red-silk, caped gown with a thigh-slit to the hip as only Schultz could. To Hayden's credit, this is one of the handful of looks on this runway I could see ending up on the Hollywood red carpet.
Ivan Idland attempted to bring his signature graphic pattern work to his dress for 93X radio host Ali Mattacola, but despite an intriguing idea—contrasting red silk with red sequins—it didn't work in execution. The drop-waist shape of the dress obscured Mattacola's figure, the bust looked pinched, and there was simply too much fabric worked into the skirt of the dress. Perhaps if he would have incorporated the grid pattern into a simpler, figure-skimming silhouette, it would have worked.
Kjurek went for a sporty vibe for their look for KARE 11 reporter and anchor Adrienne Broaddus, but the overall effect read a bit too casual for the event. But my main issues were with the bunching at the waistline and the ill-advised slit under the bust, which made it look like an extremely high-waisted skirt and sports bra combo. Laine Sou Weinberg of Kokoon also tried for casual with her mesh dress for Natalie Nyhus, but the resulting look was underwhelming, if well-made.
Hollie Mae Schultz in a design by Caroline Hayden
Ali Mattacola in a design by Ivan Idland
Adrienne Broaddus in a design by Kjurek
Natalie Nyhus in a design by Laine Sou Weinberg of Kokoon
WCCO News' Liz Collin wore a halter-neck gown by Elizabeth Klebenow that attempted to take tie-dye to the red carpet. Unfortunately, the result wasn't very sophisticated, and looked a little like a murder scene. George Moskal fared slightly better with his hand-dyed textile in his design for Cathy Wurzer of MPR News. Moskal does textile design by day, and it's no surprise—he has an eye for color and pattern. Unfortunately, it was let down by a droopy bust and unfortunate black sequin waistband.
Samantha Rei served up one of the evening's few cocktail dresses, and though the back of her look for Irene Viveros (Miss Minnesota Latina 2014) was lovely—two pieces of silk chiffon coming together with a rhinestone brooch—the effect in the front looked like bandaging. It's too bad, because the patterned textile and basic shape of the dress worked for me. But Adrienne Yancy struck gold with her scarlet cocktail dress with perfectly placed lace detail and a deep-v that went into a bell-shaped skirt. It fit her model, Fox Sports North reporter Jamie Hersch, like a dream.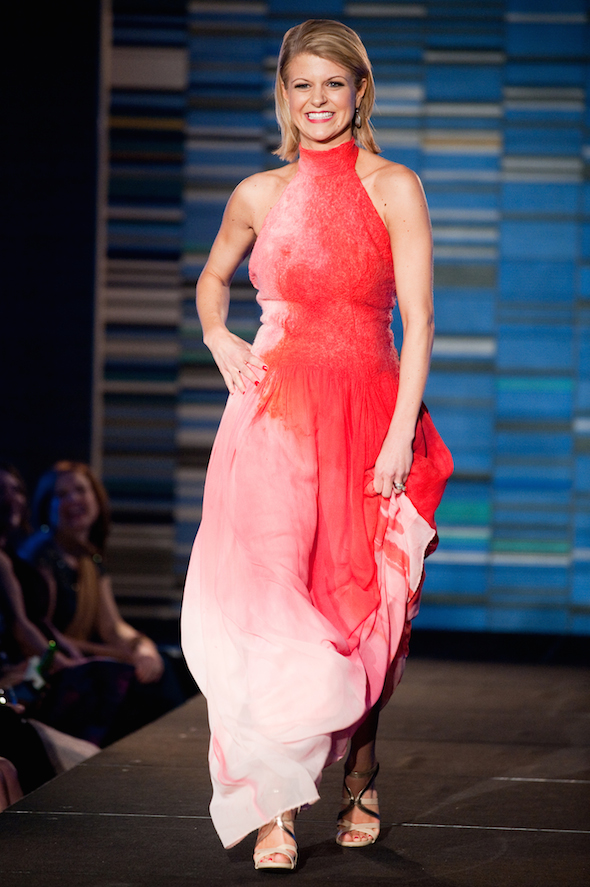 Liz Collin in a design by Elizabeth Klebenow
Cathy Wurzer in a design by George Moskal
Irene Viveros in a look by Samantha Rei
Jamie Hersch in a design by Adrienne Yancy
Facebook Comments