Celebrating nearly half a century of talented designers, the University of Minnesota kicked off its 47th annual apparel design fashion show Saturday. As a summary of their degree, thirteen student designers showcased their unique collections on the runway at the College of Design. From punk-inspired designs to bridal gowns and ready-to-wear to couture, it was a night full of pleasant surprises.

design by Lauren Smith
The show kicked off with Lauren Smith's playfully mature 1950's inspired ready-to-wear line. Through pops of color, hints of patterns, and contrasting fabrics, Smith created a collection that was chic and fun. Crafting a sense of depth and visual interest she mixed sheen and matte fabrics, as well as solids with accents of gingham print.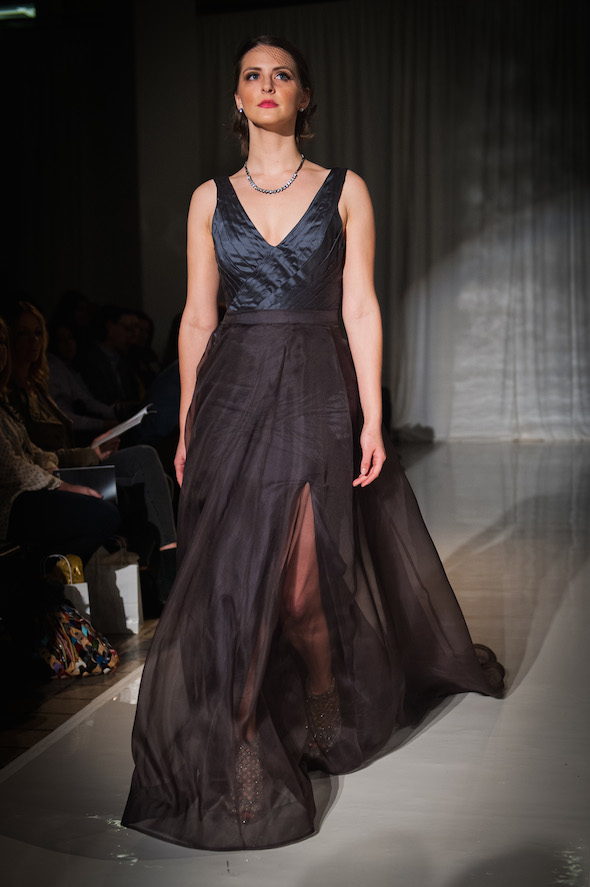 design by elizabeth davelaar
Following the trend of mixing fabric Giselle Yuer Wei blended sheer and opaque fabric in her collection of evening wear, and Elizabeth Davelaar followed suit with her bridal gowns. These two swapped out trendy lace for sheer fabric, such as organza and chiffon, calling for soft and feminine gowns.

design by Giselle yuer wei
It was a breath of fresh air to see Wei and Davelaar incorporating new colors into the traditional palette of evening and bridal gowns. Influenced by the sky at dusk, Wei introduced copper into her evening gowns, while Davelaar went for a modern twist by introducing gold and black into her bridal collection.

design by tess ross
While simple silhouettes, neutral colors, and geometric shapes seemed to dominate the runway, Tess Ross decided to take a different approach by piercing the runway with bright colors and exaggerated hipped couture dresses. Ross' Art Nouveau styled prints were a nice change in pace from the dominant geometric shapes and angled lines seen repeatedly throughout the show.

design by anna peshock
Anna Peshock also took a different route with her unique and innovative swimwear quickly grabbing the attention of the audience. Inspired by her recent travel adventures each of Peshock's designs were influenced by different countries around the world. With long draped pieces, sheer illusion fabric, a blend of nylon and spandex, and abstract designs Peshock's collection appeared to have characteristics of ballroom dance, gymnastics and swimwear. Adding to her impressive designs was her use of texture through beading, yarn and feathers.

design by lauren kacher
Lauren Kacher really got the audience talking with her use of texture by incorporating oil slick geode formations into her punk-inspired leather jackets. And Jared Jurentkuff shocked the crowd with his drag queen and go-go dancer costumes contrasting hard and soft with velvet and leather. 
Through a variety of avenues and vast array of interests, it was a one-of-a-kind fashion show filled with innovation, talent, and dedication.  And although the show is over, I have faith that these designers will continue to pleasantly surprise us as they venture out into the world of fashion.
Facebook Comments