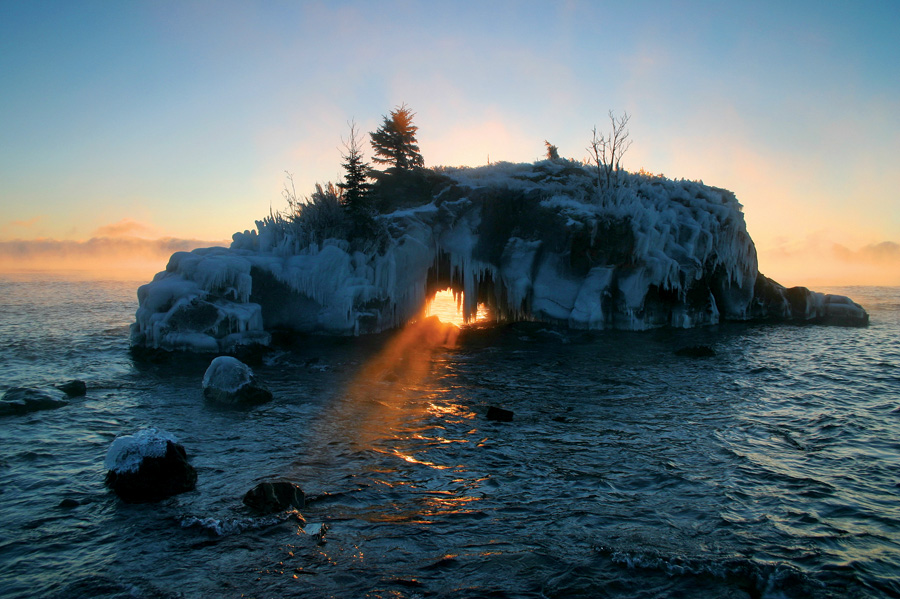 Light bursts through ice and stone beneath Lake Superior's Hollow Rock, Photo by Travis Novitsky
The snow can cause less than ideal conditions, from travel delays to wet socks (if ill-prepared), and below freezing temperatures sends unwanted shivers down our spines, or traps us indoors. But Minnesota winters also provide some of the best and most beautiful natural phenomena that can only be seen at this time of year. Just take a look:
 
Hoarfrost
Occasionally when the weather is milder, the first morning light awakens a glorious wintry scene in which every surface in sight is covered in delicate hoarfrost. From a distance, the forest looks as if it's cloaked in a fine, downy coat of white. Trees appear as though they're adorned in glinting, silvery feathers, and intricate patterns emerge from fences, creating a dreamlike world of wonder.
This rare beauty occurs when the humidity is 100% and the temperature is at or below freezing, causing water vapor to crystallize into ice. Hoarfrost endures in calm, cool air, and its presence is fleeting. As the sun climbs higher in the sky, the gossamer crystals disappear as quickly as snowflakes on the tongue.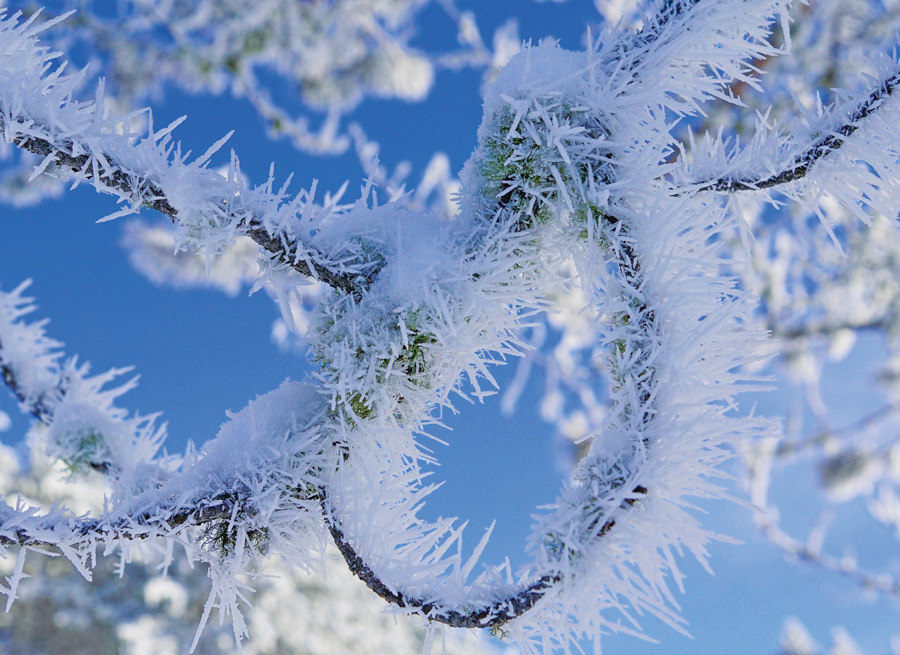 Photo by Paul Sunberg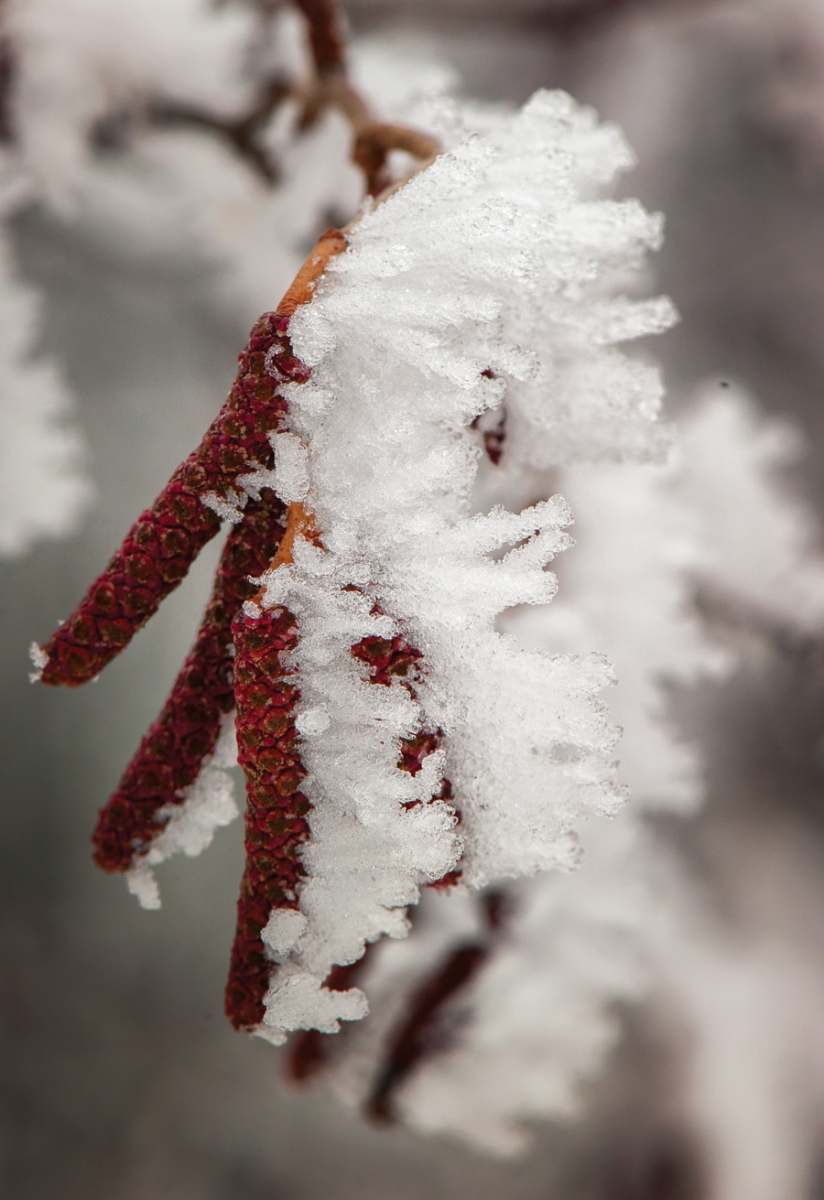 Photo by Mike Shaw
---
Frost Flowers
At first glance, these fragile blossoms may appear to be a light dusting of snow on a lake. Upon closer inspection, they're a veritable floating garden of frost flowers–organic, flora-like sculptures that form on thin layers of ice.
Frost flowers flourish when the air is extremely cold, even colder than the ice's surface. The frigid, dry air pulls moisture up from ridges in the ice, only for that moisture to instantly freeze again. The result is a field of giant snowflakes clustered in petal-like formations, stretching into infinity.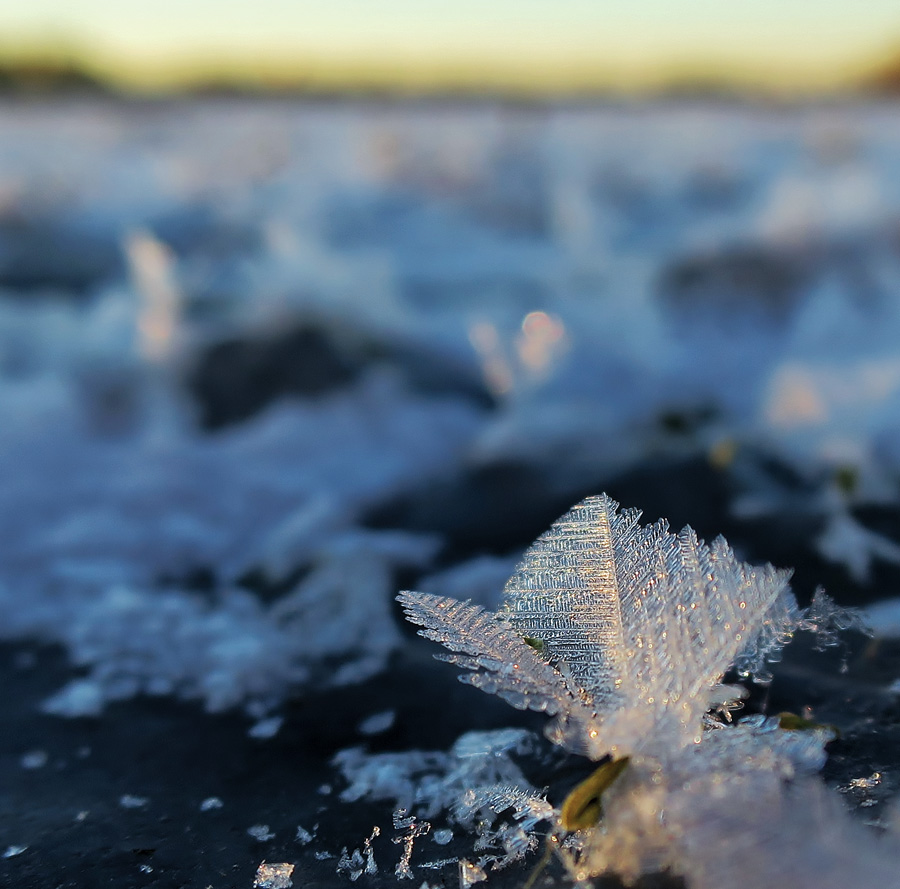 Photo by sylke boyd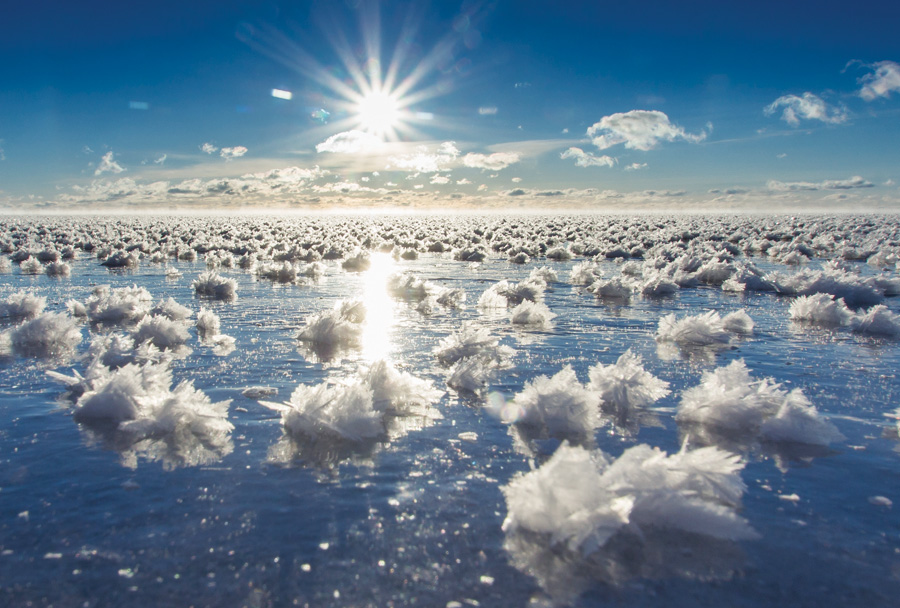 Photo by Thomas Spence
---
Sun Dogs
Sunlight runs shorter in the winter months, giving the long season a serious edge. On the coldest days, sun dogs race out onto the horizon, breaking the light into a full spectrum of color and creating an effect that resembles a camera lens flare. In the late morning or early evening, the sun might be flanked by two crescent-shaped rainbows, or even a full halo. 
Sun dogs often appear in bitterly cold weather, when ice crystals drift through the air and refract sunlight. When the weather is at its most brutal, their bright flash serves as a reassuring reminder that the days will get longer and the thaw will eventually come.

Photo by Melissa F. Kaelin

Photo by Paul Pluskwick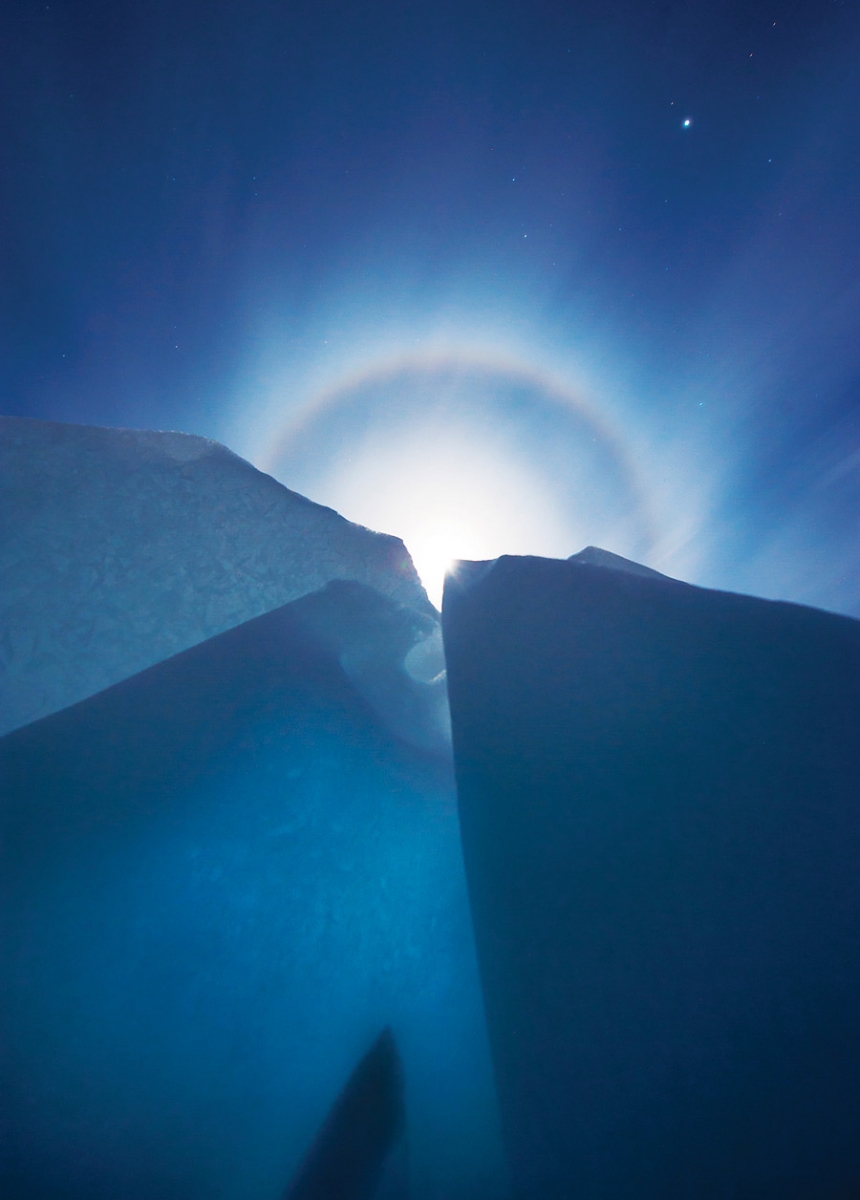 Photo by Layne Kennedy
---
Light Pillars
Even in the darkness, frigid weather affects the atmosphere. Under the right conditions, city lights can create gold or blue light pillars that climb into the night sky. A collection of these towering beams stretches high above man-made skyscrapers, forming a natural illusion of a distant, ghostly city.
These light pillars are an optical phenomenon that occurs when terrestrial lights bounce off of ice crystals, which are lingering near to the ground. The icy conditions cast the light upward and create a mysterious glow above the urban horizon—an effect that can be seen for miles.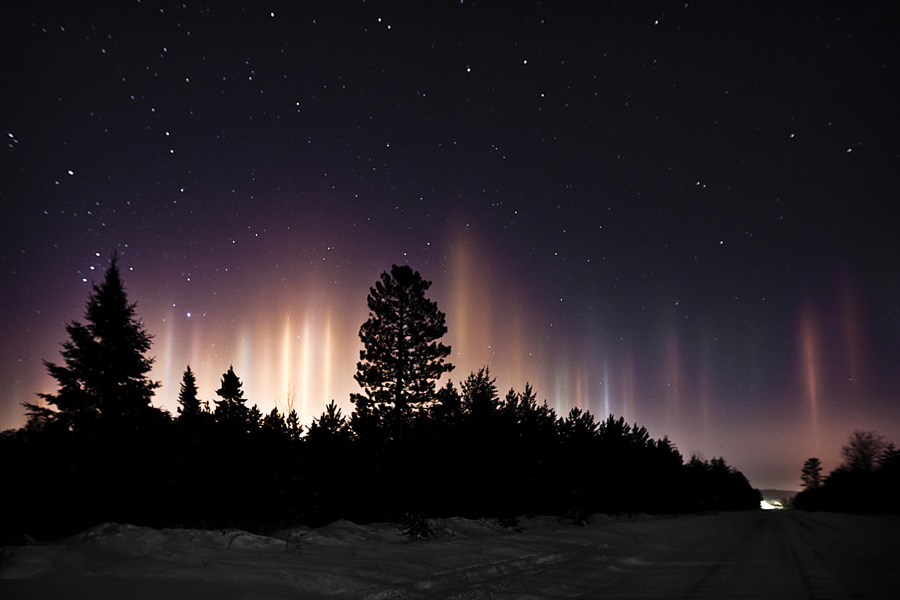 Photo by Heidi Pinkerton
---
Ice Caves
When winter tames the waves of Lake Superior and the water begins to freeze, colonies of ice caves appear along the edge, inside the sandstone caverns of the Apostle Islands National Lakeshore. The ice caves are composed of many enchanting alcoves, leading explorers to experience a mystical sensation at every turn.  
Sculpted by waterfalls, drips, and violent waves that crash against a cold surface and freeze, the ice structures take on distinctive shapes and patterns. Needlelike spindles dangle from above, while flowing ice colors the cavern walls, and delicate frost forms deep inside the caves.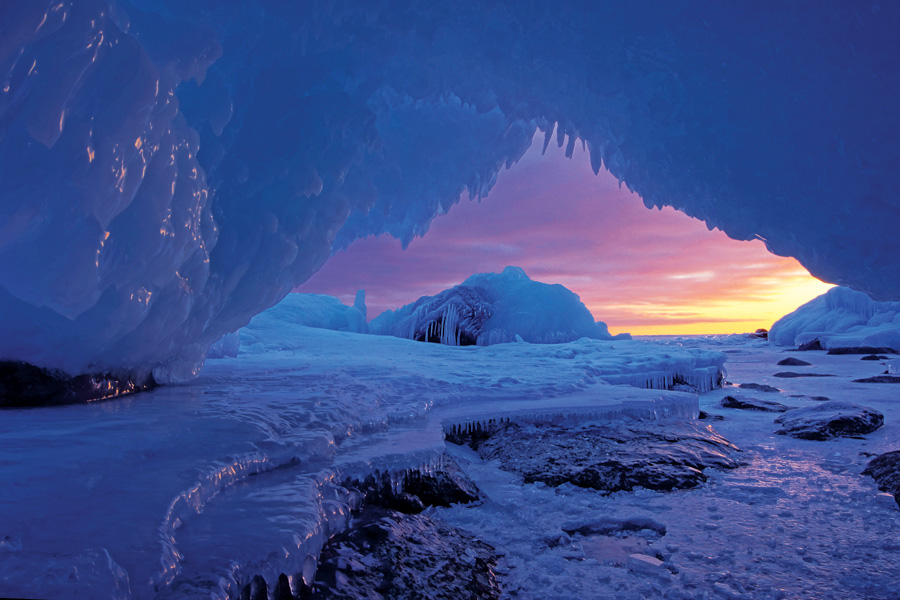 Photo by Paul Sunberg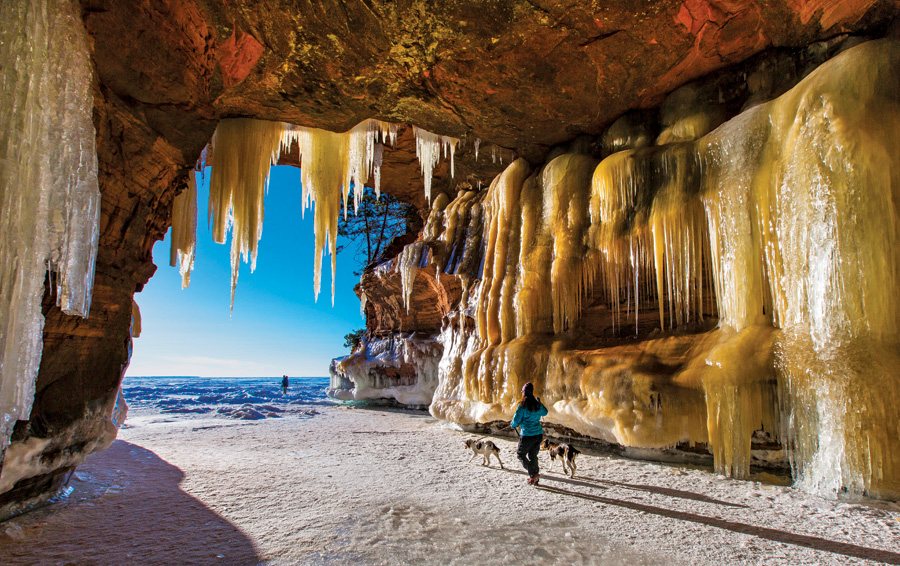 Photo by Mike Roemer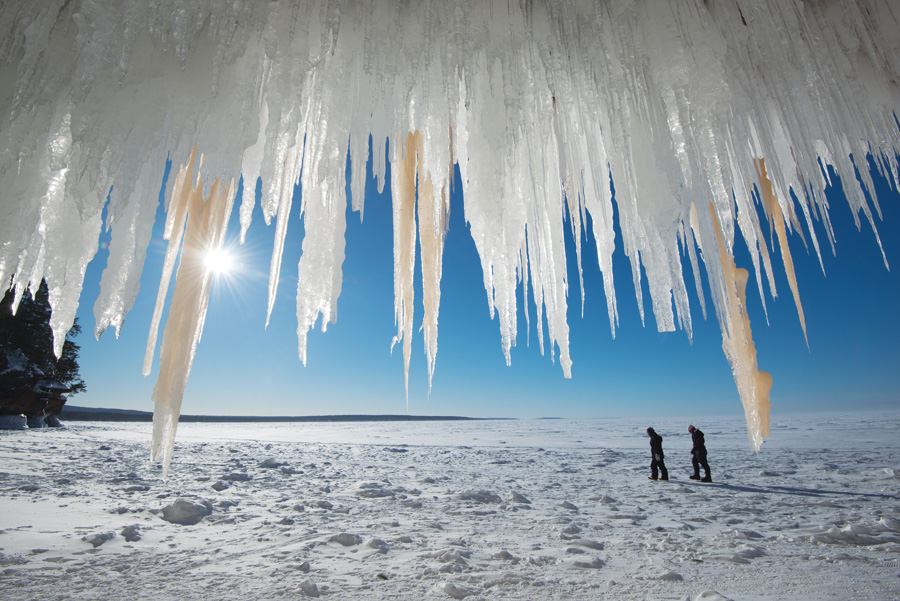 Photo by Bryan Hansel
---
Sea Smoke
As stunning as sunrise or sunset, the sea smoke that emerges on Lake Superior can be seen at many times during the year, but the steamy fog rises turbulently from the lake during the coldest days, forming lively plumes above the water.
As the air temperature drops, the water of Lake Superior becomes warm in comparison, and the heat produces water vapor that cools quickly in the frosty air. When the sea smoke evaporates, it leaves a majestic view.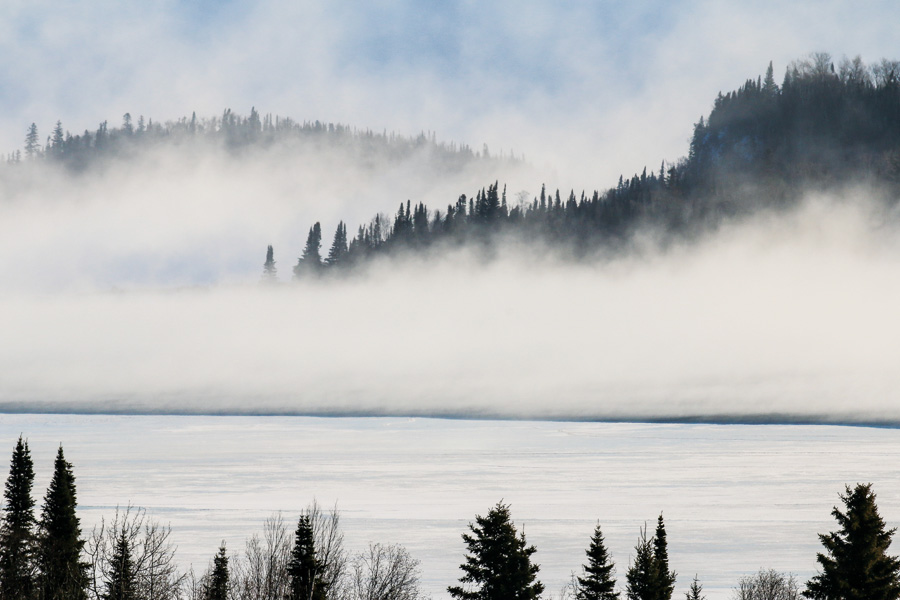 Photo by Travis Novitsky

Photo by Shawn Thompson
---
Steam Devils
When water becomes warmer than the freezing temps above its surface, heat rises in unusual ways. Looking like a lazy waterspout, the short-lived steam devil can be spotted out on the lake early in the winter, twirling in a weak funnel.   
Steam devils move over large lakes with a vortex of air, drawing fog into the whirlwind. The conditions call for a layer of humid air and a brisk, dry wind, as well as a stark contrast between land and sea, of more than 30 degrees Fahrenheit in temperature.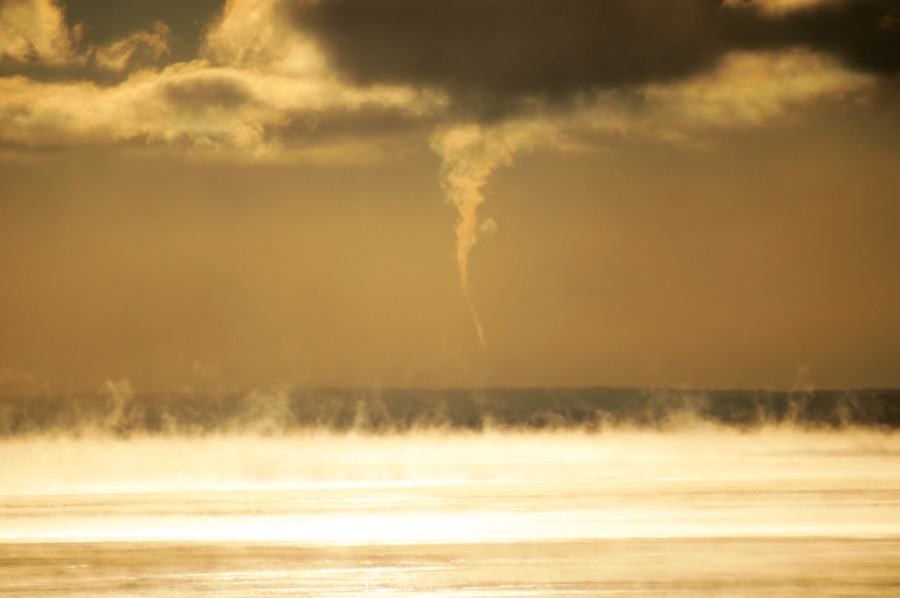 Photo by Guy Sander
Read more:
Editor's Letter: Appreciating Winter's Natural Beauty
Facebook Comments