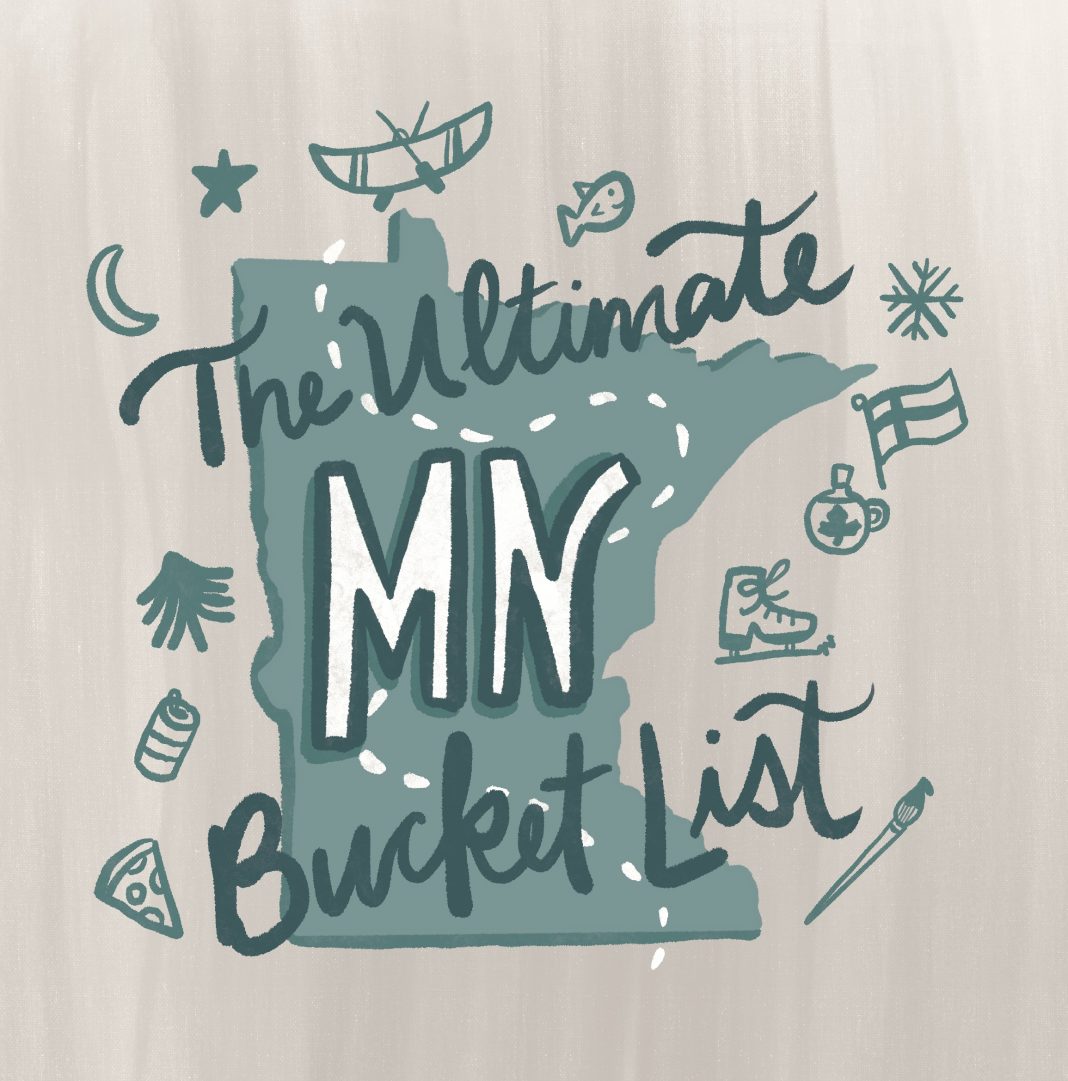 You invented an Ole and Lena joke. You survived the Halloween blizzard of '91. You won a blue ribbon for your muffins at the Minnesota State Fair. You even bought a cabin. But does that make you a real Minnesotan? Take it from a couple of East Coast transplants: You could spend your whole life in this great state and barely scratch the surface of everything there is to eat, see, do, and experience. The list that follows, however, is a good starting point that both newcomers and born-and-raised Minnesotans can appreciate.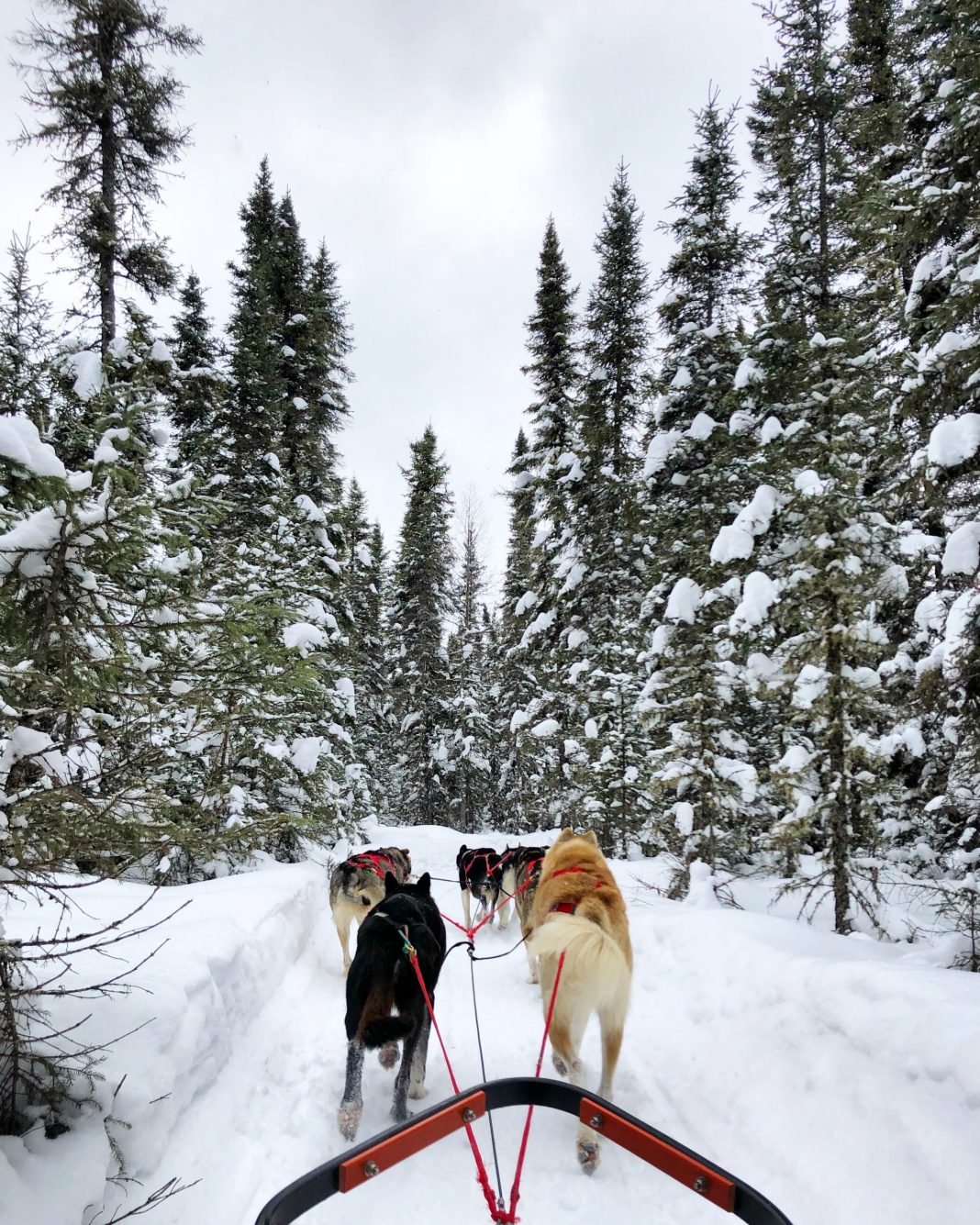 OUTDOORS ADVENTURE
1. Cover eight state parks and 310 breathtaking miles on the Superior Hiking Trail when hoofing it from Jay Cooke State Park to the Canadian border. (If you can only swing a day trip, make it the 3-mile Oberg Mountain Loop near Tofte at the peak of fall color.) • superiorhiking.org
2. Find a Showy Lady Slipper, the state flower. Your best bet: the 28-mile Lady Slipper Scenic Byway, between Blackduck and Highway 2, in late June. • ladyslipperscenicbyway.org
3. Harvest wild rice. First, you'll need to get a permit. Then, head to one of the 700 lakes boasting Minnesota's state grain, concentrated in Aitkin, Itasca, Cass, and St. Louis counties. • dnr.state.mn.us; 1854treatyauthority.org
4. Go mushing in Ely, the sled-dog capital of America, or watch from the starting line of the John Beargrease sled-dog marathon in Duluth. • elydogsledtrips.com; beargrease.com
5. Glide along the 5.2-mile Riverbend Skate Path in Warroad, the longest ice skating trail in the United States. • warroadcommunitypartners.org
6. Spot a moose while you still can. Your best bet: the Gunflint and Arrowhead trails near Grand Marais between mid-September and mid-October, which is mating season. • visitcookcounty.com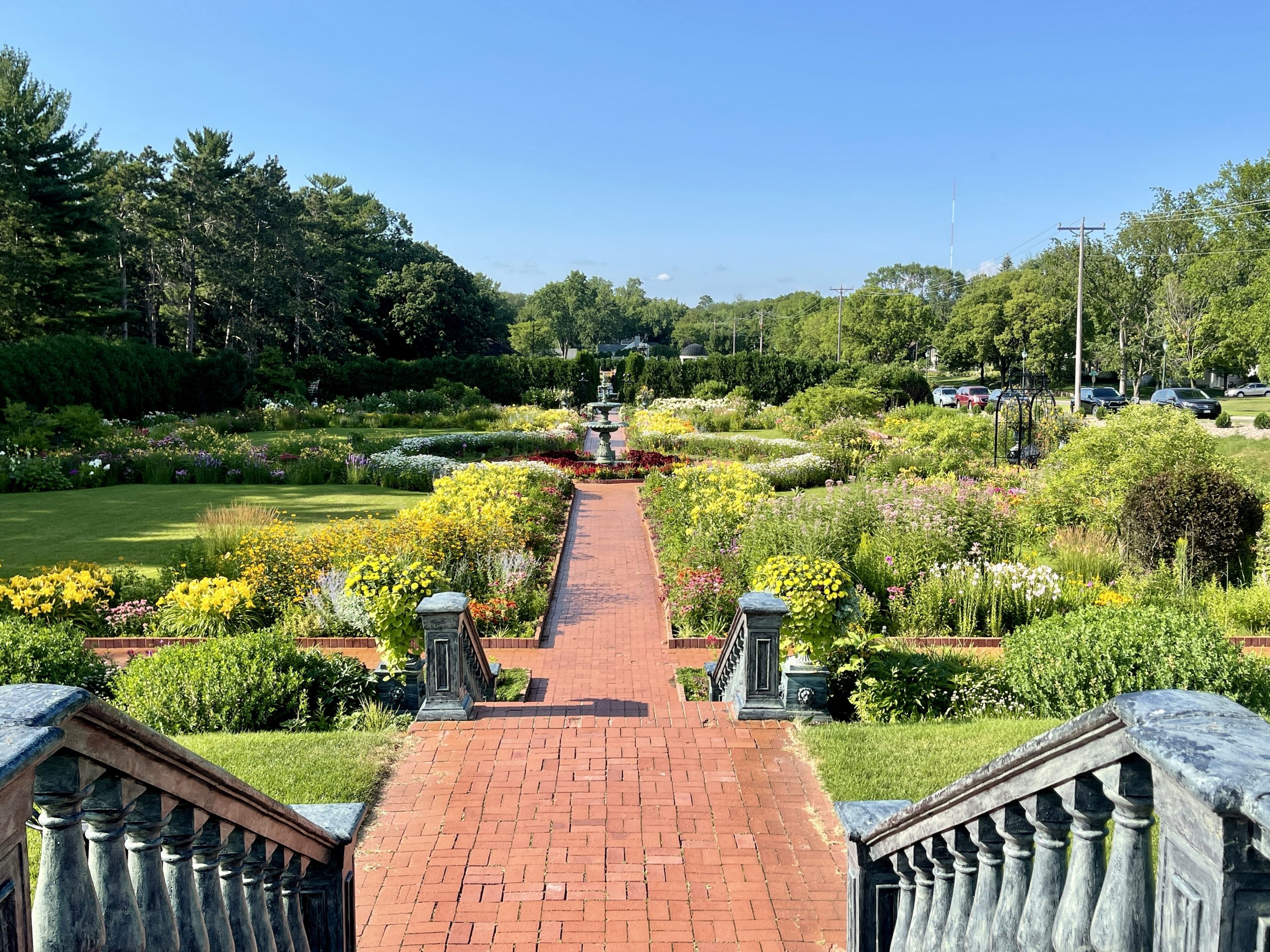 7. Kayak the remote backwaters of the Mississippi River with Broken Paddle Guiding in Wabasha. Extra credit for spotting an American lotus. • brokenpaddleguiding.com
8. Visit the Northwest Angle, the surveying error that became the northernmost point in the Lower 48; it's accessible only by crossing Lake of the Woods or cutting through Canada. • lakeofthewoodsmn.com/northwest-angle
9. Run the Twin Cities Marathon. Love every uphill step of the final Summit Avenue stretch. • tcmevents.org
10. Drive the Great River Road from the Mississippi headwaters in Itasca State Park down to Iowa (or the Gulf of Mexico, if you're feeling particularly ambitious). • mnmississippiriver.com
11. Root for your favorite sniper in the U.S. Pond Hockey Championship on Lake Nokomis. • uspondhockey.com
12. Collect agates along the shore of Lake Superior at Good Harbor Bay. • northshorevisitor.com
13. Shred the red (dirt, that is) on the 50-plus miles of single-track mountain biking trails in the Cayuna Country State Recreation Area. • dnr.state.mn.us
14. Teach Fido how to skijor in the Three Rivers Park District—and then enter him in the Skijor Loppet at Theodore Wirth Regional Park in Golden Valley. • threeriversparks.org; loppet.org
15. Fly a ginormous kite on a frozen lake at the annual Kites on Ice Festival in Buffalo. • buffalochamber.org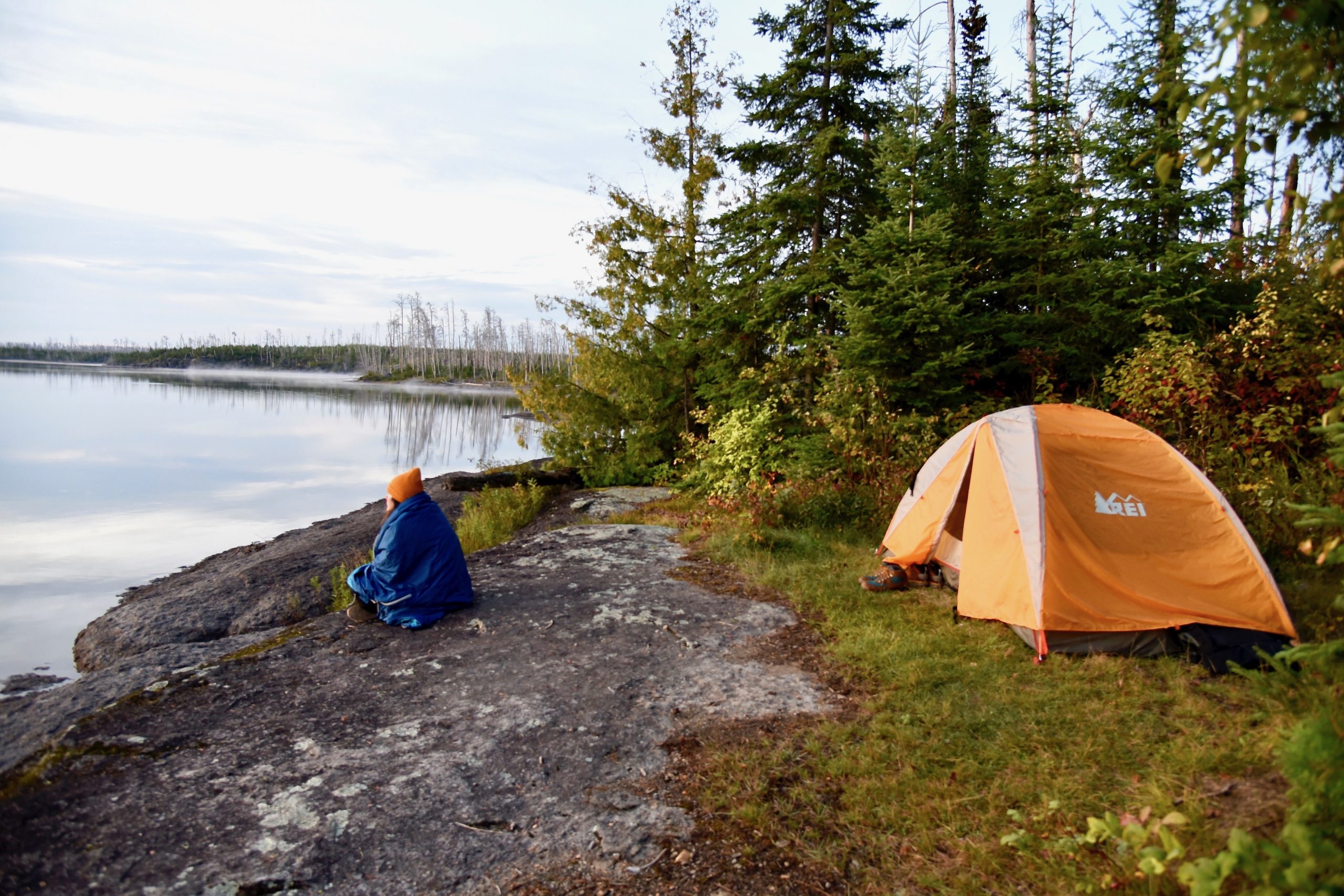 16. Bike the full Root River bike trail through the limestone bluffs and rolling hills surrounding Lanesboro. • rootrivertrail.org
17. Shoot the Northern Lights at Voyageurs National Park, now a certified Dark Sky preserve. • nps.gov/voya
18. Snow tube to a choreographed laser light show at Buck Hill in Burnsville. • buckhill.com
19. Discover the difference between stalagmites and stalactites when exploring the underground pools and passageways at Mystery Cave/Forestville State Park, home to the state's longest known cave. • dnr.state.mn.us
20. See the Kensington Runestone in Alexandria (bonus points: solve the mystery). • runestonemuseum.org
21. Learn to portage—or at least hang a bear bag—in the Boundary Waters Canoe Area Wilderness. (Way to Go Outfitters in Ely can help you plan the route.) • waytogooutfitters.com
22. Throw back a Hamm's (or four) at the Brainerd Jaycees' Ice Fishing Extravaganza on Gull Lake in Nisswa, the world's largest annual ice-fishing tournament/tailgating party on ice. • icefishing.org
23. Trek through the Lost 40 SNA, 114 acres of old-growth trees in the Big Fork State Forest overlooked by loggers in 1882. Its white pines are estimated to be at least 300 years old. • dnr.state.mn.us/snas
24. Track a wolf pack on an overnight camping tramp with biologists from the International Wolf Center in Ely. • wolf.org
25. Stroll the gorgeous flower-lined brick paths at Munsinger Clemens Gardens in St. Cloud. • munsingerclemens.com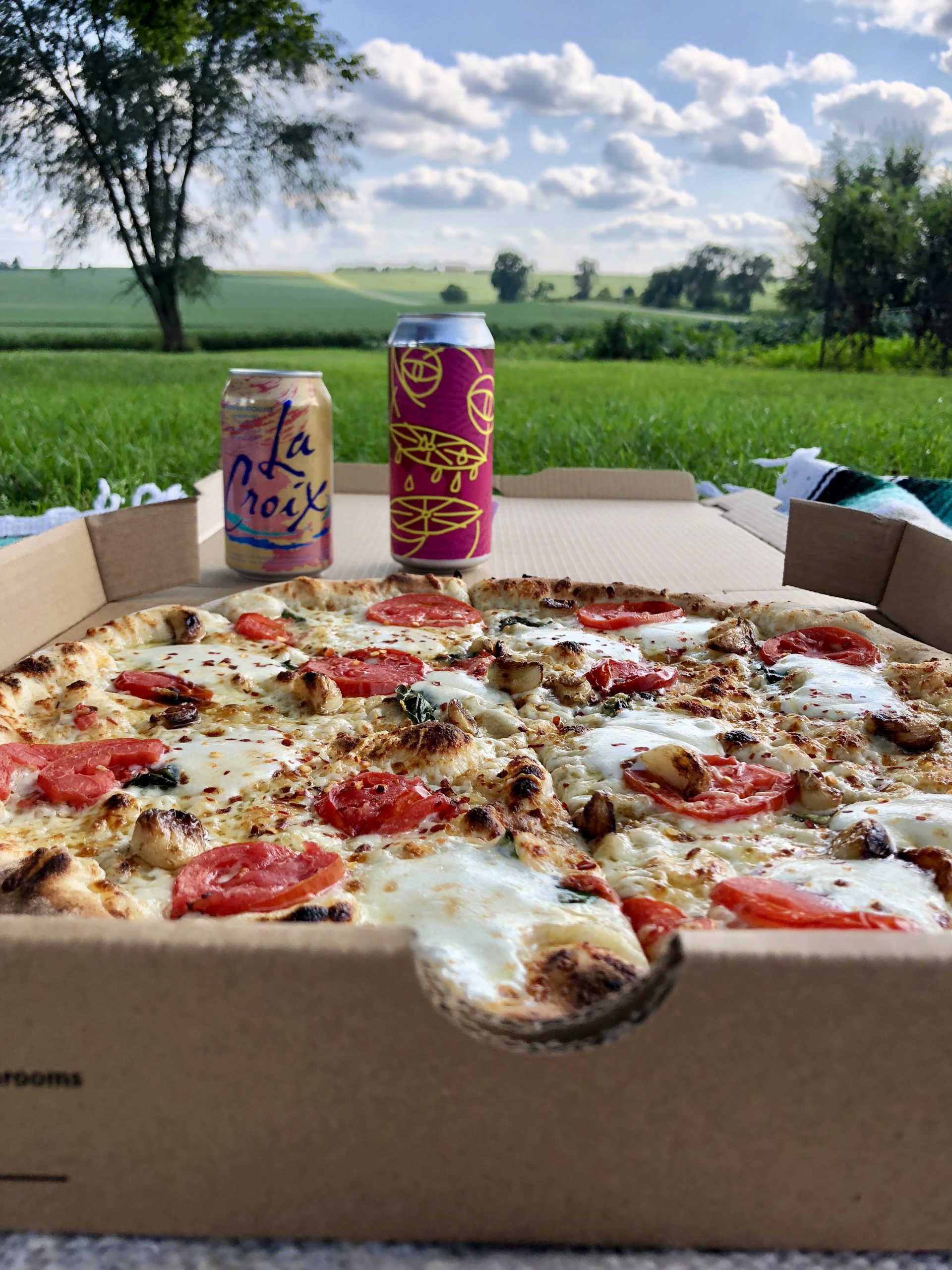 FOOD & DRINK
26. Snag one of the 14 stools at the counter of Al's Breakfast in Dinkytown for a buttermilk pancake as big as its plate. Scooch down when the waitress tells you to. • alsbreakfastmpls.com
27. Make a walleye shore lunch. City slickers, catch your dinner in the trout stream at Jax Cafe. • jaxcafe.com
28. Try the stuffed chicken wings, spicy papaya salad, and tricolor dessert at the Hmongtown Marketplace. • hmongtownmarketplace.com
29. Tour the Spam Museum in Austin, and don't forget to raid the gift shop for limited-edition tins of the canned meat. • spam.com
30. Eat everything on a stick at the Minnesota State Fair. (Tip: Do it after you've visited the CHS Miracle of Birth Center.) • mnstatefair.org
31. Spend a lazy afternoon playing cornhole, petting goats, and eating brick-oven pies at a pizza farm. Favorites include Pleasant Grove in Waseca and Red Barn Farm in Northfield. • pleasantgrovepizzafarm.com; redbarnfarmweddingsmn.com
32. Tap a tree for maple syrup during spring thaw. • mnmaple.org
33. Pick up a few pounds of the nationally famous cracked-black-pepper bacon at Thielen Meats in Pierz. • thielen-meats.com
34. Experience Native American foods and decolonized cooking techniques at Owamni, the first full-service Indigenous restaurant from Sioux Chef co-owner Sean Sherman. • owamni.com
35. Attend the American Swedish Institute's annual lutefisk dinner. (If you can't stomach the lye-cured fish, try a semlor bun from FIKA Café instead.) • asimn.org
36. Sample more than 130 of Minnesota's best craft brews at the Winter Beer Dabbler. • beerdabbler.com
37. Prance your feet purple at the annual Grape Stomp Festival at Carlos Creek Winery in Alexandria. • ccwgrapestomp.com
38. Do go chasing Minnehaha Falls after eating fried haddock tacos at Sea Salt Eatery. • seasaltmpls.com
39. Order a Danish cream with raspberry sauce dessert in the Technicolor Native American splendor of the Naniboujou Lodge dining room. • naniboujou.com
40. Pick up maplewood-smoked herring and trout to go from Russ Kendall's Smokehouse in Knife River. • angrytroutcafe.com; facebook.com/russkendalls
41. Get a free-range Thanksgiving turkey from Ferndale Market, a third-generation poultry farmer in Cannon Falls. • ferndalemarket.com
42. Learn to make lefse at Ingebretsen's—or at least stock up on the feather-light Norwegian flatbread. • ingebretsens.com
43. Chase a DIY tour of the Nyberg Sculpture Park in Vining with juicy broasted chicken from Vining Palace. (You'll know you're in the right spot when you're blinded by its Purple One facade.) • nybergsculptures.com
44. U-pick your own strawberries at Rod's Berry Farm in North Branch, blueberries at Little Hill Berry Farm in Northfield, and apples at Deer Lake Orchard in Buffalo. • rodsberryfarm.com; littlehillberryfarm.com; deerlakeorchard.com
45. Satisfy your carnivorous cravings with the Silver Butter Knife steak at Murray's or the Bludgeon of Beef at Manny's. • murraysrestaurant.com, mannyssteakhouse.com
CULTURE
46. Pay your respects at the George Floyd Global Memorial at 38th Street and Chicago Avenue in South Minneapolis. • georgefloydglobalmemorial.org
47. Snowshoe around the moonlit Minneapolis Sculpture Garden. • walkerart.org/garden
48. Attend the St. Olaf Christmas Festival at the college in Northfield. • stolaf.edu/christmasfest
49. Bellow, "Come on, you loons!" from the Wonderwall section at a Minnesota United home match. • mnufc.com
50. Tour the water-inspired art exhibitions at the Minnesota Marine Art Museum in Winona, which itself overlooks Yeomans Pond and the mighty Mississippi. • mmam.org
51. Celebrate Lunar New Year at Watt Munisotaram in Hampton, the largest Cambodian temple in North America. • facebook.com/wattmunisotaramofficial
52. Tour the exemplary Prairie School architecture of the Purcell-Cutts House in Minneapolis, open to the public the second full weekend of each month. • new.artsmia.org
53. Show your true colors—or just cheer on friends and neighbors—by marching in Twin Cities Pride, one of the largest LGBTQ+ festivals in the country. • tcpride.org
54. Bask in the Brutalist splendor of the Marcel Breuer-designed Saint John's Abbey in Collegeville. • saintjohnsabbey.org
55. Take a VIP tour of Paisley Park. (Or a picture next to Prince's star at First Avenue—that's free.) • paisleypark.com; first-avenue.com
56. Dance the polka at New Ulm's Oktoberfest. • newulm.com
57. Attend a pow wow. The historic Rendezvous Days Pow Wow, sponsored by the Grand Portage Band of Lake Superior Chippewa/Ojibwe (Anishinaabe), takes place on the Great Lake the second weekend in August. • drumhop.com/mnpowwow.php
58. Snarf down chili dogs while watching a summer blockbuster from the back of a pickup truck at Sky-Vu Drive-In in Warren, one of Minnesota's few remaining drive-in theaters. • skyvumovies.com
59. Enter a show in the Minnesota Fringe Festival. • minnesotafringe.org
60. See spitting replicas of a 900-year-old Norwegian stave church and 9th-century Viking burial ship at the Heritage Hjemkomst Interpretive Center in Moorhead. • hcscconline.org
61. Photograph the Gold Medal Flour sign from the Guthrie Theater's "endless bridge" at sunset. • guthrietheater.org
62. Swing dance in St. Paul's famous gangster haven, the Wabasha Street Caves. • wabashastreetcaves.com
63. Watch the parade of low-rider cars at the Cinco de Mayo festival in St. Paul. • wsco.org
64. Read all of Louise Erdrich's novels, which you can buy from her Minneapolis store Birchbark Books & Native Crafts. • birchbarkbooks.com
65. Immerse yourself in Somali art, history, and folklore on a docent-led tour of the newly renovated Somali Museum of Minnesota. • somalimuseum.org
66. Get an all-access pass to the Minneapolis-St. Paul International Film Festival, Twin Cities Film Fest, or Sound Unseen film and music fest. • mspfilm.org; twincitiesfilmfest.org; soundunseen.com
67. Ogle the Louis Sullivan-designed National Farmers' Bank of Owatonna (now a Wells Fargo). It's his only building in Minnesota but a prized piece of American architecture. • visitowatonna.com
68. Chat with artists, observe live demos, and load up on affordable artwork at Art-a-Whirl, the largest open-studio tour in the country. • nemaa.org/art-a-whirl
69. Learn the origin story of Baby Gumm at the Judy Garland Museum in Grand Rapids. (Just don't steal anything, please.) • judygarlandmuseum.com
SHOPPING & STYLE
70. Buy a pair of Red Wing work boots (bonus points: actually use them to do the labor for which they were built). • redwingshoes.com
71. Have a suit made to order at St. Paul's century-old Heimie's Haberdashery. • heimies.com
72. Live like the other half during a staycation at the Four Seasons Minneapolis, the state's first five-star hotel. A dinner or brunch booking at Gavin Kaysen's Mediterranean restaurant, Mara, is non-negotiable. • fourseasons.com/minneapolis
73. Befriend Caldecott the chinchilla, Dave the cockatiel, and other animals at Wild Rumpus, the Twin Cities' most imaginative children's bookstore. • wildrumpusbooks.com
74. Tour the historic Faribault Mill, weaver of Minnesota's coziest blankets since 1865. • faribaultmill.com
75. Wear Zubaz. In public. • zubaz.com
76. Get yourself some Ely-made mukluks, named after explorer Will Steger. Never be cold in winter again. • mukluks.com
77. Book a discount haircut ($25!) with a cosmetology student at the Aveda Arts & Sciences Institute in Minneapolis. • avedaarts.edu
78. Sit for a surreal portrait with master photographer Shelly Mosman. • shellymosman.com
79. Own a Room & Board couch and a Blu Dot Real Good Chair. • roomandboard.com; bludot.com
QUIRK & MISCELLANY
80. Hunt for the St. Paul Winter Carnival medallion. • wintercarnival.com
81. Sleep in a vintage train car (an 1893 caboose, a 1909 club dining car, etc.) at the Whistle Stop Bed & Breakfast in New York Mills. • whistlestopbedandbreakfast.com
82. Browse more than 80,000 rare books and artifacts from 1430 to 1945 at the University of Minnesota's Wangensteen Historical Library of Biology and Medicine (bonus points: examine a Civil War amputation kit without wincing). • hsl.lib.umn.edu/wangensteen
83. Rock out to Hairball, Minnesota's No. 1 hair metal cover band. The pyrotechnics alone are worth the price of admission. • hairballonline.com
84. Play in a curling match. • Everything you need to know, starting with what those brooms are for, is at twincitiescurling.org.
85. Do yoga with a camelid at Carlson's Llovable Llamas in Waconia. • carlsonsllovablellamas.com
86. Wave hello to sand tiger sharks, Loggerhead turtles, and enormous sawfish when passing through the 300-foot-long underwater tunnel at Mall of America's Sea Life, the state's largest aquarium. • visitsealife.com/minnesota
87. Take a polar plunge for a good cause (Special Olympics Minnesota). • plungemn.org
88. Drop by House of Balls, the fascinating studio and gallery space of sculptor Allen Christian. From toilet seats to turtle shells, he works wonders with found and salvaged objects. • houseofballs.com
89. Fill your gas tank at the R.W. Lindholm Service Station in Cloquet, a petrol station designed by Frank Lloyd Wright.
90. Run off the end of a dock on Memorial Day. (Also recommended: stargazing while lying on a pontoon in the middle of a lake.) • exploremn.com
91. Submit a video of Lyle and Mr. Squish'ems to the Cat Video Festival; gauge the audience's reaction to see if you have the next big #catfluencers on your hands. • catfestmn.com
92. Book a sweat session at the Ely Steam Sauna—one of the oldest family-owned saunas in the United States. Czech/Finn-approved. • elysteamsauna.net
93. Jump on the pickleball craze by reserving court time at Lucky Shots Pickleball Club in Northeast Minneapolis. (Introductory classes are available for noobs.) • luckyshotspickleball.com
94. Head to Darwin to take a selfie with the world's largest ball of twine rolled by a single person. It measures 13 feet across, 40 feet around, and weighs more than 17,000 pounds. • darwintwineball.com
95. Perfect your putt-putt swing at Big Stone Mini Golf, a sprawling outdoor sculpture gallery and miniature golf course in Minnetrista. • bigstoneminigolf.com
96. Drop a ski on Lake Pepin, the birthplace of the sport. • lakecity.org/water-ski-days/
97. Pedal a monarch butterfly bike across frozen Lake Harriet at the zany Art Shanty Projects. • artshantyprojects.org
98. Plant a University of Minnesota-developed Honeycrisp apple tree in your backyard. You'll need at least two, assuming you actually want apples. mnhardy.com
99. Tour Orfield Laboratories, home of the world's first digital recording studios and the Orfield Anechoic Chamber, a.k.a. the "quietest place on earth." • orfieldlabs.com
100. Build your own casket at the North House Folk School. It's one of the most popular classes at the Grand Marais center and about as pragmatic and self-sufficient as, well, Minnesotans. • northhouse.org
101. Reserve your eternal resting place at Lakewood Cemetery in Minneapolis, home to Hubert Humphrey, Paul Wellstone, Carl Pohlad, the Daytons, the Pillsburys, and perhaps…you? Plots available. • lakewoodcemetery.org
Ashlea Halpern and Andrew Parks are the co-founders of Minnevangelist, a website devoted to spreading the gospel of Minnesota's greatness. Follow their adventures on Instagram at @minnevangelist and visit minnevangelist.com to learn more.