Two hours northwest of the Twin Cities, Alexandria sits in a chain of 11 lakes that, on a map, multiply farther northwest before exploding into the state's namesake spangling of blue. On a more granular level, it's where Minnesota really earns that friendly, outdoorsy reputation. "It reminds me of a golf-cart community," says Marnie Kopischke, who owns a cabin on the chain's largest, Lake Carlos. But instead of golf carts toddling around Florida, boats beeline from friends' docks to shoreline restaurants.
Between Memorial Day and Labor Day, the lakes attract anglers, kayakers, and dauntless paddle boarders and wakesurfers, who take equipment and lessons from Hangloose MN at Lake Carlos Marina. The population, of 13,500, triples in a typical summer, as lake houses refill with retirees and families seeking sunny pursuits and a smaller-town pace.
After online voting and editorial deliberation in 2019, Alexandria, the county seat of Douglas County, became Minnesota Monthly's third winner of its Best MN Town competition. Like the two previous towns—Bemidji and White Bear Lake—the community, oft nicknamed Alex (pronounced "Alec"), combines qualities and values that make year-round residents stay and keep visitors coming back.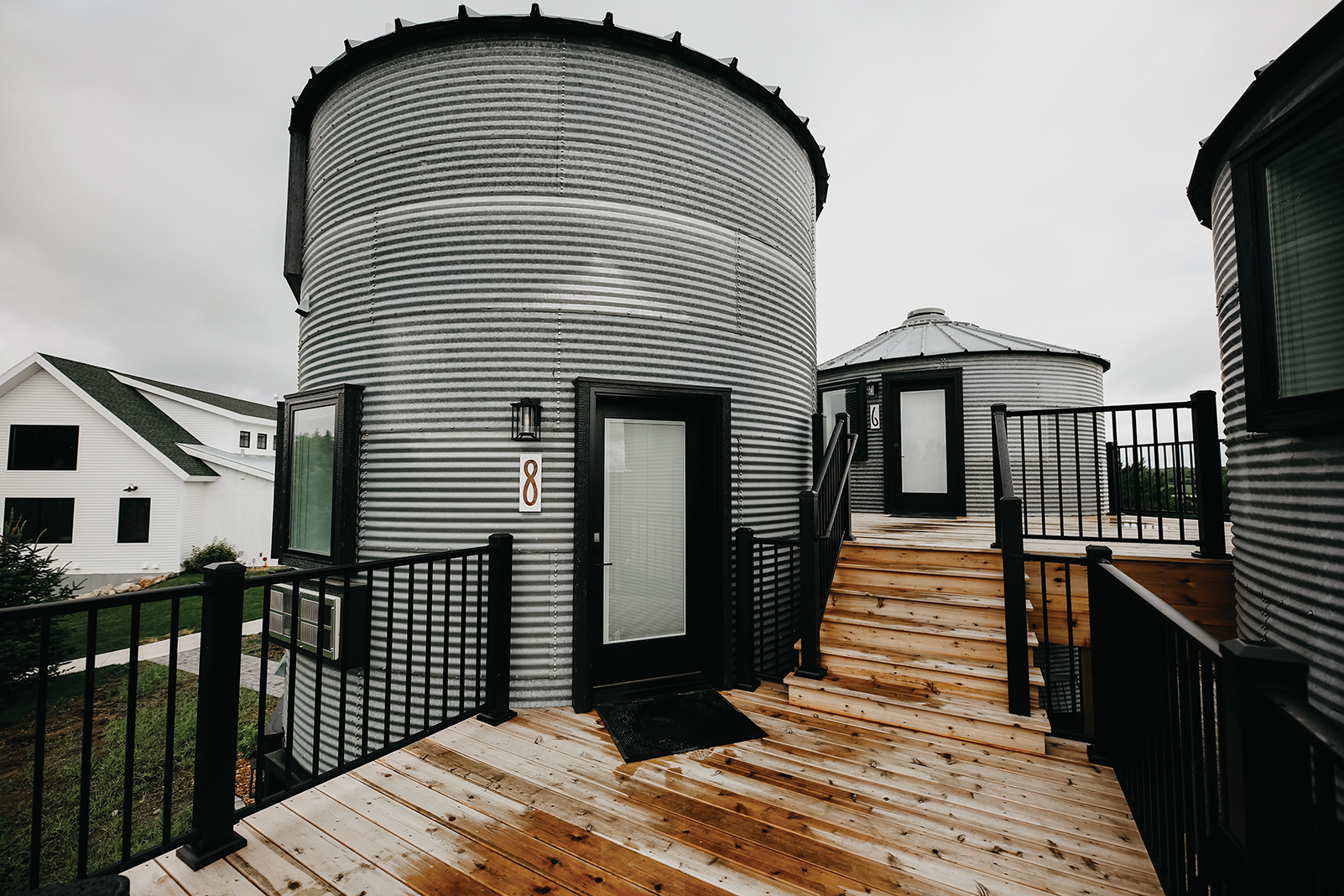 On a recent visit, I stayed at Gathered Oaks, a restored-barn wedding venue that has three renovated grain bins on site. (Clustered together, they now hold eight hotel-style rooms, with queen beds and TVs. Corrugated metal on the outside. But, inside, it's like HGTV's Joanna Gaines cast her spell.) From my bed, I watched sunsets over Lake Louise. But I could've done this dozens of other ways. Resorts dot miles upon miles of lakefront—including waterpark spot Arrowwood Resort—and Lake Carlos State Park offers 1,000-plus acres of campsites.
Multiple residents told me Alexandria has just enough to keep them occupied equidistant from the Twin Cities and Fargo. See: three theaters, two museums, and an expanding beverage scene. Instead of "small town," I heard the term "rural regional center." It's a hub for smaller towns within a 35-or-so-mile radius, like Evansville or Kensington.
Here, the 55-mile Central Lakes bike trail winds up the chain, past downtown's blonde, 28-foot-tall Big Ole statue. Farther north, author Sinclair Lewis once admired the 1,750-foot views atop Inspiration Peak. When snow falls, the joke is: Is that a golf course, or a frozen lake?
To that end, tourism bolsters a lot of town life. Really, this was fated—ever since a railroad tracked through in the late 1800s, tilling the land for resorts and cultivating vacation cred even then. But a lot has changed. And at a time when we're hurling existential questions at small towns—how should they retain younger residents? how can they adapt to a shrinking world?—Alexandria has given the country a prime example.
Down to Business
"If you put all your eggs in one basket—for instance, in agriculture—when agriculture goes downhill, we're in trouble," says Kevin Kopischke, retired president of Alexandria Technical & Community College (ATCC) and Marnie's uncle. Kopischke has worked in economic development across the Midwest. He's watched small towns suffer through decades of diminishing returns, particularly in agriculture. "We haven't been in trouble because we've been very, very diversified," he says.
In the 1960s, Douglas Machine heralded Alexandria's rise as a center for the design and manufacture of large-scale packaging (think: cartons and boxes for shipping grocery items like cereal or potato chips)—enough that Senator Al Franken once called Alexandria "the Silicon Valley of packaging machines." Other big employers span finance, hospitality, agriculture, a $200 million healthcare industry anchored by the Alomere Health medical and surgical hospital, and other forms of manufacturing (including a 3M plant). Kopischke credits the town's progressive spirit—"progressive" in the old Minnesotan sense of "willing to back new ideas." Also: what he views as an unusually active Chamber of Commerce. (Incidentally, women run much of town: The mayor as well as the whole chamber are women.)
Employable talent comes homegrown. For 10 years, the Aspen Institute has ranked ATCC among the top five two-year colleges in the country. And after a $73.2 million upgrade to the high school, Fast Company dubbed it "the Googleplex of Schools." Industry and education create "the foundation for building the other parts," Kopischke says.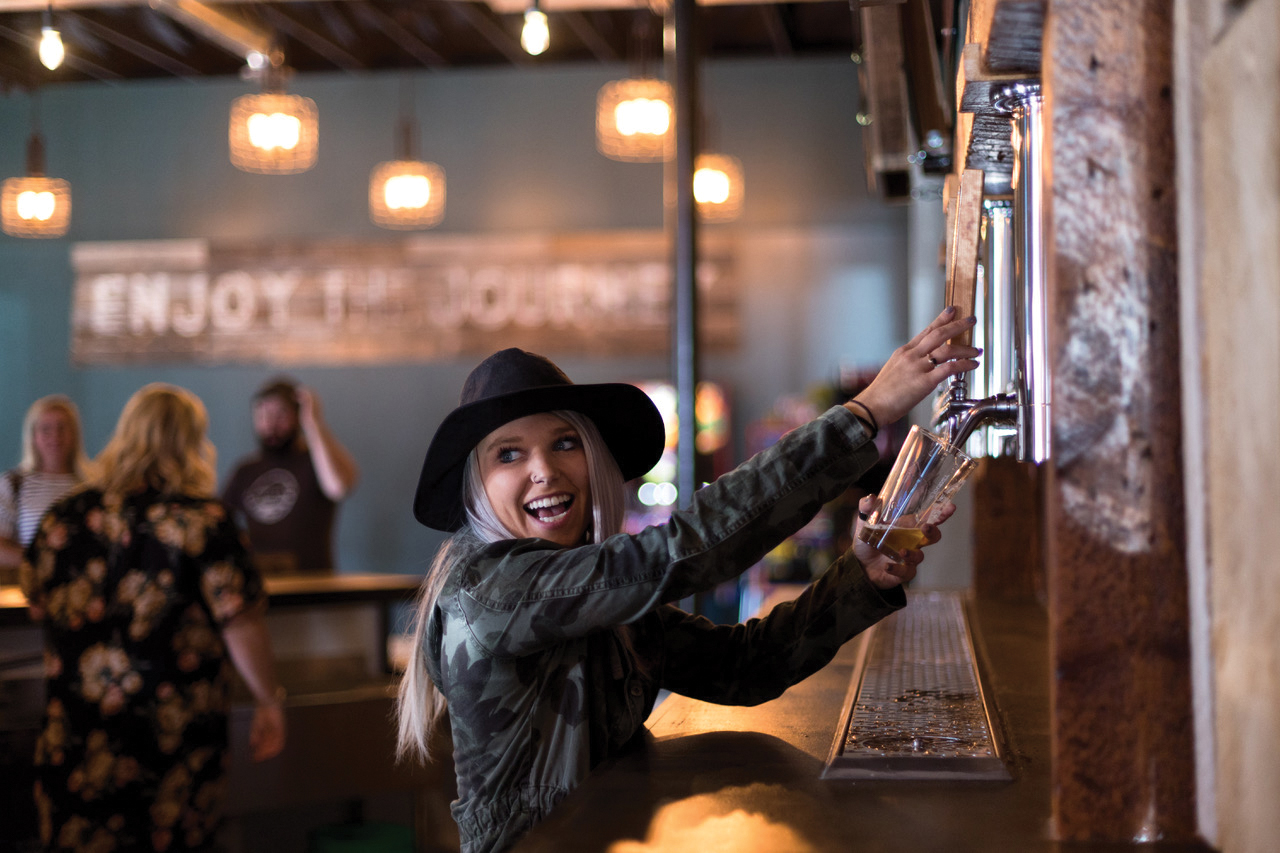 Adam Graf provides a direct example of how those "other parts" materialize. The North Dakota State University grad decided to launch his mechanical engineering career back home, with packaging machine company Aagard. Then, as in much Minnesota folklore, he got hooked on hobby brewing. With fellow Alexandrian Dave Gibbons, he opened Copper Trail Brewing Co., the town's first brewery in more than 70 years.
"It's a super friendly, family-oriented community, so it makes it a really easy choice to come back home," Graf says. "And it's just fun to watch this town grow."
Copper Trail forms part of the region's "Skål Crawl," a punch-card tour that also hits up the award-winning Carlos Creek Winery, 22 Northmen Brewing Co. (which opened next to the winery in 2019), and the state's first whiskey producer, Panther Distillery, in nearby Osakis. (Ida Graves Distillery also opened last summer, rounding out the region's liquor constellation and supplying aquavit, vodka, and gin to retailers statewide.)
Inside Copper Trail's new space—a former lumberyard off Central Lakes Trail, with industrial-woodsman vibes—I immediately noticed the bread for sale. Copper Trail gives some of its spent grain to Roers Family Bakery a couple blocks away, and every batch of the aromatic, honey-tinged loaves sells out.
Chain of Likes
One question I kept asking: What does small-town appeal look like? It's supporting local establishments, knowing your neighbors. And now: trending on social media.
"When I was in high school, I would have thought, 'Oh, this is too boring for a video'—but people love it," Hailey Miller says. She and husband Bryce, both native Alexandrians, chat over wood-fired pizza at 22 Northmen Brewing Co. under antler chandeliers, where it feels like Vikings should prep for Valhalla.
The 18-minute video in question, titled "Thrift Shopping," is on the couple's YouTube channel, Bryce + Hailey, and has been viewed more than 457,000 times since its release in 2017. Sure, their wedding video, on a scenic precipice in Utah, raked in more than 230,000 clicks. But this one stars their hometown.
"OK, so, we live in a small town called Alexandria, and it's known for its historic downtown," Bryce says into a handheld camera, driving a Jeep named Stanley down Third Avenue. Soon, Hailey is triaging thrift-store finds that would make hipsters blanch. They hype a Cuban sandwich at Alexandria's farm-to-table spot, La Ferme. Then, inside Now & Then Antiques & Collectibles, they gawk at old radios, Hailey wears a turkey decoy on her head, and Bryce says they could've spent hours in there.
Video after video, the Millers work a special kind of smallish-town magic: They're adeptly easy-going. In person, they're never "on." That might explain their YouTube channel's nearly 4.5 million views. Hailey has some 345,000 followers on Instagram, and Bryce has over 75,000. They quit their jobs two years ago—Bryce, 26, as a videographer, and Hailey, 25, as a photographer. With brand deals, they have shipped off to Jamaica, California, Switzerland. So, why did their Alex video do so well?
Bryce has a theory: "With these at-home videos, viewers are, like, 'Well, I can't afford to go on a trip right now, but I can afford to hop in my car and drive to all the local spots.'" This "aspirational" content still feels squarely within reach.
That said, during a different meal across town with Andrew Cavers, president of Alexandria's Geneva Capital financial company, I still trip into a sentiment I had, all along, hoped to avoid.
"How is it?" he asks of my seared ahi tuna. "It's really good," I say, before daring to admit, "I'm surprised; I've never had…"
"Not in Alexandria, anyway," Cavers finishes for me, laughing.
But should it come as a surprise that Lure Lakebar serves tuna loin with soy ginger sauce? Or that, nearby, Nice Juicery fresh-squeezes tart pick-me-ups—using beets, apples, carrots, mint—and concocts smoothie bowls that metro lubbers would adore? Or that, next door, the Garden Bar on 6th feels straight out of Minneapolis' North Loop, with live music, locally sourced cocktails, healthy bowls, and inventive sandwiches? (My editor returned from the Explore Minnesota Tourism Conference, held in Alexandria this year, raving about walleye at Interlachen Inn.)
When Graf opened Copper Trail, yes, it did take a little convincing that the outstate palate could handle more than light beer. But that "progressive" spirit came through. "People up here are open to experimenting with stuff, and we'll see a rise, I think, in sours and IPAs out this way as the trends develop," Graf says, noting it's a two-way street: "I think you'll see a shift toward that Coors style of beers, as well."
And while Cavers, who lived in St. Paul in his early 20s, now takes trips with his wife to keep tabs on the Twin Cities' restaurant scene, it's not like they're lacking up in Alexandria.
The Bryce + Hailey channel has the proof. In another video, they roll out of bed, slide into kayaks, and spot an eagle. Bryce just got a mountain bike for the rock-studded course at a new beach on Lake Brophy. They've been fishing at Spruce Creek since the Department of Natural Resources stocked it with trout last summer. And, over the holidays, Hailey gifted so many people Icelandic flake salt that she discovered at the Scandinavian Gift Shop (which also stocks water-resistant merino-wool sweaters from Norway). "They're, like, obsessed with it," she says. "And you can't even find it online anywhere. You'd have to get it special-ordered from this website."
She points out that my hometown of Bloomington (Mall of America land) is their low-impact road trip, while theirs is mine. They can have as much fun in Alexandria, it seems, as they did a year ago in New York—and, here, they don't need to call an Uber. "When we travel," Bryce adds, "I find myself just so excited and eager to come back home."
Small-City Resilience
On the morning of February 25, I received an email that said simply, "My town is burning…" It was sent by Patty Wicken, the morning host on Alexandria's local talk radio station. She grew up here and has been on the airwaves since the late '70s. In her email, she included photos of historic downtown buildings spewing smoke. More than 100 firefighters arced ropes of water into the wreckage. When all damage was accounted for, the fire had destroyed six businesses—including a restaurant and a boutique—and the apartments of 20 evacuees.
The community stepped up immediately. Roers Family Bakery, right across the street from where the fire took out four buildings, fed the responding firemen. West Central Minnesota Communities Action sought housing for four displaced families. The Alexandria Area Community Foundation set up a fund to assist those affected. By mid-March, about 100 individuals, businesses, and organizations had donated more than $32,000, according to the foundation's executive director, Holly Witt.
"Alexandria as a community is extremely collaborative," Graf said a day before Copper Trail hosted a fundraiser. "It's insane to see this type of reaction from something so devastating."
Frozen Vows
The weekend before, Wicken had orchestrated my favorite Alex memory. With Minnesotan grit, her family put a wedding on ice. And with Minnesotan warmth, they invited a stranger to it.
I drove offshore from Arrowwood Resort, toward a distant crop of ice-fishing houses on the frozen surface of Lake Darling.
"I think they're getting married," someone said, peeking into Wicken's fish house. "Oh, they are?" Wicken snapped out of droll family memories. It was toasty inside—folks had removed their coats—but it wasn't bad outside, either. Mid-30s, late February. Perfect for an Alexandria wedding.
Wicken moved through the crowd of denim and camouflage. The sun was setting enough, so her son was getting married. Out there, sunsets reorient you, like a brand-new phenomenon.
The bride wore a fluffy coat. The groom, jeans and black jacket.
A rose-shaped mint melted on my tongue before I grabbed a Mich Golden and fessed to never having ice fished, which launched the groom into a quick demo. For my sake, I thought, on his wedding day. After everything, Wicken sent me off with a gooey ham-and-cheese slider and an invite to return in summer.
After the photos of the town in smoke—and before I could even send my thanks for the hospitality—Wicken followed up with a story: Back in 2017, she had started mentoring a girl who arrived  in town "with nothing but the clothes on her back."
February's fire left that girl standing in a parking lot with a T-shirt, pajama pants, and socks. Wicken started searching for a new apartment, and her friends took her to Target with $500. "She is so happy tonight," Wicken wrote me, "and considers herself blessed to be in Alexandria. But what a statement after what she's been through in the last 36 hours."
At this point, I may need to postpone my return. The spread of the novel coronavirus has made visiting outstate Minnesota towns a liability; we need to wait, lest we put their populations at risk. As the world prepares for an economic downturn, Alexandria's Chamber of Commerce has distributed resources to businesses and begun tagging updates with #BePositiveDoPositive.
"The storyline we were following was about a thriving community celebrating all kinds of successes, from being named Retail Community of the Year in 2018 and, more recently, being named Best MN Town," said executive director Tara Bitzan in a video posted to the chamber's Twitter account. She noted the fire, then calmly moved on to the virus. "We're all anxiously following the story to see what happens next."
Kevin Kopischke's idea for the next chapter echoes what he told me readers should get out of this story: "There's too much of a split right now," he said, "where the urban folks say, 'We want what we need, and to hell with them.' And the rural people say, 'We want what we need, and to hell with them.' Well, that doesn't work very well when you're trying to build a state that's going to be ready for the kind of change that we're seeing ahead."
Facebook Comments