A Minnesota road trip isn't a Minnesota road trip without a pit stop for pie, and I've recently revisited a few of my favorite spots. 
Heading Southeast, down the Great River Road, I pulled off at the tiny Smiling Pelican Bakeshop in Maiden Rock for a taste of their crumble-top raspberry sour cream pie and banana cream pie mounded so high with whipped cream that it looked like Yosemite's famous Half Dome—and probably contained enough calories to fuel an ascent!
A few miles down the road, the equally compact Stockholm Pie Company offered a tart cherry berry with an excellent flaky crust and, the day's favorite, the more hedonistic peanut butter fudge: pie crust + chocolate brownie + a blend of peanut butter, cream cheese, and whipped cream + a drizzle of hot fudge sauce and a sprinkle of peanuts! (Once you've tasted this pie, you will never bother with Reese's peanut butter cups again.) Since my last visit, Stockholm has remodeled its kitchen and enlarged its retail shop and now serves breakfast and lunch in addition to dessert, so we countered all the sweetness with some nostalgic comfort fare, including excellent meatloaf sandwiches and tater tot hotdish.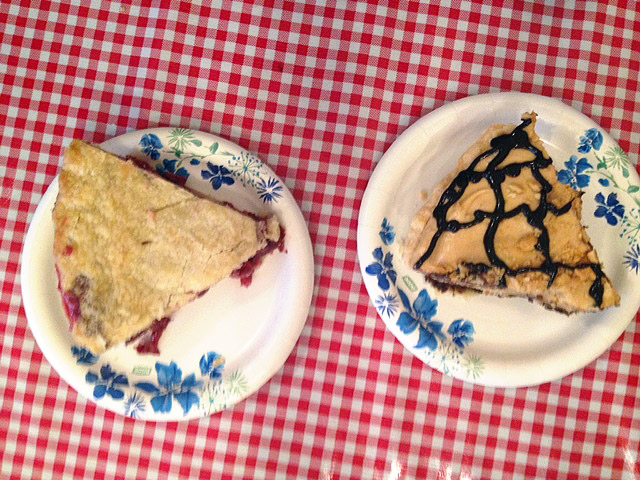 Lake Superior's North Shore also has several great pie options—I've had wonderful slices at the New Scenic Café in Two Harbors and the Pie Place Café in Grand Marais—but my longtime favorite is the meringue-crust raspberry cream cheese pie at the Rustic Inn Café in Castle Danger. (I would love to find a definitive answer as to how the town got its dramatic name, if anyone has insight…) On a recent visit, I instead chose its cousin, blueberry cream cheese, because that pie was frozen and I thought it might travel better. I'm pretty sure I was the only hiker with a slice of pie strapped to the top of her pack, but the decadent dessert was as reviving as a swim in the Split Rock River after five miles on the trail.