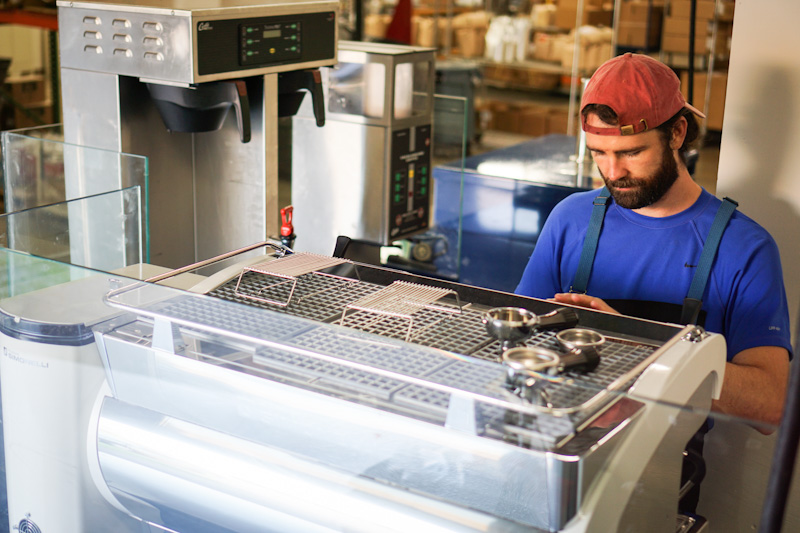 Local coffee roaster Folly Coffee is taking its wholesale business one step further by opening a tasting and tour room at its new roastery in St. Louis Park. On top of heading to spots like Lunds & Byerlys to find its award-winning, high-end brews, you can now sip unlimited Folly samples and learn from one of the nation's best coffee experts (seriously—head roaster Jeff Mooney is one of the top 15 coffee tasters in the country).
The Inspiration Behind the Concept
Folly founder Rob Bathe and Mooney couldn't be more excited about the endeavor. The concept has been in the works for a year, and it also played a huge part in the company's move from rural Silver Lake, Minnesota, to its new location at a manufacturing facility in St. Louis Park.
"We didn't just want to move for the sake of moving," says Bathe. "It's a risky thing. We're now roasting on a different machine. It's an entire change of our business. [We decided that] if we're going to move, we need to figure out a way to connect with our customers directly that doesn't involve opening a café."
The solution? A coffee tasting and tour room, inspired by Bathe's pre-coffee days in the craft beer industry.
"Why are people so excited about craft beer?" asks Bathe. "I think one [reason] is that the tours are just so fun to do. You get to see how the beer is made, and you see the passion that goes into it. You learn at least two or three things that stick with you every time you have a beer. And then you get to taste all the beers side by side at the end. So we said, 'Can we do the coffee version of that?'"
To say the concept is unique would be an understatement. St. Louis Park wasn't even sure how to process the paperwork. "The [woman at] the City of St. Louis Park was like, 'I don't know how to license you because no one's doing this in Minnesota.' And I go, 'I know—that's why we want to do it!'" laughs Bathe.
In the end, the city chose to license it as an event space since the tour only samples coffee. "There's no milk, there's no creamer, there's no sugar," says Bathe. "It's a new concept with the goal that you leave just having tasted coffee."
What to Expect
The long-awaited tours begin September 19 and occur every half hour from 8 a.m. to 2 p.m. on Saturdays and Sundays. Tickets are $12, with $1 of every ticket donated to Open Arms of Minnesota.
The first 15 minutes of the tour focuses on the farm-to-cup roasting process, which, as Bathe says, has its own eclectic soundtrack from "Thunderstruck" by AC/DC to "Ave Maria" by Andrea Bocelli. The last 15 minutes is left for the coffee tasting, guided by Mooney, who is a certified Q-Grader (think sommelier, but for coffee). Guests receive unlimited samples of cold brew, two different types of brewed coffee, and espresso during this time. According to Bathe, this is the coolest aspect of the tour.
"It's when you taste coffee side by side that you start to notice the differences," says Bathe. "It's a very rare thing [to have] more than one type of coffee at once. So when I look at beer flights being extremely popular, and wine flights, distillery flights…there's no such thing as a coffee flight. We tried to create that experience, and hopefully we can turn on that light bulb of, 'Oh, I just learned I like naturally processed coffee.' Or, 'I like Colombian or Brazilian coffee. I didn't know that.'"
With the side-by-side comparison, guests can also ask Mooney any questions they have about what they're tasting before the flavor slips away.
When it comes down to it, Bathe's hope for the tour and tasting room is simple: "The goal is that when people show up—whether they end up loving the coffee or not—they leave and say, 'I didn't expect it to be quite like that.'"
---
Besides the tour and tasting, guests can pre-order Grab & Go beans that come fresh from the roaster. (You can order via Folly's new app for iOS, too.) If you want to learn more about the coffee industry, you can check out The Folly Coffee Podcast, available on Spotify.
Facebook Comments