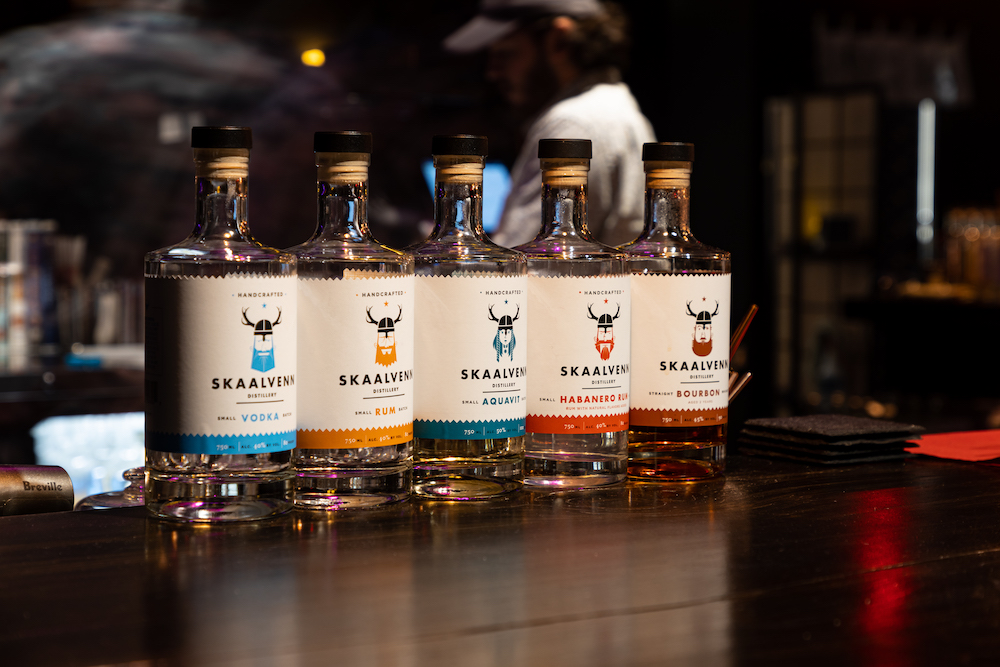 If you feel disoriented walking into an office building in Brooklyn Park to grab a cocktail, don't worry. This office park speakeasy brings new meaning to cocktail experiences infused with culture.
Everything about the cocktail lounge's design and new cocktails tells a story that originates with Tyson and Mary Schnitker, the owners of Skaalvenn Distillery, and their tight-knit team of bartenders.
Despite the Nordic name, the cocktail lounge invokes Japanese culture based on their past trips to Japan in 2019, as well as Cambodian culture based on Mary's familial background. The lounge opened in October 2020, with a socially distant floor plan they intend to keep post-pandemic to maintain the intimate ambiance for customers.
The lounge is a new addition to their business model, which started with distilling liquor in May of 2015. The name originated when Tyson signed off a Skype call with his Norwegian friends and they all said "skaalvenn," which means "cheers, friend." Mary and Tyson knew immediately it was the perfect fit for how they wanted to celebrate life and friendship with their company.
That fun personality is obvious with the labels for their bottles of liquor. Each has its own personality and unique cartoon face to create that connection with the consumer at a liquor store. "They're all different characters. Vodka guy is kind of serious. Rum guy is just a little fun. Aquavit is our strongest; she's the only female Viking," says Mary. "So, aquavit is at 100 proof and we lovingly call that one Viking strength. So she's the fearless leader of the pack."
They distill vodka, aquavit, rum, and habanero rum. They sell bourbon but buy it from a distributor in Indiana, which they openly disclose. "It takes a lot of money and a lot of time to make good whiskey in Minnesota," says Mary. They see the value of providing a great product to their customers.
They distill Monday through Wednesday and prepare for service on the weekends. Tyson says there are more than 50 hours of prep time that go into the creation of the cocktails. The amount of detail in presentation and dedication to creating a memorable experience is palpable.

New Cocktail Concoctions
Skaalvenn is a unique place to spend some time in air-conditioned comfort trying some of the new cocktails. The menu offers 12 hand-crafted cocktails with fresh ingredients and ideas.
Four of the new additions—Word Up, Yo!; Banana in Pyjamas; San Lucas; and Fjord Horse—are renditions of cocktails, or imagined based on previous cultural experiences.
Word Up, Yo! is a reimagined take of one of Tyson's favorite cocktails, the Last Word. "Obviously, being a distillery, we can't use Green Chartreuse—that would be too easy," Tyson says. So, he spent months experimenting with spices to emulate that flavor for their newest cocktail, which is garnished with lavender petals rolled up the side and chilled with dry ice.
The San Lucas is an exceptional summer cocktail, as it is a boozy slushy topped with homemade, dry ice dip-in-dots. It is presented in an ornate glass. The cocktail combines the icy, cold texture of the slushy with the spicy, heat of the dip-in-dot garnish based on Guatemalan street food.
The dedication to flavor and presentation is clear in all of their cocktails. The Fjord Horse is fruity, citrus take on a Moscow Mule marrying the unique flavor of ginger beer with lingonberry juice.
The cocktails are beautifully garnished with edible flowers, sugar cutouts of Bananas in Pyjamas and presented to you with an interactive experience.
The menu may seem intimidating, but Mary and Tyson say the goal of their cocktail lounge is to make the upscale cocktails approachable and a fun experience for anyone to enjoy.

Experiencing Skaalvenn
Everything that is in the cocktail lounge adds to the unique experience and ambiance they want to provide for the customer. The team meets regularly after shifts to discuss what went well and what could be improved to better the customer's overall experience.
Tyson says, "Trying to look at every different facet of the customer's overall experience here and saying, 'How can we do it better?' you know, what little details can we do that nobody will even notice."
There are the little details, like presenting the check to a customer. The Skaalvenn team recently decided to present the check in old CD cases and VHS boxes.
"Last night I had an older gentleman, so, I gave him the Doors. And he was like, 'I have this vinyl, this brings back so many memories,'" Mary remarks. This little aspect of the dining experience adds the extra bit of personality to the cocktail lounge and team running the show.
The Skaalvenn team's ability to reassess and go the extra mile is seen in the layout of the lounge and hours of work done behind the scenes before they open for service on Thursday through Saturday.
Find out more at Skaalvenn Distillery's website. 8601 73rd Ave North #14, Brooklyn Park
Facebook Comments