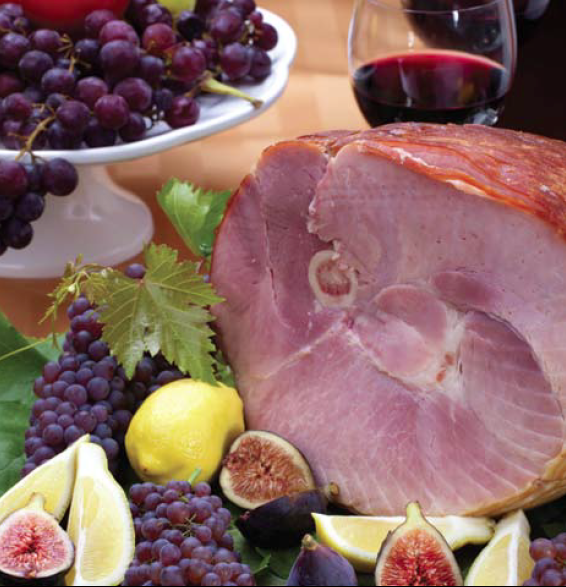 If you celebrate Easter, chances are good there will be ham on the dinner table when the weekend arrives. A springtime celebration often wouldn't be complete without this salty sweet staple. And fortunately, either red or white wines complement this favorite fare.
For wine suggestions to help savor the flavor of ham even more, I asked some folks who wrote the book on pairing wine with food, literally—Karen Page and Andrew Dornenburg, James Beard Award-winning husband-and-wife coauthors of What to Drink with What You Eat and The Flavor Bible.
"We love ham—especially paired with the right wine," they noted. The slightly sweet yet savory flavor of ham pairs well with fruity, light- to medium-bodied whites, sparkling wine, and fruity reds or dry or off-dry rosé.
In general, here are some to try:
Red: Beaujolais, Burgundy, Malbec, Merlot, Pinot Noir, and young Zinfandel
White: Chablis, Champagne, unoaked Chardonnay, Riesling, Gewürztraminer, and Pinot Grigio
When your ham has either a sweet glaze or is served with a mustard sauce or glaze, Page and Dornenburg offer these thoughts on pairings:
Mustard: "For white, we'd turn to an unoaked Chardonnay or a dry-style Riesling, which would pair well with the bitter notes of the mustard. For red, a fruity Pinot Noir would be a nice counterpoint to the same flavors."
Glazed Ham: "You'll want a wine with a hint or more of residual sugar to stand up to the sweetness of the glaze," say the pair. "Our choice would be an off-dry (i.e. slightly sweet) Riesling. However, if the occasion is a celebration, you might opt for a Champagne or other sparkling wine with some residual sugar—even a demi-sec (slightly sweet) style."
The traditional Polish Easter dish my family serves, which combines ham with Polish sausage, pork, and hard-boiled eggs, has a mustard/horseradish sauce (I know, it may sound "different," but it's tasty)—so I think a Riesling is in order. Cheers! Or, rather, Na zdrowie—to your health!
Facebook Comments