The making of the show could well be a show in itself: A 20-person New York City film crew takes over a single-story, 1,500-square-foot home, at the end of a dirt road in the forested wilds outside Park Rapids, Minn. (population 3,903). The laundry room becomes Makeup. The compact master bedroom, Wardrobe. And the six-year-old's bedroom holds the collection of monitors, equipment, and producers that transform it into Video Village.
The live set of Heartland Table is Park Rapids native Amy Thielen's country kitchen, with mismatched cabinetry painted for uniformity and ingredients waiting unselfconsciously on open shelves. It's so compact she can reach most of what she needs without leaving the sweet spot between stove and island. When the cameras roll, she's the slight, steady center of the production action, self-assured and matter-of-fact friendly, with an informed sort of honesty that comes across in her cooking, her easy back-and-forth with family and friends on the show, and the cluttered kitchen drawers on display for all the world to see. "I get so many comments on my messy drawers. People saying, 'I love that!'" Thielen says. "I'm like, 'Good. Because it just didn't get done.'"
Thielen's always been a big-picture thinker. About 18 years ago, when she and her now-husband, sculptor and fellow Park Rapids native Aaron Spangler, were navigating that driftless post-college space, their courtship unfolded as a colonial experiment on this very chunk of family land. Thielen had returned home to wait out the end of the summer before her senior year at Macalester (she'd been fired from her first-and-only waitressing job at Pronto Ristorante in Minneapolis for spilling a bottle of champagne on an important four-top). Spangler had recently built a one-room cabin, without electricity or plumbing, using hand tools, wood from the local mill, and scavenged scraps. Thielen, an American lit major with a serious pioneer-cookbook-collecting habit and the deep-seated Little House on the Prairie obsession that's practically a requirement of growing up female in the '80s, was smitten. She finished her senior year, then moved in. "We were living out some sort of fantasy, I suppose, about getting back to basics," she says. "I wasn't the wilderness type—I'm still not—but I moved out here for the chance to garden and cook in a different era. We had no modern amenities, so it was pretty easy to imagine what it was like 100 years ago, and suddenly, all the old recipes really made sense." 
Spangler cleared and shaped the land surrounding their home to discover the perfect spots for a dock or an apple grove, a thoughtful sort of landscape reduction that mirrored the woodcarvings he began creating then, too. Thielen felt she was working toward something, she just wasn't sure what, and so searched for meaning in her daily routine. She watered her huge garden with buckets filled, one by one, at the hand pump, then gathered its harvest, spring through fall. She pickled, preserved, and canned; she cooked meals on a 1940s propane stove, which also warmed dishwater by the potful. After the sun disappeared into the skinny birch and shaggy pines, she'd sit at the secondhand oak table and page through pioneer histories and old cookbooks by an oil lantern that left telltale black smudges on the ceiling overhead. 

Photo by Jeremy Nelson
Spangler and Thielen found seasonal rhythm, spending winters in Minneapolis, then heading back north, with city-made money to buy gas and the few other basic essentials they required, for a fresh start each spring. But at the end of their third growing season, in 1999, they abruptly decided to move to New York City. "We were spending a lot of time on the particulars of living, when we really wanted to start working on making careers for ourselves," she says. "We wanted our time back." Thielen bristles at the suggestion that shifting between the remote Minnesota north woods to the most densely populated city in America may have felt extreme in any way. "Everybody's always like, 'Such a change, from here to Brooklyn!' Aaron and I never saw it that way," she says. "It wasn't a big deal or a huge transition. We liked moving between those worlds. Both felt like home." Just the sort of adaptable, no-nonsense attitude that one might expect from a woman who handily introduced legions of Food Network viewers to the beauty of eating ring bologna on white bread at Bologna Days in small-town Pierz (where, incidentally, her relatives own Thielen Meats).
In this new brand of vastness, Thielen found her natural next steps: an affordable cooking school, so she could add formal training to her self-taught basics, and kitchens manned by some of the world's top chefs. For an internship, she aimed high, selecting acclaimed chef David Bouley's Danube, then considered one of the city's top restaurants. After proving herself during six unpaid 80-hour workweeks, she landed a paid spot in the kitchen. She spent the next few years working similarly punishing hours on the opening team for upscale restaurants across the city. "She'd go to work in the morning, and I'd see her on my way to the studio," says Rob Fischer, an artist, fellow Minnesota native, and Brooklyn neighbor of the couple. "Then at midnight, I'd be outside, tired and drinking with Aaron, and she'd just be coming home. I couldn't believe it." 
There were trips back to Minnesota, to visit family during the summer, to get married in 2002, and then to have their son, Hank, five years after that. By then, Spangler's art career was taking off and they had ushered their little throwback shack into modern times with a one-story addition that tripled its size, plus electricity and plumbing. They stuffed it with books, original art, and vintage finds—a classic up-north cabin with an intellectual bohemian vibe. "You won't come back," their Brooklyn friends predicted, when the new little family left for a visit during Hank's first summer. Thielen insisted otherwise. In the end, their friends were right. 
The couple wanted their son to know his grandparents, and the lazy loveliness of childhood summers at the lake. All that luxurious, updated space didn't hurt, either. Plus, Thielen wanted to cook out of her garden, to meet the daily challenge of finding a respectable way to treat its current offerings, in various amounts and stages of ripeness. "It really teaches you a lot as a cook," she says. "Natural limits are good when you're trying to push your creativity. Gardening is that for me."
In late 2012, Thielen's book manuscript was making its way through the editorial process at Random House. It's a collection of food histories, personal anecdotes, and modern Midwestern recipes—spring-chicken potpie and northern-pike cakes sit alongside wild-plum Manhattans and tomato carpaccio with horseradish ice—layered with warm, spare photos of food, family, and friends. Out of the blue, she got a call from Random House's new studio division, asking if perhaps she'd be interested in developing a TV show based on her upcoming book?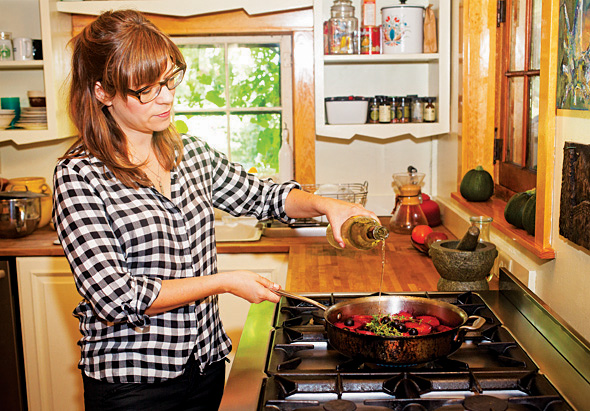 And that's how the 20-person production crew came to occupy Thielen's tiny north-woods kitchen for the intense two-week filming marathon that became season one of Heartland Table. Food Network aired the first episode on September 14, 2013. The New Midwestern Table appeared on bookstore shelves 10 days later and won a James Beard Award last year.
After two seasons, the show's on hiatus and Thielen's focused on writing—she's under contract for her second book, a food memoir due out later this year. She's perpetually stockpiling recipes for a future cookbook, too. And once the first bits of green push from the tidy dirt rows, the garden will start stealing more of her attention. As the daily yield grows, nightly gatherings pick up, too, with dinner parties prompted by an abundance of any given homegrown ingredient, or, say, a friend's annual summer return.
Usually, Thielen welcomes guests from her post in the kitchen, an appetizer and an open bottle of wine on the island, visiting while finishing up the meal-in-progress as if they were the exact same thing. It could well be a page lifted from her cookbook or filmed for her show, unfolding in the very spot where Thielen first began to realize that her life and her art were essentially the same thing—messy drawers, hometown bologna festivals, and all. "I always get inspired when I come here," says longtime friend Jen Henn. "It's so beautiful, and they make it work, out in the middle of nowhere. You really have to be solid, I think, to do that." • Find Thielen's books and show via amythielen.com
Amy Thielen's 5 Favorite Spring Ingredients (and What to Do with Them)
Spring's an exciting time of year for local-ingredient lovers. Here are the ones Thielen gets most excited about. (Even she was surprised that asparagus didn't make the cut.)
Maple Syrup
Thielen actually uses birch syrup, tapped from trees  in her yard. She loves to combine it with soy sauce and mirin for a simple, yet powerful spring teriyaki-style marinade for duck or chicken. Turn the meat in the marinade for a day, then roast on high heat until it glazes and the edges nearly blacken.
Rhubarb
"One of the treats of spring is watching the first sign of the rhubarb patch emerge," she says. "First, its bald little fuchsia fist pokes out of the ground, then the rest unfurls. As soon as it's long enough to cut, the requests for pie start coming in." The rhubarb-lime icebox pie in The New Midwestern Table is her household's favorite.
Chives
A chive tuft is usually the first green thing in Thielen's garden. "I walk out onto the soggy ground in my muck boots and pick great handfuls of it, then use it more like a vegetable than an herb," she says. Her recommendation: Chop tons of it with shrimp and ginger for
a springtime Chinese
dumpling filling. 
Dandelion greens
Thielen sends her son, Hank, into the yard for the young ones, measuring just six inches or less. "Even though the gathering is fun, the upfront bitterness of this green is still a bit much for him, but Aaron and I love it," she says. Her favorite treatment is puréed into a soup, with other greens and some bacon.
Broccoli raab
"After a winter of cooking from the supermarket produce section, I totally welcome raab's spunky bitter-broccoli edge—it's not shy," Thielen says. Quick-sauté it with masses of sliced garlic cloves, lots of olive oil, red pepper flakes, and Parmesan, she advises, then serve over pasta.
Facebook Comments